NEW!
The Sacred Space of Self: Taurus, Leo, Scorpio, Aquarius
Sample Videos
Chiron in Aries: The Challenge of Individuating
Chiron is now in Aries, for the first time since 1977. This is about the quest for individuality in the most deeply personal way: the cultivation and growth of your soul. There are challenges associated with doing this, which I plan to address eloquently and in a way that you will find reassuring and helpful.
Read more... | Get Instant Access!
Capricorn and Capricorn Rising — Sign Description
Subscribe to Our Daily Horoscope & Almanac!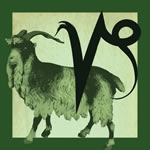 Capricorn This Month (Dec. 22-Jan. 20)
-- You'll be doing some financial rearrangement this summer, or finishing such a task that you may have begun in early 2017. Yet finances are a reflection of one's priorities. The record of the money you spend is a mind-map of what you think matters. Rather than trying to change your mind, study the map. Observe how you think, and where you notice your thinking has lapsed. Pause when you run into perplexing questions. For example, you might wonder why you made a certain decision, or why you have a pattern of similar decisions. Pluto has been in your sign for a decade, and Saturn has been with you since last December. These are two influences that are likely to come with some significant changes in the trajectory of your life. Yet these may have come so frequently for a while that you thought you were just following the contours of the landscape. However, when you consider these shifts in direction, what do you notice? If you had to plot your course on a map of the landscape, how would that look? How you handle money, and your twists and turns of fortune, and how you think about your role in the business community, are all part of this. In total, what you're looking for is evidence of your maturing process. Take that question right into the present moment.