NEW!
The Sacred Space of Self: View Your Capricorn Sample Videos
Mars is now retrograde in Aquarius
Chiron is now in Aries, for the first time since 1977. This is about the quest for individuality in the most deeply personal way: the cultivation and growth of your soul. There are challenges associated with doing this, which I plan to address eloquently and in a way that you will find reassuring and helpful.
Read more... | Get Instant Access!
Subscribe to Our Daily Horoscope & Almanac!
The Four Winds Report includes the Eric Francis daily horoscope, a daily birthday reading,
and many other features. Sign up free!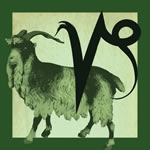 Capricorn This Month (Dec. 22-Jan. 20)
--

Tectonic forces are at work in your life. Look up that word. It involves the pressure of one geological plate upon another, which is the power that shapes continents, mountain ranges and oceans. It is the power driving the friction along fault lines. There is no way to understate this idea. As the Saturn-Pluto conjunction of 2020 approaches, the pressure will mount, and there will be more frequent quakes and volcanic eruptions. What you need right now is awareness. You will find a vast resource of information by studying late 2001 through 2005, when Chiron was in your birth sign. Consider everything: all of your relationships, your work, and most significantly, your relationship to yourself. You also need self-mastery, though the first step in this process is self-knowledge. I know this concept has taken a beating lately, which is primarily a function of our whole world being driven into illiteracy by digital consciousness. You must go deeper than you ever imagined. One way you know you're approaching core territory is that your experiences become indescribable, though you're also met with a pressing need to reveal them to someone. Lay back on that for a while, and let yourself stand in an inner confrontation with the unknown within you -- and what, in truth, can never be explained. Consider another possibility: if you think you want to be enlightened, what you really want is to be a mature adult: someone who can make decisions; someone who honors your values and your desires; one who takes responsibility for the course of your own life.