INTELLIGENCE: Your 2019-2020 Annual by Eric Francis
How can we tap into our ability to find creative solutions to problems? How can we envision, design and create a better future than the one we seem to be heading for? How can we handle our personal growth in a way that is sensitive and efficient? The answer is intelligence.
Learn more... | Pre-Order now!
Subscribe to Our Daily Horoscope & Almanac!
The Four Winds Report includes the Eric Francis daily horoscope, a daily birthday reading,
and many other features. Sign up free!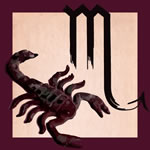 Scorpio This Month (Oct. 23-Nov. 22)
-- You may finally be feeling some relief from Venus retrograde now that Venus has backed into Libra, where it stations direct on Nov. 16. Before that happens, Jupiter leaves your sign and enters Sagittarius (Nov. 8). Usually, Venus and Jupiter in one's sign are considered benefics, and no doubt you've gained in ways you have not noticed yet. However, while they've been present, you've also been under unusual pressure, both emotional and psychological. It may have felt like certain issues settling over you like a dome, or thought forms you could not evade or escape. Scorpio is an unusual sign in that, collectively, it holds all of the things supposedly civilized people are the most afraid of, such as the mysteries of sex, life and death. And this is partly why people respond so strongly to you. Jupiter moving through your sign has magnified these elements of consciousness, making you aware of them (whether you identified them, or not). What you may notice over the next few days and through the coming month is that these feelings evaporate, like they were never there. They're still present, but will now go back to their earlier size, rather than the recent fun-house-mirror exaggerations you experienced. Venus, for its part, has been encouraging you to seek within yourself for answers. That is something you would be wise to remember. There is no "out there." It's all in here.