NEW!
The Sacred Space of Self: View Your Scorpio Sample Videos
Mars is now retrograde in Aquarius
Chiron is now in Aries, for the first time since 1977. This is about the quest for individuality in the most deeply personal way: the cultivation and growth of your soul. There are challenges associated with doing this, which I plan to address eloquently and in a way that you will find reassuring and helpful.
Read more... | Get Instant Access!
Subscribe to Our Daily Horoscope & Almanac!
The Four Winds Report includes the Eric Francis daily horoscope, a daily birthday reading,
and many other features. Sign up free!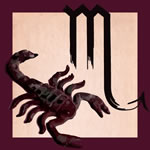 Scorpio This Month (Oct. 23-Nov. 22)
-- The one thing standing between you and accomplishing great things may be the desire to accomplish great things. Real achievements rarely happen on those terms. America's Next Top Model is never America's next top model. Great achievements are never great in their time. They're usually controversial, annoying, or seen as irrelevant. They're the book manuscript that was thrown in the trash, or the solution to a problem that nobody else can see. Therefore, if you want to be useful to the world -- and this you seem determined to be -- work on your vision, and fully inhabit whatever you count as your workshop. Take all emphasis off of greatness and place it on quality. Subtract the ideas of others, including what you presume are their expectations, and develop your vision. Yet this must happen beyond the realm of your imagination. Bring your efforts into physical, tangible form, on a daily basis. Stand apart from your reputation, and invest in your abilities. Never count yourself as a master, only as a journeyman, or even a beginner. Meanwhile, in any situation where you're summoned to leadership or management, honor the politics of the situation. Rely on informal power far more than formal power; that is to say, extend your influence through helpful people, and gently bring others into your plan. Just remember: at this stage of your life, the real work is solitary: the cultivation of your gifts, the refinement of your ideas, and most of all, taking care of yourself.