Your Autumn Reading by Eric Francis:


Empathy-Pathos: A Study in Venus Retrograde
In this reading, I will review Mars retrograde and the recent eclipses, and open up the territory of Venus and its unusual way of resonating and emoting. We'll explore approaches to the masculine and feminine attributes of Venus, as well as the introspective and expressive aspects of Venus through the retrograde process.
Learn more... | Pre-Order now!
Subscribe to Our Daily Horoscope & Almanac!
The Four Winds Report includes the Eric Francis daily horoscope, a daily birthday reading,
and many other features. Sign up free!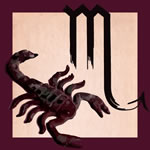 Scorpio This Month (Oct. 23-Nov. 22)
-- One of the great challenges of life is to experience things as others do. It's a stretch to do this using logic and reasoning; it's more of a stretch to experience, emotionally, someone's existence from the point of view of someone close to them. The recent retrograde of Mars in Aquarius has had the effect of making you care a little less than you might ordinarily, which is essential to your independence. The fact of others trying to impose their worldview or reality on you has long been a fact of your life, and you are at a point where you're finally breaking free of that. I'm talking about something different, which is the reality that others experience, as apart from you, and with no intent to impose anything on you. I just mean what they feel and how they experience their own existence. Venus retrograde, which spans the entire autumn, will give you a tool, a kind of emotional resource. Here is a clue: The emotional experience of isolation is one of the most pervasive on our planet. I suspect this has gone on for a long time, though there is something about the digital environment that amplifies and enhances the sensation. It will help if we all had a little clue how lonely we feel, and get a clue from one another what we might do about it. What kind of presence do others need from you? That is the question.