INTELLIGENCE: Your 2019-2020 Annual by Eric Francis
How can we tap into our ability to find creative solutions to problems? How can we envision, design and create a better future than the one we seem to be heading for? How can we handle our personal growth in a way that is sensitive and efficient? The answer is intelligence.
Learn more... | Pre-Order now!
Subscribe to Our Daily Horoscope & Almanac!
The Four Winds Report includes the Eric Francis daily horoscope, a daily birthday reading,
and many other features. Sign up free!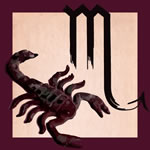 Scorpio This Month (Oct. 23-Nov. 22)
-- You're finally starting to get a grip on your finances, though this has other implications. Your money is an expression of your power, and what you do with it is a statement to yourself about your priorities. This is not as complicated as you often make it out to be, though one essential factor is that you be in a position where you're not drowned by the opinions of others. Your values must guide you. You will recognize what's really your idea because it's intelligent, it's relatively simple, and it feels good. If you experience anguish, the chances are that you're trying to live through someone else's priorities. Let that be the sign to back off and re-evaluate what you're doing and what decisions you're making. You've spent much of this year in a process of untangling or at least in some way distinguishing yourself from the values of your family and possibly other communities or groups as well. You know what you value, and you also have a sense of where others are coming from. These things matter. Your ability to stand apart from others is one of the most crucial strengths required for being an honest person. Integrity means that you are true to yourself, based on careful evaluation. There are no shortcuts here. And it will never suit you to have to deceive others about the most intimate aspects of your life, your healing process, or your deepest needs. If you must, leave people out of the conversation. But when you speak, speak truly.