NEW!
The Sacred Space of Self: View Your Aquarius Sample Videos
Mars is now retrograde in Aquarius
Chiron is now in Aries, for the first time since 1977. This is about the quest for individuality in the most deeply personal way: the cultivation and growth of your soul. There are challenges associated with doing this, which I plan to address eloquently and in a way that you will find reassuring and helpful.
Read more... | Get Instant Access!
Subscribe to Our Daily Horoscope & Almanac!
The Four Winds Report includes the Eric Francis daily horoscope, a daily birthday reading,
and many other features. Sign up free!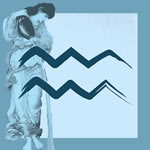 Aquarius This Month (Jan. 20-Feb. 19)
-- Through much of the year, Mars has been retrograde in your birth sign; nothing like it has happened since 1971. This was accompanied by a total eclipse of the Moon two weeks ago, conjunct retrograde Mars, making this perhaps the most unusual spell of astrology you've experienced in your current incarnation. Rare and perhaps strange things are likely to be happening in your physical reality as well. A mix of 'conscious' and 'unconscious' forces are driving events, which means things you may have been aware of previously, combined with certain facts that you missed. Their combined effort is driving you to find yourself, and to individuate in ways you didn't know were possible. While Aquarius is famous for its liberal-mindedness and commitment to being one of a kind, too often you fall under the thrall of what you perceive as the expectations of others, of cultural patterns, and the need to be seen as a good person. This is simply impossible now, with Mars (the planet of desire) running roughshod through your existence. There is no conforming; there is only taking charge of your life. Expectations are not merely meaningless, but plainly obvious as the toxic influences that they are. In a few days, Mars will retrograde into your 12th solar house, Capricorn, where it will remain for a month (and where it stations direct on Aug. 27). This is a once-in-a-lifetime opportunity for you to peer within yourself, to gain a new depth of understanding, and to make contact with the influence of your sexuality as a primary, driving force in everything that you do.