Your Autumn Reading by Eric Francis:


Empathy-Pathos: A Study in Venus Retrograde
In this reading, I will review Mars retrograde and the recent eclipses, and open up the territory of Venus and its unusual way of resonating and emoting. We'll explore approaches to the masculine and feminine attributes of Venus, as well as the introspective and expressive aspects of Venus through the retrograde process.
Learn more... | Pre-Order now!
Subscribe to Our Daily Horoscope & Almanac!
The Four Winds Report includes the Eric Francis daily horoscope, a daily birthday reading,
and many other features. Sign up free!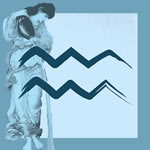 Aquarius This Month (Jan. 20-Feb. 19) -- Between Sept. 10 and Nov. 15, Mars makes its way back across your sign. One essential moment in this process is on Oct. 8, when Mars takes new territory for the first time since going retrograde in late June. For now, let's consider what happens between now and Oct. 8, which is what I call the echo phase of Mars retrograde. During this time, Mars will make contact with the degrees of the zodiac where it was recently retrograde. This is not a repeat, but rather a review, from an entirely different perspective. All the planets are in different positions. Every factor and alignment in your life has shifted, a little or a lot. You have gained experience and familiarity with unusual inner territory. And most of all, there are both feelings and elements of your reality that you cannot deny. In a sense, you are holding the secret to your own existence, and this is a tremendous responsibility. As Lou Reed said, self-knowledge is a dangerous thing: the freedom of who you are. Once you possess that knowledge, you possess a key to freedom. When you deny what you know, you also deny your ability to act upon it. You get both, or neither at all. This is another way of saying that your freedom is, of itself, a kind of responsibility, which is wholly and entirely why freedom is so wildly unpopular.