INTELLIGENCE: Your 2019-2020 Annual by Eric Francis
How can we tap into our ability to find creative solutions to problems? How can we envision, design and create a better future than the one we seem to be heading for? How can we handle our personal growth in a way that is sensitive and efficient? The answer is intelligence.
Learn more... | Pre-Order now!
Subscribe to Our Daily Horoscope & Almanac!
The Four Winds Report includes the Eric Francis daily horoscope, a daily birthday reading,
and many other features. Sign up free!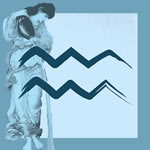 Aquarius This Month (Jan. 20-Feb. 19) -- The long, challenging and at times absurd transit of Mars through your sign ends mid-month. Whatever happened to you was in some way unprecedented, and nothing like it is likely to happen again. The last time Mars was retrograde in Aquarius was back in 1971, a time curiously like our own. So this has probably stirred up some old material, including family baggage (which is closely associated with Aquarius, though you won't read this many places). Mars retrograde has highlighted the problem of anger, collective and individual, and more to the point, the struggle associated with addressing it. Anger also equals anxiety, guilt and any form of struggle associated with aggression or resentment, in whatever direction it may flow. This cannot be addressed in "the world," since it's such a deeply individual response to existence. Mars in your sign, including the 12-week retrograde, has compelled you to take a level of profound responsibility for what happens in your life, including how you feel and how you respond to events. More than anything, though, you've been compelled to have a bold reckoning with what you want. I don't mean want, like a BMW. I mean want, as in want from your privilege of existence. And I don't mean want, as in desire somewhat; I mean want as in you feel like you'll drown if you don't have it. You've learned a lot this year. Don't forget it, by which I mean remember every day.