New York, May 21, 2017 | Read on Web | ARIES Preview | TAURUS Preview | GEMINI Preview | CANCER Preview | LEO Preview | VIRGO Preview | LIBRA Preview | SCORPIO Preview | SAGITTARIUS Preview | CAPRICORN Preview | AQUARIUS Preview | PISCES Preview
This letter is part of a series that covers all 12 signs. All the letters have links to all 12 at the top. -- efc
Dear Friend of Planet Waves:

If you're born under the sign Scorpio, there's been an exciting development for your sign that you haven't heard about from other astrology services -- a slow-moving point called Apollon, named for the ancient Greek god of light, healing and poetry.

Apollon, a "hypothetical" but influential point, takes 576 years to go around the Sun (read more about the eight hypotheticals here). Apollon is like a morph of the Sun, Jupiter and Mercury -- and it's going to be in your sign for the next 48 years. The beginning is the time to tune in and figure out what this is about.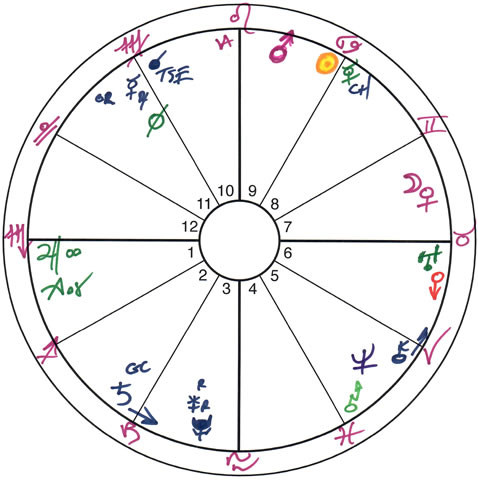 Hand-drawn chart of your INVOLUTION reading for Scorpio.

I'll describe this fully in your reading; you may pre-order all 12 signs here (so you can read your Sun, Moon and rising sign) or individual signs here. 

The effect is that you, personally, are a kind of gathering point. Your magnetism is at an all-time high, and this gives you the ability and indeed the power to bring people together: for a cause, for social reasons, or just because it's the thing to do. You might forget that you have this gift, but try to remember. It will really come in handy when it counts the most.

It's true that with your ruling planet Mars now in Gemini, you may be feeling like you can't get the conversation right. Yet what Mars (now joined by the Sun) is suggesting you do is see the contrasts between what you believe and what others believe, and find the common ground.

This is nothing more or less than a gesture of maturity. So, too, is recognizing when differences cannot be reconciled, and common ground means standing on separate ground. You cannot force people to get along, though you certainly can set the example of making a sincere effort.

Saturn in Sagittarius, your house of values and resources, is compelling you to truly understand what's important to you, and to act on your inner truth. Your leadership role in life begins with understanding yourself. Tensions and conflicts with others will help you do that; people who suppress all aggression never get to know themselves.

This summer's total solar eclipse in Leo takes place in your house of reputation and achievement. It happens right on the line where your best work meets where you're perceived by other people. One cannot have a reputation without a public, and this eclipse represents a kind of experiment in coming out.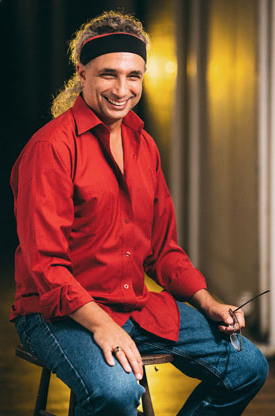 Eric Francis. Photo by Jeff Bisti.

One thing not widely known about Scorpios, though well-known to you, is how self-critical you are. You're particularly conscious of your public image, and tend to judge yourself harshly when you don't feel like you live up to your image. This is a little like walking around in a 1912-model corset.

Recently this has got somewhat more intense, as you seem to be scrutinizing anything about you that appears in public to the point of not being able to breathe -- including your physical appearance. This eclipse will help you open up and relax a little.

It's true that presentation matters, but nearly all of what people see when they look at you is your state of mind and emotions. You can walk out of the house as frumpy as you like, and you'll seem warm, endearing and persuasive.

And remember, what people value you for is your ideas. Where there is community, you get to be the intelligent one -- not just the pretty one.

Pre-order all 12 signs here (so you can read your Sun, Moon and rising sign) or individual signs here. 

I'll be back with your reading shortly.

with love,



---
To unsubscribe, click here. To unsubscribe from all future Planet Waves emails, please write to cs@planetwaves.net Copyright © 2017 by Chiron Return, Inc. All Rights Reserved. Other copyrights
may apply. Some images used under Fair Use or Creative Commons attribution.