New York, May 18, 2017 | Read on Web | ARIES Preview | TAURUS Preview | GEMINI Preview | CANCER Preview | LEO Preview | VIRGO Preview | LIBRA Preview | SCORPIO Preview | SAGITTARIUS Preview | CAPRICORN Preview | AQUARIUS Preview | PISCES Preview
This letter is part of a series that covers all 12 signs. All the letters have links to all 12 at the top. -- efc
Dear Friend of Planet Waves:

If you're born under the sign Libra, you're going through an extended transformation in many areas of your life simultaneously -- in particular, your family relationships, your intimate partnerships and where the two meet.

As you're fully aware, the world is in a kind of cyclone right now, mostly precipitated by the Uranus-Eris conjunction. This is taking place in your house of relationships, which have been anything but predictable in recent times. Yet there's a method to the madness, which is to provoke you into considering exactly what you want and need from your emotional, sexual and otherwise intimate partnerships with people.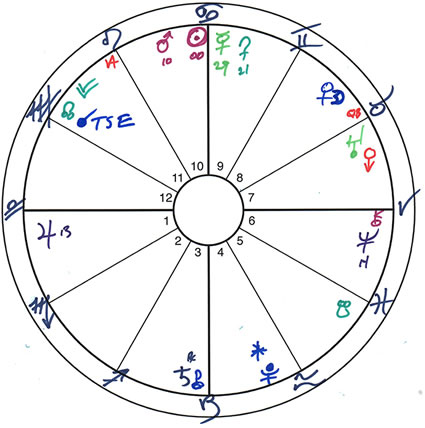 Libra chart that I'm using for INVOLUTION. This is an exciting chart, with many things to say about both love and work.

What would that be? It seems like you need closeness, and at the same time, you need to cultivate your individuality, specifically within your relationships.

I'll be covering this in INVOLUTION, your 2017 spring and early summer reading from Planet Waves. A video reading covering all 12 signs, I'm about to record Libra next. My readings cover Sun, Moon and rising sign. Using both ancient and modern techniques, I'm able to do a chart reading without having your birth data -- using the chart that's to the right.

What's so interesting is that despite the seemingly nonstop movement in your life, you're managing to keep a strong and stable center. The same astrology that appears to take things apart also points you toward your core resources. And at the moment, Jupiter is in your sign, which is providing you with not just hope but with protection and even a touch of the luck factor.

The most important thing Jupiter is doing for you is providing some counterbalance to the intensity you've been living with. And when it changes signs later in the year, entering Scorpio, that will do wonders for your self-esteem.

Yet despite the many different aspects that are influencing you, the real work is happening in your 4th house of security -- that would be Capricorn. Pluto in this area of your chart is compelling you to sink roots deep into existence. You've figured out that to do this, you must have some independence from your family. You're not the child you once were, and nobody has a right to treat you that way. But even if they do, you're strong enough to get the message and stand on your own two feet.

If you engage and indeed confront these changes directly, you will stretch and grow at a rate that astonishes you. I recognize that this is not easy, since it would seem that everything you held dear is being challenged.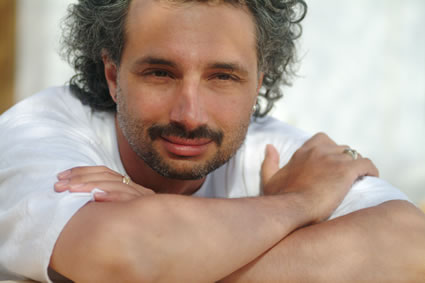 Eric Francis. Photo by Christos Karatzios.

But think of it this way. In the past, you had the substitute version of what you really want. You had a kind of image of the real thing, and now you're going for the substance.

One thing you're about to get working for you is letting go of the pretenses of privacy and secrecy. Uranus conjunct Eris has turned the world inside-out, by means of the internet. In your relationship house, you have to make peace with this.

To take this the whole distance, you need to live more openly and not hold onto some idea that you can conceal things from people, particularly in your most intimate partnerships. This necessitates associating with people you genuinely trust.

That amounts to living your life with a profound level of transparency. Libra tends to be one of the more secretive signs of the zodiac, in that you don't like to broadcast your business and can easily deflect attention from your private life.

The Great American Eclipse takes place on the cusp where your public life and your deepest secrets are kept. They are neighbors in astrology. This represents a reorientation that will help you point your life in the direction of success. Once you start to ease the pressure between the seemingly public and the seemingly private, you will feel more liberated, more confident and you'll have a better idea of how to keep your deepest inner world as a place of refuge.

Your full reading will be ready in a few days. You may now get it at the pre-order price. I recommend getting all 12 readings, so you can explore your Sun, Moon and rising sign -- and those of the people you love. The readings interweave, and you may share them with people close to you. If you want to purchase by individual sign, here's the link to do that.

Thank you for your business, and for trusting me as your astrologer.

with love,



---
To unsubscribe, click here. To unsubscribe from all future Planet Waves emails, please write to cs@planetwaves.net Copyright © 2017 by Chiron Return, Inc. All Rights Reserved. Other copyrights
may apply. Some images used under Fair Use or Creative Commons attribution.