New York, May 24, 2017 | Read on Web | ARIES Preview | TAURUS Preview | GEMINI Preview | CANCER Preview | LEO Preview | VIRGO Preview | LIBRA Preview | SCORPIO Preview | SAGITTARIUS Preview | CAPRICORN Preview | AQUARIUS Preview | PISCES Preview
This letter is part of a series that covers all 12 signs. All the letters have links to all 12 at the top. -- efc
Dear Friend of Planet Waves:

If you're born under the sign Gemini, or have Gemini rising, Mars is in your sign right now. Mars events are not rare -- they tend to come 'round every two years or so, though this one is significant. It's about to make an opposition to Saturn and a square to Mars -- a once-in-a-lifetime setup for you.

This pattern is about you asserting yourself within a relationship, into your environment and, overall, into your own life. The thing about that is it can be messy: you might, for example, be motivated to take action, do it, and then find yourself in a state of regret that makes you wonder whether it was worth it.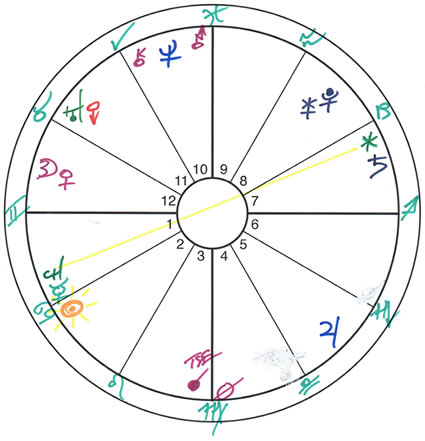 Hand-drawn chart of your INVOLUTION reading for Gemini.

One thing that would establish value for such experiences is if they're necessary and irreplaceable. Yes, you can have more finesse; you can be gentler on yourself; you can decide that you have options -- but you must confront the world. Doing so is the only thing that brings out who you are.

Your work is involved. You're at that point where you simply must do what's real, or do your real thing in a way that's more daring, and reaches deeper into yourself. Much of whatever confrontation you're experiencing is about claiming your creative power, which is the power to change the world.

Any agreement you made or were duped into that you would not assert your reality against the wider universe around you is now ready for the shredder. Parents are the most likely culprits, yet once you figure that out, you need only the mindfulness, the courage and the will to go beyond what are, in reality, their fears. 

It's your prerogative to negotiate any agreement with anyone who is willing to sign on. It's also your prerogative to say that you need a new deal, or no deal at all. The freedom to do any one of these things is the freedom to do them all.

I'll have more in your INVOLUTION reading for Gemini. You may pre-order here, or get all 12 signs here. The reading will be available shortly.

The revolution is within.

with love,



---
To unsubscribe, click here. To unsubscribe from all future Planet Waves emails, please write to cs@planetwaves.net Copyright © 2017 by Chiron Return, Inc. All Rights Reserved. Other copyrights
may apply. Some images used under Fair Use or Creative Commons attribution.