New York, May 27, 2017 | Read on Web | ARIES Preview | TAURUS Preview | GEMINI Preview | CANCER Preview | LEO Preview | VIRGO Preview | LIBRA Preview | SCORPIO Preview | SAGITTARIUS Preview | CAPRICORN Preview | AQUARIUS Preview | PISCES Preview
This letter is part of a series that covers all 12 signs. All the letters have links to all 12 at the top. -- efc
Dear Friend of Planet Waves:

This is a big time for Sagittarius. Saturn is in your sign, which happens only every 29 years. While Saturn is with you, you get to build the skills and maturity that only Saturn can offer. Of course, those teachings are available all the time, though at the moment you don't commute to school; you live on campus.

Saturn in the realm of Jupiter (your sign ruler) can be awkward, and feel like it's constraining you in the very ways that you want to be free. Yet Saturn is here to teach you discipline and focus. And it's here to do something far deeper.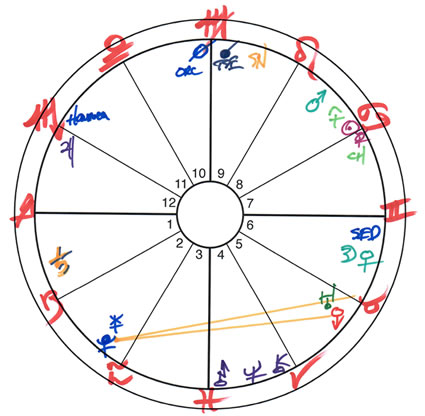 Hand-drawn chart of your INVOLUTION reading for Sagittarius.

Your sign is the home of the core of our galaxy. We live in a spiral island in space, next to one star among 300 billion. And at the center of that spiral is a supermassive black hole, which is located right in your sign. If any researcher is wondering how Sagittarius got to be the sign of all things exotic, spiritual, distant and cosmic, that recently discovered scientific fact provides a clue.

Right now, your maturity and spiritual grounding are being put to some kind of a test. You're being pushed to embody what you believe and what you have discovered to be true. You're past the days when you can know and understand something, and then act like something else is the bottom line of your reality. 

Any disconnect you may have between knowledge and action is precisely what Saturn is here to help you resolve.

The truth is, you know so much, and you have so much creative potential. For a good few years, your life circumstances have encouraged you to get your freak on, though in your own particular way, you may have balked at letting yourself be "too free." 

This summer's total solar eclipse in your fellow fire sign Leo will feel like opening a vent which fuels your creative fire with oxygen. The focus and discipline that you're learning now will be precisely what you need to have such an experience not only be safe, but one of the great turning points along your path of love and creation.

I'll have more in your INVOLUTION reading for Sagittarius. You may pre-order here, or get all 12 signs here. The reading will be available shortly.

The revolution is within.



---
To unsubscribe, click here. To unsubscribe from all future Planet Waves emails, please write to cs@planetwaves.net Copyright © 2017 by Chiron Return, Inc. All Rights Reserved. Other copyrights
may apply. Some images used under Fair Use or Creative Commons attribution.