New York, May 17, 2017 | Read on Web | ARIES Preview | TAURUS Preview | GEMINI Preview | CANCER Preview | LEO Preview | VIRGO Preview | LIBRA Preview | SCORPIO Preview | SAGITTARIUS Preview | CAPRICORN Preview | AQUARIUS Preview | PISCES Preview
This letter is part of a series that covers all 12 signs. All the letters have links to all 12 at the top. -- efc
Dear Friend of Planet Waves:

If you're born under the sign Aries, or Aries Moon or rising, this is an exciting, confusing time of progress and change. You're probably wondering how to make the most of it. If so, please read on -- this letter contains a preview of a project I've got going for you.

As you may know, I'm now working on your INVOLUTION video reading, which covers late spring through late summer 2017.  You may pre-order all 12 signs here, or individual signs here.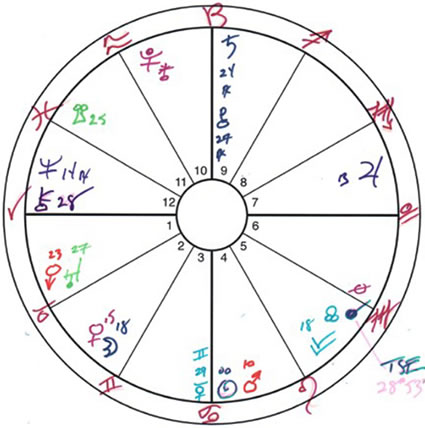 This is the chart I'm using for your Aries INVOLUTION reading. I'll explain all the details of this chart, and give you my ideas about what it means.

I'm one of a very few astrologers who can do a reading without the natal chart data, using both ancient techniques and new ones that I've developed over the years. My clients are, sincerely, amazed at how helpful and personally applicable these readings so dependably are.

Here's a short preview of the Aries reading, which applies to Aries Moon and rising, and many late-'60s to mid-'70s births with Chiron in Aries. 

This reading introduces the Great American Eclipse of Aug. 21, 2017, which for Aries is about nothing less than total personal renewal, recreation or inner revolution.

Yes, this is an exciting and challenging time for you, though you may be feeling the astrology mostly as pressure and chaos. You love innovation, but there's such a thing as too much. You love speed, but there's such a thing as too fast. 

The great aspect of our era, the Uranus-Eris conjunction, is happening in your sign, making it distinctly personal. You may be experiencing this as life moving at a pace you've never experienced before -- and you may be noticing the role of technology. With all these devices running, there's a bouncing icon, or someone to answer to, every five minutes. Then the phone rings, and the cops want money.

But that's just the surface. This aspect is transforming your character down to the deepest levels of your psyche. Who you are is changing, and you may be wondering whether you can handle so much inner movement. You may be wondering when things are going to let up.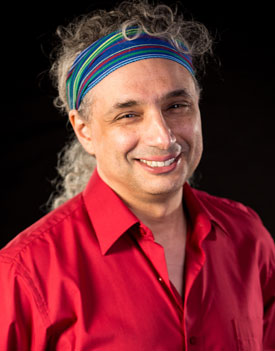 Eric Francis. Photo by Jeff Bisti.

Who you're becoming is related to many changes in the world that have been developing for years. Said another way, Pluto in Capricorn has been wreaking havoc on the world's institutions, creating many opportunities for someone like you to come in and show us what you've got.

When Saturn enters Capricorn later this year, you will be called upon to step up to a much greater level of responsibility and authority. This is a stage of final preparation for a phase of your life that you have longed for and may have always known was coming.

In relationships, there's a deepening of commitment indicated by Jupiter in Libra and its movement into Scorpio in early autumn. This is good for love and for sex, and for money, as others will be willing to invest in your efforts, whether financially or emotionally.

I'll have more in the full video reading, which will be ready soon. To get all 12 signs of INVOLUTION at a fantastic discount, please use this link. This is one purchase per household -- you may share the readings with your family.

To purchase individual signs of INVOLUTION, please use this link.

Thank you for your business and for trusting me as your astrologer.

with love,



---
To unsubscribe, click here. To unsubscribe from all future Planet Waves emails, please write to cs@planetwaves.net Copyright © 2017 by Chiron Return, Inc. All Rights Reserved. Other copyrights
may apply. Some images used under Fair Use or Creative Commons attribution.