New York, May 21, 2017 | Read on Web | ARIES Preview | TAURUS Preview | GEMINI Preview | CANCER Preview | LEO Preview | VIRGO Preview | LIBRA Preview | SCORPIO Preview | SAGITTARIUS Preview | CAPRICORN Preview | AQUARIUS Preview | PISCES Preview
This letter is part of a series that covers all 12 signs. All the letters have links to all 12 at the top. -- efc
Dear Planet Waves Reader:

If you're born under the sign Leo, one thing you may have noticed is that it's easier to get onto level ground with people. There's nothing particularly equal about our society, though in theory we know that there's supposed to be. But there's something about you that's able to smooth out some of the needlessly competitive spirit of the world.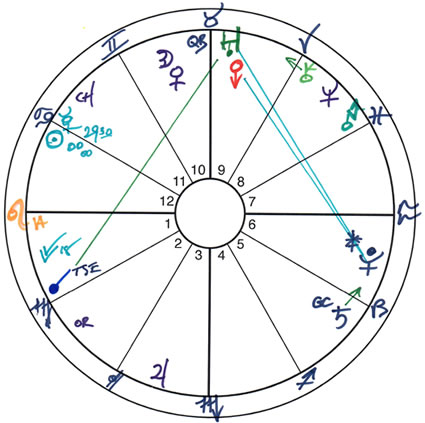 Hand-drawn chart of your INVOLUTION reading for Leo.

I'll have the details in INVOLUTION: The Revolution is Within, which will be available shortly. To get the best price, you may pre-order all 12 signs here, currently just $57.57, or choose individual signs here. INVOLUTION is 12 video readings of about half an hour each -- more affordable than a 20-minute online tarot card reading (which can cost $100 or more).

The ability to meet the world on its own terms, or to meet people and circumstances on their terms, is indeed a gift -- and you have that gift working for you now. This involves the very recent ingress of Varuna, a rarely-used outer planet, into your birth sign, where it will remain until 2044.

Said another way, Varuna is now a defining feature of your life -- and you will find this helpful, as if you have some miraculous gift of translation, of approaching otherwise unapproachable people, or of getting people to rise to the occasion of their own life. If you're parent, or if you work with children, teenagers or young adults, you'll find this to be genuinely helpful.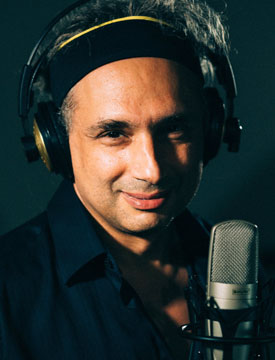 Eric Francis. Photo by Jeff Bisti.

In addition, your ideas about service are changing as well. You're at a stage in your life where "aspiration" must mean making things better for everyone, not just yourself. It's true that your good life is part of that; sacrifice must be kept in its place (which A Course in Miracles says is no place at all).

Yet you know that the benefits of your life can spill over and become benefits for someone else. Your talent, your leadership, your intelligence, can go a long way toward making the world a better place. 

This summer's total solar eclipse -- the Great American Eclipse -- takes place in your sign. It indicates the beginning of a process of self-discovery on a new level, which will follow the next approximately 18 months of eclipses in your sign and your opposite sign Aquarius.

For someone who feels like they're at the beginning of their path of conscious evolution, these eclipses will accelerate your growth. For those who know they're old souls, you will get a chance to see things from another viewpoint entirely.

I'll be describing these aspects in detail in your spring reading. You may pre-order all 12 signs here, or choose individual signs here.

I'll be back with your reading soon. Not a Leo? Other signs are linked at the top, with more coming soon.

Lovingly,



---
To unsubscribe, click here. To unsubscribe from all future Planet Waves emails, please write to cs@planetwaves.net Copyright © 2017 by Chiron Return, Inc. All Rights Reserved. Other copyrights
may apply. Some images used under Fair Use or Creative Commons attribution.