Welcome to Covid19 News, published by the nonprofit Chiron Return. We also publish Planet Waves FM. Our professional news gathering and reporting efforts are sponsored exclusively by our readers. Thank you for your participation and generosity.  If you in any way appreciate or depend on this service and can do so, please make a donation. . If you have something to report — news, science news, or a check-in from your local area — please send to editors@planetwaves.net. Stay in touch and help us out by sharing this resource with others.

---
Graphene Oxide roundup | Added July 13
Does GO Explain Covid Symptoms And Injection Toxicity By Itself? | Added July 13
"Spanish researchers put the Pfizer vaccine under an electron microscope and found it contains 99% graphene oxide and hardly anything else.
There is practically NO evidence that this "vaccine" is gene therapy. There is ZERO genetic material: mRNA or DNA or spike protein. It means this "vaccine" has nothing to do with a so-called virus. This product wasn't developed to avoid an infection caused by a virus. The true purpose of this product remains hidden.
On the wide-ranging toxic destructions of graphene, this article from 2016 in Particle and Fibre Toxicology, spells it out very clearly, and alarmingly.

---
Covid-19 injections made mandatory for France's health care workers | Added July 13
COVID-19 jabs will be mandatory for France's health workers and anyone wanting to get into a cinema or board a train will need to show proof of vaccination or a negative COVID test under new rules announced by President Emmanuel Macron on Monday.
Unveiling sweeping measures to combat a surge in infections, Macron said vaccinations would not be compulsory for the general public but encouraged everyone to get a jab.
"We must go towards vaccination of all French people, it is the only way towards a normal life," Macron said in a televised address to the nation.
"A new race against the clock is on," he said, referring to the highly contagious Delta variant.
France has an entrenched anti-vaccination movement but authorities had so far believed they could curb the spread of the coronavirus by convincing enough people, including medical staff, to get inoculated voluntarily.

---
CHD: Hundreds Injured by COVID Vaccines Turn to GoFundMe for Help With Expenses | Added July 13
From Children's Health Defense:
High school senior Emma Burkey received the one-shot Johnson & Johnson (J&J) COVID vaccine April 1. Within two weeks she was placed in an induced coma. She underwent three brain surgeries after experiencing seizures and developing blood clots in her brain.
When Burkey was well enough to be transferred from the hospital to a rehabilitation center, her first round of bills totaled $513,000.
Friends of the 18-year-old's family turned to GoFundMe to raise money to help cover Burkey's mounting medical costs. As of July 7, more than $59,000 had been raised.
The family hopes most of Burkey's medical costs will be covered by insurance — but that's unclear, as the cost of their daughter's medical care could run into millions of dollars.
"Right now it feels like the national debt," a family spokesperson said. "It's so big you can't get your head around it."

---
Woman reportedly contracts two variants of the coronavirus at the same time | Added July 13
The patient came to the hospital because she was repeatedly falling down. She was breathing fine, and her blood oxygen levels were good. But tests showed that the 90-year-old Belgian woman had COVID-19 — and not just one strain, but two variants of the virus. She died at the hospital in just five days after her respiratory system rapidly deteriorated.
"To our knowledge, this is one of the first reports of a double infection" with two coronavirus variants of concern, the researchers said.
The woman had both the alpha and beta variants of the coronavirus (which were detected first in the U.K. and South Africa, respectively), according to a paper that was presented over the weekend at the European Congress of Clinical Microbiology & Infectious Diseases.
"Both these variants were circulating in Belgium at the time, so it is likely that the lady was co-infected with different viruses from two different people," said Anne Vankeerberghen of the OLV Hospital in Aalst, Belgium, in a news release.

---
GBS is 'A rare, but very probably real consequence of the vaccine,' says Paul Offit | Added July 13
"Reports to a database operated jointly by the agency and the Centers for Disease Prevention and Control suggest there may be a link between the inoculations and Guillain-Barré syndrome, a form of progressive paralysis" which has been associated in the past with other injections, particularly flu vaccines.
While the FDA assures the public that it's "generally reversible," it nevertheless begs the question: what about those cases when it is not reversible? Do we understand the mechanism of harm? And if this is not understood, then shouldn't more research be required?
Let us always remember: for most people the likelihood of recovery from a SARS-COV-2 infection is approaching 100%. So even if the risk of permanent paralysis is small, can it ever be small enough?
See STAT News for the original story.

---
The Organic Human: An Endangered Species — read from OffGuardian | Added July 12
When did natural become weird?
When did poison get to be the main event & natural get laughed at?
What's with the 'Hark at you with your poncy food – think you're special, do you?' sneers?
The 'It's ok for people like you who can afford it' comments. Do people sneer at people who can afford to buy fags, have wine every night, go on holiday, go to the pub, buy a new car or subscribe to Sky TV or Netflix?
Why, when I'm out shopping do I have to search through the 'normal' food covered in pesticides & msg to find the 'weird' version that's natural?
Why, if I want to be natural & unaltered, to be void of chemicals, genetic modification & radiation, am I also branded weird?
A 'conspiracy theorist' for choosing not to trust the company with the biggest criminal history of medical fraud ever, to inject an experimental concoction into my cells for 'health' reasons based on a test that thinks a mango can catch a virus?


---
WSJ: Cuban Protests Demand Freedom, Food, Covid-19 Vaccines | July 12
Hundreds of Cubans took to the streets in a wave of demonstrations in Havana and at least six other cities throughout the Communist island, demanding an end to the 62-year dictatorship and protesting the lack of food and Covid-19 vaccines.
"We are not afraid! We are not afraid!" people shouted as they marched through the streets on Sunday, videos posted on social media showed. "Freedom! Freedom!"
The protests are unprecedented in a country with tight police control and surveillance on dissidents, analysts say.
In a televised address on Sunday, President Miguel Díaz-Canel blamed the protests on the U.S., which he said seeks to economically strangle Cuba and bring about a social explosion.

---
As developers of vaccines are protected from liability, injured turn to GoFundMe to pay medical bills | Added July 12
From Children's Health Defense:
High school senior Emma Burkey received the one-shot Johnson & Johnson (J&J) COVID vaccine April 1. Within two weeks she was placed in an induced coma. She underwent three brain surgeries after experiencing seizures and developing blood clots in her brain.
When Burkey was well enough to be transferred from the hospital to a rehabilitation center, her first round of bills totaled $513,000.
Friends of the 18-year-old's family turned to GoFundMe to raise money to help cover Burkey's mounting medical costs. As of July 7, more than $59,000 had been raised.
The family hopes most of Burkey's medical costs will be covered by insurance — but that's unclear, as the cost of their daughter's medical care could run into millions of dollars.
"Right now it feels like the national debt," a family spokesperson said. "It's so big you can't get your head around it."
​​According to a recent update on Burkey's GoFundMe page, Burkey is still in intensive rehab, remains in a wheelchair and was able to stand unassisted for the first time July 6 — almost four months after she got the vaccine.

---
Erectile dysfunction? Blame it on Covid | Added July 12
Can COVID-19 cause lasting erectile dysfunction?
This is now the topic of some discussion among doctors and health experts as they try to better understand the effects of the coronavirus. The problem has been observed in some patients, but experts agree more study is needed to form any conclusions.
Some men are coming into doctors' offices saying erectile dysfunction has occurred following a COVID-19 infection, said Dr. Ryan Berglund, a urologist at the Cleveland Clinic. At the moment, there's primarily anecdotal evidence, and "we don't know the scale of the problem at this point."
Berglund stressed that it had not been proved that COVID-19 causes erectile dysfunction.
AND
In much the same way inflammation of the heart muscle, or myocarditis, can occur as a consequence of COVID-19, it is plausible that erectile dysfunction could occur from the disease.
"It's also the blood vessels themselves that can become inflamed," Berglund said, "which could cause an obstructive phenomenon and negatively impact the ability to get erections."


---
CNBC: Virtually all new Covid deaths and hospitalizations are among unvaccinated people, White House says | Added July 10
As more people get vaccinated against Covid-19 in the U.S., a vast majority of hospitalizations and deaths are occurring among people who haven't yet gotten a Covid shot, White House officials said Thursday.
"Virtually all Covid-19 hospitalizations and deaths in United States are now occurring among unvaccinated individuals," White House coronavirus response coordinator Jeff Zients said at a press briefing. He said cases will continue to rise, especially among unvaccinated people, particularly as the delta variant takes hold in the U.S.
Rochelle Walensky, director of the Centers for Disease Control and Prevention, said the Covid vaccines currently being used are proving to be successful in preventing severe disease, hospitalization and death from the delta variant.
Cases are still going up: The seven-day moving average of new cases rose to 13,900 per day, an 11% increase over the previous week, Walensky said.

---
WaPo opinion piece argues for Biden to consider vaccine requirements | Added July 10
President Biden missed an important opportunity on the Fourth of July by holding an event at the White House that did not require its more than 1,000 attendees to be vaccinated. The celebration could have been a chance to show that vaccination isn't just an individual decision, but one that affects the health of others — including those already vaccinated.
Biden spoke at the event about vaccination as "the most patriotic thing you can do." But on the same day, his covid-19 coordinator, Jeff Zients, said on CNN that vaccinations were not required to attend because it was about "individual choice." "You're protected if you're vaccinated. You're not protected if you're not," Zients said. This feeds into a "live and let live" attitude that has been used to question why someone should care about another person's vaccination status. After all, if vaccines protect the person receiving it, then why should they care if others choose not to have it?
There's an obvious problem with this line of thinking, which is the danger to those who do not have immune protection and not by choice. Children under 12 who are not yet eligible for vaccination and people who are immunocompromised are at risk around unvaccinated people who could be infected with covid-19. In addition, despite the Biden administration's admirable efforts to increase vaccine availability, many who are not yet vaccinated still lack access. Low-income workers and people facing food and housing insecurity are more likely to be unvaccinated despite wanting to get the vaccine.
But vaccinated Americans should also care whether people around them have gotten the shot. Here's why: If everyone around them is also vaccinated, the chance of them being infected and then contracting covid-19 is virtually nil. On the other hand, if they're in multiple settings every day where they are constantly surrounded by unvaccinated people, the risk of getting infected increases. Risk is additive, so the more unvaccinated people they're exposed to, and the higher the rate of coronavirus in their community, the higher the risk.

---
CHD: 1-Hour Version of Censored Interview with Inventor of mRNA Vaccine Technology | Added July 10
From Children's Health Defense:
In June, Dr. Bret Weinstein interviewed Dr. Robert Malone, the inventor of mRNA vaccine technology, and Steve Kirsch, philanthropist and tech entrepreneur who has become a respected force in the quest to give voice to people who have been harmed by COVID vaccines.
The 3.5 hour "DarkHorse Podcast" interview was censored on YouTube and other major social media platforms. Five days after the DarkHorse podcast was published, Malone's scientific accomplishments and contributions were scrubbed from Wikipedia.
Thanks to filmmaker Mikki Willis and his team for creating this 1-hour version of the original podcast exclusive for The Defender.
During the podcast, Malone, Weinstein and Kirsch touch on the implications of the controversial Japanese Pfizer biodistribution study, made public earlier this month by Dr. Byram Bridle, a viral immunologist.
The biodistribution study obtained by Bridle showed lipid nanoparticles from the vaccine did not stay in the deltoid muscle where they were injected as the vaccine's developers claimed would happen, but circulated throughout the body and accumulated in large concentrations in organs and tissues, including the spleen, bone marrow, liver, adrenal glands and  — in "quite high concentrations" — in the ovaries.

---
Reuters: Find $75 billion to head off next pandemic, top panel tells G20 | Added July 10
COVID-19 is probably only a forerunner of increasingly dangerous pandemics in the future and governments need to find $75 billion over the next 5 years to prepare for them, a panel of experts told finance ministers of the Group of 20 rich countries on Friday.
In a report to the G20 meeting in Venice the panel said the $15 bln per year of investments it recommended doubled current spending levels but was "negligible" compared with the costs of another major outbreak of a new contagious illness.
"The economic case for these additional investments is overwhelming," said former U.S. Treasury Secretary Lawrence Summers, who co-chaired the 23-member panel along with World Trade Organization Chief Ngozi Okonjo-Iweala and Singapore's former finance minister, Tharman Shanmugaratnam.
Summers told Reuters in an interview he was "guardedly optimistic" its recommendations would be implemented and said "we won't be reluctant to speak out" if they are not.
"Spending tens of billions of dollars could save tens of trillions," he said.

---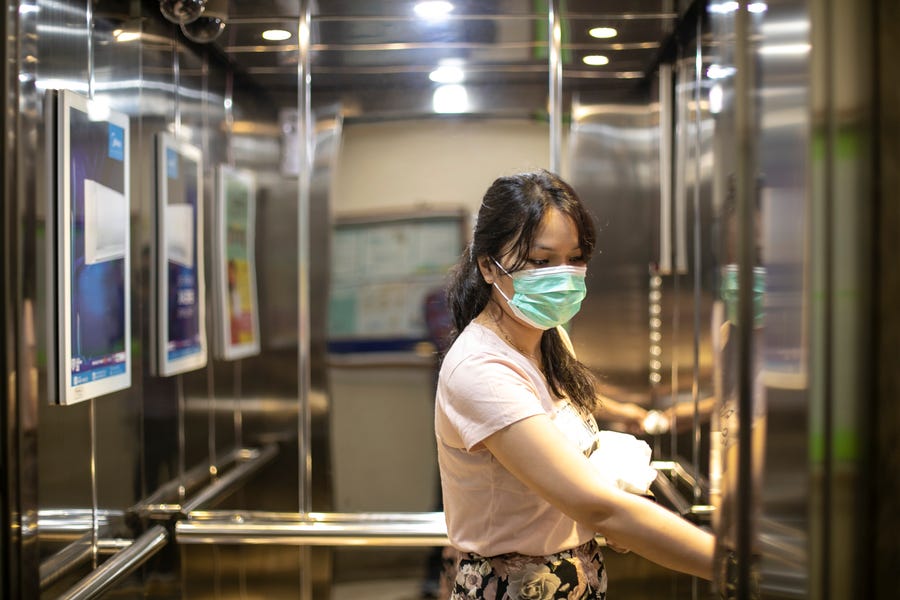 One Year Ago Today!


CDC published unfounded speculation that elevator button was a vector for the virus | Retrieved from July 8, 2020

Eric recently challenged his Facebook readers to come up with a case study of one instance of transmission through contact with a surface. One of them provided this article in Business Insider and he posted it to Facebook, along with the original study, for evaluation and deconstruction.

Business Insider made it sound like there was scientific proof of transmission via the buttons in an elevator. But it turned out that the buttons were never tested for the virus, that air transmission via droplets and aerosols was never ruled out, and that the whole thing was speculative. So, we are back to square zero on surface transmission just like CDC said in May.

But let's not allow that to stop us from finding new and "novel" reasons to be absolutely terrified of life.

From Business Insider:

New research reveals that an elevator can be a coronavirus transmission hotspot, even if an infected person doesn't have symptoms and doesn't ride with anyone else.

A woman traveled from the US back to her home in China's Heilongjiang province on March 19. Although she did not have any symptoms, she quarantined in her apartment following her arrival, avoiding any close contact with other apartment-building residents. An antibody test would later reveal she was an asymptomatic coronavirus carrier.

Three weeks later, her downstairs neighbor (and four of the neighbor's close contacts) tested positive.
---
Dr. Luis Marcelo Martínez: 'The Spike protein is nothing more than graphene inside your body and spiking you'
Editor's Note: What exactly is making people sick? We have long wondered — if anything was, what was it? Well, now there is a theory — and the theory is that it's the same thing that is loaded into the "covid vaccine" — and the nasal swab for the PCR, and commercial masks. Yes, that sounds insane: read on, and watch Dr. Martinez in this interview (video included). — efc
On Sunday, June 27, Argentine geneticist Dr. Luis Marcelo Martinez was interviewed by Pedro Moreno in the program Integrantes.
In this interview, Dr. Martinez explains that the pandemic must be treated from an engineering point of view and not only from a health point of view since it was discovered that vaccines contain graphene oxide, but experts in the area of electromagnetism must also be brought in to understand how to deal with what we are experiencing.
Orwell City has selected four points that are relevant and directly related to the findings made by La Quinta Columna and that are of great interest to both the scientific community and the general public.
---
CHD: Number of Reported COVID Cases Among Fully Vaccinated Continues to Climb | Added July 9
Editor's Note: While we are talking about Covid "cases," remember that a case is only a positive test result from the PCR, which does not test for SARS-CoV-2; it tests for random nucleotides, and is primed with a theoretical "virus" called MN908947.3. So when someone says cases, I suggest you cringe a little, because to have a case of something is to 1. Be sick and 2. To be properly diagnosed. A "case" of "covid" is neither. — efc.
From Children's Health Defense:
Reports of COVID breakthrough cases among fully vaccinated people continue to rise — as of June 28, the Centers for Disease Control and Prevention (CDC) reports 4,686 breakthrough cases resulting in death and hospitalization.
Nearly 30 people in Louisiana who were fully vaccinated against COVID died from the virus, according to the Louisiana Department of Health (LDH).
Dr. Joseph Kanter, LDH state health officer and medical director, said 27 people between the ages of 28 and 93 died with COVID more than two weeks after being fully vaccinated.
"These are people who died from COVID, from complications of COVID, despite being vaccinated because the vaccine is not 100% [effective] and people with weakened immune systems, people who are a little bit older, and some people for reasons we don't really understand, might not mount a full immune response to the vaccine," he said.
According to the LDH, 1,563 breakthrough cases have been reported. As of June 7, 94 fully vaccinated people were hospitalized statewide with COVID-like symptoms.

---
HHS Secretary attempts to clarify his statement that 'it is absolutely the government's business' to know Americans' vaccination status | Added July 9
Health and Human Services Secretary Xavier Becerra on Thursday sought to clarify his argument that "it is absolutely the government's business" to know which Americans have been vaccinated against the coronavirus, after facing backlash from Republicans in Congress.
In a tweet, the federal government's top health official said his comments from earlier in the day had been "taken wildly out of context."
"To be clear: government has no database tracking who is vaccinated," he wrote. "We're encouraging people to step up to protect themselves, others by getting vaccinated. It's the best way to save lives and end this pandemic."
Becerra's initial remarks on Thursday morning came in response to Republican criticism that President Joe Biden has received this week for his administration's latest push to persuade vaccine-hesitant Americans to get their shots.

---
Moderna begins human trial for mRNA-based seasonal flu injection | Added July 9
Moderna gave its mRNA-based seasonal flu vaccine to the first set of volunteers in a clinical trial, the pharmaceutical company announced today. The start of the trial marks the next stage of the company's work on this type of vaccine technology after the overwhelming success of its COVID-19 vaccine, which was built using the same strategy.
Before the COVID-19 pandemic, mRNA vaccines were still largely experimental, even as they were heralded as the future of vaccine development. People who get an mRNA vaccine are injected with tiny snippets of genetic material from the target virus. Their cells use that genetic information to build bits of the virus, which the body's immune system learns to fight against.
The high efficacy of the mRNA COVID-19 vaccines made by Moderna and Pfizer / BioNTech was a major endorsement for this type of vaccine. Now, pharmaceutical companies plan to use this technology to fight other types of infectious diseases, including flu. The flu shots available each year in the United States are usually between 40 and 60 percent effective. The most common shots are made by growing the influenza virus in cells or chicken eggs, and then killing the virus so it's no longer dangerous. It takes a long time to grow the virus, so companies have to start making the shots around six months ahead of time, based on predictions around which strain of the flu will be circulating that year.
Pharmaceutical companies hope that mRNA-based flu vaccines can be more effective than the traditional shots. Because they'd be faster to make, production wouldn't have to start so far in advance, and they could theoretically be more closely matched with the type of flu spreading each season.


---
NYT: Spectators will be barred from the Olympics as Japan declares a new state of emergency for Tokyo | Added July 9
Olympic organizers said on Thursday that they would bar spectators from most events at the Games scheduled to open in two weeks, a decision that followed the declaration of a new state of emergency in Tokyo in response to a sudden spike in coronavirus cases.
Officials have long insisted that they can hold the Tokyo Games safely amid a pandemic. Last month, they announced that they would allow domestic spectators at the events despite public fears that the Games could become a petri dish for new variants of the virus.
Now, the virus has again wreaked havoc on the planning of Olympic organizers, who gathered in an emergency meeting on Thursday night to decide how to respond to the latest challenge of a pandemic that had already delayed the Games by a year.
The announcement came only hours before the Olympic torch was set to begin the last — and long-delayed — leg of its trip through Japan. Officials decided this week that there would be almost no actual running during its two-week perambulation through Tokyo and its suburbs, replacing the marathon with a series of ceremonies that would be closed to the public.

---
As if the Delta variant wasn't enough, Israel reports first case of new and improved 'Delta Plus' Covid variant | Added July 8
The first case of the so-called Delta Plus variant has been detected in Israel, according to a report on Wednesday. The development came as a top health official announced that vaccinated travelers entering Israel from virus hotspots could be forced to enter quarantine.
The Delta variant, which is believed to be twice as contagious as the original strain of COVID-19, is thought to be responsible for 90 percent of new cases in Israel over the past two weeks. The Delta Plus strain has an extra mutation from the Delta variant, the significance of which is still unclear.
The new strain was found in a vaccinated woman who entered Israel from abroad, the Haaretz daily reported, without identifying the traveler's country of origin.
A man who came in contact with the woman in Israel has since contracted COVID-19 and genetic sequencing is being performed to check whether he is also carrying the Delta Plus strain, the report said.

---
Whitney Webb discusses background information on 'vaccines' with Dr. Reiner Fullmich | Added July 8

---
CHD: Google Installs COVID Tracking App on Android Phones in Massachusetts — Without User Consent | Added July 8
From Children's Health Defense:
The Massachusetts Department of Public Health partnered with Google and Apple to create a smartphone app called MassNotify, which tracks and traces people, advising users of others' COVID-19 status.
For a tool that claims to have been developed "with a focus on privacy," imagine Massachusetts residents' surprise when the app suddenly appeared on their Android phones out of nowhere. In a review on the Google Play Store, one shocked parent said:
The official MassNotify site, operated by the Massachusetts Department of Public Health, makes no mention that the app will automatically show up on residents' phones without consent, stating only that MassNotify is a "new tool that works through smartphones, with a focus on privacy, to alert users who may have been exposed to COVID-19."

---
Dr. Malcolm Kendrick: Covid19 – the final nail in coffin of medical research | Added July 8
Several years ago, I wrote a book called Doctoring Data. It was my attempt to help people navigate their way through medical headlines and medical data.
One of the main reasons I was stimulated to write it, is because I had become deeply concerned that science, especially medical science, had been almost fully taken over by commercial interests. With the end result that much of the data we were getting bombarded with was enormously biased, and thus corrupted. I wanted to show how some of this bias gets built-in.
I was not alone in my concerns. As far back as 2005, John Ioannidis wrote the very highly cited paper 'Why most Published Research Findings are False'. It has been downloaded and read by many, many, thousands of researchers over the years, so they can't say they don't know:
Moreover for many current scientific fields, claimed research findings may often be simply accurate measures of the prevailing bias.

---
'New Normal Newspeak' series at OffGuardian looks at the World Health Organization's quiet redefinition of 'herd immunity' | Added July 7
WHO removed natural immunity from the definition.
Ever since the beginning of the "pandemic", and its transition into the clear "New Normal" (or "Great Reset) agenda, the English language itself has become a battleground. Words and phrases are being stretched and twisted into new, bizarre or contradictory meanings, or weighted with implications that never existed before.
"New Normal Newspeak" is our attempt to catalogue these changes, and stop the real meaning of words being memory-holed forever.
Our first example is a very, very literal one.
The phrase "Herd Immunity" has existed for decades, and most of us had probably come across it at some point prior to March 2020. It had a clear meaning, which was available from (among other places) the World Health Organization website:
Herd immunity is the indirect protection from an infectious disease that happens when a population is immune either through vaccination or immunity developed through previous infection."
However, after the "pandemic" hit, this erstwhile totally uncontroversial theory became the subject of fierce debate, and proponents of it suddenly found themselves described as "genocidal".

---
NYT: As masks become optional, they also become a symbol of class and inequality. | Added July 7
In the weeks since the Centers for Disease Control and Prevention revised its mask guidelines to allow fully vaccinated people to take their masks off in most indoor settings, a stark divide has emerged, particularly in wealthier enclaves where services are at a premium.
Those still wearing masks tend to be members of the service class — store clerks, waiters, janitors, manicurists, security guards, receptionists, hair stylists and drivers — while those without face coverings are often the well-to-do customers being wined and dined.
Employers are hesitant to discuss their mask policies, but there are sensible reasons for requiring staffers to keep their masks on.
Just under 50 percent of people in the United States are fully vaccinated. And coronavirus variants, some of which are highly infectious and may be more resistant to vaccines, are on the rise, said Dr. Lisa Maragakis, an epidemiologist and associate professor at Johns Hopkins University.