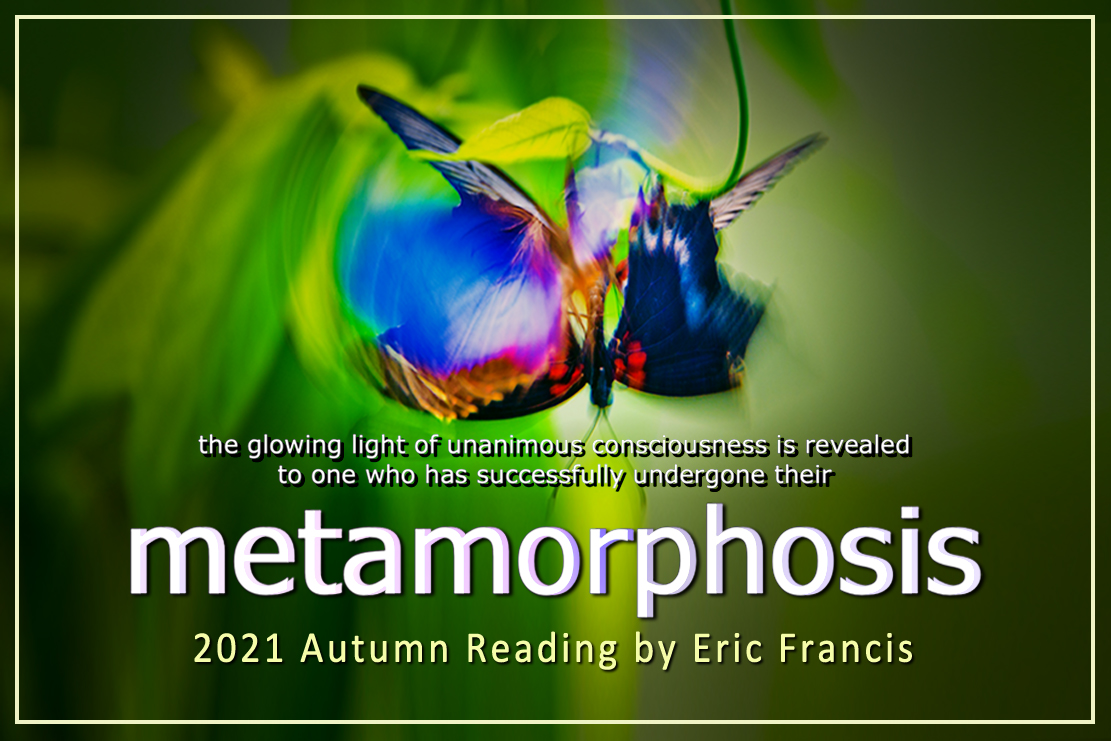 This reading is included with Backstage Pass.
---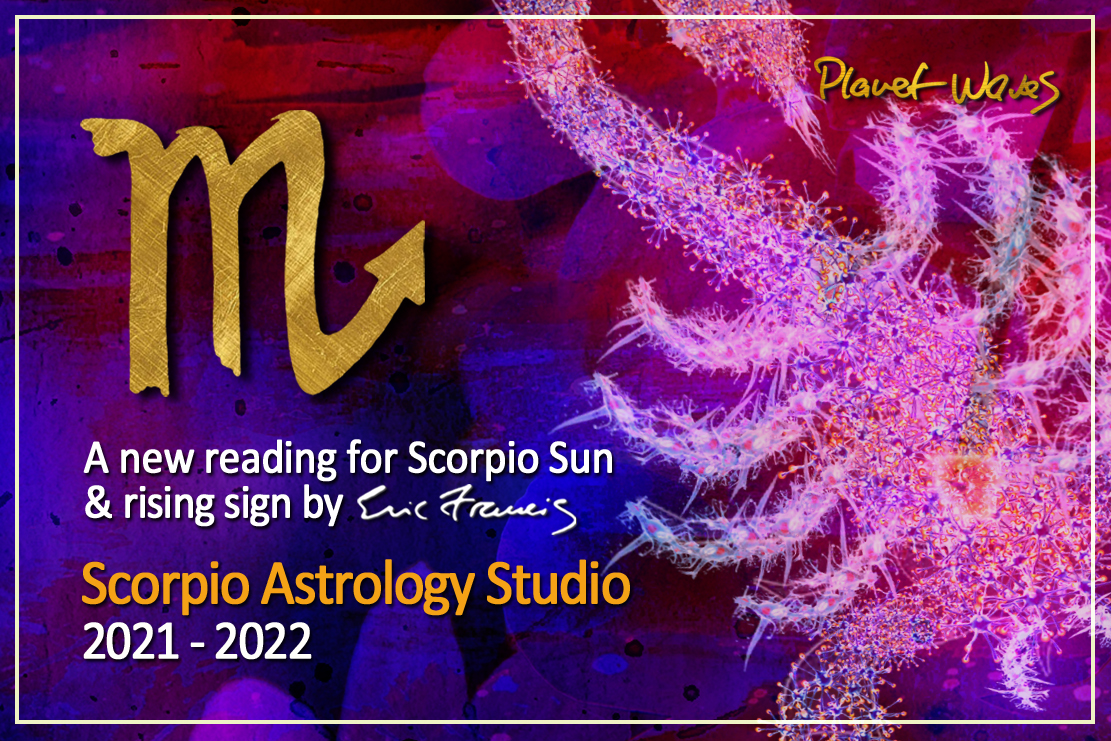 This reading is included with Backstage Pass.
---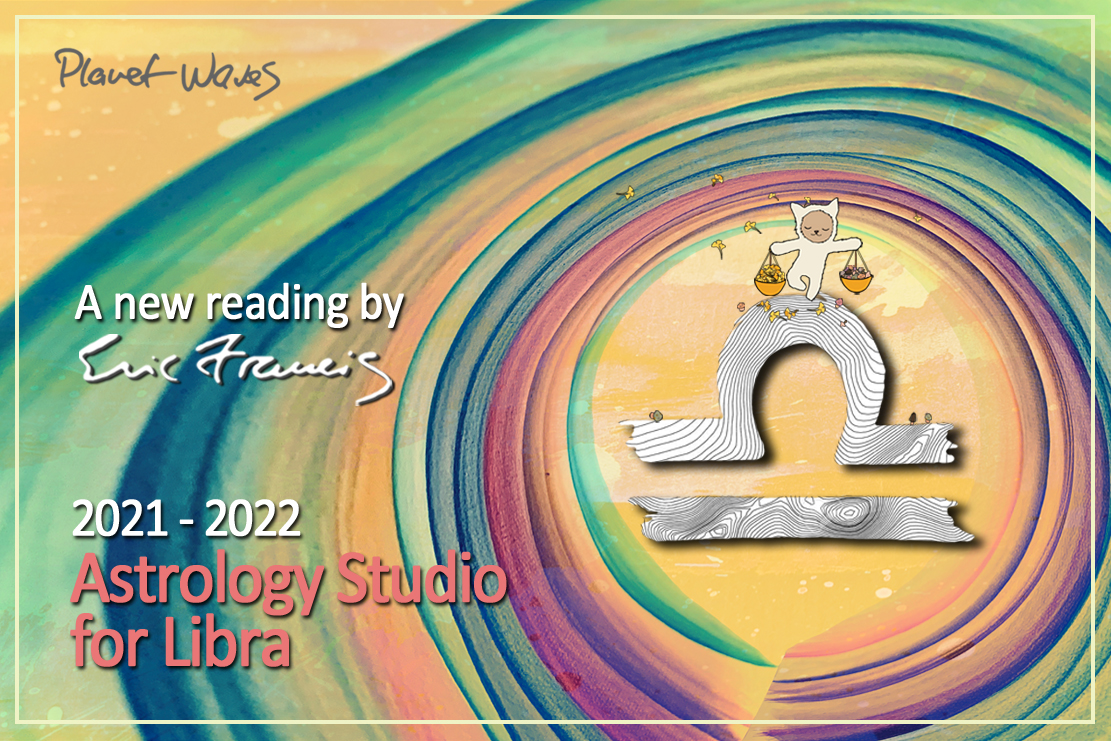 This reading is included with Backstage Pass.
---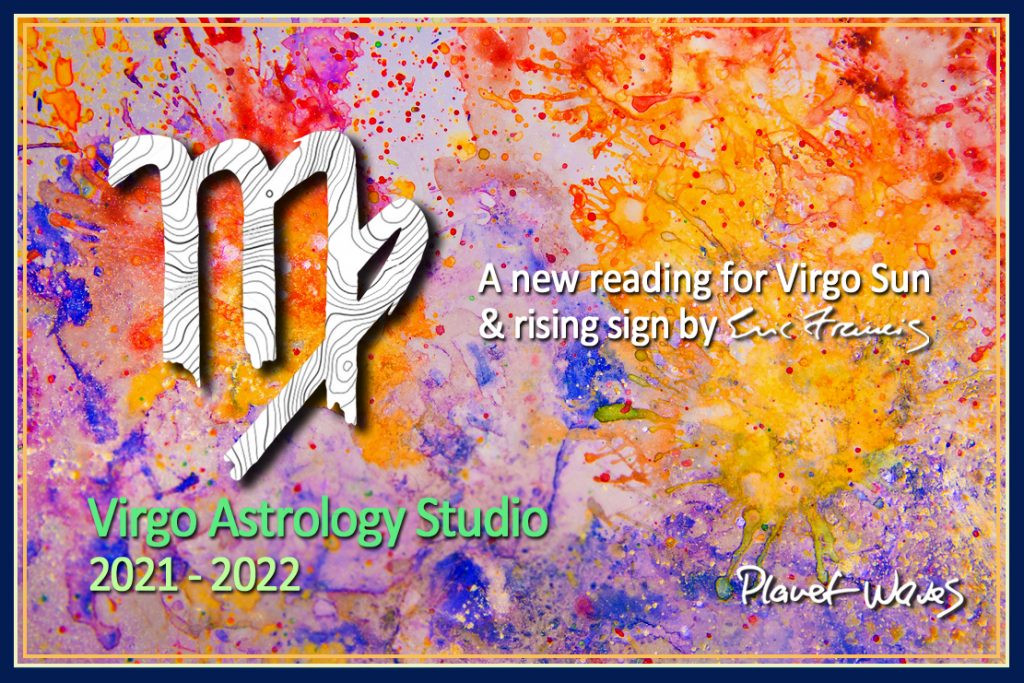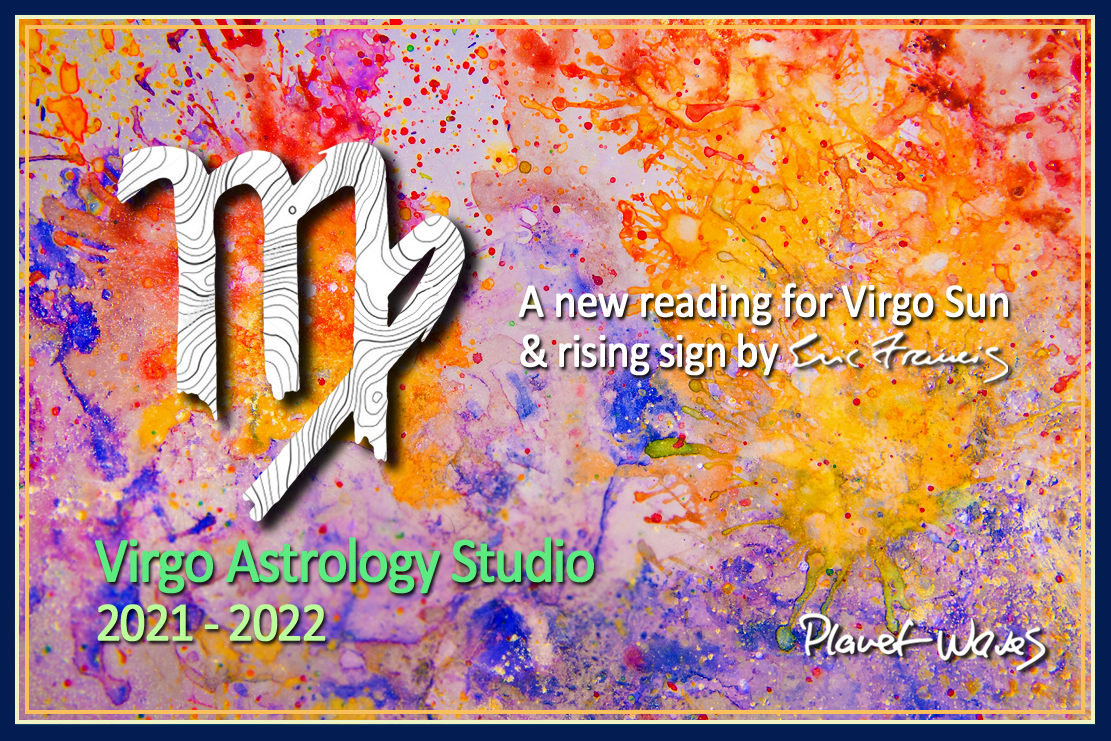 This reading is included with Backstage Pass.
---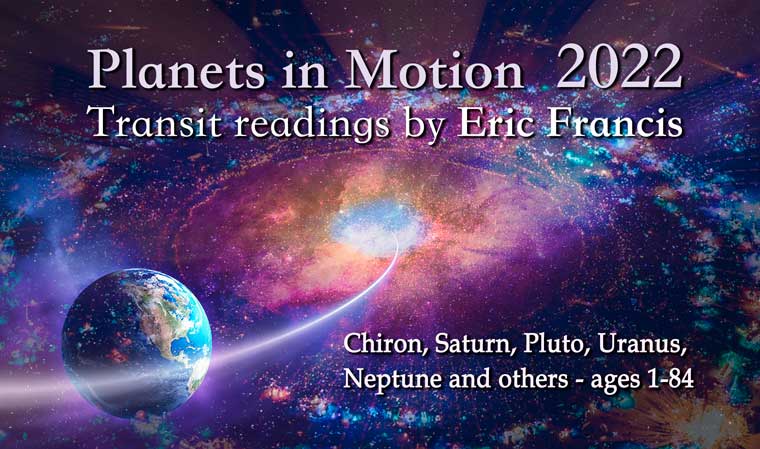 Now Available! Planets in Motion 2022


What's happening in your astrology right now?

Dear Friend and Reader:

My approach to astrology is based on what is happening right now. I have just completed Planets in Motion, an e-Book that covers about 20 transits happening to people now, ages 1-84. This is an easy introduction to using astrology in practical ways. I write in clear language and bring your astrology to life. It comes with an audio introduction to the topic to help you get oriented and learn the value of transits.

You will read about the first and second Saturn return and related transits, Uranian opposition, Chiron Return and related transits, and then many subtle events that are specialized to specific years of birth. These will be relevant for many people in your life, young and old. We finally have a resource on people born between 1980 and 2000.

Here is how to order; the project is done and available now.

Thank you for your business and your trust.

---
"This is one of the best readings I've ever experienced. Taurus is my rising sign, so I ordered the Taurus 2021-22 Astrology Studio reading as the rising sign tends to be more accurate for timing and planet/house placements. I was impressed, initially, by the flowing, poetic feel of Eric's reading as well as his soothing manner of speech in a high quality, audio recording. But most importantly, his depth of understanding of Taurus and the accompanying Whole Sign House chart is astonishing, right down to the subtleties. It's an incredibly, vulnerable feeling to be 'seen' at such a profoundly, private level. It's as if my personal subconscious came to light with a new upgrade…Who could ask for anything more from a 'general' reading?!"
— Sherry Kilian on the Taurus 2021-22 Astrology Studio
Reading options below – please scroll down. If you can't find something you're looking for, you can send your question so cs@planetwaves.net and we will help.
---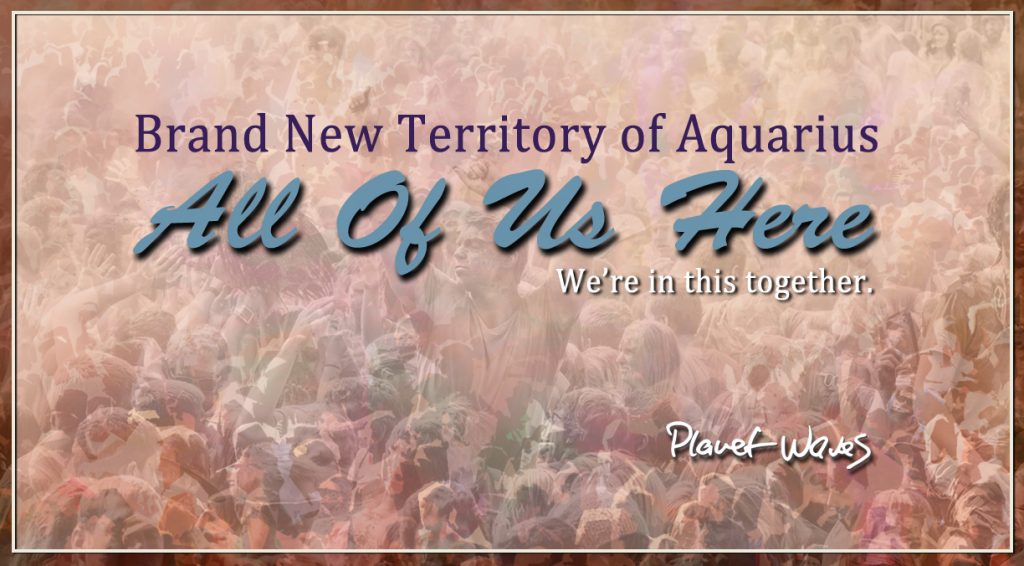 New Territory of Aquarius: All Of Us Here and An Aquarian Era, 2021 Readings
Aquarius is the sign of "we're all in this together." I take this to heart. It is the truth. We are not alone on our planet, nor can we do anything much if we think we are.
It's been a long time since there have been slow-moving planets in Aquarius. There have been a few spells, but the last one ended in 2012, and that was Neptune, which was impossible to grasp — and was mainly connected with the takeover of smart phone technology.
We now have Jupiter and Saturn in Aquarius, the two most massive planets: solar systems of their own. This is part of a transitional period that lasts through 2023. Within a few weeks of Saturn leaving Aquarius that year, Pluto enters Aquarius, where it will stay through 2044.
---
All Aquarian Era readings are now complete. Thank you for your patience. — Eric Francis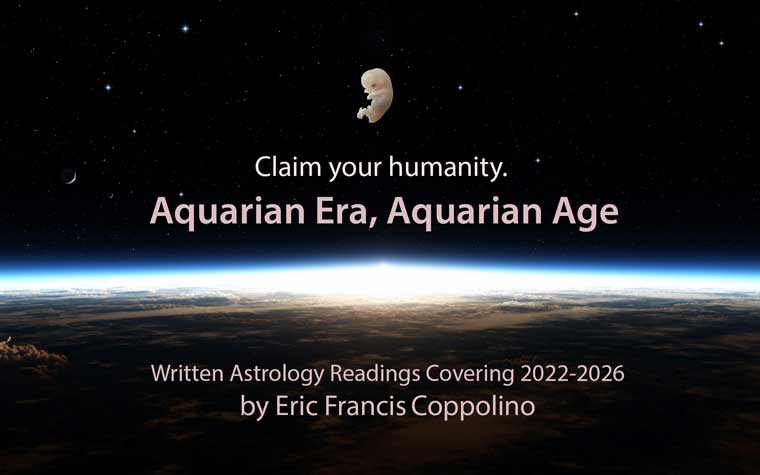 ---
Our Delicate Future | Read More
---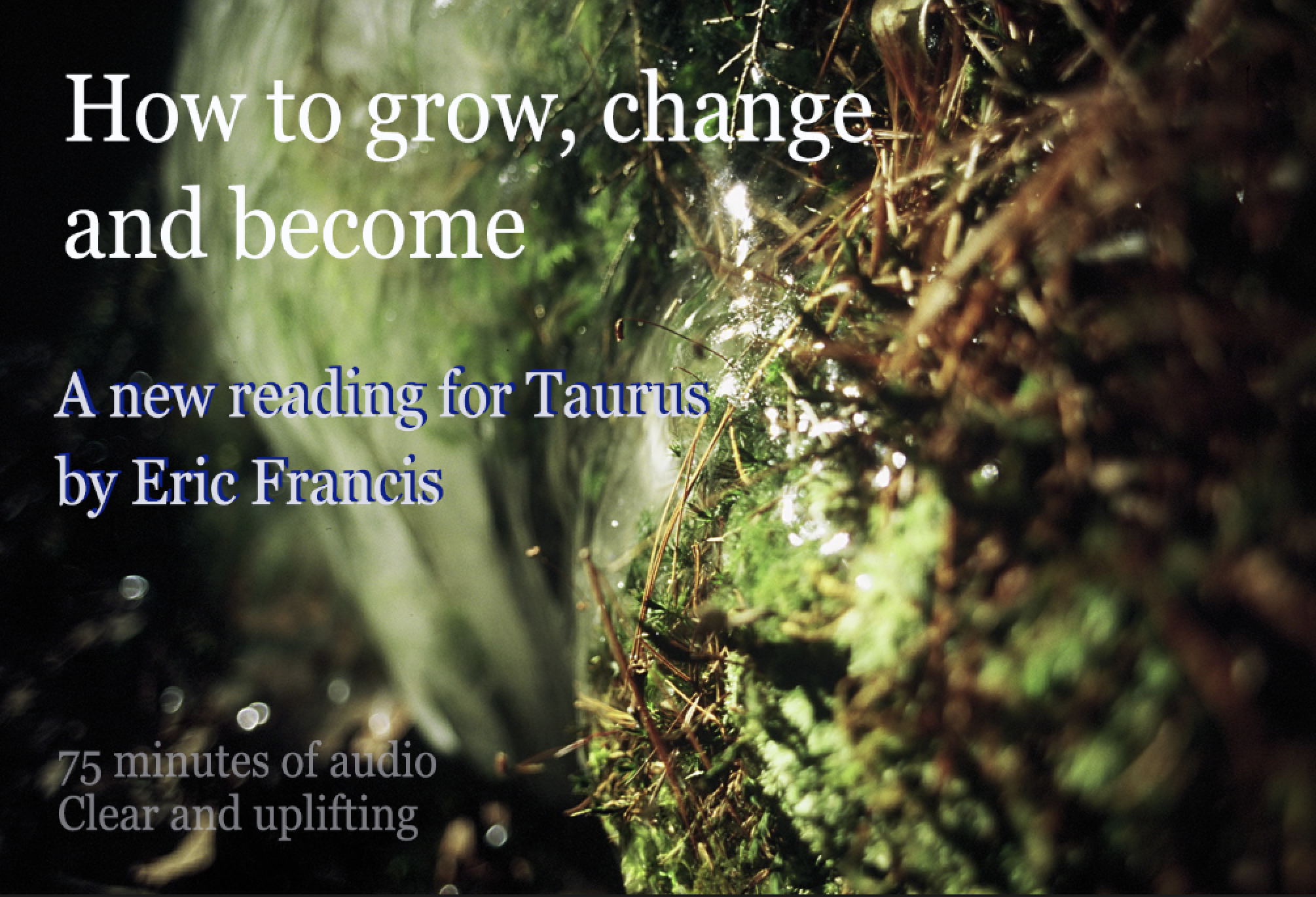 "This last year's reading for Aries was amazingly accurate in terms of what is going on in my life. Thank you so much."
—
A. Wilson
"
Eric Francis gets Taurus like Melissa McCarthy gets Sean Spicer. 'The most mental sign'? Who else says that, plus connects it to the air signs (and to Virgo) with such clarity? The reading beautifully sets up the upcoming Venus retrograde. Spending an hour with these pages offers gentle encouragement toward self-acceptance, expression, and leadership, tailored to the energies of the year ahead."
—
Cheryl Corson
"I've known Eric Francis and his work since 1997. He was my lifeline, which helped through 15 years of raising two boys solo, and still he's still helping me through life/identity crisis, post children…his vision is uncanny — he seems to know Taureans better than we know ourselves."
— Leo Loza
---
Welcome Aries! See Astrology Studio updates below.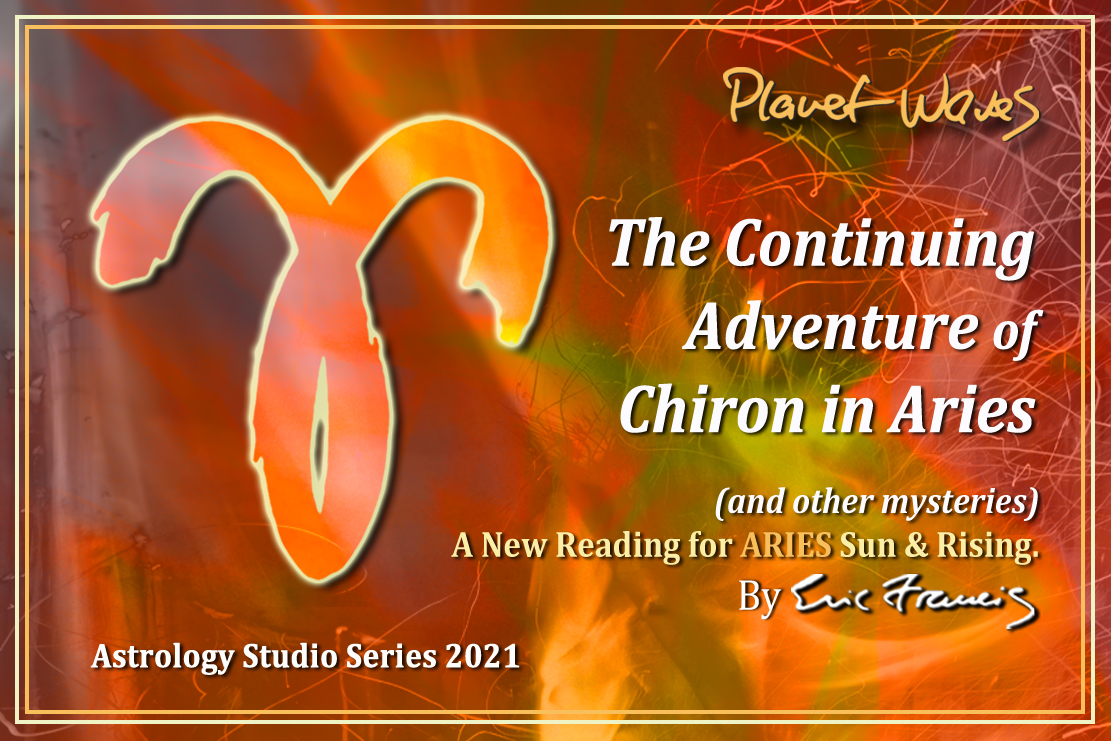 The Aries reading is now ready! Here is what our recent customers have to say:
"This last year's reading for Aries was amazingly accurate in terms of what is going on in my life. Thank you so much." — A. Wilson, on a previous Aries Astrology Studio

"Thank you for my Aries reading. It is so on point! I listened to it during a road trip; my car companion was also Aries and we really found a lot of similitude in what's happening on our lives right now. You are the best, so clear, connecting all the dots effortlessly." — M. Andrews, on a previous Aries Astrology Studio

"I'm an Aries Sun, with Aquarius Rising and Gemini Moon, and listened to all three readings. As always, Eric is extremely encouraging, not just in the energy he brings to the reading, but because of his way of making your life and experiences make sense to you without even needing to speak to you. I find his readings very calming. Planet Waves entered my life at just right time, and I'm so glad it did. I eagerly await all the great work you all put out!" — Yeshua

"This reading is so amazingly dialed-in that I can't believe it wasn't written specifically for me. Thank you, Eric, for tying together many strands of intuition of which I was vaguely aware: now I can begin to own and embody them with confidence." — Anthony, on a previous Aries reading
---
Hello Pisces! It's Your Season. Updates below!
Dear Friend and Reader:
Neptune is in your birth sign for the long-haul, and Chiron is in Aries, your sign of self-esteem and self-worth. The challenges of the past few years have given way to a whole new life environment. You are still adapting to this new set of conditions. My 2021 Astrology Studio for Pisces is called Every Decision You Make.
This is a 75-minute professional astrology reading for Pisces Sun, rising and even Moon sign which I plan to release by Friday, Feb. 18.
If you have never experienced an Astrology Studio reading at the time of your birthday, you have a special privilege ahead of you.
My readings aspire to the quality of both excellent astrology and therapy, providing you with better information than most one-on-one readings.
How is that possible? It's what I do. Here is some recent customer feedback.
"BUT THEN, I came across your work and I am a person who is utterly renewed. I finally believe that I have found an astrologer who truly understands the 12th house life and who truly has a grip on the wonderous difficulties of living the karmic life of a Chiron aspected Aries. So thank you, Eric, for your work on these most difficult issues, it has been just amazing to listen to your profoundly encouraging astro-raves! I cannot recommend you enough, more power to your work, it is so necessary in this day and age."
— L. Allen
Information About Pricing
You may order the reading here at $44. (For comparison, my personal consultations begin at $555. I would estimate that my recorded readings get you at least halfway the distance of a personal consultation for less than 1/10th the price.)
Thank you for your order. Thank you for your business and your trust.
With love,



PS — This reading is included with the Backstage Pass, along with many other benefits, including all Astrology Studio readings as well as Spring and Midyear readings.
PPS — If you want to give this reading as a gift, please email cs@planetwaves.net with the word PISCES GIFT PURCHASE in the header.
---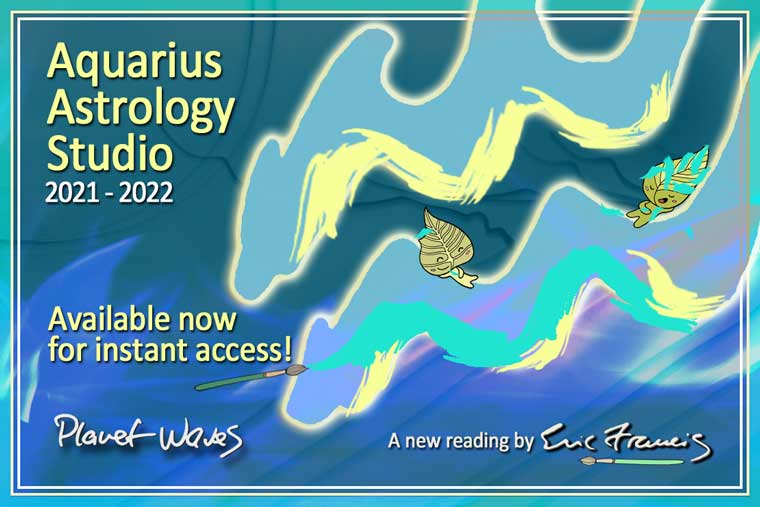 Dear Friend and Reader:
I'm now preparing to do Astrology Studio for Aquarius 2021. My annual reading — All of Us Here — left much unsaid, especially for Aquarius, where all of the most interesting astrology of 2021 and beyond is centered.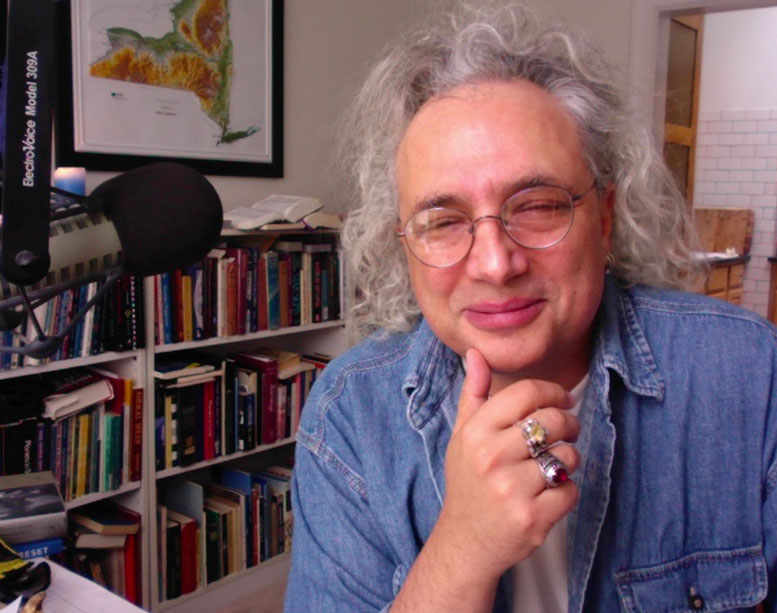 Eric Francis.Your central quest is nothing less than the deepest message of your sign, which is about being the distinctly different human that you are: in the face of much pressure to give that up.
Yet as someone getting your astrology from me, not on my watch.
Aquarius is a human sign, and it is your destiny to emerge from the current crisis unscathed, in possession of your soul's mission and purpose.
The combination of Jupiter and Saturn in your sign is a rare opportunity. It has not happened since you were much younger — way back in 1405.
Astrology Studio readings are 75 minutes, with original music, and access to last year's recording for review. Your reading is available at the preorder price or $33 until it publishes, which will most likely be Thursday or Friday, when the price goes up to $44.
This reading will help you make sense of astrology that is widely commented upon, but that few truly understand. You may preorder here.
Thank you for your business and your trust.
With love,

PS — This reading is included with the Backstage Pass. When it is ready, it will appear on your BSP Readings feed in your personal account on the new website. If you have not established a personal account on the new site, please contact us immediately so you get your materials. Write to cs@planetwaves.net.
For those interested in the Backstage Pass, which includes all Astrology Studio and the Spring and Midyear readings, you may learn more here, or call (845) 481-5616. I answer when possible and if not, someone will get right back to you.
---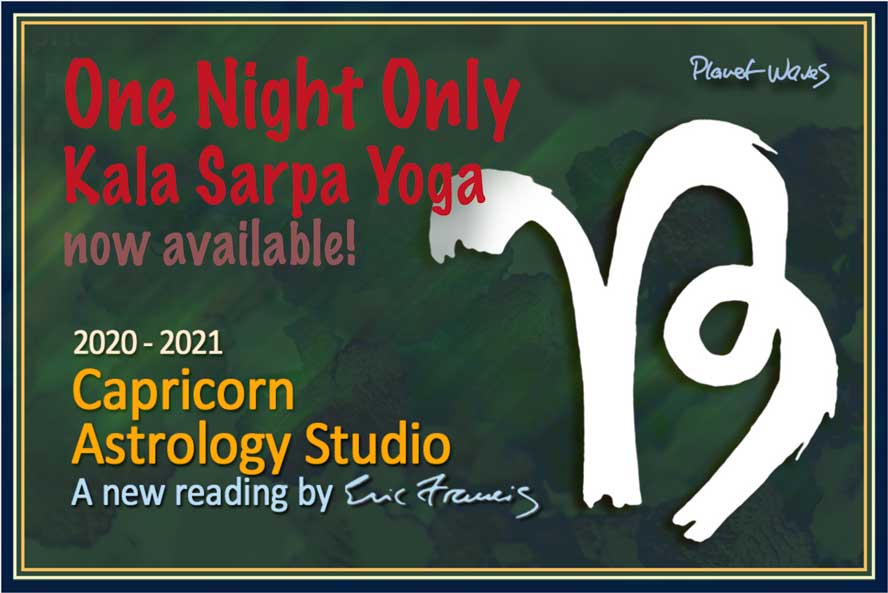 Listen to a sample here —
.
Capricorn astrology for 2021
, is ready, complete with a careful reading of the remaining years of Pluto in Capricorn, centaur Chariklo in Capricorn, and both of those points square Eris in Aries. Preorder for best price. This positive, motivating and insightful 75-minute astrology reading is available for instant access. —
Eric Francis

---
Curious about my audio readings? Listen to some prior ones from 2020 free on this player. Your 2021 reading is now ready. Find out more.
ericfrancisastrology is on Mixlr
---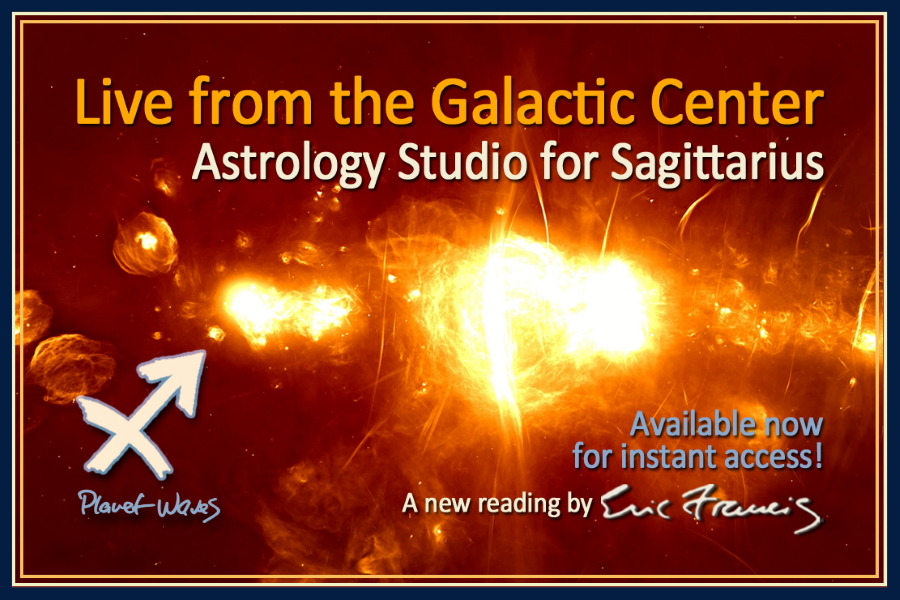 The most exuberant astrology reading ever.
Astrology Studio for Sagittarius, 2020-2021
Dear Friend and Sagittarius Sun, Moon, or Rising:
Without Sagittarius, we would all be lost. Home of the two centers of our local universe (the Galactic Core and the Great Attractor), Sagittarius is the homing signal in the zodiac. It reminds us of our cosmic origins, and this is a role you serve in the lives of many.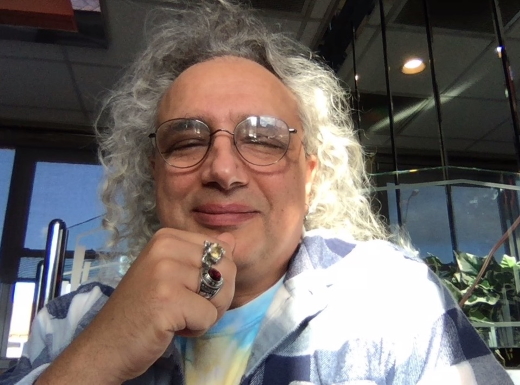 Sagittarius season is particularly exciting this year, with two eclipses involving your sign, including the Dec. 14 eclipse conjunct a planet named for the Goddess of the Stars.
The image above is as close of an image as we can get to the Galactic Core, which is packed with millions of whipping stars jammed so close that it's light out all the time, in every direction.
And you are invited to view this new video on why I think that Sagittarius is the most interesting sign.
You may order here. This is a 70-minute audio reading featuring original music by Vision Quest. This reading is ready and available for instant access.
Thank you for your business and your trust.
With love,

PS — This reading is included with the Backstage Pass. If you have questions about that, please give us a ring at (845) 481-5616.
Here is a sample of your Sagittarius reading — Live from the Galactic Center
---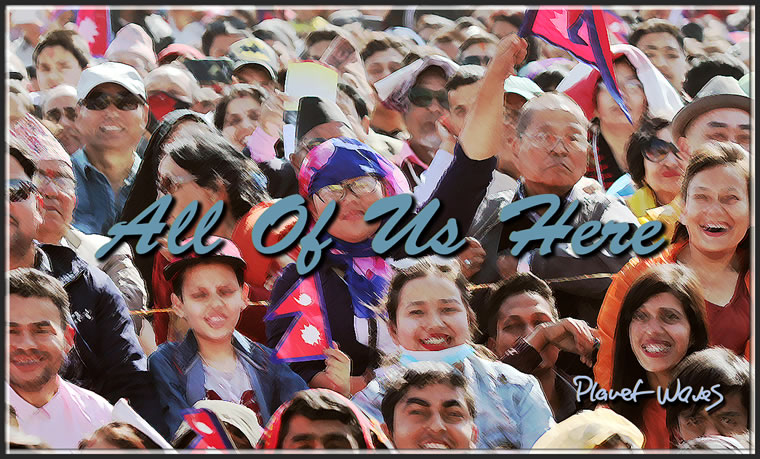 In honor of Jupiter and Saturn in Aquarius, the 2021 Planet Waves annual readings are called ALL OF US HERE. These are audio readings for all 12 Sun signs and rising signs.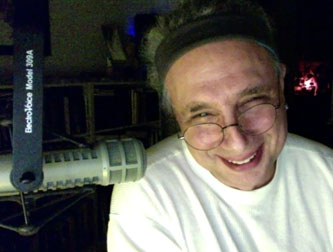 For the next few days, we will be offering all 12 signs of ALL OF US HERE for $88.These extended audio readings will synchronize you with the astrology of the forthcoming year.
They  include a video introduction wherein I describe the charts — done by Dec. 21, the day of the Jupiter-Saturn conjunction.
There is also a separate written reading called AN AQUARIAN ERA for $88, which covers Jupiter, Saturn and Pluto in Aquarius from 2021-2023 – this is available for pre-order for all 12 signs. It is your best introduction to Pluto in Aquarius (2023-2044).
---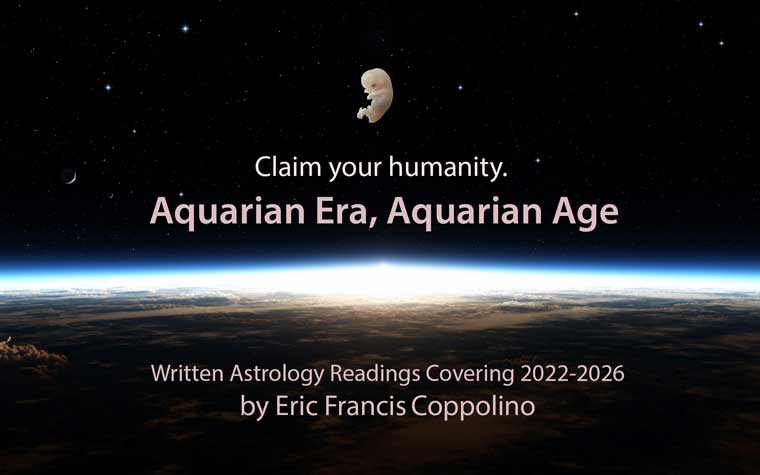 Our Delicate Future | Read More
---
Get a Reading by Eric Francis | Instant Access
"Your words have served as a sort of daily affirmation — yes, I can be bold. Yes, I can be assertive. Yes, I can do what I need to do for me. So many of the things that I doubt and struggle with at the core of my being have been addressed through the reading."
— Stacey Katz, Tujunga, CA
Yes, it's possible! Link to Personal Phone and In-Person Consultations with Eric. Note, the audio player below offers many of my astrology readings for your Sun or rising sign for 2019. No signup necessary! Just click. This page offers my newest readings (details below). Find out your rising sign! A whole world of astrology awaits you. For questions or more information, call me at (845) 481-5616 (till 8 pm NY time zone).
ericfrancisastrology is on Mixlr
---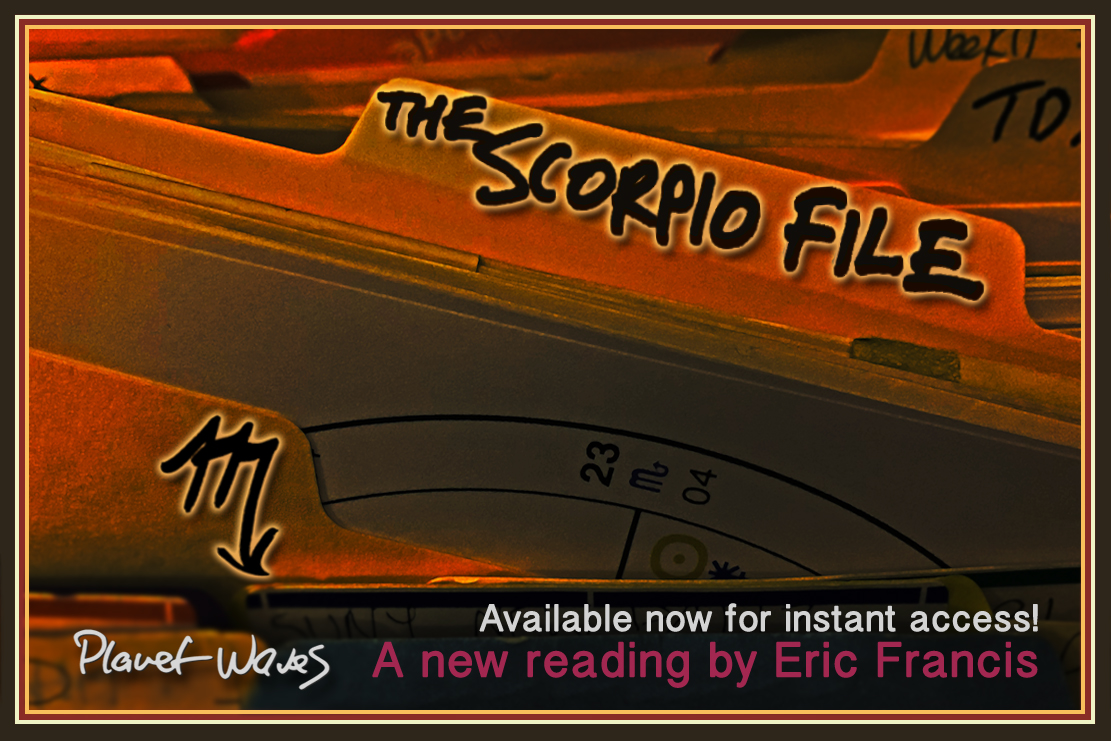 Listen to a sample here:
.
What's in the Scorpio file? Does anyone really know? This year for your solar return, Mercury is retrograde in your sign. Adding to the mystery, Mars, your classical ruling planet, is retrograde in Aries, about to station direct. Then Jupiter forms a conjunction with Pluto, which takes the story to the level of your soul's mission on Earth. In this 76-minute astrology reading, Eric Francis unravels the secrets of your sign, and helps you guide yourself through this strange new time we are living in. Price is $44. Original music by Vision Quest. Get instant access here!
---
Our Delicate Future | Read More
---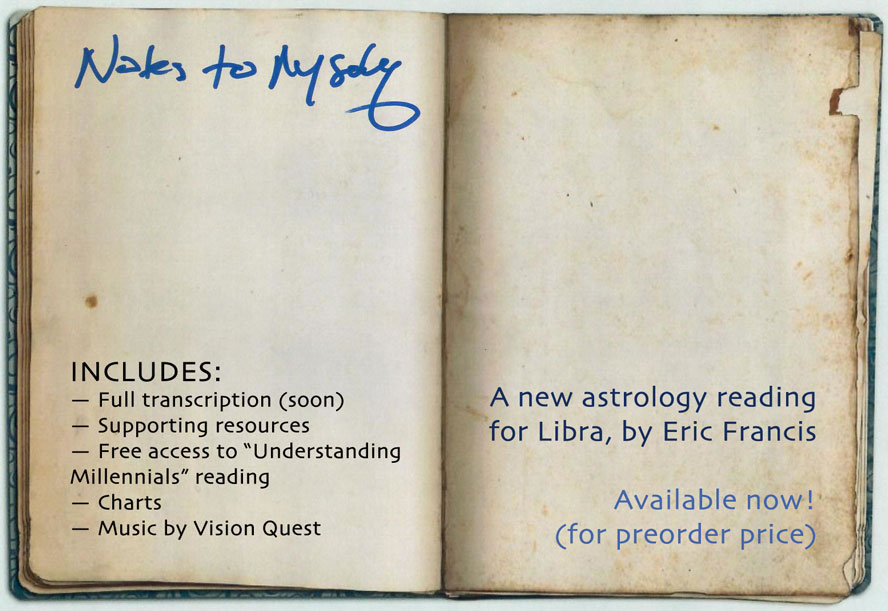 Listen to a sample here:
Dear Friend and Libra:
Your reading is done, and in true Libra fashion, it is beautiful.
The reading all moves toward the Jupiter-Saturn conjunction in Aquarius, your 5th house of curiosity, art, pleasure and passion.
Before we get there, I review the Pluto in Capricorn era that began in 2008, and bring that up to the present. I look at the aftershocks of the Saturn-Pluto conjunction back in January, all of which is about your drive to be secure and stable in a rapidly changing world.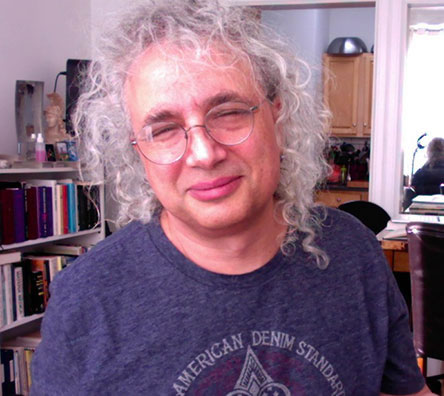 Aries, your 7th house of relationships, figures prominently, beginning with a discussion of Chiron in Aries and what that represents: healing in relationships, and also the presence of teachers and mentors.
And I look at Mars retrograde in Aries and describe how it is necessary to take an arm's length approach to the affairs of others, even if it impacts you directly. You may listen to a sample of your reading here.
Exciting Extras Included — Including my Millennials Reading
Special features include a full transcript coming in about a week, articles related to the topics I discuss (such as the Aries written reading for INTELLIGENCE), and free access to the Understanding Millennials reading I did a few years back. This reading looks closely at the Capricorn events of the early 1990s.
Understanding Millennials is an exciting look at the astrology of its era, and also will help you understand either yourself or young people you may know.
All of this is yours for the pre-order price of $33. Due to forgetting to offer a pre-order, I'm holding pre-order level through Friday night. The reading will be available for instant access.
This reading is available with the Backstage Pass, without a personal reading, or with a 20-minute custom look at your chart.
Today and Friday, we will include this reading free for anyone who subscribes to a one-year Core Community membership.
Thank you for your business and for trusting me as your astrologer.
With love,



PS — You may subscribe to Core Community or Backstage Pass by phone, by calling (845) 481-5616.
---
Get instant access now! | The Story of I AM — 2020 Autumn Reading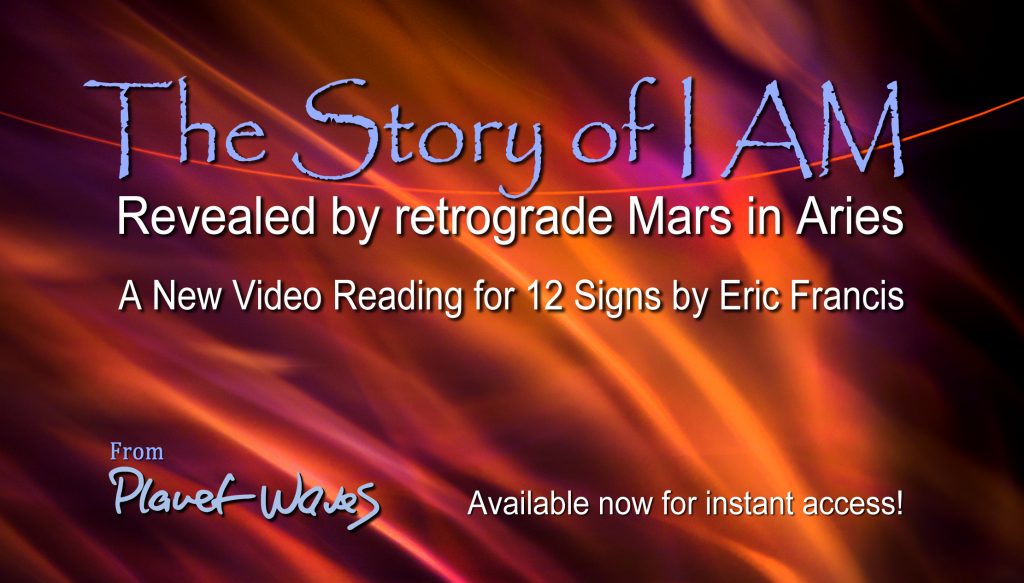 Mars retrograde in Aries is the final transition, the emotional, psychological and experiential bridge, to the last event of 2020: Jupiter conjunct Saturn in Aquarius. Mars retrograde represents the work of individuation and of self-actualization that will make the group experience in Aquarius more relevant and more easily workable.
Borrowing a line from Lou Reed, "Self-knowledge is a dangerous thing — the freedom of who you are." Dangerous perhaps to a way of life that involves allowing yourself to disappear and be insignificant. Mars retrograde in Aries invites boldness and embodiment and the exploration of your will. Order here for instant access or choose your individual signs here.
---
Virgo 2020-21 Astrology Studio | Order here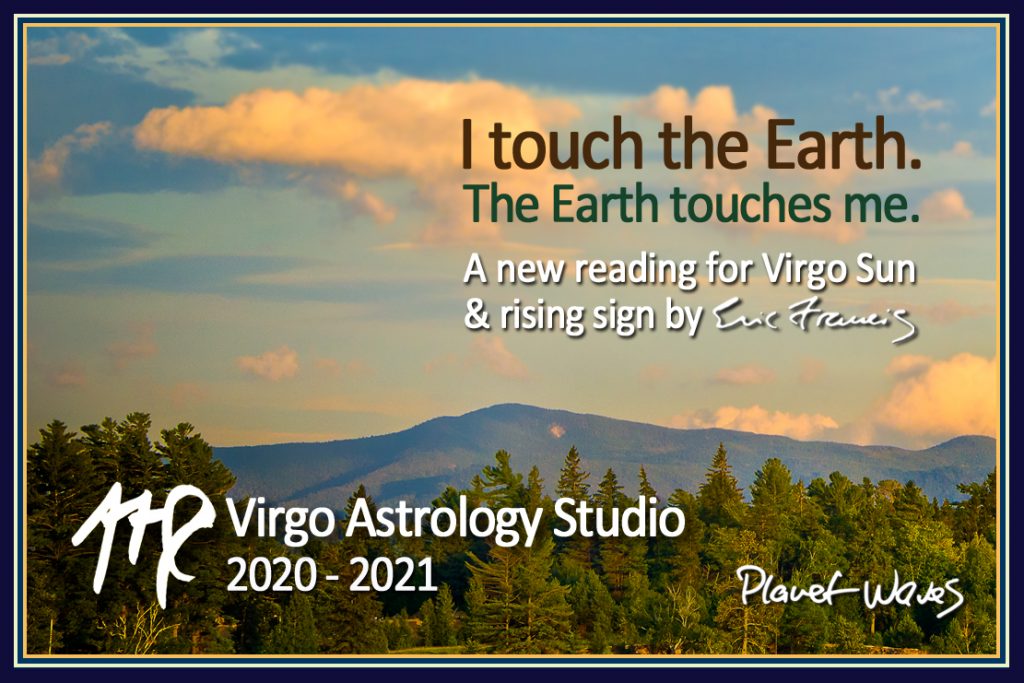 Tailored for Virgo Sun and rising, this new audio reading by Eric Francis introduces you to your astrology through the autumn of 2021. We will take maximum advantage of the power you are drawing from the Earth signs at the time of your solar return: Jupiter, Saturn and Pluto in Capricorn, as well as Uranus in Taurus. This is a grand earth trine, and the thing to do is gather momentum in the direction you want to go, and then point yourself there. Eric describes the influence of Jupiter and Saturn ingressing Aquarius later this year. The reading looks closely at Chiron in Aries, accompanied by Mars retrograde in Aries — your most important relationship house. A full transcript will follow soon. Order now for instant access. This reading is included with the Backstage Pass.
---
Now Available Leo 2020-21 Astrology Studio | Purchase here!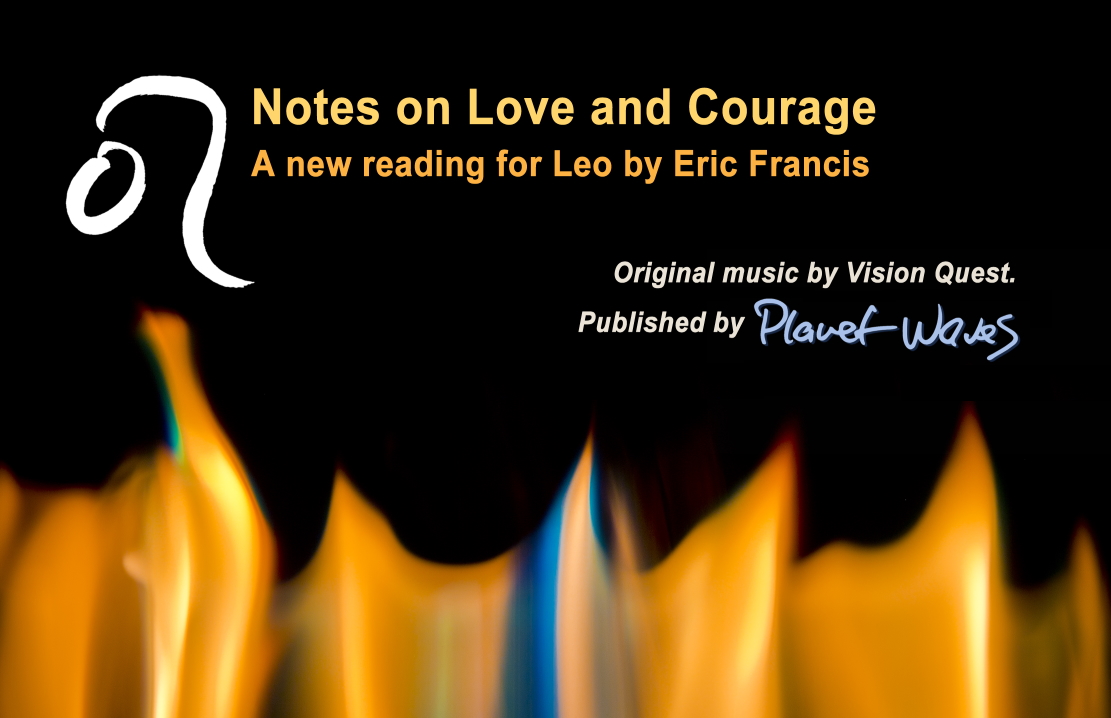 Your Leo Astrology Studio, Notes on Love and Courage, is now available for instant access. The two giants of the solar system meet up at the end of this year in your opposite sign Aquarius. Eric explores what this seminal conjunction means for you, and much more. Get your copy here for just $44.
You can also listen to a brief sample here:
---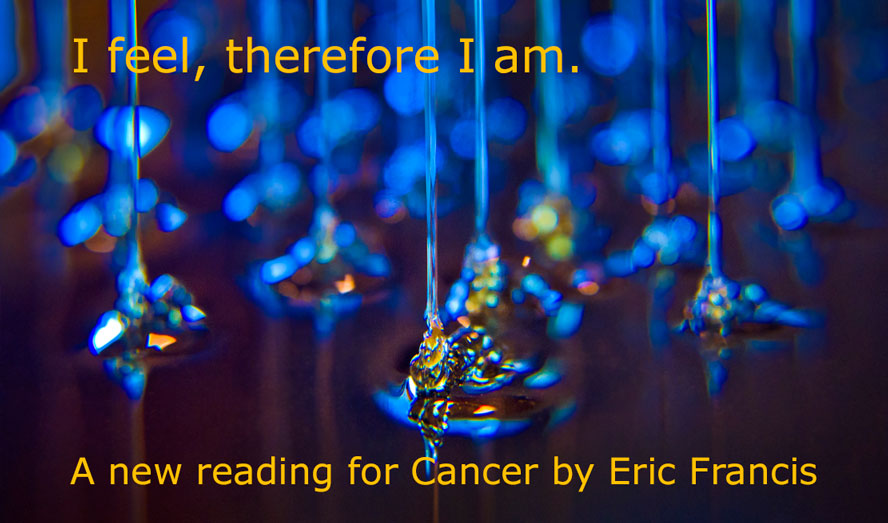 Your 2020-21 Cancer Astrology Studio is now available for instant access. This year, the time of Cancer begins with an eclipse on the solstice, as well as Mercury retrograde in your sign. This is astrology that points to you in a personal way, describing a transition you may not feel ready to make but have been preparing for over long years. Chiron in Aries is also a prominent factor, pointing to some pioneering developments in your professional life. I cover these aspects, and much more.
---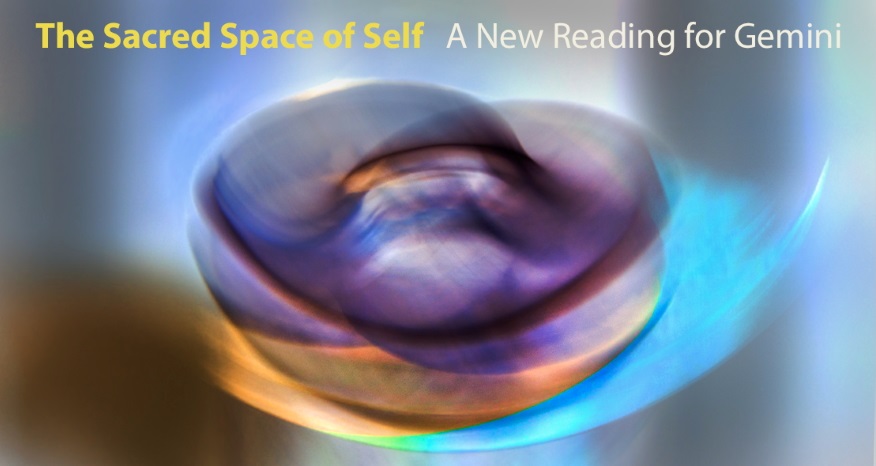 Your 2020-21 Gemini Astrology Studio, The Sacred Space of Self, is now available for instant access. The reading covers Venus retrograde in your sign, Vesta in your sign, Saturn in Aquarius, and the momentous astrology at the end of the year. Thank you for your business and your trust. More details here.
---
THE DHARMA readings are complete and available for instant access! These are 12 uplifting, motivational astrology readings for your sign and rising sign. Many times I have quoted Khenpo Karthar Rinpoche: "We do indeed live in an age of decadence, but the Dharma is not decadent. The Dharma is the same as it always has been." Despite the challenges of our time, you can focus on your purpose, which is related to the World Purpose. You can step into your calling as one who came to our planet to make a positive difference. This is integral to your healing path, your personal mission and the necessities of the world. In this new video reading, about work and relationships, we will use the astrological markers of our moment to point the way, and clear the way. Order all 12 signs of THE DHARMA here.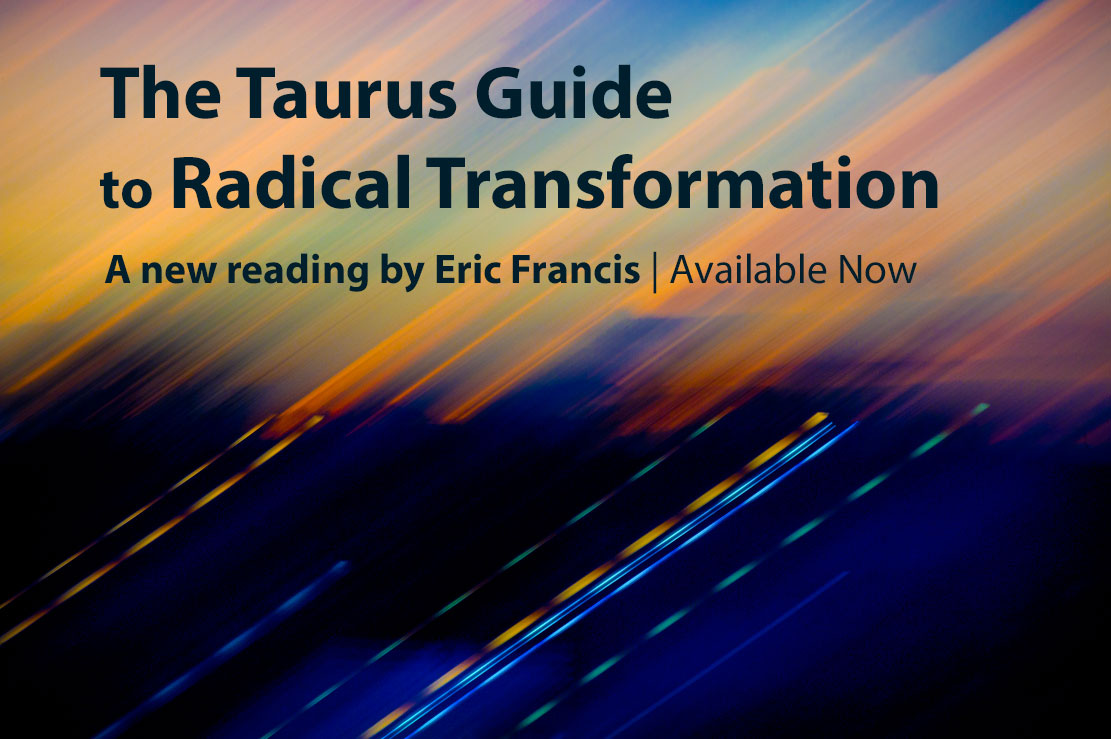 You can now get instant access to your 2020-21 Taurus Astrology Studio here for just $44. This reading focuses on a professional breakthrough toward the end of the year, and preparing you for this development. Venus retrograde in the spring is preparation. Mars retrograde in the autumn is preparation.
Ultimately this is a spiritual development, yet in reality we are talking about aligning your purpose with action, with a calling, and with an opportunity. Elements of the reading go out to a series of power steps in 2021. Read more. (Other signs below.)
Yes, it's possible! Link to Personal Phone and In-Person Consultations with Eric
"Thank you for your LITERALLY life-changing work. I cannot put into words how much I appreciate what you do. I went from a homeless veteran (with 2 children) to a first-time homeowner over the last 3 1/2 years. Eric's words guided me to a place my family now calls home. I have followed him for years (since his NY Daily News days) and I am stunned by his accuracy. The Art of Becoming was so on topic that I used it as a guide for the whole year. In fact, I most likely would NOT have had the courage to buy a home if it wasn't specifically mentioned in that reading. I had slept on inflatable furniture, cots and couches for so many years that I was mostly focused on having my own room. Just the thought of buying a home seemed too overwhelming for me. However, thanks to Eric and the rest of the team, I now have my own space."

— March 2, 2020 email from Casey O.
The Journey of You and Chiron | A new reading for Aries and Aries rising by Eric Francis (other signs below)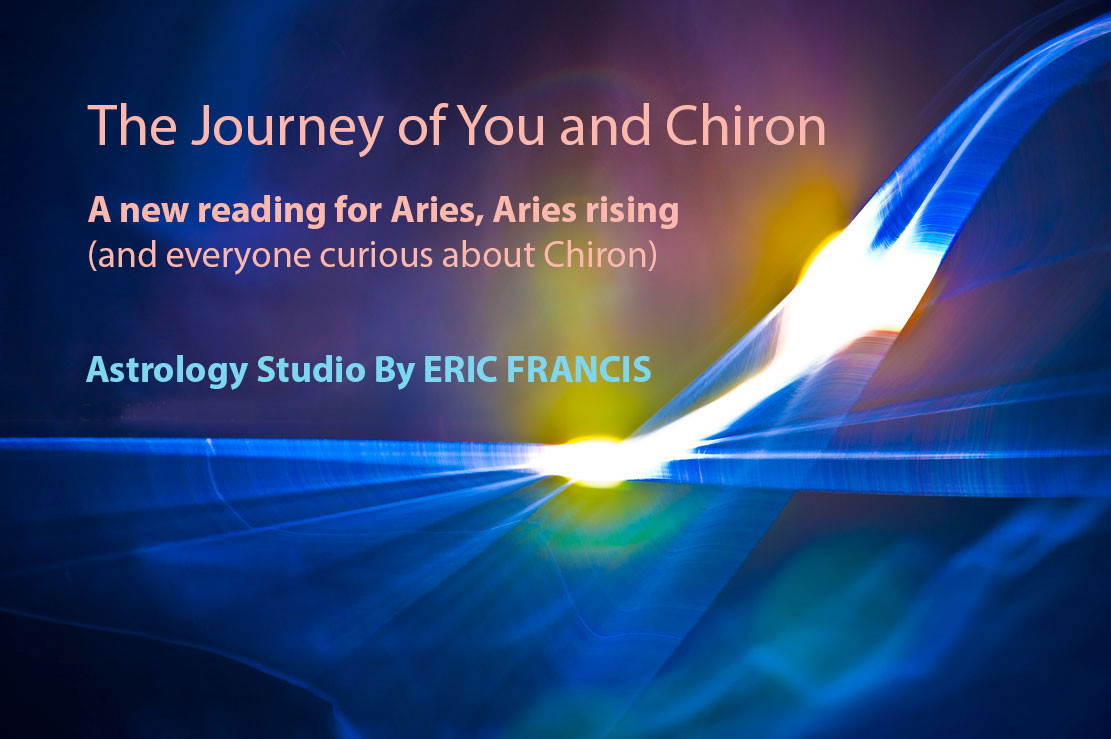 Anyone who has encountered it is curious about Chiron. Planet Waves provides one of the few dependable online sources of information on this unusual planet. For the 10th anniversary Astrology Studio reading, I will be covering Chiron in Aries — a momentous event for all those born under this sign, and of high interest to everyone else. Now available for instant access.
ericfrancisastrology is on Mixlr
New York, March 11, 2020
Dear Friend and Reader:
Welcome to my readings page. I offer the highest quality presentations based on your Sun-sign and/or rising sign. No other astrologer that I know of offers this kind of srevice, which is helpful, detailed, motivating, insightful and therapeutically sound.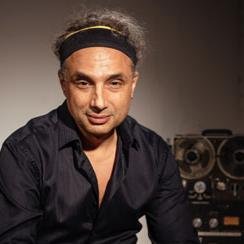 I hold myself to the highest standards of spiritual integrity in this and all of my work.
I am able create these readings without your personal birth data much the same way that a master tarot reader can give you a brilliant reading knowing nothing about you.
Only as you'll hear, I stay close to the astrology giving it a clear voice.
I also offer in-person custom work. The readings listed on this page cost less than 10% what a custom phone or in person consultation does — yet they will get you most of the way there. Listen for your Sun sign and, if you know it, your rising sign.
These readings stand up to many listenings. You may hear to some recent readings below, presented in full (the 2019 series). If you have questions, call me at (845) 481-5616.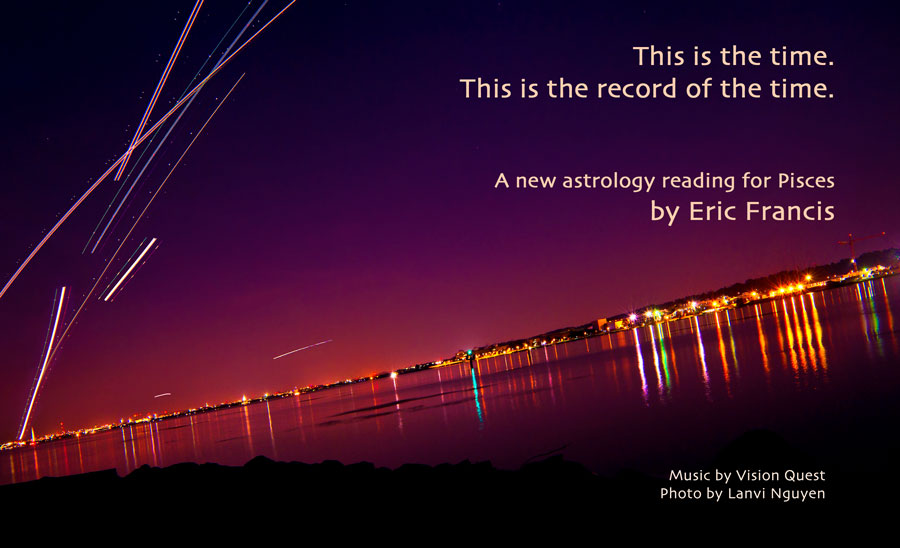 Astrology Studio for Pisces | A New Reading by Eric Francis
This is a momentous time in collective history, and a turning point in your life. As the year develops, most of the movement — including Pisces' ruling planet Jupiter, and the Jupiter-Saturn conjunction — will be pointing into Aquarius, the most sensitive and innermost angle of your chart. I also cover the retrogrades of Venus and Mars, and the forthcoming Jupiter-Pluto conjunction in your friendship sign Capricorn. Mostly, I help you orient on your profound journey, and offer guidance how to harmonize with the world at this unusual time. Get instant access to this reading here.
---
Audio introduction to the RESPECT series of readings | LEARN MORE — PURCHASE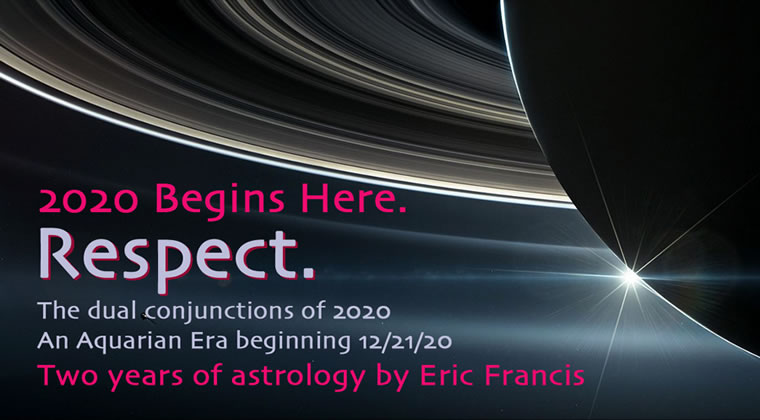 Update on RESPECT 2021+ Written Readings
Dear Friend and Reader:
The written RESPECT readings — called An Aquarian Era — covering 2021-2023 are underway. I've now published the first three readings, and more are coming soon.
This letter is for current customers of the annual, for new customers, and for people who have invested in the past. It includes a delivery notice, and also a price increase notice.
As you know, the Planet Waves annual is a truly unusual astrology offering, providing detailed, soulful, relevant readings.
I have done these every year since 1999. Each edition builds on the prior ones. Every year, I re-learn and re-explain astrology.
On the typically vapid, superstitious astrology internet, these readings stand out as works of literature, directly relevant to you.
There is nothing else available even vaguely resembling this series of readings.
Most internet astrology readings are assembled by robots. They have no cohesion, and offer exceedingly little sense of the person creating them. Many are uncredited; you have no idea what you're getting. Yet many people take them on board unfiltered, allowing them to influence their perceptions and choices.
---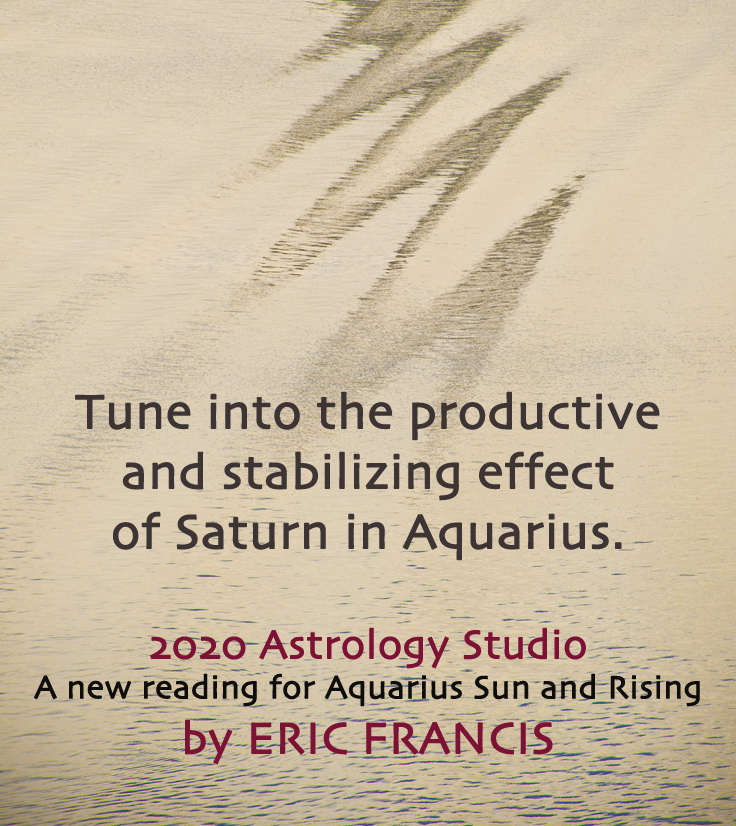 Your 2020-21 Aquarius Astrology Studio is
now available for instant access
. All being well, we plan to publish the reading by next weekend. The Astrology Studio is a perfect complement to the Respect annual edition, and a great birthday gift for yourself or the Aquarius you love. In addition to the astrology portion of the reading (approximately 75 minutes long), you'll also receive my signature audio tarot reading for your next 12 months.
Order here
.
---

The Awakenings: Uranus Transits
If you were born between 1975 and 1981, you are experiencing one of the most important transits of your life — the Uranian opposition. We all have Uranus somewhere in our natal chart, though this reading will appeal mostly to those born with Uranus in Taurus (approx. 1934-1941), Leo (1955-1962) and Scorpio (1975-1981).
We know you're experiencing Uranus in Taurus in some unusual ways. Everyone is feeling it, though those with strong Taurus charts, or born with Uranus in one of those ranges, will experience unexpected turns of events; it's Eric's role to help you make them productive.
This reassuring, informative reading will stand up to many playings and keep providing you with helpful insights and revelations. It's playable or downloadable on any kind of device. Get instant access here.

Time Traveler: Navigating Mercury Retrograde
In this neat, friendly one-hour audio reading, Eric summarizes his more than two decades' worth of wisdom on Mercury retrograde, what it means and how to work with it. Using forthcoming Mercury retrogrades as examples, he lends his expertise to helping you steer through this well-known and often misunderstood astrological phenomenon.
You'll also get a video on how to find Mercury retrograde in an ephemeris, plus some classic articles by Eric — altogether your essential Mercury retrograde toolkit assembled on one page. Get instant access here.

Generations: Astrology of the Millennials
In this groundbreaking, first-of-a-kind reading, Eric speaks directly to millennials and their families, offering practical ideas on some of the most pressing issues facing young people and their families today: sex in today's culture, changes in the economy, school debt, and the impact of the digital age on self-concept and relationships. He tells the story through the lens of astrology, informed by his 25 years as a committed youth and student advocate.
Presented in four parts — Overview of Astrology, 1981-2001; The Impact of the Digital Revolution; Sex is Not Porn / Porn is Not Sex; Career, Education, Vocation and Debt: Digital Retrieves Medieval — the studio-quality audio files are playable and downloadable in all formats, and are sure to give you a sense of relief and potential — whether you're a millennial or the parent of one. Get instant access here.