.
Dear Friend and Reader:
T
HIS LETTER is the introduction of the
Inner Space annual readings
. These are a hybrid of written and audio readings that cover the astrology through early 2024. Purchasing information, as well as special offers,
are at this link
.
There are three ways to have access to INNER SPACE: All 12 signs, audio and written (use promo code is177 to get all signs for $177). The final price is $222 for all 12 signs..  The sooner you purchase, the lower the cost. Individual signs are $44.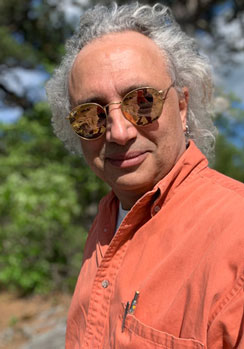 The Planet Waves annual edition is a stalwart tradition on the internet. Now in its 24th year running — nearly a quarter of a century — my annual readings provide a touchstone for many people who have followed them since the beginning. I pour months of work, my soul and all of my talent into these unusual readings.
My most recent written annuals came out in 2021 — An Aquarian Era — which offered a close look at Pluto in Aquarius.
Inner Space turns the direction of inquiry inward toward the spiritual space that has been blighted by digital conditions. Part of the fog that we cannot see involves being cast out of our own interior sanctuary and thrust into the false collective — the phony and often cruel global village — of the internet.
My intention with the Inner Space readings is to use astrology to find and reclaim our inner reality. This is best done in writing, so that is how I will offer these readings. Those familiar with my work know that I speak in human rather than technical language, while making sure that I convey the basics and the nuances of the astrology — in an understandable way.
Book-quality writing. Therapy-quality audio. Affordable pricing.
These will be book-quality, chapter-length readings — satisfying even for those who do not "believe in" astrology. For those who like to listen, I will add an audio supplement to each reading, clarifying and expanding on certain points.
I plan to take the following into account, covering each for all 12 Sun and rising signs:
— Saturn entering Pisces for the first time since 1994, shifting the emphasis from the social to the spiritual
— Pluto entering Aquarius for the first time since 1777 (yes, during the American Revolutionary War), which will help us sort out the differences between ourselves as individuals and the groups we belong to, including family
— Mars entering Cancer, which will arrive with great emphasis after spending seven months in Gemini
— Chiron working its way into a conjunction with Eris in Aries, which last occurred in 1971, which calls for further understanding of the relationship between the individual and the collective
— And other factors as appropriate, including coverage of a diversity of minor planets that you can only read about in any coherent form on Planet Waves.
Here is where to preorder. We offer the greatest discounts for the earliest buyers; the discounts are gradually reduced until final price at time of publication. If you do not need the discount, please purchase at full fare. This is our most important source of revenue for the year, which will help pay for our services for many months.
Thank you for your interest in my work. You may read customer testimonials here.
Faithfully,