New York, May 21, 2017 | View as Webpage | Pre-order Your Spring Reading




Looking Into Parallel Realities: Gemini New Moon



Dear Friend and Reader:

In the play Constellations by Nick Payne (which I saw Friday night), the two characters depict some of the many possible ways their intersecting lives could evolve depending on the countless variables at play at any given moment.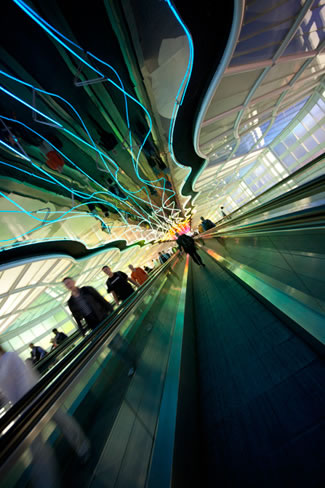 Photo of Chicago's O'Hare airport, the busiest in the world, by Eric Francis.

The plot's structure is based on the concept that infinite multiverses exist in parallel, and the one we live depends on the choices we make. In each scene, the characters only have to reconcile their own two viewpoints on that particular shared experience -- unlike the audience, who witnesses the entire gestalt.

Yet you don't have to go all sci-fi to get a taste of something similar -- you can just tune into some Gemini astrology. In contrast to Payne's play, Gemini suggests that perhaps we can indeed occupy parallel realities -- or be two people -- at once.

Gemini is also about reconciling these different viewpoints. Step out of the mindset that there's only one way to see and think about something. And stop pretending that your shadow is not just as much a part of you as your light.

We'll get a prime opportunity this Thursday, when the Sun (which entered Gemini on Saturday) conjoins the Moon for the Gemini New Moon. This is exact at 3:44 pm EDT (19:44 UTC) on May 25.

The Sun represents conscious awareness; the Moon can represent a veil over consciousness. So already there's an indication to let yourself be open to what each of those sides of yourself has to say about things. Gemini makes this explicit.

Still, it's not always easy. Human beings are great at ignoring facts and intuition and even our own behaviors in favor of what we want to believe. "Do as I say, not as I do" is often said partly in jest; but every parent knows that at one time or another (or often), it's the message they're sending their kids.

Having the Sun and Moon meeting in Gemini highlights the potential to take two (or more) approaches to solving a problem; it could offer an especially poignant or introspective look at your own hypocrisy or double standards. You might suddenly notice the shadow to the light you were focused on, or the sliver lining to what had appeared as a cloud.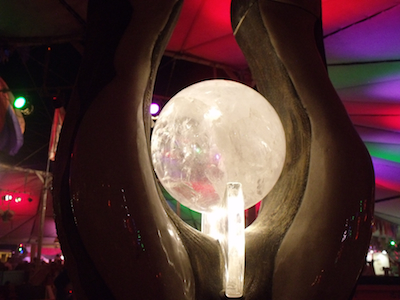 Sculpture at Burning Man 2012. Photo by Amanda Painter.

Widening the lens a good deal, consider the blatant hypocrisy and double standards demonstrated by those in government, especially the top levels.

For many, that's easier to see because it's external. Yet it's often harder to reconcile because it seems so astonishing that those perpetuating it cannot see it -- or do not care.

Staying focused on that external view is, however, a trap. We all have Gemini in our charts; we all have at least one area of life where we either have an easier time reconciling duality, or have a harder time recognizing the ways we contradict ourselves. Do your inner twins (or parallel worlds) get along, or not?

We may never get to see all the potential multiverses of our lives; we don't get to sit in the audience and watch all the options play out, wondering at the end which version our choices will make 'real'. We simply have to make our choices, and live with the consequences.

But we can also do our best to see many potential outcomes before deciding; and once action has been taken, we can try to understand what we've done and why -- and why those around us see it the way they do.

As the Gemini New Moon approaches and the Moon grows darker, how open can you stay to what you might see?

Yours & truly,



Amanda Painter
Planet Waves Astrology Editor



Dear Friend of Planet Waves:

I don't say this out loud often, but the world is a scary place right now. While many spiritual traditions say that fear is never an appropriate response to life, it's certainly understandable. It's so intense that I have to talk myself down from the tree every now and then, and put myself back on solid ground.

Here's what I think is the most frightening thing: the dim recognition that we cannot really do anything about the world's problems. Even when you get to a place where you feel somewhat confident and stable, the crises of the planet -- psychological, environmental, political, economic, all of it -- are always right outside the front door. And people seem frozen, struggling even for the concept of solutions.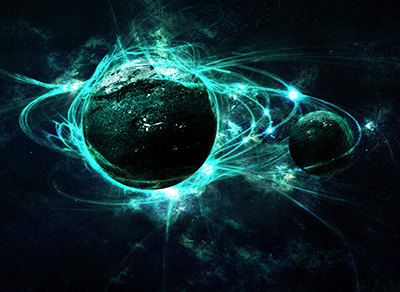 Uranus, the planet of revolution.

Think of it. Aware, sensitive people know there are problems, and we also feel the seeming paralysis. Not only that, we're inundated with influences to shut down our awareness and sensitivity; and consciousness-raising tools are difficult to find, and they're not usually so world-savvy: that is, they're rarely grounded in actual experience.

Really, I'm amazed anyone finds any peace of mind at all. It is a struggle if not impossible, and it takes experience. And as Lou Reed said, a busload of faith.

My job these days is to fashion tools. Using astrology, spiritual paths, and everything I've learned both in therapy and working with people, I make resources that will help you learn, seek self-understanding, and meet the world around you eye to eye. I don't provide answers. I'm good at something much better, and more relevant: which is helping you to ask the right questions.

I reckon that with the world as overly complicated and insane as it is, astrology is one of the few tools capable of embracing both problem and solution, both private and collective. This is the gift we have, which we need like never before.

My approach to astrology is designed to point you inward, in a way that feels safe, sane and loving. Right now I'm working on a new project, timed for spring 2017: INVOLUTION: The Revolution is Within.





As far as I can tell, our only option is to grow. That means that the revolution won't be in the streets -- or at least it won't start there. For us, in our time, the revolution must be within. That's the thing that's been lacking -- and it's the cause of most of the problem.

In this 12-sign reading (which covers your Sun, Moon and rising signs, and those of your loved ones), I will look at the last seasons of Chiron in Pisces and Uranus in Aries. We'll tap into Uranus conjunct Eris in a whole new way.

Yet the most helpful thing in this reading will be my first interpretation of the Great American Eclipse of August 21, 2017 -- which will streak across the entire United States from coast to coast. That eclipse will change life as we know it in the United States, and you'll want to have your surf board positioned correctly when the wave comes in.

Read more...






Your Monthly Horoscopes -- and our Publishing Schedule Notes



We published your extended monthly horoscopes for May on Thursday, April 20. Your extended monthly horoscopes for April were published on Thursday, March 23. We published your Moonshine horoscope for the Scorpio Full Moon on Thursday, May 11. Your Moonshine horoscope for the Aries New Moon was published on Thursday, March 30. Please note: we normally publish the extended monthly horoscope on the first Friday after the Sun has entered a new sign.



Aries (March 20-April 19) -- Self-esteem is the key to happiness, and you're currently under the perfect aspects to practice this approach to life. One thing I've noticed, working as an astrologer, is that many people undermine their respect for themselves, by sending themselves negative messages. You have every reason to take a bold approach to your happiness, to your aspirations, and to your future plans. Yet you must have a personal code that you live by, and item one of that credo is being aware of any negative inner chatter. The second step is to identify its emotional source. This is not something that can be addressed just with a reasoning process. That's part of the solution; though ultimately, you must choose to feel good about your existence, about why you came to Earth, and about who you are. Therefore, take any opportunity to love. Taurus (April 19-May 20) -- The coming few days and indeed few weeks will be bristling with mental activity. Between Venus making some exciting aspects and Mercury in your sign, your mind is like a Broadway theater where a rock concert has taken up residence. Your ongoing challenge is to translate all those thundering ideas into something physical and tangible. The way to do that is to work in physical substance: put down your phone and work at a table equipped with paper and pencil rather than a computer. Keep your meetings in person as much as possible. And get outside and soak your eyes in sunlight for at least half an hour a day. Your dream life is likely to be particularly compelling this week. Try to capture those feelings, scenarios and images on paper; and remember, every part of the dream represents you. Gemini (May 20-June 21) -- An emotional entanglement has disappeared as quickly as it appeared. That gives you some evidence that such a thing is possible. Yet you still face the challenge of keeping your emotions flowing and not being distracted with people who have a negative attitude. You have way too much going for you right now to go down anyone's dark or self-conflicted road. In fact most of the positive gains in your life will come through encountering people who take a distinctly positive attitude, and raising your vibration to the level of a supportive environment. Much of your success in the coming year of your life will be dependent upon your state of mind. Take a self-affirming view and you will invite positive developments into your life. As they say in 12-step programs, this is all about people, places and things. Cancer (June 21-July 22) -- This will be an exciting week for you professionally, and I suggest you feel no hesitation about turning up the juice. Start by doing your best work, and then telling people about it. Don't merely send out resumes. Do those bold and brash things like showing up with your portfolio, or sending a FedEx with a personal letter and samples to someone whose attention you want to get. Aim high, that is, higher than you think you're capable of, and do the work to back it up. The most common error people make these days is thinking that success is all about image and money. For you, it's about embodying your own success with every cell, every breath and every word you speak. Make sure that people know you're capable, willing and ready to go the whole distance. Leo (July 22-Aug. 23) -- In today's world, leadership is about communicating ideas, and then getting people on the same page. That involves a process of listening, expressing yourself, and being flexible about including the ideas of others in what you're doing. Even though you're born under what's called a fixed sign, the more inclusive and cooperative you are, the more you magnify the influence of your creativity. People need to know they're being heard; indeed, that anybody at all cares what they think. And just as vital, they need a strong influence to tie together all the loose ends and serve as a kind of coordinating editor. You're in the perfect position to do precisely that. Just do your utmost to keep pride and ego out of the picture. Leo can be brilliant at embodying the role of public servant. Now is the time. Virgo (Aug. 23-Sep. 22) -- Your persuasive skills are at a near-record level right now. Therefore, it's crucial that you know exactly what you're arguing for or against. Make sure that you're correct, and have applied full-treatment fact-checking to anything you're trying to convince anyone of. They'll believe you even if you're wrong, and you don't want to have to send out a correction. One way to avoid problems is to do that thing they put law students through, which is to argue both sides of the case, and find some third alternative viewpoint. Flush out the errors in your thinking. Run your ideas past people you consider critical thinkers, and focus your ideas. If the matter involves investments or any other form of finance, you must redouble your efforts and make sure your facts and your reasoning are impeccable. Libra (Sep. 22-Oct. 23) -- If it seems like partners or a love interest are sending you mixed signals, don't take it personally. For example, they might seem to be expressing desire for you, and then sending you the message that they didn't really mean what you thought they meant. This is likely to be an illusion of some kind; be particularly cautious if the internet is involved. First, address any contradictions you find in your own mind and your own communications, and gently sort those out. Then, do something bold and ask people what they want. Not for the rest of forever, but for right now. If you speak up rather than guess, you're much likelier to find common ground with someone you care about. Put special attention into cultivating trust. Stick to social plans, and show up on time. That's a fine start. Scorpio (Oct. 23-Nov. 22) -- The Sun is shining its light on Gemini, one of the most cryptic angles of your solar chart, and that will help you unravel the seeming mystery of a relationship. Here's the question: to what extent is desire allowed in your intimate partnerships? Do you allow yourself to want what you want with a clear conscience, or do you have to keep stopping to address guilt? Or, interpreting your chart a different way, there are often two sides to desire: wanting, and not wanting what you have once you get it. The more aware of these wrinkles you are, the less often they will pop up as issues that derail the conversation or the flow of passion. Most people have a hard time stating clearly what they want, with neither hesitation nor guilt. You must get good at it, and practice makes perfect. Sagittarius (Nov. 22-Dec. 22) -- The Sun has joined Mars in Gemini, the relationship angle of your chart, which should help you bring your partnerships onto more level ground. Mars slowly working its way across your opposite sign the past few weeks has been a bit itchy and scratchy, except of course when the passion heats up and all of that goes away. One thing to keep in mind is that your Sagittarian self-direction and independence are running high these days, even as you seem to be taking an unusual degree of interest in relationships. There will be developments within your relationships that help teach you not just how to balance out those two seemingly different interests, but rather how to integrate them and treat them as aspects of the same thing. Healthy relationships are made up of individual people, rather than halves of a whole. Capricorn (Dec. 22-Jan. 20) -- Your solar chart this week presents you with an interesting scenario: how effectively can you avoid family, household and work drama, and keep focused on the creative task at hand? This may involve your official job, or it may involve a project you've got going on the side. Either way, it looks like the most important priority that you just cannot seem to get to. Of course, there are plenty of compelling reasons to be distracted. The challenge you face is that of any person who is devoted to developing their talent: deciding that what you want to do is more compelling than anything that might sidetrack you. If this takes discipline, it's nothing other than the same focus of mind and power of prioritization that all successful writers, artists, musicians and businesspeople must master. Go for it. Aquarius (Jan. 20-Feb. 19) -- You've entered a phase of your life where, with each useless, negative or in-the-way thing you remove, you will make room for some helpful and productive thing to enter. This involves physical objects, people, groups you belong to, and ideas you have about yourself. It's a basic principle of the Asian art of feng shui: de-clutter, open up space, and put things you use regularly right where you can reach them. As the spring and summer progress, this process will take up residence in your relationships. The key concept is balance: between self and other, and between seemingly different interests. One thing you're likely to discover is that as you let go of persistent mental patterns, even ones you've experienced since childhood, you make room for a more self-affirming experience of your relationships. As you well know, it's about time. Pisces (Feb. 19-March 20) -- The Sun recently entered Gemini, which is the home and security angle of your solar chart. Two messages are coming through. One is to invest some resources into freshening up your living space. As the old song goes, let the Sun shine in, wash the curtains, and vacuum the remnants of winter out of your windowsills and radiators. Another message may be that you need a change of scenery, even if it's just for a few days. Pisces is one sign that distinctly needs to have a place to get away to, whether it's something as modest as a visit to a friend's house or a night in a B&B or hotel, or as extravagant as a second home. You encounter different aspects of your personality in different spaces you occupy, a fact of your inner makeup that gives you a distinct advantage if you use it.


---