There's no turning back -- and we need just one thing
Dear Friend and Reader:
Life would be easier if more people used the full capacity of their minds. That goes for all of us. As we go deeper into this most unusual, challenging and potentially troubling phase of history, intelligence is the thing we need the most.
That is the theme of the 2019-2020 annual edition of Planet Waves. How can we tap into our ability to find creative solutions to problems? How can we envision, design and create a better future than the one we seem to be heading for? How can we handle our personal growth in a way that is sensitive and efficient?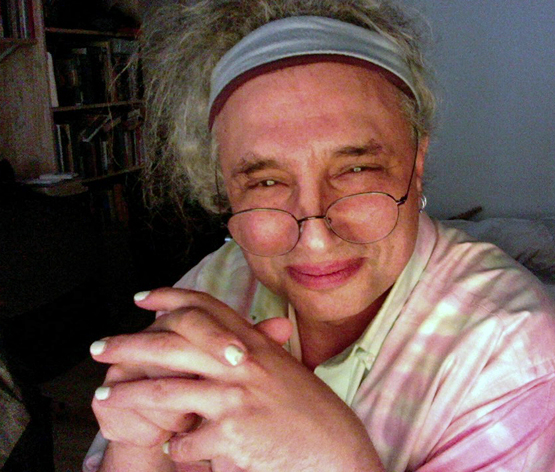 I'm getting ready to record and write the 21st annual edition of Planet Waves. I will be setting aside all but the most essential other work to write what amounts to an astrological adventure novel.
The answer is intelligence.
For the past 20 years, I've been offering annual readings that bring top-quality astrology direct to you for an affordable price. Recent editions, THE ART OF BECOMING and THE BOOK OF YOUR LIFE, have been remarkable bestsellers and helpful to my clients.
Tonight is the initial purchase offer for INTELLIGENCE, my 21st annual reading, published by Planet Waves. This letter contains important information about the discounted pre-order phase, which will be relatively brief compared to previous years. This is in part to avoid excessive email, to save staff effort, and to allow us to focus on what promises to be a truly exceptional annual edition.
Today we are offering a discounted purchase for all 12 signs. For Galaxy Pass holders, the annual edition is included. Full price for all 12 signs, once the written portion is complete, will be $222. For now, we are offering INTELLIGENCE at a substantial discount to TMA readers and visitors to this site: only $111.
Unlike in previous years, I plan to deliver RESET 2019, the first section of the reading, by New Year's Eve
. Additional sections will follow in January and February, and there will be updates throughout the year. I will use written, audio and video formats, and the reading will feature an original soundtrack by Vision Quest.
The Astrology: From Jupiter to Eris
These are comprehensive readings based on the solar chart. I am one of a very few astrologers who can do a thorough, relevant and in-depth reading without the need for a natal chart. I am able to provide helpful, healing, and most of all motivational information. The motivational piece is essential: many people are feeling burned out, and many are struggling to have a positive view of the future.
My job is to help you see the possibilities, have faith in yourself and get some spring in your step.
I will be developing the stories of three new transits: Jupiter in Sagittarius, Uranus in Taurus, and Chiron in Aries. This alone would be astrology worth pausing to consider carefully, and to be the subject of expert but also life-affirming guidance.
Since beginning my astrological adventure in 1994, I have focused especially on Chiron, and this will be a centerpiece of the reading.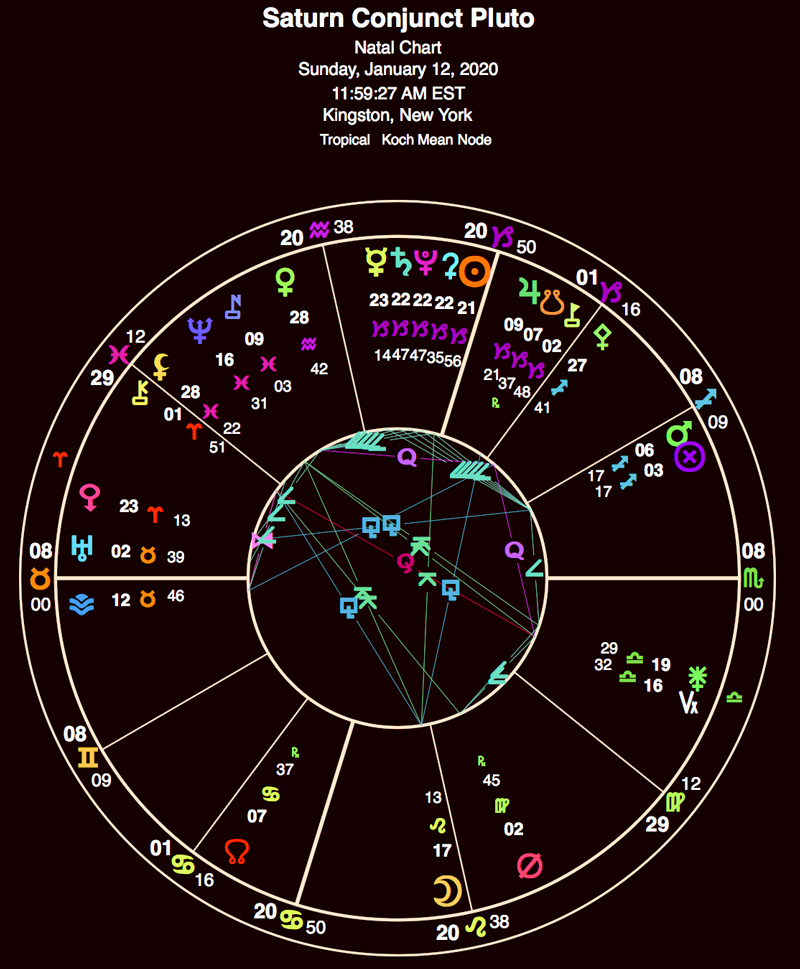 Chart for Saturn conjunct Pluto, and square Eris. Eris is the red ellipse with the arrow pointing down, on the left side of the chart. That has a number 23 next to it; follow the numbers. Now look at the top of the chart, at the planets starting with the 21 (the Sun), through 23 (Mercury). Between them are Ceres, Saturn and Pluto. This is a chart of the world being transported from one phase of history to another, bringing all of us along with it. I will be using 12 different versions of this chart (and many others) for INTELLIGENCE, your 2019-2020 annual edition of Planet Waves.
Information on Chiron is too often speculative, needlessly negative, or hit-and-miss; I bring 23 years of study and experience, including personal instruction from Melanie Reinhart, Barbara Hand Clow, Dale O'Brien and other Chiron pioneers.
But there is something more important: on Jan. 12, 2020, we have a one-time conjunction of Saturn and Pluto, which will set the tone for all of 2019 (we're already feeling it now) and then will come with a kind of pivot as the aspect comes into full focus. This aspect pattern is square the new planet Eris, and making sparks in the U.S. chart.
Be prepared to read negatively polarized, verging-on-apocalyptic interpretations of this aspect -- elsewhere. Be prepared to let them roll off your back and to allow in something more creative. I am taking the Saturn-Pluto-Eris pattern as a wakeup call, summoning us to full integrity, maturity and discipline.
We have one year to prepare: to lighten our load in life, to work through family material, and to focus our true calling. Those will be my focal points.
Early Purchase Discount
We reward our customers for getting on board early. This reduces stress at the end of the year, and helps us do something we are committed to, which is sending fewer emails.
We are currently offering INTELLIGENCE at a price comparable to previous initial purchase offers. This price includes all facets of all 12 signs, plus extra materials such as video presentations on the astrology, and a Q & A feature, which I will handle in audio or video. Also expect at least one live session via our conferencing system, probably in the week between Christmas and New Year's Eve.
We will soon introduce the first tier of price increases, always favoring early purchase.
Here is a special offer for TMA readers and visitors to this site
. You may also order by phone, by calling (845) 481-5616. If you can order online, please do.
INTELLIGENCE will be included with the
2019 Galaxy Pass
(which grants access to all products and a consulting credit -- and an extra password to INTELLIGENCE to give as a gift). If you are interested, please email or call (845) 481-5616.
Please note that 15% of all revenue from INTELLIGENCE will be donated to Chiron Return, Inc., the nonprofit corporation that publishes Planet Waves FM and The Gemstone File, and which will soon be offering the class Investigative Reporting from the Kitchen Table.
PLEASE NOTE: IT IS VERY IMPORTANT THAT YOU SAVE YOUR LOGIN INFORMATION IN A SAFE PLACE
. Give it its own folder in your email system, or print it and hang it over your desk.
Thank you for your purchase, and thank you for trusting me as your astrologer.
With love,

PS -- The Planet Waves annual edition is an internet tradition.
You may see all of the past editions here
.
Copyright © 2019 by Planet Waves, Inc. All Rights Reserved. Other copyrights may apply.