Welcome to someplace different!



Note: Links on this page will take you to other sections of the website with different navigation. Bookmark this page so you can find your way back to it.

Dear Friend and Reader:

Welcome to Planet Waves. I would like to begin your experience of this website with an explanation of why we're different than anything you'll read on the Internet.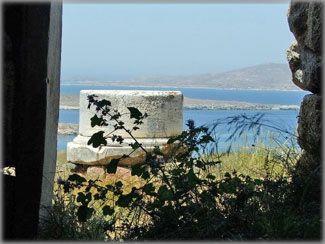 View from inside the Cave of Kynthos, place of worship of Heracles, on the sacred isle of Delos, with its view of the ancient harbor. Delos, near Mykonos, was the mecca of the Greek world between the 7th and 1st centuries BCE. The first cosmopolitan center of Europe, the island has laid in ruins since it was sacked in 69 BCE. Photo by Eric Francis.

I know that one of the reasons you're here is to get to know yourself in a new way, and one of the reasons I've created this space is so that you have somewhere you can do that. Astrology is a beautiful self-study tool, going beyond personality and approaching the realm of soul.

Easier said than done, I know, though with that in mind, we provide a number of tools. One of them is indeed astrology. To understand your chart, you need to get lots of viewpoints and spend a good bit of time with it -- that might be a lifetime, because it will keep telling you new things as you keep asking new questions, and develop your sensitivity. There's no right answer, but there is a right approach: an open mind. As you study astrology you will have many opportunities to open your mind, particularly in our current age of discovery.

Planet Waves focuses on the newly discovered planets and the asteroids. These are, together, known as the minor planets. Whether any article mentions a minor planet, all of what gets published here is informed by what has been learned in this branch of astrology.

They provide many pathways into awareness that are more difficult to reach using the conventional planets, though I advocate strong grounding in traditional astrology as one approaches the new discoveries. My theory is that the most important one of these is Chiron. If you would like to explore some of the planets I work with on Planet Waves, check out this link at Small World Stories, which covers many of them.

Another thing that's different about Planet Waves is that there is open discussion of sexuality and relationships. We don't do "romance" on Planet Waves -- we have more meaningful things to explore. I believe that the erotic question is up for discussion. Relationships are up for discussion. We make the rules. We decide, first for ourselves and then among ourselves, what is right for us.

In a recent blog post, I explain why some of my ideas are considered controversial.

One last thought about the difference between Planet Waves and other astrology sites. I came to astrology from another career -- investigative reporting. For years, I spent my days digging into scientific fraud and the misconduct of the multinational corporations who have been caught poisoning the world and our bodies. Before that I covered issues like higher education, education law, liquor marketing and how cities and towns are run, right down to the sewer pipes.

I consider this worldly grounding essential to what I do at Planet Waves. My astrology is grounded in worldly experience, including having lived in five different countries and many diverse places in the United States. I think astrology is part of life and life is part of astrology; at the end of the day, this has to be a practical exercise.

I don't shy away from political issues and how I think they affect us. One of my mottos for Planet Waves is, "The personal is political." I accept the fact that we are part of the world and the world is part of us -- and that we need to remember that as our society goes through a series of profound changes over the next few years. In the midst of those changes, one thing stays the same: self-awareness and holding a vision for your life are the most significant ways you can help yourself grow and thrive.

Welcome to Planet Waves.

Yours & truly,



Taco Juan's, Woodstock, NY, March 18, 2010