Thursday, Friday and Weekend Outlook | By Eric Francis
Greetings cousins. Wednesday's turbulent astrology featured the Moon square Jupiter, Saturn and Pluto in Capricorn, and the day was a correspondingly wild ride. The Moon enters Scorpio at 5:28 am EDT on Thursday [please adjust for your time zone].
This will resonate more harmoniously with all the planets in Capricorn and Pisces. It's more thoughtful and reflective than all the cardinal sign stuff we experienced beginning Tuesday.
We are in for some intriguing news or experience Thursday as the Moon opposes Uranus and then Venus starting around noon EDT. This is not the day to propose marriage, but it would be excellent for some creative or erotic adventure.
Tune into the inwardly centered vibe of Moon trine Neptune into late Friday. The Moon's run through Scorpio ends with a sextile to a very, very late degree Saturn.
The Moon enters Sagittarius at 7:09 am EDT Saturday. This changes the vibe considerably, and with a more optimistic outlook, though potentially driven by a bit of necessary denial. Be cautious when the Moon squares Neptune on Sunday.
By cautious, I mean doing things like not making decisions, or thinking you're making them, with alcohol in your system. It's a good weekend to practice some moderation where substances are concerned.
If Your Birthday is Friday, March 13 | The Day of Fateful Prediction
Get instant access to the 2020 Pisces Astrology Studio | All Other Signs
You have the potential to exist in an unusual state of balance with yourself. Yet it will help if you know what this feels like, so that you can take advantage of it. You may not recognize how much leverage you have, so you will need to be sensitive. Observe when you set out to do something and accomplish it. Then take on something that is more challenging, from the standpoint of the result being dependent upon your growth and learning. Any outer result is a minor consideration. The true benefit is learning your capabilities.
If Your Birthday is Saturday, March 14, 2020 | The Day of Relativity
You can accomplish anything if you are true to yourself. Be aware that there are forces encouraging you to be real, and others that might influence you in some other direction. As a child you learned to be the person people want you to be. Now you are learning how to have the courage to stand up only for what you truly aspire to, no matter what anyone else may think, feel or believe. Summon your energy and engage fully in the experiment that is your life.
If Your Birthday is Sunday, March 15, 2020 | The Day of the Heights
You have an unusual shapeshifting ability now, which grants you a kind of superpower. You can ultimately convince anyone that you're anything they want you to be. This is the potentially dangerous side of the ability, and the lesser. The greater, and the safer, is to use your power to change your mind. That really means allowing yourself to birth a new view of yourself, and to embrace an altogether different understanding of why people are in your life.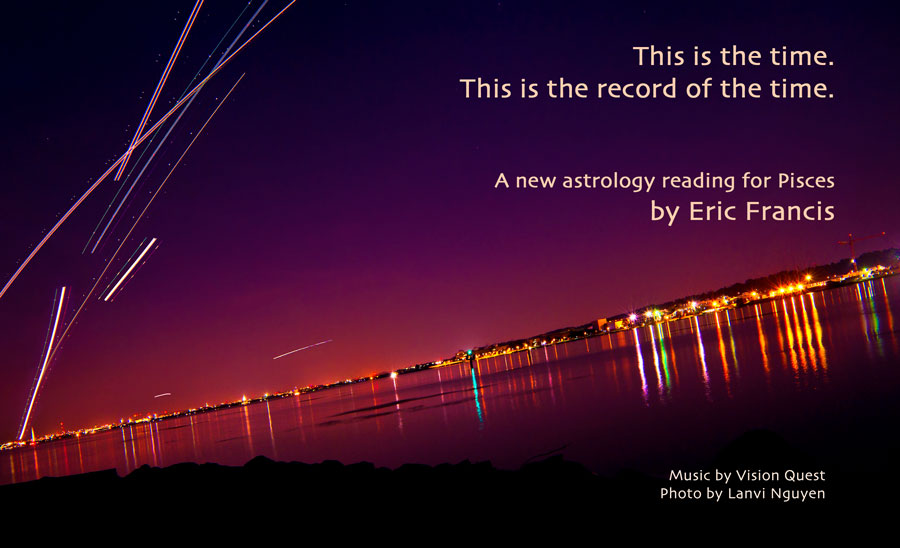 Astrology Studio for Pisces | A New Reading by Eric Francis
This is a momentous time in collective history, and a turning point in your life. As the year develops, most of the movement — including Pisces' ruling planet Jupiter, and the Jupiter-Saturn conjunction — will be pointing into Aquarius, the most sensitive and innermost angle of your chart. I also cover the retrogrades of Venus and Mars, and the forthcoming Jupiter-Pluto conjunction in your friendship sign Capricorn. Mostly, I help you orient on your profound journey, and offer guidance how to harmonize with the world at this unusual time. Get instant access to this reading.
Audio introduction to the RESPECT series of readings | LEARN MORE — PURCHASE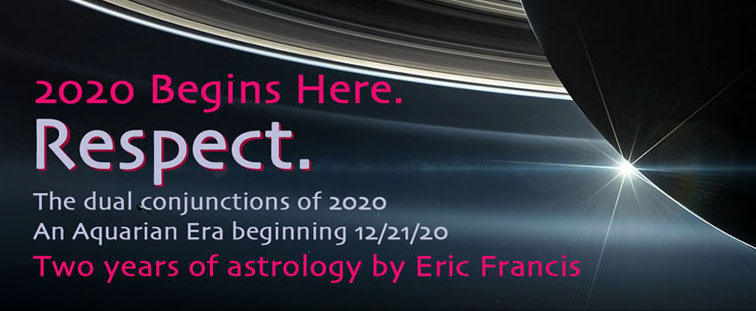 Almanac: The Moon is in Scorpio and enters Sagittarius on Saturday, March 14, at 7:09 am EDT. This then builds toward a Last Quarter Moon on Monday morning, which will happen close to the Galactic Core.
Mars squares Juno today (Friday) at 12:17 pm EDT.
The Sun forms a sextile to Pluto on Saturday, March 14, at 12:47 pm EDT.
Mercury re-enters Pisces on Monday, March 16, at 3:42 am EDT.