Dear Friend and Reader:
The Story of I AM — the 2020 autumn reading — is now available for instant access. These are a set of 12 astrology readings for each of the Sun and rising signs, each lasting 40 minutes.
The preview is available — a 30-minute discussion of what Mars retrograde is about, how it relates to the Capricorn alignment, and what its message is likely to be. We will learn more as we go through the experience (which lasts from Sept. 9 through Nov. 13).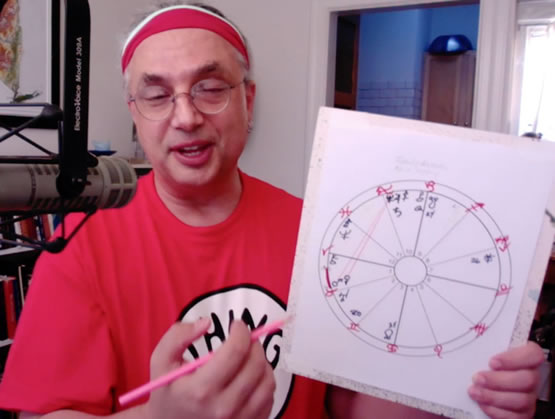 The series is available well in time to consider the implications of this unusual transit.
Mars has not been retrograde in Aries since 1988; Mars favors retrogrades over on the Leo-Virgo-Libra side of the zodiac, so like many things happening in 2020, this is a generational event.
Though we are in challenging times, I take a positive approach. I'm reading astrology, through the philosophical lens of self-actualization and human potential: ideas we have not heard discussed in a very long time. And they are ideas we can benefit from now, and which a few of us remember.
To this work, I bring all of my experience supporting countless individuals through many sensitive transitions in their lives. My training in Gestalt Therapy (in the tradition of Fritz Perls), Hakomi Therapy (personally with Ron Kurtz) and Holistic Therapy (with Joseph Trusso) contribute greatly to my knowledge base, all of which take a client-centered approach rather than a theoretical or analytical one.
I take a positive and practical perspective, and a deep one. Astrology grants the ability to see behind the scenes, and to spot issues that might otherwise get missed. When done, astrology can save years of work. In our time, anyway, we don't have years, and cost is a factor. With an astrology reading, even one gem of an idea can focus your intentions and your progress.
These days a video chat with a therapist costs about $100. For just $99, you will get a series of 12 videos, all of which you will gain something helpful from. Your Sun and rising signs will be the ones to go to first, though Aries and Aquarius are the reference readings for this series. [The price for all 12 will go up to $111 Sunday at 5 pm ET.]
These are readings that call for multiple viewings, and which will be worth watching again in six months.
The 12-sign package is one purchase per household — you may share with loved ones and intimate partners if you think the work will benefit them. You may also choose your individual signs here.
Thank you for your business, and for trusting me as your astrologer.
With love,



PS — This reading is included with the Backstage Pass.