If Your Birthday is Tuesday, Feb. 11
The Day of Improved Comfort | Order the Aquarius Astrology Studio | All Other Signs
Your birthday chart describes a call to awakening about the importance of your resources. Your talents, financial assets, the tools of your trade, what you value, and what you love about yourself all come under that heading. Issues where self-worth meets money may take time to resolve, though you must be patient and you will see through the fog. You are creative, and if you use your imagination, practical solutions are well within your grasp. Added bonus: opportunities abound to finally let go of incorrect 'facts of life' that your parents and grandparents taught you.
— by Victoria Emory with Eric Francis
Written in the Planets for Tuesday, Feb. 11, 2020
The Moon enters Libra today at 6:37 pm EST / 3:37 pm PST (11:37 pm GMT). This is a mid-day sign change, which comes with a cautionary note: what you do before the Moon changes signs may not count for much.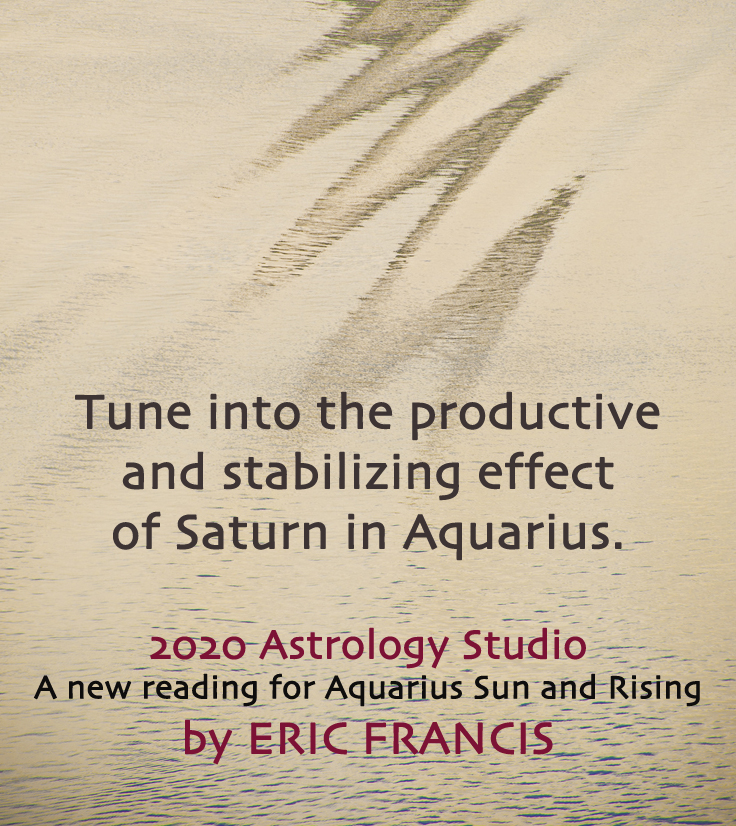 Though we don't talk about it a lot by name in this column, this is known as the Moon being "void of course." That means the time right before the Moon changes signs.
After many years of experimentation, I can confirm that this is a real thing. Here is the 'trick': take care of wrapping up old business till the Moon changes signs, then start your new projects. Keep your ideas to yourself. Then maybe gently float them and see what response you get.
Save your money and wait till the Moon changes signs to see if you really need that thing you want to click on. You probably have one already.
That said, it always pays to listen to what people are saying (especially during a Moon void, when they are likely to tip their hand), and to identify potential allies, collaborators and friends. Once the Moon enters Libra later today, you will need them. Keep a handle on your emotions, and step back from any focus on self-interest. Focus your mind on what is good for everyone.
The Moon cautions that some people will be caught in their insecurities, past pain (including the distant past), and irrelevant controversy. Do not let people engage you in fights. If something comes up where you have a personal interest, you can wait out this round.
— By Eric Francis
You can read the extended Planet Waves weekly reading (by sign and rising sign) every week by becoming a subscriber. This is the best investment in astrology you'll ever make.
Almanac: The Moon begins the day in Virgo. It enters Libra today (Tuesday, Feb. 11) at 6:37 pm EST.