I HAVE a business plan. What else is new?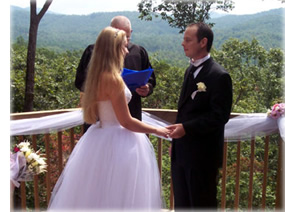 I don't usually publish my business plans the same day I write them, not at least without running them past my board of directors, attorneys and accountants, but I just had to get this one out.
It all started with how well I did as an astrologer on marriage and divorce, including how much I learned. Let's see, there was the woman who wanted me to analyze the charts of her five prior husbands before she got married a sixth time. That was interesting. She actually had all their exact birth data available. I wish I still had this collection.
Then there was the person who was trying to get married (I think for the first time) and who hired me to do the wedding electional chart, i.e., to decide when it would happen. This was not 'astrological counseling', it was a purely technical affair. When I get an assignment like this, I ask the client for a proposed date of their own, and I work with that as a starting point. Each date she brought in was worse than the next. Finally after a month, I said, we have to talk about this.
Part of the inspiration also comes from how everyone really is looking for the perfect relationship, and that usually involves someone to marry. I am the most polyamorous guy in the world, and I'm still excited by the prospect of marrying someone or two — so it must be universal.
But people seem to get tired of one another, and many marriages end fairly soon. Often they are over long before they are over, which is a drag and keeps a lot of interesting people out of circulation. They're also somewhat expensive. One of my friends, I'll leave it at Rick, once declared: "I'm not getting married again. Instead, I'm going to pick someone I don't like and buy her a house."
Enter my brilliant idea — a comprehensive Connubial Experience Service. Here's how it works. The whole process lasts from one month to 45 days. This is an all-inclusive package, from the jeweler to the lawyers.
It starts with picking someone to marry from our awesome database of candidates. Go for true love, go for looks, go for personality, go for money, or go for the most sinister despot you've ever dreamed of. We'll have the most sophisticated matching system ever, using both natural and artificial intelligence. If it doesn't work so well and we kind of miss up, it's not such a big deal. Compatibility is not really so important, and in fact being a bit incompatible helps our particular experience along better.
You will cover all the phases of a relationship, in miniature. The dating phase lasts one week. There are a total of four dates and a weekend together prior to marriage: three 'get acquainted' dates, with sex scheduled for the third one; then the next date is the engagement date, where you propose, accept and agree to tie the knot. The rented engagement ring, which comes in a variety of sizes and styles, has been pre-selected at the initial meeting when you set up your customized program several weeks earlier. For those who wish to take it slow, we have an extended nine-day dating period available, which includes a total of five dates.
Engagement is followed by a weekend getaway to the quaint bed-and-breakfast of your choice, like something in Northampton, Massachusetts, Sonoma Valley, or Montauk Point.
Engagement lasts one week. This is time for 'planning' the wedding and meeting the 'relatives', as well as your life together. Since the wedding is pre-arranged, it's a lot easier than doing it in real life; once you choose the color scheme, we choose the doilies, tuxedos, the wedding party dresses, cummerbunds, etc. The relatives can be your actual kinfolk, or we can, for an extra fee, provide stand-ins, the lovely people who supposedly raised you and your spouse-to-be, and who will be your in-laws for the duration of the program.
The second weekend is the wedding itself. You can chose a small civil ceremony in a park, or our Faux City Hall; or we have contracts with cathedrals, churches, Mormon temples, Quaker meeting houses, and so on, so these facilities are available at a discount off the regular usage fee. I have an old friend who's a retired judge who is willing to act as 'the Mayor' and conduct the ceremony at Faux City Hall, and your minister can be chosen from our large database of actors who are on-call. We recently purchased an old church, available as well.
Our attractive customized facsimile marriage certificate, which comes laminated for wall-mounting, is incredibly convincing.
For the reception, you have a variety of choices, from a modest at-home affair in your new rented luxury home, to an overwhelming ten-keg bash at the local Knights of Columbus hall with your choice of a live band, deejay or iPod.
For an extra fee, we can have your choice of our Madonna, Beastie Boys, Sting, Manuto or Beatles look-alikes perform incredibly convincing live karaoke. A Jerry Seinfeld, William Rivers Pitt or Keith Olbermann look-alike can be your best man. Our photographic team will document the whole event and have an Internet site completed for you that night. A custom domain, such as www.bob-and-judy.com, will be established at the time you set up your program and stream live from the wedding and reception, so that your friends all over the world can celebrate your joy.
For those who come in person, we'll book all the travel arrangements for up to 100 people, and we have special rates from the airlines and local hotels. Your guests pay separately, of course, and we will apply credits for the wedding gifts as we're able to recycle them, unopened, back into the retail merchandise stream.
Next is the fabulous honeymoon, which you've worked out in advance with our travel department. You will be whisked away by fancy limo to the airport and then the vacation spot of your choice, for example, romantic Paris, rainy Brussels, zonked-out Amsterdam or exciting Greece. If swinging or cheating is in your marriage plan, then we recommend you have your honeymoon at Club Med.
Week four, you will settle into married life for the next seven days. Your luxurious rented home can be located anywhere from Rio Rancho to Hollywood; Scarsdale to Miami. Since you'll be renting for a couple of weeks, you can pretty much afford anything, anywhere; go for three and a half baths and five bedrooms. Two or three BMWs or Mercedes, or an ordinary SUV, can be furnished to adorn your driveway or for your driving pleasure.
After a week of marriage, the partners can go their own way, experience smashing career success that distracts them, start dating other people, etc. How you split up is up to you, but we do have a number of suggestions, based on discussions with therapists all over the world, for how to make it really interesting. Our trainers will prepare you for deep discussions, arguments, or whatever you want. Or you can simply part as friends.
For those who feel they have the depth of commitment and are ready, you can add the offspring option. We will furnish you with a newborn, toddler, school-age child or adolescent or two for you to experience, raise and enjoy for seven days. Attempt to mold someone in your image. Have the child without worrying where college money is going to come from.
Note that this process skips the challenges, pickles, medical bills and long wait associated with pregnancy, though we have available a hormonal simulation plan where the female partner can experience 24 to 48 hours of bizarre emotions and highly unusual things happening in the depths of her libido. We will 'deliver' your child clean and dressed, direct to your door, with a suitcase of the necessary clothes and accessories. A nanny or attractive young Swedish au pere is optional.
At this point, it would be an excellent time for an astrology reading. This is designed to address the deep soul-searching that you're suddenly experiencing.
There are several options for separation or divorce, ranging from amicable to negotiated, up to the contested judge and/or full jury trial simulation. The price varies, of course, but our all-inclusive packages and predestined verdicts take away the sense of threat and leave you with all the suspense and drama. Lawyers, the judge, witnesses and, if you choose, the jury, come from our casting database. Our imitation lawyers are much friendlier than the real ones, though they are capable of menacing phone calls, vicious letters and acting totally unreasonable. For an extra fee we will document it all on video. We have the capacity to make the depositions as embarrassing as you need.
You can feel good about being a responsible citizen because you will not clog up the courts. We have an excellent new Moot Courtroom, next to Faux City Hall, where your Mock Trial will take place. There, you can experience cross-examination about lingerie, chicken, your Wiccan tendencies, leaving the coffeemaker on all day, or what happened while you were at Club Med on your honeymoon.
Note, the trial phase is generally when the hottest sex occurs. Like the dating phase, it can be extended to nine days if you want, but we do recommend a consultation with our birth control specialist as our test marketing study indicates a tendency to have a real pregnancy occur at this point.
Who gets the child or children is not an issue, since they go back to the casting agency, and neither of you own the house. If, however, you opt for one of the trial options, custody and ownership of the house will be 'litigated' in the fictional trial scenario you choose. We will also help you select the appropriate course of events to match your psychological patterns, so that you can use the trauma for healing purposes, or to fuck you up even worse. Select one of our therapists (Freudian, Gestalt, Flaky New Age, Aroma) to help you through the 'difficult phase', which lasts about five days.
And then you move on with your life, after finally having experienced the marriage of your dreams.
Now, the beauty of this rich experience, besides how comprehensive and fun it is, is the price. The total package goes for under $75,000, and if you add the offspring option and the jury trial, we can get you in for under $100,000 — including the honeymoon, tux rental and astrology reading. When you think about it, this is a steal. You can barely get a down payment together for 75Gs these days, and here you get the whole ensemble. Note that there is no alimony involved, which certain people will find is a distinct advantage of this form of marriage.
Plus, we have found that overall it works as a bonding experience between the partners, most of whom remain friends, or even occasionally become lovers, after they are 'divorced'.
If you're interested in investing in this business idea, please call my office. Our capital plan calls for raising a modest $5 million by next June 30, which will get us set up online, on both coasts, and in Monaco. It's a sure winner.
Weekend Astrology

The Aries Full Moon is Saturday, opposite Venus and Mars in Libra. No matter what sign you are, that's good for sex and romance, or at least buckets full of fantasy and projection. The Aries Moon always pushes boundaries and the limits on what is possible; it cares little for what is said to be 'impossible', so this is a grand time to get the excitement out of your mind and into real life.
Sun, Moon and Mars are trine Neptune, which is about as good as you can have them placed in relation to what is a difficult energy to process (few people even notice Neptune, much less do anything about it) and the Selene [the Moon] is sextile Neptune.
Mercury in Scorpio is about 'speaking the unspeakable', and it's going to be there for a while (two months, give or take, due to a retrograde that begins at the end of the month), so some interesting discussions are on tap. Mercury recently squared Chiron, so at least we have something on our minds. Hot talk could easily start the process of one thing leading to another. Scorpio suggests that you articulate your personal taboos and choose someone trustworthy to whom to reveal your secrets. In truth this is about revealing them to yourself.
The Lunar Nodes in Virgo/Pisces are exactly square Pluto. This happens about once every decade. The lunar nodes really do represent something about direction. Anything square the nodes represents a discussion, crisis or decision about finding one's way in life based specifically on the theme of that planet. Pluto takes us to the bottom line. Planet, dwarf planet or icy antiplanet, Pluto helps us notice what we need the most for our evolution.
Evolution is another word for making progress, growing, becoming unstuck, etc. Usually when we discover what we need to do to get unstuck, it turns out to be inconvenient. Pluto turns the inconvenience to necessity, and this arrangement will help us address certain bottom line subject matter. The lunar nodes are pointing from Virgo to Pisces; think a little less, have faith a little more. Interestingly, the rules of both the nodes, Mercury and Jupiter, are about to form two conjunctions, suggesting a reconciliation of the past and the future.
Jupiter is still leaning into its final square with Saturn, from Scorpio to Leo. This, too, is a fairly rare event, also occurring once every decade or so. The eminent, beloved 20th century astrologer, the Rev. Dr. Marc Edmund Jones, suggested that all contacts between Jupiter and Saturn are particularly significant. He described the Jupiter-Saturn square in a natal chart as representing a "last chance lifetime," the sense that this is the last time around for some urgent task we're carrying from incarnation to incarnation.
As a mutual aspect, that is, a transiting aspect, this feeling may be present on a wide scale, and the world is surely at an urgent moment. Between people neglecting basic freedoms (freedom IS scary, ask anyone who works with others, such as a therapist) and those doing their part to tear it down, we are in a moment where the future is looking seriously jeopardized. What started as a war supposedly to protect us has turned into something that is likely to leave our children and grandchildren with a society that cannot afford basic social services, which is sure to foster feelings of additional greed, fear or guilt in those who are involved in perpetuating the crime.
Planets in the sky are, for the most, part in harmony with Saturn, at least by aspect. The personal planets are sextile Saturn and the Sun and Saturn are in mutual reception (Sun rules Leo and Saturn is exalted in Libra, hence they are now occupying one another's signs). Planets in mutual reception can switch places. We could stretch a little and say that the Moon is, symbolically, opposite the current Venus, Saturn and Mars configuration. You will know you're taking things on this level — Moon opposite Saturn — if you are having difficulty relating to the people around you as adults.
Read three paragraphs somewhere on transactional analysis for a good explanation of the differences between adult-adult, adult-child and parent-child interactions. The main thing to remember is that you have a choice.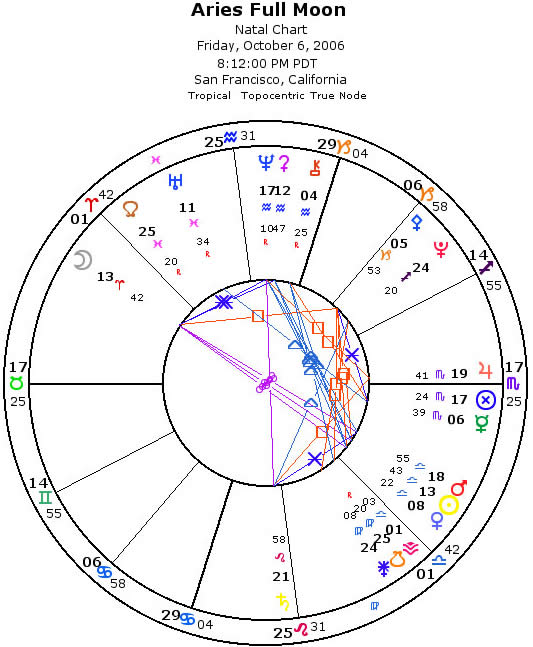 Weekly Horoscope for Friday, October 06, 2006, #631 – By ERIC FRANCIS
Aries (March 20-April 19)
Relationships now offer endless opportunities for transformation. They are likely to start as something more fun, something that lures you into a sense of celebrating life and feeling the abundance around you. But then you're offered potential moments when you can go deeper. You might as well take them, before some other purpose takes over. True, some people don't agree that growth needs to be the theme of loving relationships, but we could all do a lot worse. Many feel better keeping things superficial and not revealing the depths of their truth. Right now this has nothing to do with you. Meanwhile, if you're not having fun, you're unlikely to be motivated, so keep that on the agenda too. Family Focus: Kids know exactly what's going on right now, so it's best not to hide it.
Taurus (April 19-May 20)
Something remarkable is happening in your life. Something scary, perhaps; unusually potent, for sure. Communication and with a tendency to speak the unspeakable and a desire to know the unknowable seems to have filtered into your life. You are deeply impressionable; so much seems to carry the weight of truth. So I suggest you filter what you take in. Turn off the television. Write a deep letter to someone you care about. Dust off your diary and really listen to what you say to yourself. Share your feelings with a close friend. More is on your mind than you may imagine. Family Focus: Children will be revealing unusual psychic tendencies these days.
Gemini (May 20-June 21)
This is a great time to get lost in your work. You're likely to find something there if you do, and you'll set off a series of developments that get you to rethink your ideas about your professional life. The question of what you aspire to, what your true ambitions are, has been nagging you for a few years now. The astrology involved tends to ask more questions than it gives answers, and many people are in a crisis over finding their mission. But yours is calling you; perhaps softly, perhaps from a direction you were not expecting; but for sure. Indulge yourself in the tasks at hand. Fortunately for your Gemini soul, by all indications, they are not remotely boring. Family Focus: An ex-partner's presence is about the past, not the future.
Cancer (June 21-July 22)
Space is a metaphor for what we are feeling and experiencing within. Sometimes we can organize a space and that has the result of cleaning out our mind. We can dedicate a space to a purpose and that helps us stabilize on a particular mission. This kind of therapy or 'sacred space work' will serve you well now. Start small; start with a particular focus or need and let that direct you. It can be anywhere — at home, at work, outside or indoors. You might want to consult with a Feng Shui practitioner if there is one in your area — this is the work they do, and they tend to have real gems of ideas. Experiment with this stuff and you'll feel better. Family Focus: Help family members set physical boundaries and have space to themselves.
Leo (July 22-Aug. 23)
You learned a lot about how to have intimate relationships from your parents — for better or worse. Many people ended up getting involved in taking on adult burdens as children, particularly when the adults around us were struggling to get along. Your caregivers also gave you plenty of ideas about what to expect from your future partner, and about what kind of husband or wife you would be. Many false expectations were put into your mind, as well as false images of yourself. Developments this week are enticing you to turn up the heat and boil off those watery notions. Family Focus: Design activities with children that focus on enjoying your family's good fortune.
Virgo (Aug. 23-Sep. 22)
Emphasis shifts to the material world: of money and resources, and how you feel about them. No matter how modest your Virgoan lifestyle is, or how modest you want it to be, you can use this time to explore both the ideas and reality of prosperity. There is a difference between greed and growth; between excess and enough. I suggest you explore the spaces between those concepts and find somewhere that represents an improvement over what you've been experiencing for so long. You have plenty to share, and the surest way to feel rich is to support the people around you. But that principle works for others too, so ask for what you need. Family Focus: Devotion in relationships is one of the most transformative experiences on Earth.
Libra (Sep. 22-Oct. 23)
Next week's Full Moon in your opposite sign will bring out some of your contradictory tendencies, and you'll probably get to look them right in the face, as partners and loved ones mirror your feelings and values with startling accuracy. At the same time, you have the most awesome opportunity to shift your entire reality because you suddenly have a chance to perceive it accurately. Amazing what seeing life can do to help you change yours. Remember that if a crisis arises, just notice what's happening, feel your feelings, and let it pass — but not without profiting wildly from what you learn. Family Focus: Kids are particularly sensitive to Full Moon energy, but in truth nobody is exempt.
Scorpio (Oct. 23-Nov. 22)
Quite a bit is going on in that Scorpio soul of yours, and it would seem that you're looking for ways to express yourself. Mercury in your sign suggests that you have something to say, and if you begin the discussion now, you'll be surprised at how deeply it leads you, and to what unusual places. In the "communication era," communication is a lost art. Speaking and listening, the long experiment with discovering what another person feels and how they perceive the world, and the spontaneous things that arise in the process — these are getting glazed under by the superficiality of the world. It doesn't have to happen to you. Family Focus: When strong emotions come up, let them go gently.
Sagittarius (Nov. 22-Dec. 22)
Your imagination may be sending you stronger messages than your senses about the state of an important personal relationship, and you may feel you have no clue where a certain person you care about is coming from. I also see a tendency to think the worst — but you could just as easily think the best. The truth is you may be overwhelmed by the power someone seems to have over you, by how large they loom in your world, and by how devastated you would be, were they not there. Maybe it's a good idea to be aware of those feelings, because if you are, you'll treat the relationship with that much more respect. But you have yet to find out just how truly there another person really is for you. Family Focus: You appear larger than life to partners and children. Set a good example.
Capricorn (Dec. 22-Jan. 20)
Most of the time, you're exceptionally lucky to be a Capricorn, and now is one such time. Your charts right now speak of two things: one is a sense of glorious opportunity in the world and perhaps connecting with the feeling of how well respected you are. Another is a push from inside to expand your world, to think bigger thoughts, to be more generous and to live a little larger. Capricorn is blessed with the ability to make the most of whatever scant resources the world makes available. As the poet Marge Piercy said, you could live on sand and stone, and wring wine from burrs. Luckily, you have a lot more than that to work with, and you have a lot more to accomplish than you did last week. Family Focus: All leadership must be based on love, especially that of a family.
Aquarius (Jan. 20-Feb. 19)
There is a branch of Eastern mysticism called Tantra. Though the word is often misused, it does have a great purpose: it's the meeting place of sexuality and spirituality, and it's not just for Chinese mystics. As a society, we have made sex the symbol of everything but devotion to existence. We think nothing of speaking of sex and money in the same statement, sex and abuse, sex and pleasure: but sex as an expression of devotion to creation itself, be it human or divine? It really is strange to a lot of people. The word Tantra means network. It's about weaving life together, through gestures and gifts of pleasure. The astrology of the moment says that if you begin walking this path now, it could become a rather pleasurable life mission. Family Focus: Encourage everyone in your household to say all that they've been feeling — the cosmic door is open.
Pisces (Feb. 19-March 20)
The ties and relationships you establish with others over the next few weeks are likely to stick, and they are likely to prove significant. Choose carefully which ones you pursue, because you do have options and they are not all equal. That does not mean say no to everyone — it means say yes when you really feel good. And it means be as attentive as you can be to as many points of contact in your life as you can. The weeks approaching are a time of unusual contact, and depth of contact. There is a very welcome pattern developing in the planets, and the suggestion is that you are not alone — which would be good news to any Pisces I've ever met. Family Focus: A close partner is changing profoundly. Stand back and watch — this is their process alone.