If Your Birthday is Saturday, Feb. 1
The Day of Willfulness | Order the Aquarius Astrology Studio | All Other Signs
Your birthday chart describes complex dynamics related to your roots, emotional history or living environment. If unexpected shakeups of some kind temporarily throw you for a loop, direct the energy generated toward moving forward on projects that support stability. Trade any tendency toward rigidity for gentle persistence and self-regard. You've reached a point in your path where a period of tactical withdrawal is appropriate. It's time to reconnect with your spirit and intuitive wisdom. A wealth of practical and inspirational input is ready to download, as soon as you plug in.
— by Victoria Emory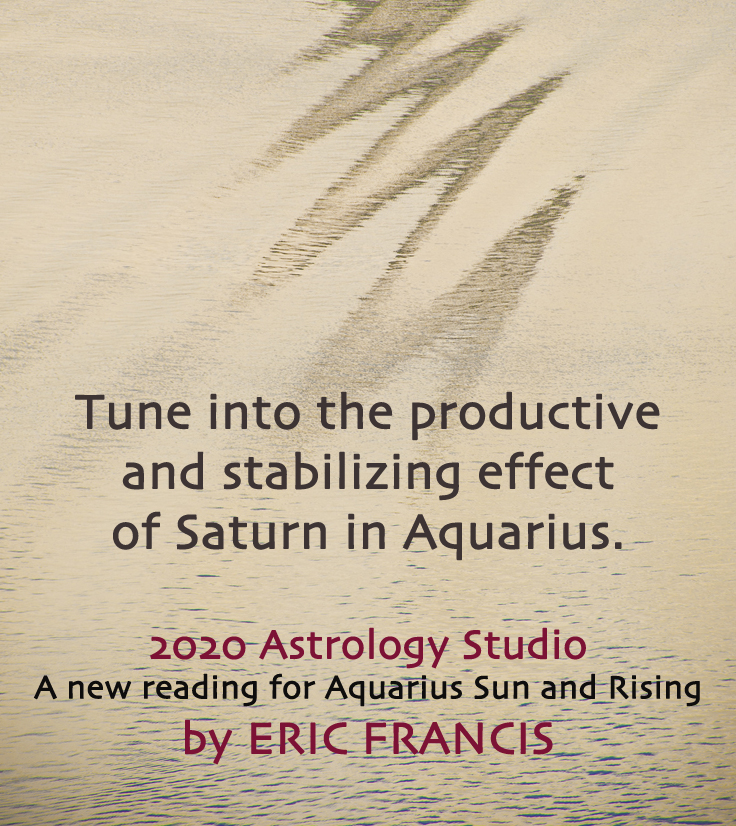 Your Weekend Astrology for Jan. 31-Feb. 2, 2020
As we approach today's first quarter Moon and move projects into their next gear, weekend sociability gets a boost. So do some questions about how you tend your emotional and creative needs in private.
Ceres, a dwarf planet named for the goddess of grain, entered Aquarius yesterday (Friday). Ceres relates to all types of nourishment, in addition to actual food. Aquarius is the sign of groups.
When was the last time you held or attended a potluck dinner? This weekend looks ideal for one. Ceres will be in Aquarius until late April, but currently the Sun and Mercury in Aquarius are focusing awareness on friendships, and on humanitarian themes — such as the social welfare systems we've put in place to feed those who are struggling.
Ceres in Aquarius also relates to metaphorical nourishment via social circles. Yet that has its shadow side (think peer pressure, or the tribal nature of 'social' media). And not everyone has a comfortable relationship with food, though there are resources for addressing that.
Today, the waxing Taurus Moon — conjunct the asteroid Vesta, goddess of the hearth — squares the Aquarius Sun. Notice how you are (or are not) tending your creative flame and your sexual spark.
How are you honoring your physical and emotional needs? Are your habits, possessions and physical space supporting this? Keeping your 'inner hearth' warm is what enables you to invite others to gather around your home's literal hearth (in most modern houses, this is the kitchen stove). Self-care promotes healthy socializing (and good sex).
On Sunday, Feb. 2, Mercury enters its pre-retrograde echo or shadow phase. It stations retrograde on Feb. 16. Consider this your reminder to begin tying up loose ends on contracts and major purchases as much as you're able.
— by Amanda Painter
Almanac:The Moon is currently in Taurus. It enters Gemini on Feb. 3 at 6:29 am EST.
The first quarter Moon occurs today (Saturday, Feb. 1) at 8:42 pm EST.
Mercury enters its pre-retrograde echo/shadow phase on Sunday, Feb. 2, at 3:41 am EST.