If Your Birthday is Tuesday, Dec. 24
The Day of Complex Emotions | Pre-order the 2020 Capricorn Astrology Studio | All Other Signs
Some of history's great revolutionaries have chosen birth under your sign, contra the Capricorn cliché that limits your tribe to standard-bearers for the status quo. A signature of creative rebellion stands out in your birthday chart: an invitation to break free of conformity or limiting self-concepts. Bold self-expression and a bit of excitement are in order. Inspiration, when followed, can lead to liberation beyond what you'd imagine. Remember, you can only do what you try.
— by Victoria Emory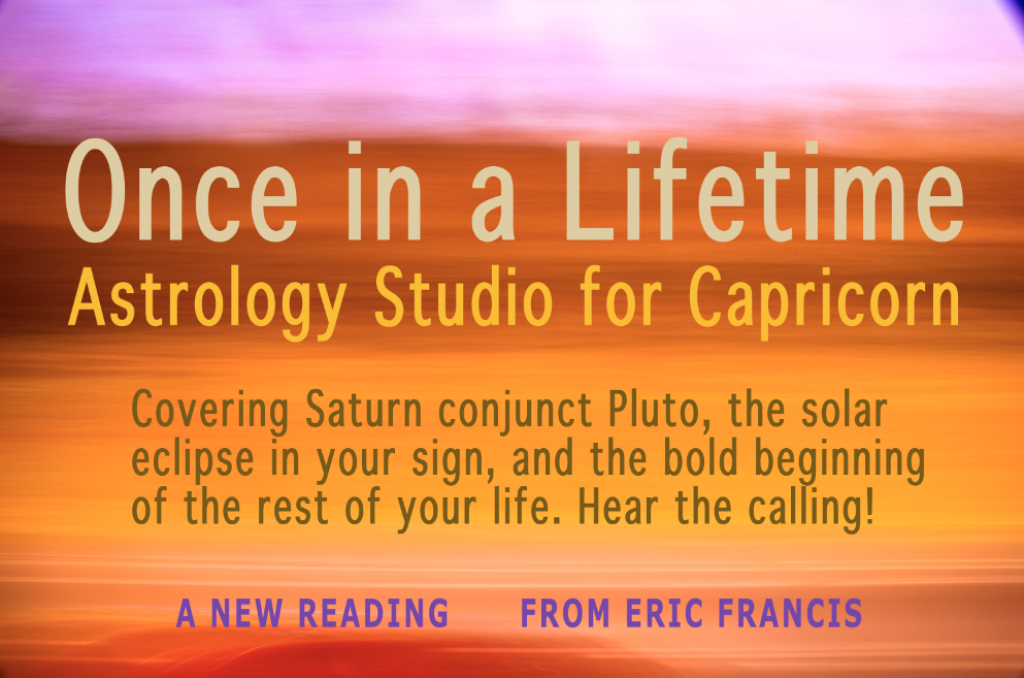 Written in the Planets for Dec. 24
In two days, just after midnight (U.S. Eastern Time) on Dec. 26, we'll experience the first of two eclipses: a solar eclipse with the Capricorn New Moon. Astrologically, eclipses describe an opportunity to release something that no longer works in your life, so that you can free up space to move forward.
Eclipses are markers in time. They come with a feeling: that of time accelerating, and of arriving at a 'point of no return'. Events associated with them can feel 'fated'. Different people experience moving forward differently — in part depending on whether you feel ready, or whether the motion is gentle.
Capricorn is ruled by Saturn — master of discipline, structure and time. So you might think in terms of tending to your foundations. For example, before you build a house, you have to be sure the ground is cleared of debris and is level. Likewise, when it's time to move in a new direction in life, you may first need to withdraw your focus from emotional and mental clutter, freeing your energy for more creative use.
Avoid Escape via Alcohol
Be cautious about escaping the intensity. The Moon-Neptune square on Wednesday, Christmas Eve, is a warning about overdoing the holiday cheer at events. Also, a rare Sun-Jupiter-Pholus alignment is specifically saying set limits for yourself.
Western culture's huge emphasis this time of year on long-held family traditions and obligations creates tension for many people. The Sun today is aspecting minor planets that emphasize this (particularly Sun square Chiron, which can trigger old injuries). Yet the Sun's also conjunct Jupiter and trine Uranus: there are openings, there are opportunities, and ideas are abundant — if you give yourself permission to try them.
Note that whatever is seeking resolution could simply feel like pressure. It's a tricky time of year for many people as it is, whether you celebrate Christmas, Haunukkah, Kwanzaa, or none of the above. If you're struggling, remember that even offering a kind word to a stranger at the store can shift your energy enough to let a little light shine through. The inner space that clears could make a real difference.
— by Amanda Painter and Eric Francis Coppolino
Almanac: The Moon is in Sagittarius, and enters Capricorn on Wednesday, Dec. 25, at 4:45 pm EST.