Dear Friend and Reader:
As mentioned earlier in the week, we don't have a full issue today. However, Mercury is stationing direct Saturday, so it seemed worth offering a few words about that. To sum up: Mercury goes direct tomorrow, but I suggest you take it slow getting up to speed with that energy. The station direct is a key time for information coming out; let it do that. Learn what you need to know before beginning something, moving on an idea, or making a purchase or commitment.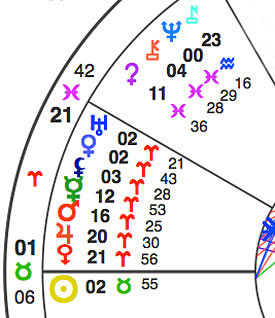 Hold the space of the mystery for a little longer, and see what manifests. This pertains to you personally (as in, inwardly), and what you're doing in the world. One cool aspect in this chart is Venus conjunct Uranus in Aries, a picture of self-awareness, self-esteem and some friendly erotic or amorous surprise, or a revelation of some other kind. Be open to the unfamiliar and it will be open to you.
The diagram at the right is a section of the chart for Mercury stationing direct at 6:03 am EDT Saturday. This happens very close to sunrise on the East Coast of the U.S. — you can tell because the Sun (now in Taurus) is on the horizontal line; that's the horizon. The station direct happens before dawn toward the west and around noon in the UK and Europe. It will be late Saturday for Oz and New Zealand.
What stands out about this chart is the concentration of planets, which represents the concentration of energy we are encountering right now. Clusters like this happen every few years, and when they do, we can feel it (and if you dare to follow the news, there is a special kind of eruption characteristic of the astrology). This concentration happens to be in Aries, one of the hottest signs. Exactly opposite all that Aries (not shown in this chart) is Saturn retrograde in Libra. That's providing something of a counterbalance, which is helpful. It's also pushing us to confront what is stuck. One message is, keep the energy of your relationships moving. Focus on love and creativity rather than attachment and you'll feel better.
Mercury is the green planet right in the middle of the whole show, the one with the horns, next to the number 12. Mercury is stationing surrounded on both sides by this rather potent concentration of energy. It is exactly opposite Saturn, which is in the same degree in Libra. The Saturn contact says keep your focus and do your best to treat serious matters in a light way, as Sally Brompton said in this morning's Pisces horoscope.
This station and the weeks that follow are full of surprises. Mercury will make a series of aspects coming out of the shadow/echo phase, which lasts till May 11. That's when Mercury goes beyond the degrees where it's been retrograde the past three weeks, entering new territory. While we get some good information over this weekend and Monday, the best information comes when Mercury leaves shadow and makes a conjunction to Jupiter May 11.
Along the way, Mercury will make a series of conjunctions — to Mars, Venus and Eris. That's a lot of information, looked at one way, but really, it's about self-discovery. If you like to learn, and learn about yourself, this is a great time to be alive.
I recognize that this has been an unusually overwhelming time, and much of it is manipulated. Take advantage of the influence that you have, which begins by paying attention to how you feel, and depends significantly on using what you know.
I'll catch you on the other side of the holiday weekend.
Lovingly,