Dear Friend and Reader:
Last month in Chiron files we looked at Mercury retrograde in Leo and Virgo, called Tales of Mercury and Chiron. The two planets are related through an association to Virgo. We often associate Chiron with the healing process. Hermes, the Greek messenger god identified with the Roman Mercury, is mistakenly associated with healing because his staff — the caduceus — is widely used as the symbol of medicine and health care in the United States. This is a classical 'trickster' move.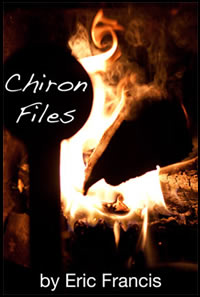 The real symbol of health care is supposed to be the rod of Asclepius, the god of medicine who was a student of Chiron. What we get with this confusion is a mix-up between who should be the representative of medicine: Asclepius or Hermes? Nothing against Hermes, but there is a problem.
In 1932, Stuart L. Tyson wrote in The Scientific Monthly, "As god of the high-road and the marketplace Hermes was perhaps above all else the patron of commerce and the fat purse: as a corollary, he was the special protector of the traveling salesman. As spokesman for the gods, he not only brought peace on Earth (occasionally even the peace of death), but his silver-tongued eloquence could always make the worse appear the better cause." Mercury was a kind of salesman, and he is the patron of all those big pharma reps who spend their time on the road, hawking everything from gloves to lasers.
The healing tradition of Chiron and Asclepius takes a service approach and a holistic approach, rather than a commercial approach to medicine. This is a central theme of our time in history, as the business of 'health care' gets more energy than we might actually offer to help a sick person get well, or better yet, to help people stay healthy. In the United States, everything about what we call 'health care' comes back to money, including who is allowed access to the system, and what quality care they are able to get. Many people become doctors because they want to make money — not because they have a passion for helping those who struggle. That said, practicing medicine and nursing can bring out the best in some people, but it's still amazing how much of a role money plays.
The Mercury retrograde that we've just experienced began with a close, but not exact, opposition between Mercury in Virgo and Chiron in Pisces. Now that its retrograde is over, Mercury is about to re-enter Virgo and will complete its opposition to Chiron. You can think of this as a moment of contact and potential awareness.
With this aspect, we have a kind of astrological mirror between the holistic healing model of medicine and the marketplace model. One is supposedly couched in belief; those who accept it are often accused of going purely on faith and not honoring science. Chiron in Pisces is currently the symbol of alternative and preventive medicine. The Pisces energy field clouds how much alternative medicine actually knows; it also presents us with an idea that healing needs grounding on the emotional and spiritual levels in order to be effective.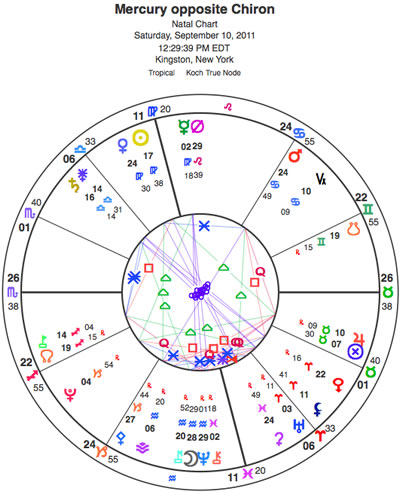 Mercury in Virgo, across the zodiac, represents the official medical model, couched in the garb of science. It's supposedly all about rationality and proof and data.
I think we have it backwards. Most of what we call traditional medicine (which in truth is not so traditional) is based on a kind of mythology and is often accepted on pure faith. The doctor is supposed to have some mystical power of diagnosis, prognosis and cure, and is the one who is revered because he or she can deliver the death sentence. In my experience, what we call 'alternative' medicine is more directly based on applied science and ongoing investigation. For example, I would say that more people are likely to accept that antidepressants work rather than accepting that homeopathy does, but who has actually looked at the evidence, including the influence of commerce and profit?
One problem many of us are aware of is how drugs and vaccinations make people sick. While the ignorance you encounter can be appalling (such as people allowing a doctor to give their newborn infant six vaccinations in one day), some people are waking up. However, this has a way of happening too late, such as this example from Norway.
Let's take a closer look at the chart for Mercury opposite Chiron (set for Sept. 10, 2011 at 12:29 pm EDT), and see what it tells us about the supposed controversy and what it says about us and our approach to wellness. Something is coming to completion after a long inner negotiation. Ideas are crystallizing and expressing themselves as circumstance. Wellness is at the root of all our other issues, because without this one factor we don't have a basis for action. Wellness is about strength and integrity, and that must reach all levels to be meaningful.
One interesting aspect in the chart is that the Mercury-Chiron opposition is square Heracles. We have an idea of healing that you're supposed to go in and do it — the heroic model. Naturopaths and homeopaths don't go in and chop out the tumor; they spend a lot more time observing the patient. This is sometimes called the Wise Woman approach, which starts with observe, and continues to the second step of nourish. Heracles, however, is from the model of heroic medicine, rather than the holistic one. The heroic model resorts to invasive interventions right away, rather than taking the time to explore the emotional and environmental connections that would help us get at what is really bothering us.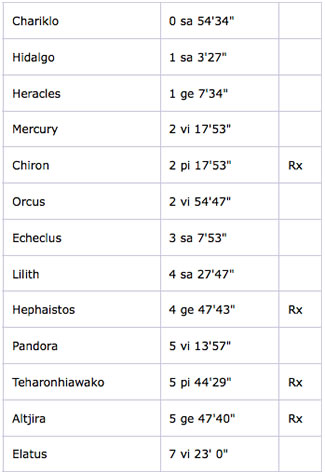 Another aspect that stands out in this chart is the Moon conjunct Neptune. This talks about the influence of belief on all forms of healing, and also about delusions based on false belief. Moon-Neptune also describes a drug-based way of doing things — especially psychotropic drugs. In other words, we take a feel-good approach to healing, which is not really healing at all. It might be, if the feel-good approach didn't have so many toxic effects, and if all kinds of feeling were approached.
Both the Moon and Neptune are opposite Transpluto in Leo. This is a useful hypothetical point, representing narrowness and focus, judgment and discernment (at times harsh and negative). On the one hand we see some of the narrowness that is associated with the heroic approach. On the other hand, there is something here about seeing through deception, misdiagnosis and drugs that suppress symptoms rather than bring them out. There may be the obsession that there is 'something wrong' as in something specific that we can 'fix', when the necessity is to take a more observation-based holistic approach and really understand the issues.
There is another exact aspect, also an opposition: Venus opposite Ceres. This is about the influence of food on our health — in particular how rich foods (associated with Venus) can make us sick. Ceres is associated with grain and we're finally starting to figure out that a carbohydrate-based diet is simply not healthy. Venus-Ceres is also a comment on our emotional patterns and their relationship to food as it influences wellness. Food as a healing agent is becoming an esoteric subject, though food really is the best medicine. Mars aspecting Ceres (it's making a trine from Cancer to Pisces) talks about eliminating foods that aggravate. This has to be done patiently, methodically, with reasonable expectations of the results. It's also an underlying foundation to other approaches to healing that would come through one's relationship to food. Most of the time we know exactly what to do, but for different reasons don't actually do it.
There is one other aspect in the chart that clarifies the situation. That is Mercury conjunct Orcus in Virgo. This is to say that Mercury is precisely conjunct a planet, which tells us a lot about what's going on inside its thought process. Orcus is a plutino or Pluto-like thing — it has a 245-year orbit, similar to Pluto's 251-year orbit. Orcus is an Etruscan deity that was conflated with Pluto in Roman times, so we have a god of death associated with the market-driven, Western model. Both Death and the Trickster are stalking Chiron in Pisces, as if to say, healing is too serious for your circumspect approach, no matter how grounded it may be.
Orcus is of the 'punisher of broken oaths' cycle of deities. Conjunct Mercury in this configuration, this is the fear of death inherent in all serious illness, and how that fear influences our approach to the market model: we will spend anything we need to, in order to evade death. It's also about the fear of insanity inherent in any mental disturbance. Mercury-Orcus is a grotesque parody of human consciousness, a kind of shadow-ego, but one we're using to make these supposedly life-and-death decisions.
We need to recognize that there is a crucial aspect of healing that involves the alleviation of fear, or the confronting/processing of fear. I recognize that fear is very fearful, but this is the very essence of the issue. Fear is making us sick, and it is a sickness. A Course in Miracles describes all healing as being the release from fear, but this is something so alien to us that we likely have no clue where to begin. This is where spiritual intervention can enter the picture. How do you recognize this? Well, it's not trying to sell you anything, and it's not making any promises. Your awareness increases, but rather than being terrorized by something, you can see that you have possibilities.
Let's hold that thought, and come back to the theme of fear next month.
Yours lovingly,