Workers of my country, I have faith in Chile and its destiny. Other men will overcome this dark and bitter moment when treason seeks to prevail. Keep in mind that, much sooner than later, the great avenues will again be opened through which will pass free men to construct a better society. Long live Chile! Long live the people! Long live the workers!
Dear Friend and Reader:
Finally a bit of good news here in the Anti-Sixties, after a year featuring various scenarios of apocalypse, environmental devastation and intolerance: after more than two months of nonstop work, an international team successfully brought 33 Chilean miners safely home from half a mile beneath the Earth. I stayed up half the night Tuesday into Wednesday watching, one by one, as the men emerged from beneath the ground in a little capsule, and were greeted by loved ones, the president and his wife. It was better than the Beatles.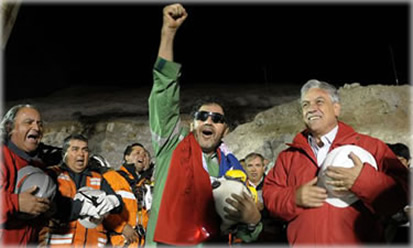 In the anxious times we're living through, this is a triumph of humanity, even though the problem was created by the people who run a massive corporation hiring people to dig for gold under extremely dangerous conditions. This was not a natural disaster. But the solution represented humanity at its best.
We could fault the worldwide vigil around the rescue as a feel-good event, but I daresay that's what the world needs now: to actually feel good about life and love rather than the stock market or American Idol. We do a lot of getting pissed off and most of that involves how little regard is afforded to the worth of life. Watching those guys come out of the rescue pod one by one, and embrace their families, it was impossible not to appreciate being alive, right then, on the spot.
Yes, we can even feel good about humanity's ability to cooperate at doing something helpful. There was a time those men would have been left for dead, even if some effort might have saved them. Part of what did save them was publicity — you're always safer near a TV camera, unless it's hidden in the ladies' room. The drilling experts, engineers, submarine scientists, geologists and (actual) rocket scientists got the guys out. The doctors and psychologists on the surface actually seem to have offered some significant help.
Yet in reality it was the miners themselves who kept it together under some strange, extreme circumstances, rationing teaspoons of food and cups of milk for the first 17 days on the verge of starvation. They organized work tasks based on their specialties, keeping their living space clean, digging wells for fresh water and most of all, getting along. Or rather — getting along, eventually. Apparently the sanitized account of events has left out the at-times intense conflict that they experienced, and their darker thoughts of waiting to die during those first 17 days. In the end, the miners decided together that they were going to get out of that stuffy, 90-degree mine alive. For a more complete account of what happened, this article from The Guardian is worth reading.
Efforts for rescue began Aug. 5, without any knowledge of survivors, and for 17 days those efforts persisted nonstop without any success. The government and rescue teams kept trying, drilling bore holes into different layers and shafts of the mine, even sending rescuers down ventilation shafts that collapsed. Everyone is amazed by the success of this enterprise, but if rescuers had given up during those 17 days, there would have been no rescue. From that first day on, the message from the president on down was to spare absolutely no expense. If you look at the news coming out of Chile, you'll see that the cost was never a factor, was never even mentioned until it was all over.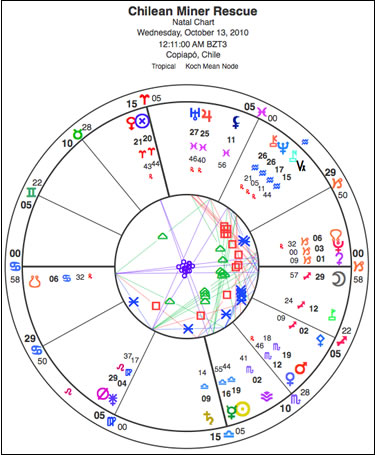 Let's go to the chart and see what story it tells. Remember that in doing mundane astrology like this, the first thing to do is observe whether, and how, the chart describes the event. That story starts straight away with the ascendant.
The time the first miner emerged was predicted, er, reported by BBC in its realtime chronology of the event as 12:11 am local time Wednesday. Astonishingly this gives us an ascendant in the first degree of Cancer, activating the world-as-one Aries Point — a kind of astrological jackpot. In case you think this is likely to happen (regardless of how often it's been happening lately), remember that the ascendant degree changes every four minutes: it flies by. Any chart that highlights the early degrees of any cardinal sign (Aries, Cancer, Libra or Capricorn), particularly the very first degree, qualifies, and in any one location, we get that chance for about 16 minutes out of every 24 hours.
Yes, the rescue of the miners was an event uncannily accurate for the chart for that moment.
With the Aries Point highlighted, the most intimately personal events mingle with the most public. We learned about the family lives of the miners, including some intimate details, but moreover, we felt close to them and their families, a Cancer theme. Over and over this week, we heard reporters from every network comment on how emotional the situation was. Hard-nosed Dylan Ratigan shamelessly asked one man on the scene to describe his experience from an emotional perspective — a giant leap for mankind. We could all empathize with these men and their families. That's a nice image of the Aries Point with a Cancerian flavor: the world coming together emotionally as a family, including the girlfriends and mistresses.
Exactly opposite the Cancer ascendant is Pluto in early Capricorn, right on the 7th house cusp. Remember the cardinal cross I've written about 41 times this year? It made a big cameo Wednesday night, coming up angular: exactly on the horizon. In any chart, that means emphasis, and Pluto was one planet making the point. Ceres (the former asteroid, now dwarf planet) and mythological nemesis of Pluto, was in a conjunction to Pluto, as if directly negotiating for her daughter Persephone to be brought up from the underworld. Ceres had just arrived in Capricorn a few days earlier. It was as if she went down there personally and got the guys out.
Pluto in Capricorn has another incarnation — the corporate agenda that nearly killed these guys. Pluto shows up there as the near-death experience that they're about to narrowly survive. This is the side of the coin where Pluto actually is the 'lord of death' and his realm, his current version of Hades, is the corporate system.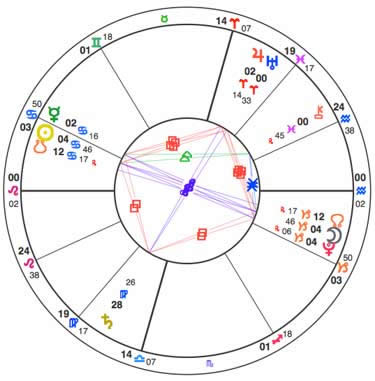 This is part of a larger astrological picture. The cardinal cross that has been whipping, flogging and stressing us all year is thankfully not quite what it used to be, but it's still a potent force. While major elements have either moved on (for example, Saturn is now clear of some extremely tense aspects to Uranus and Pluto, heading across mid-Libra) or are out of the way (Jupiter and Uranus are temporarily back in Pisces, about to head back into Aries), the energy pattern is still in effect. These kinds of astrological events have a long story arc, stretching out for years. We're still close to the center of the story, but we're coasting on the momentum of recently past aspects, rather than ones that are building up — with one exception, that is, which I will come back to.
That penetrating energy of Pluto in Capricorn has been all over the news. This year we've had at least two other major stories that involved digging deep beneath the Earth — the BP oil spill, and the loss of 29 miners at the Upper Big Branch Mine in West Virginia earlier this year.  We also heard from a volcano in Iceland, which qualifies as news from beneath the crust. During an episode of Mercury retrograde this year, volcanic dust disrupted air travel all across Europe and by ripple effect, around the world.
The earthquake in Haiti had a similar feeling. All of these events are illustrated by Pluto in Capricorn: our relationship to what is happening deep within a solid substance (mountains, canyons, rocky land or the continental plates). Pluto can represent some immutable or unstoppable force moving beneath the crust of the Earth, such as the movement of the plates and geological faults.
One interesting feature of the chart is that the Moon is in very late Sagittarius. It is literally minutes from ingressing Capricorn. The Moon is a powerful force in this chart, because Cancer (ruled by the Moon) is in the ascendant. So in a sense, the Moon is the lead planet in the chart.
When the Moon is in such a late degree, that is often called void-of-course — when the Moon has made its last aspect to a major planet, but before it changes signs. Normally the void Moon is considered a kind of foul ball; what happens doesn't count. But this late-degree Moon in Sagittarius seemed to represent the end of a long story involving considerable international cooperation. Even the Americans helped, which is impressive on the part of the Chileans given that the last thing we did in Chile was assassinate their president, Salvador Allende, in a CIA-sponsored coup on Sept. 11, 1973.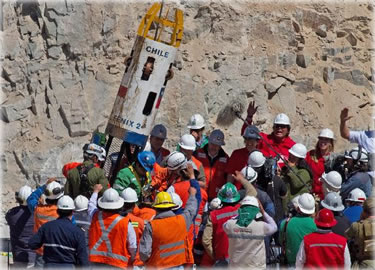 The Sagittarius Moon was exactly trine an odd non-planet (a rarely used hypothetical) called Transpluto (narrowness, specialization) which reflected the apparently flawless passage up the extremely narrow rescue shaft by 33 miners and six rescue workers. The Sagittarius Moon floats; it rises up; it always comes back. Interestingly, the Moon was conjunct an asteroid called Eurydike, the wife of Orpheus, which is a myth about an attempted escape from Hades. That story didn't work out so well — Orpheus looked back toward the gates of Hades and Eurydike was lost. I don't think any of these miners looked back once they got out of that capsule.
One last image: the Moon on the edge of Sagittarius has the feeling of something about to be born, and that narrow passage, 24 inches in diameter, resembled a birth canal. Even the Chilean president described the whole experience as a rebirth.
Now for the moral of the story: the safety of mines. Will we get the message that mines and mining are extremely dangerous, and that we have to take better care of the people who spend their lives in them?
Venezuelan journalist Martin Granovsky wrote in Pagiana 12 yesterday: "There is evidence that more than two million people die each year worldwide as a direct result of their employment conditions or diseases contracted there. Nobody can seriously claim that the mere exposure of a problem to one billion people at a time, in transmission from Copiapo, will solve that problem. But if the political and trade union action effectively joined the public exposure it would count in its favor with an obvious fact: the rescue that ended last night made more visible to the world what life is like to a miner and what are the risks with the increasing disproportion between corporate profitability and worker safety."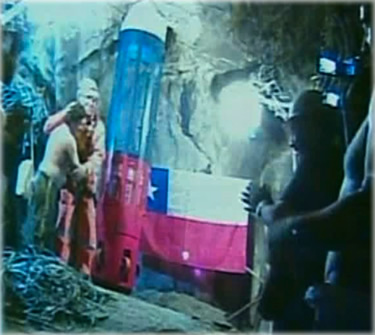 So, in the Aries Point moment, when the world is watching and the personal, the corporate and the political are one, let's stay vocal on the issue.
Unfortunately, much other news has been pretty misanthropic lately. Earlier in the year, I described our moment in history as the Anti-Sixties. The astrology of 2010 is a kind of mirror image of what we experienced in 1969. The main feature of '69 was a Jupiter-Uranus conjunction in Libra. Earlier this year we had one in Aries, opposite the Libra event to the degree. It's just like the Sixties right now — only exactly opposite. This has come true once again as we are living through an election cycle that has been dominated by openly celebrated homophobia. The supposed love and peace theme of the Sixties has been replaced by publicly displayed hatred directed at a vast segment of our population: people who share affection with members of the same sex. In studying social history, it's clear that political forces openly attacking any one form of sexual or relational expression spreads to the rest of them; we might want to consider stopping this pattern, if only out of self-interest.
The Teabagger movement has succeeded in floating candidates who have made homophobia their main platform. It's the current version of red meat for their electoral base. One such candidate is so determined to make the point that she's opposed to you having sex with yourself (which is obviously gay). Five different Teabagger candidates for U.S. Senate are against abortion even in cases when the pregnancy involves incest and rape. We now have several generations of girls, young women and early middle-aged women who have no recollection of life before Roe vs Wade and to whom the term "back room illegal abortion" means nothing. We might want to set about educating one another.
I am less astonished by this than I am by the tolerance of the American people for the viewpoint of total sexual intolerance. I mean, I'm really amazed. Even as the views of our supposed leaders translate into teenage suicides and a nationwide epidemic of bullying, most people are silent. The silence involves the nature of homophobia, which is the projection of self-judgment onto others. Most of us may not project that self-judgment, often focused on sex, so violently, but we do quietly harbor the judgments. Usually they involve guilt, and some element of jealousy that someone might have more fun than you.
The current sky is featuring a deep exploration of this subject in the form of three planets in Scorpio. One is Mars. That is the straightforward, no-need-to-be-explained nature of desire.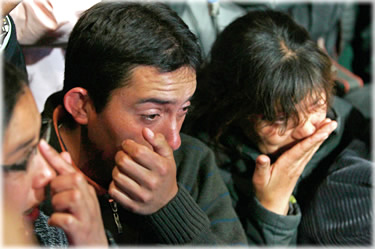 One is retrograde Venus. That is an inquiry about how we really feel about our inherently sexual nature. Humans are the most hypersexual animals, and most of us go through the day acting like nuns and monks, mortified that anyone might realize we're so much as thinking about sex. So this hypersexuality meets a kind of resistance that can only be put forth by the human mind, and the result is that many people are like walking pipe bombs. The question being asked by Venus retrograde is, how can we unravel that? What is the source of the challenge, the struggle, the difficulty, the resistance?
Venus retrograde in Scorpio is about going to the deepest aspects of these questions, describing a quest to understand our sexual histories and how they influence us. The retrograde describes a process of exploring how our sexual values influence our relationships and the kind of involvements and entanglements that we create.
Then there is Vesta. She's just recently joined Venus and Mars, and she is the astrological guardian of what you might call sacred sexuality. Vesta is the faceless (never depicted) goddess of fire; her servants, the Vestal Virgins, tend the sacred hearth, keeping the fire burning around the clock. So there is a call to devotion here: of devotion not to 'a relationship' but to your sexuality. She stands as a kind of witness to the journey and the quest for self-understanding described by Venus and Mars in Scorpio. In a few words, I would sum up this transit at its best as a quest to be submissive to one's own desire.
Vesta is the centerpiece of the home: the hearth. But this is no ordinary hearth; it's the inner flame, which we must tend, lest it go out. And I daresay many of us have taken that sacred flame for granted, or used sex as a commodity rather than the beautiful celebration that it can be. Which leads me back to Pluto.
Pluto is one of the planets associated with Scorpio. And over the next phase of astrological history, Pluto is going to come into a kind of focus that we have not experienced in half a century. The Uranus-Pluto square of 2012-2017, which is about to start rumbling loudly in 2011 as it warms up to the first exact contact of June 2012, talks about total revolution of both the psyche and something much larger. Part of this revolution will be about the intersection of sex and identity. Then that meets up with the religious/corporate/governmental structure that we try to fit sex into — and where it doesn't go.
Some of us will burst free because it feels great. Some of us will have to be extracted in a capsule through a 24-inch tube, one at a time. Some of us have no plans to come back to the surface. It would help if you decide which you want.
Yours & truly,


Astrology Looking Ahead: Aries Full Moon #2
We are now at the Mercury-Sun exterior conjunction, which is the exact midpoint of the Mercury direct phase. The next Mercury shadow phase starts in a month, and the next retrograde starts in two months. Looking ahead, that retrograde will stretch from early Capricorn into Sagittarius, crossing a number of planets, the Moon's North Node and the Galactic Center in the process.
The second Aries Full Moon of the year is next week. The first was on the equinox, across the first degrees of Aries/Libra, on Sept. 23. The next is on Friday, Oct. 22, in the very last degrees of Aries/Libra. Mercury will be in Scorpio, joining the conversation between Vesta, Venus and Mars; and then about 12 hours later, the Sun joins this grouping in Scorpio as well. Many Scorpio-type questions and themes that have long been ignored, suppressed or neglected will come up for conversation, healing and playtime. Part of that will involve speaking the unspeakable. Mercury makes conjunctions to each of those points in the next few weeks, giving them a voice.
Over the past week or so, the first four discovered asteroids — Ceres, Juno, Pallas and Vesta — all changed signs. Ceres entered Capricorn and is now in a conjunction with Pluto; Juno entered Virgo, Pallas entered Sagittarius and Vesta entered Scorpio. A more detailed description of these sign changes is at this link on Daily Astrology & Adventure.
The Chiron-Neptune conjunction is close to its most precise; the two points will not make an exact conjunction for their third encounter of the year, but rather a very near miss that comes within one-sixth of a degree. This is the aspect of clearing the fog, of seeing through the spider webs of deception and of fully appreciating the gift of inspiration, fantasy and ideas that we can manifest. Chiron can bring us out of the isolating feeling of Neptune and into contact with our own awareness and that of the people around us — especially in Aquarius.
— Eric Francis
Weekly Horoscope for Friday, October 15, 2010, #835 – BY ERIC FRANCIS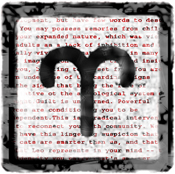 I've been emphasizing the theme of relationships in your horoscopes for a while. With Saturn in your solar 7th house (pair bonding, meeting the other, marriage, enmity), that's as basic as it gets, though I've recently been asked by an Aries brother about your financial picture. It looks as though you're trying to sort out your economic worth within a contractual situation, wondering how you could have got so involved in something that you've grown to question. In fact, at the heart of the matter is a question: Who sets your fee? Who determines your wage? Venus retrograde in Scorpio is a long episode of claiming back your power, which could be in a business deal, or it could be in some other kind of partnership. Remember that you set the terms of the negotiation, though this is a skill in itself and, as it turns out, it's a human skill that will always come back to how you feel within the relationship where the transaction occurs.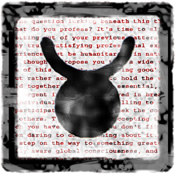 Our experience of life ripples from the center of our existence outward into the world. Sometimes it seems like it's happening the other way around, but that just switches the order of operations. At the moment you seem to be deciding how you feel about yourself based on how you perceive someone else to feel about you. Remember that your perception, that is, your experience and opinion of how whomever may feel is in actual fact your experience. This is the tricky part about sorting out projections. While it's not a good idea to take responsibility for how everyone else feels, nor do you control how they feel, you interpret the data that you get, and you do so through your own inner filters. These, in turn, are based on your opinion of yourself. It's strange, fun and true: change that and everything changes.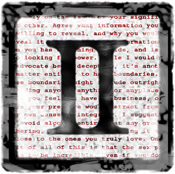 Even here in one of the few moments in modern history where Pagan is considered valid and interesting, many people still make a face when met with the idea that what we think of as 'sexual' and what we think of as 'spiritual' have anything in common. To some it's obvious; others see a divide, and contemporary Evangelicals are on the warpath like they haven't been since the crusades. I would note that both of these are false categories. If sex is at the root of our physical origins, then it's not just sex. If the cosmic force that is within us, and surrounds us, is a real thing, then it embraces all forms of creation. You may say you believe this, but I would ask, as a reality check: what is the role of guilt in your life? And do you say yes when you mean yes?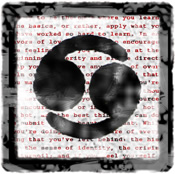 Venus, Mars and Vesta are now transiting across Scorpio, your solar 5th house. The 5th and Scorpio are two of the most erotic archetypes in astrology, as are all three planets involved. Mars is keeping your desire at the center of your emotional experience. That, you can depend on. Venus is calling you deep into your experience of how you respond to the world. There seems to be a question about how, when you respond, it's based on something happening now, or something that happened long ago — and that something may be hidden or veiled. Venus retrograde is guiding you to understand yourself better, and to be entirely present in your environment. As for Vesta: she's calling on you to be devoted to the full spectrum of your erotic and creative potential. Devoted, as in attentive around the clock.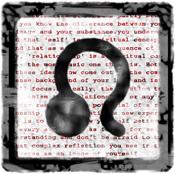 You're more open to the ideas of others than usual — and they are more willing to share, and to listen. The results can be productive, healing, nourishing — and fun. You're the one who needs to initiate the contact and get things flowing. I suggest that you take your time in any conversation; that is, let it last for a few days, maintaining some continuity, and allow the deeper subject matter to come forth. You have a lot to share, and you're more likely to do so when you feel an authentic rapport with someone. You have some questions; you're free to ask. The subject matter is likely to reach beyond what is considered 'appropriate', crossing boundaries with an ease of contact that is unusual for our particular place and time in history. Keep one eye on that, and notice how you respond to this kind of depth.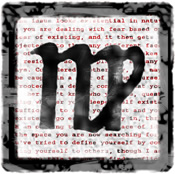 I suggest you consider erotic and creative activity as vital as food and air. I also suggest you notice where your blocks are, for example, to admitting what you want. If you find yourself having any defensive reactions to your own desires, that's a good time to pause and consider that you've actually made a discovery. The thing to do is take this revelation to the level of experience. Let your curiosity lead you there; it's one of the most seductive, honest emotions. You seem to be drawn to things that you think you're too old to do, that you've outgrown. It's true that curiosity is one of the defining features of a child. It's also one of the best ways to reach into your heart and soul and come back with the spirit of a child. Curiosity dissolves guilt. Remember, if you ever need a dependable solvent.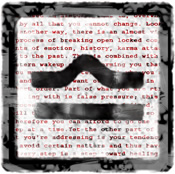 We've all noted the tenuous relationship between fantasy and reality. You can be all kinds, and do all kinds of things, in your imagination. Then when it comes to trying them, that little barrier known as the ego can get in the way. For the next few days, that crude psychic device that causes so many issues will be tame and under your command. It won't disappear completely, but you will be able to override its fears and expectations and grant yourself experiences that surpass your usual barriers. The thing to remember is that the real-life experience will be different than the one you envision in your mind; it may be more fun, or it may seem to be less, till you acquire a taste. Where turning fantasy into reality is concerned, I have a motto I keep close to my heart. What's worth trying once is worth trying twice.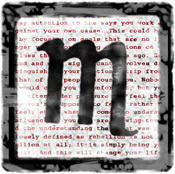 The thought of consciously pausing sexual activity sends chills down the spines of many people. I don't mean encountering a dry spell or a phase of low libido; these are considered necessary (if annoying) facts of life. I mean a conscious decision. Vesta, newly in your birth sign, suggests that you may be walking the line between the two points of view, wondering how to handle your situation. Here's how it looks from another perspective. Mars, also in your sign, suggests that your desire is running at its usual strength. Venus retrograde in your sign indicates a kind of hesitancy, and a calling to be introspective not only about what you want, but what your desire says about your state of growth and healing. Together, all of this points to a contemplative pause: neither denial of your desire, nor of your questions, but a moment to consider what they mean together. Remember a key concept of Vesta: for a specific purpose.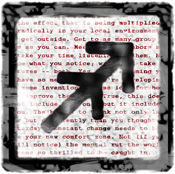 You finally seem to be working with a cohesive plan, or you see the good sense in doing so. You already know the value of moving based on inspiration, initiating action on the energy of your ideas and of riding the waves of synchronicity. Now a guiding or organizing principle has entered your life. It may be a personal code; it may be the clarification of an agenda; you may have decided that it's time to state a goal, and then create a plan of action based on where you want to end up. Work backward from there. You don't need to overplan, but rather, sketch out some basic steps that you know you'll need to take to get where you want to be. The most important of them is stating the goal in a clear way. Make sure it's what you really want. Remember, you're free to change your mind.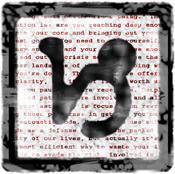 'Food first' would be an excellent guiding principle for the next few weeks. Americans in particular have a knack for eating substances that are clearly other than food: things with ingredients that cannot be pronounced, where the source is unknown, or that we know harm our bodies. Ceres conjunct Pluto in Capricorn is suggesting that focusing on food will have a much greater effect than you think, and also that the topic deserves your focus right now. You came close to making some changes earlier in the year, and now it's time to bring those developments to fruition. You may feel on some level that this is a matter of life and death; that's a mental factor any time Pluto is involved in one's chart. A better way to say it is that your quality of life is directly involved, in the deepest meaning of those words.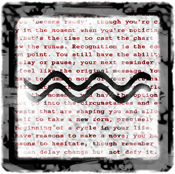 All the factors that astrologers would normally describe as Aquarian are now focused on qualities related to Pisces. For example, there's a conjunction involving Neptune (a Pisces planet) with Chiron in your birth sign. Your non-traditional ruling planet, Uranus, is conjunct Jupiter (another Pisces planet). And your traditional ruler, Saturn, is in Libra, a sign connected to Pisces through the planet Venus. What this suggests is that your mind may be stepping outside of its normal processes of logic and reasoning. You may be more inclined to focus on your inner life; on art; on faith; on mysticism. You may find this disorienting, as if your mind is going soft. More likely, this is providing solace and relief in that you no longer need to have everything make so much sense. Relax a bit and appreciate that feeling. There's a whole new kind of sense available to you.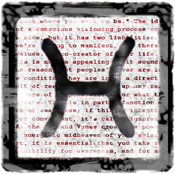 For more than a decade, Pluto was crossing your solar 10th house of professional aspirations, reputation and drive for worldly success in many forms. That provided a sense of drive and seemingly boundless energy — as well as a guiding principle. Pluto in this house served as the impetus to pour your soul into your work, recognizing that this is the unstoppable force. Now that Pluto has moved onto Capricorn, you've reached a phase of attending to the practical details of applying your ideas; notably, ideas which may be ahead of their time. Over the past few days, a new influence entered your 10th house — Pallas Athene, the goddess who guards the city of Athens. Her presence is suggesting that it's time to work with a strategy. Not very Fishy, I know — but helpful in ways you'll soon discover.