---
It's Mac Jones's moment in New England | added September 3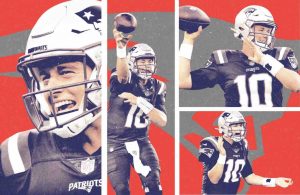 It was always a competition.
The Patriots released quarterback Cam Newton on Tuesday, making Mac Jones, the 15th pick in this year's draft, their starter for the 2021 season by default. Newton and Jones had been splitting reps throughout training camp and preseason games, though Newton, as the incumbent, took the first rep of each preseason game and had been called "our quarterback" by Bill Belichick on draft night and "our starting quarterback" at the outset of training camp.
However, Belichick set the record straight at his Wednesday press conference by offering a thoughtful and detailed explanation of how and when Jones won the job and what qualities were necessary for him to do so …
… just kidding.
"I'm not going to go through all the different things with any player on that, so we'll just leave it the way it is and go from there," Belichick responded when asked to break down the quarterback decision. That was the gist of the rest of his answers, too. He did not mention Jones or Newton by name.
In the absence of clear information, it's natural for theories that fill in the blanks to arise: The starter usually starts the third preseason game, so Newton's the starter. Belichick often redshirts rookies—you think he's going to start a rookie at quarterback in Week 1? The Patriots' draft record hasn't been so good lately, and it'll look worse if Jones starts before he's ready, so Newton is the safer choice. These arguments can cut both ways: Jones is a more traditional quarterback in the pocket, so the Patriots would rather run an offense through him than Newton. Newton's availability is more tenuous because many presume that he is unvaccinated based on his requirements under the NFL's safety protocols, and the Patriots prize availability above all.
The best information available, though, leads back to a simpler answer. Jones and Newton were in a true competition, and Jones won it.
"It was a very competitive situation at that position," Belichick said. "Both players took pretty close to an equal number of repetitions, and in total, between practice games going all the way back to the spring. That's what it was."
Newton took the field first in preseason games and typically got the first reps of training camp practices, but the Patriots clearly made sure that Jones got meaningful work with the starters. Belichick kept the starting offensive line in for Jones in the first preseason game against Washington, and put the rookie in different situations. In that first preseason game, Jones threw a pass on second-and-5 to receiver Jakobi Meyers that was ruled incomplete even though video review showed that Meyers had his hands underneath the ball. It would have been easy to challenge, but Belichick didn't, seemingly preferring to put Jones in the third-and-long spot to find out how he'd handle it. Jones wound up getting the first down, completing a 7-yard pass to Kristian Wilkerson.
Newton played two drives in the Patriots' final preseason game against the Giants, leading to speculation that he would be the regular-season starter. However, a better explanation might be that Newton was out there to even the reps in that game between him and Jones after Jones took the lion's share during joint practices the week before the game. Newton had to stay away from the team for five days that week after a misunderstanding about the NFL's COVID-19 protocols, missing two regular practices and one of two joint practices with the Giants. Newton's absence provided Jones an opportunity, which he seized. Last Wednesday, on a humid, 90-plus-degree day in Foxborough, Jones took every rep with the starting offense and moved the ball well against the Giants' starting defense.
The one thing Belichick did go out of his way to say Wednesday was that Newton's vaccination status was not a factor in his release. The NFL and NFLPA have both stated that vaccination status is not supposed to be a consideration in job decisions, and Belichick said twice that it was not in Newton's case.
"We have other players on the team who aren't vaccinated, as, I would say, probably does every other team in the league," Belichick said. "There've been a number of, quite a high number, I would say, of players who have had the virus who have been vaccinated, so [the] implication that vaccination solves every problem, I would say that has not been substantiated based on what's happened in training camp this year."
A vaccinated player, though, would have been able to rejoin the team much sooner under the league's COVID policy. Last week, the NFL announced that 68 players and staff out of 7,190 had tested positive for COVID-19 during a three-week stretch from August 1 to 21. The league found that the rate of positive tests for those who were unvaccinated was seven times higher than the rate of positive tests for those who were vaccinated. Newton has not disclosed whether he is vaccinated, but since vaccinated players are not subject to daily testing or travel restrictions, his absence indicated that he had not been vaccinated against COVID-19.
Newton had a good training camp and preseason. Overall, he was 14-of-21 for 162 yards, a touchdown, and an interception in three preseason games. He was at his best in the second preseason game, against the Eagles, finishing 8-of-9 for 103 yards and a touchdown. Newton also played the first series in those games, so his reps came against more starting-caliber defenses than Jones's or backup Brian Hoyer's did. He drew positive reviews from coaches, including Belichick, who called him "way more comfortable" in the offense relative to last season.
Ultimately, Jones was just better. When the Patriots challenged him, like they did in the Washington game or in the joint practice session with the Giants, the results were good. "Mac won the job," a Patriots player told NFL Network's Mike Giardi via text on Tuesday. Offensive coordinator Josh McDaniels said Jones's zero turnovers in preseason impressed him, as did his work ethic and ability to run the offense efficiently.
"He's been well prepared each day to come in and do the things we ask our guys to do," McDaniels said Wednesday. "He's learned how to operate what we've asked him to operate so far fairly well. He's improved, and he continues to make progress. He's generally taking care of the football, and he's given the other 10 guys on the field an opportunity to do their job effectively and produce positive plays."
What did not seem to be a concern was Jones's inexperience. He will be the first Patriots rookie quarterback to start a season opener since Drew Bledsoe in 1993, but McDaniels said the Patriots rarely start a season operating from a full playbook.
"Generally speaking, when you start the season, nobody's starting with a full bucket," McDaniels said. "I'd never have thought that we needed to do that, regardless of what the team was or who we had planned or how experienced they were."
It's hard to fathom that Jones could start a full season without putting some growing pains on obvious display. Even Tom Brady, in his fifth start for the team in 2001, had a four-interception game against the Broncos. The flip side of Jones's youth and inexperience, though, means he has room to grow—McDaniels and Belichick both hope he will be a different quarterback in January than he is now, even if the player he is now is worthy of the starting job. Jones, they hope, is the future of the team and a player who will allow Belichick to post winning seasons without Brady.
Still, those all seem like secondary concerns to what played out on the practice field and in preseason.
"Well, I mean, I don't rank them," Belichick said, when asked whether choosing a quarterback was a difficult decision.
They held a competition and Jones won. Even if it was close, maybe it was never any more difficult than that.