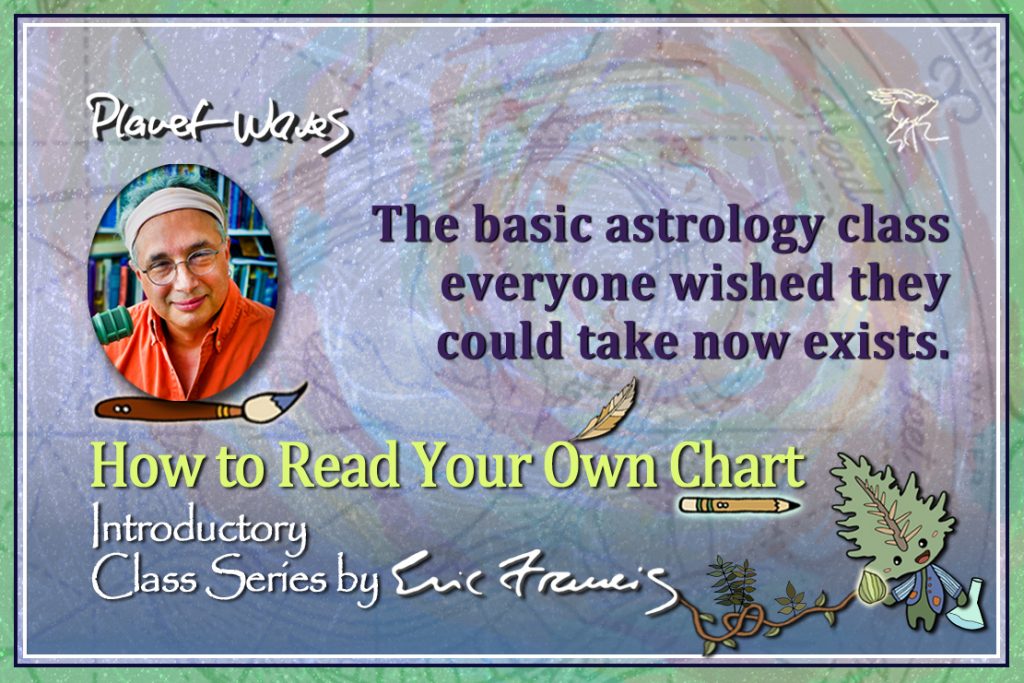 What is the best approach to reading your chart? Whether you are staying for curiosity or self-actualization, this class will help you learn how to work with your own astrology (and not have it come with spiritual setbacks). Where do you start reading your chart? What gets priority over something else? What if you find things you don't like? How do you work with what you don't understand? I will bring the passion and beginners mind of a spiritual seeker and the wisdom of working with people for 25 years. Companion class is The Philosophy of Astrology, which covers the topic of what astrology is and why it tells us anything.
---
Praise for Eric Francis from his Colleagues
"Eric has been deeply dedicated to astrology for decades, and his prolific work is based on the application of astrology to the living field of human experience — bringing awareness to the journey of deepening and awakening, both individual and collective. He engages with the full spectrum of astrological considerations, from the philosophical to the experiential, and I've been grateful for the many illuminating (and fun!) exchanges we've had down the years."
— Melanie Reinhart, author of Chiron and the Healing Journey
"If it were not for Eric Francis' PLANET WAVES…most people would remain clueless of the richness, splendor and eloquence of this archetypal language. What sets Eric's written work apart is the spirit of generosity that infuses his unique brand of spiritual anarchy. You see, Eric is that rare breed of astrologer with heart, soul and a mind of his own."
— Antero Alli, astrologer, author, film director
"Eric Francis is a rare beast: a skilled astrologer, a stylish writer and an acclaimed investigative journalist."
— Sally Brompton, The New York Post horoscope writer
"Eric Francis is a deep-thinking intellectual packaged as a working man's astrologer. His writing is fluid; his perspectives are original. His astrology is eclectic, sometimes radical, yet firmly founded on the classical tradition. He is a fresh voice in the winds of astrology."
— Rick Levine, Founder, StarIQ.com, worldwide astrology lecturer
"Eric Francis is a very nice chap — and a clever one too. He writes with a rare combination of passion and insight and his astrological judgments are both shrewd and sensitive."
— Jonathan Cainer (1957-2016), horoscope writer, The Daily Mail
---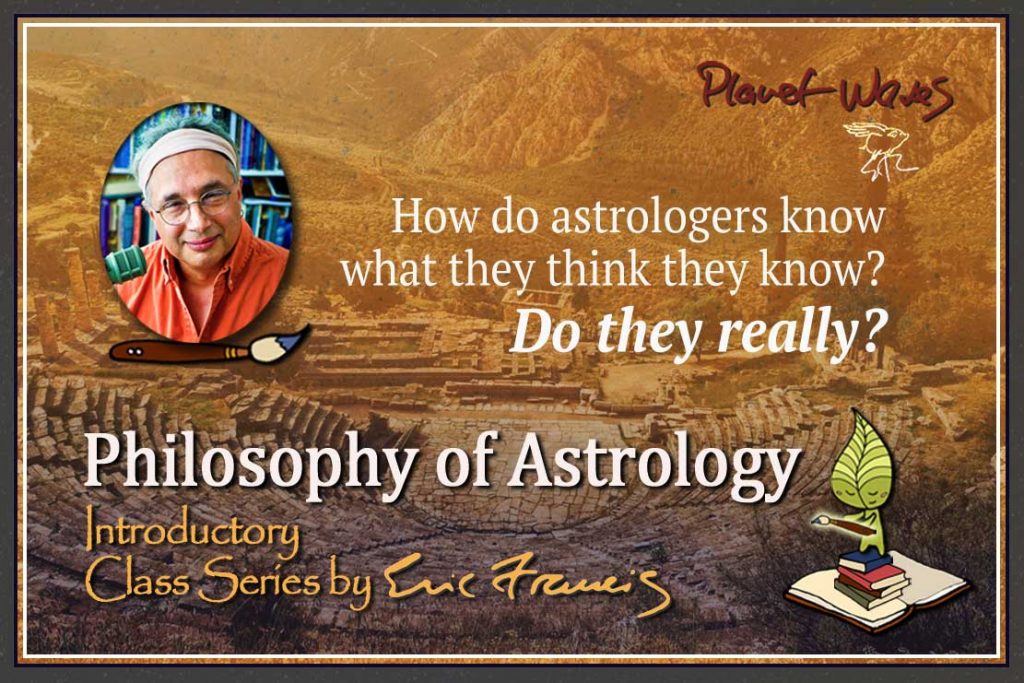 Astrology is all about "knowing things," though it rarely faces what is called the epistemology problem: How do astrologers know what they think they know? The discussion of astrological matters is rife with assumptions and generalizations, and rarely gets to the bottom of the matter: astrology is a product of consciousness. This pre-recorded class is the prerequisite for other classes going forward. I will take you from the philosophy of the Greek astrologers to the 17th century revival to the 19th century revival, into humanistic astrology, psychological astrology other contemporary approaches. This is a broad survey class that will teach you how to ask one question, mainly: how do I know this? Special guest appearance by Andrew McLuhan, discussing The Circular Language.
---
Praise for Eric from his Students
"I wanted to write and say thank you again for providing this class. I have been studying tarot from books for a couple of years now, so I had some basic knowledge, but no practical experience. Eric, the way you articulate the beginning moments of the reading, and the mental process of the reader in such a way that de-mystifies it, made it so much easier for me to jump in. Now I can speak the language."
— J. Allton
"Eric, you've provided such an amazing amount of resources to get started with. You validated so much for me. Thank you for such a great course."
— Rochelle L., on the 'Become Your Own Astrologer' class
"I got some real gems from this class."
— Cynthia, on 'Become Your Own Astrologer'
"I've been in four of Eric's classes so far — Tarot, the Houses, Karma, and Eroticism. The open and accepting group space Eric creates welcomes participation. I tried out ideas. Took chances. Laughed out loud. Listening to how Eric works with others, gently, with an open heart, was as instructive as any of the content covered. But the content was potent too. As a result I did my first public tarot readings. I've made more sense of my love life, and become a better friend to my 12th house. Thanks to Eric and to Planet Waves for these opportunities to take a deeper dive into the esoteric arts."
— Cheryl C.
"Great class yesterday. This truly broke ground in terms of inner financial astrology, as opposed to the outer 'advice', 'one size fits all' type of financial astrology."
— S. A. Simmons