We'll be keeping track of what we determine to be the most relevant updates on the coronavirus situation. New items will go at the top. If you have something to report, please send to editors@planetwaves.net. NOTE: We are especially interested in news from within the health professions, such as incidents in hospitals, and how unions or hospital admins are responding to the situation. Tips and leads are confidential. This feed is edited by Eric Francis and the Planet Waves Eco List.

.
Here is the most serious problem: Quarantined health care workers | Added March 11
National Public Radio reports: "As the U.S. battles to limit the spread of the highly contagious new coronavirus, the number of health care workers ordered to self-quarantine because of potential exposure to an infected patient is rising at an exponential pace. In Vacaville, California, alone, one case — the first documented instance of community transmission in the U.S. — left more than 200 hospital workers under quarantine and unable to work for weeks."
So if one infected person take out 200 hospital workers, who is going to take care of sick people?
Hand washing and avoiding hand-face contact remain best defenses against exposure | Added March 11
Personal comment from Eric: Keeping your hands clean and avoiding touching your face remain the best methods of preventing infection, from everything we've been reading. Therefore, make a habit of keeping clean hands, and notice how often you touch your face, so you can slow that down.
Speaking from a scientific standpoint, I see no reason to believe that hand sanitizer accomplishes anything — and it may make matters worse. This is one area where I depart entirely with "experts" and lots of amateurs who believe otherwise. Wash your hands; keep a little container of Dr. Bronner's in your bag, so you don't wear down your skin on detergents. Dry your hands and touch the lavatory door handle only through the paper towel (this is good advice any day).
Additionally, the virus seems to move fast in crowds because it can linger in the air for a while (see article about Chinese study below). Therefore, social distancing (such as cancellation of festivals and conventions, and avoiding crowds any time you can) will help considerably until this runs its course. If you are in a crowded area, do what you can to step away from people. This is not always possible but often, it is.
New Yorkers who love to converse speaking loudly eight inches from one another's faces will need to step back a little. No, we are not arguing, we are friends. When this is over, we can resume our amicable yelling at one another.
Note that if up to 70% of the population may be infected, determine that you will be among the 30% There are plenty of ways to prevent infection.
German Chancellor Angela Merkel says up to 70% of Germans could be infected | Added March 11
Echoing the projections of Harvard epidemiologist Mark Lipsitch, German Chancellor Angela Merkel admitted that up to 70% of the German population could be infected by the novel coronavirus. There is nothing special about Germany except the excellent beer and all the fantastic astrologers.
Lipsitch told The Wall Street Journal on Feb. 16 that "it's likely we'll see a global pandemic" of coronavirus, with 40 to 70 percent of the world's population likely to be infected this year.
"What proportion of those will be symptomatic, I can't give a good number," added Lipsitch, who is the Director of the Center for Communicable Disease Dynamics at the Harvard T.H. Chan School of Public Health.
The figure, generally written as R0 and pronounced "R naught," is an estimate of how many healthy people one contagious person will infect. Because viruses spread exponentially, a few cases can quickly blow up to an overwhelming number. An R0 of two suggests a single infection will, on average, become two, then four, then eight.
NY's Gov. Guomo admits problem is bigger than we think | Added March 11
Gov. Cuomo admitted in a TV appearance that the current statistics "are a multiple of the real number." Over the weekend, the federal CDC denied New York labs the right to test for the virus; together, they could have handled an extra 14,000 tests per day.
NYC Mayor Bill deBlasio said Tuesday that cases are coming in "so intensely now that being able to give you a detailed case breakdown, we're not in that position to do that at this moment because there are so many coming forward," de Blasio said, speaking at Bellevue Hospital in Manhattan.
State and local responses can fill the leadership and information void left by the federal government, though all statements by public officials need to be checked for their logic and compared to the known facts. [See articles below for information about communicability.]
Primary Source: Document explaining coronavirus / COVID-19 procedures to doctors in the U.K. | Added March 11
We have obtained this document in the "Red Whale" series providing advice to general practitioners (primary care doctors) from Public Health England. It includes clinical procedures considered valid up to that date. Opens as PDF.
Cornavirus 'highly sensitive' to high temperatures but don't count on summer killing it off, studies say | Added March 10
South China Morning Post reports: The virus that causes  Covid-19 may have a temperature sweet spot at which it spreads fastest, a new study has suggested, but experts say people should avoid falling into the trap of thinking it will react to seasonal changes in exactly the same way as other pathogens, like those that cause the common cold or influenza. Here is an interesting infographic from SCMP.
Sanders and Biden cancel primary night events in Cleveland; first major primary-related cancellations  | Added March 10
From The New York Times: ROMULUS, Mich. — In the first major cancellations of the presidential campaign because of concerns about the coronavirus, Senator Bernie Sanders and former Vice President Joseph R. Biden Jr. both called off primary night campaign events Tuesday as they awaited the results of voting in six states.
"Out of concern for public health and safety, we are canceling tonight's rally in Cleveland," said Mike Casca, a Sanders campaign spokesman. "We are heeding the public warnings from Ohio state officials, who have communicated concern about holding large, indoor events during the coronavirus outbreak. Senator Sanders would like to express his regret to the thousands of Ohioans who had planned to attend the event tonight."
Mr. Casca added: "All future Bernie 2020 events will be evaluated on a case-by-case basis."
Report: Feds order 500 million N95 face masks for medical workers | Added March 10
From The Intercept: The U.S. Department of Health and Human Services just put out a request for contracts for 500 million face masks. Now the bad news: The U.S. Department of Health and Human Services just issued its request on Wednesday for contracts for the masks that can give health care workers some measure of protection against a new coronavirus — more than three months after the virus, now sickening and killing people worldwide, began to spread in China. And the proposals aren't due back until March 18. The mask request is just one of several efforts on behalf of federal agencies to round up basic supplies for dealing with the new coronavirus that should have been made much, much earlier.
After cutting much of the infrastructure necessary to protect the U.S. from the virus, officially known as SARS-CoV-2 and which causes a disease called Covid-19, the Trump administration is now scrambling to play catch up, according to a survey of recently released documents. A request for information from the Domestic Strategic National Stockpile's Office of Resource Management asks vendors of medical supplies how much protective gear they have in stock.
The survey, which went out to government contractors on February 24, queries the companies about their current and projected inventory of "N95 Respirators, Surgical N95 Masks, Coveralls, Tyvek Suits or equivalent Coverall, Gowns, Non-Splash Goggles, and Face Shields" to assist with the outbreak. Responses are due on March 24.
New Rochelle, New York establishes containment area, believed to be the first of its kind in U.S. | Added March 10
The Wall Street Journal reports: "New York Gov. Andrew Cuomo said the state would deploy National Guard troops and establish a "containment area" in a Westchester County suburb at the center of the coronavirus outbreak in the state.
"Starting Thursday, the state plans to close facilities for two weeks in a roughly three-square-mile area of New Rochelle and limit large public gatherings, officials said. People would be able to enter and exit the zone and move about within it.
"Mr. Cuomo said Tuesday the National Guard would be deployed to the area to help with cleaning, food delivery for people under quarantine, and transportation. Northwell Health, a private hospital system with a private lab, will set up a satellite testing facility in the area."
Here's a partial list of public event cancellations | Added March 10
Pearl Jam tour, South by Southwest, Google's I/O developer event scheduled for May (and all of Italy), are among the casualties. Read coverage here.
Stocks, futures, crude and T-Bills revive slightly | Added March 10
After the worst losses in 10 years and a rare computer-triggered shutdown of trading in New York, global stocks and oil prices rebounded a bit today. Part of the panic of what will be known as the March 9 crash involved an oil price war between Russia and Saudi, with oil losing a quarter of its value over the weekend.
Highly recommended | Added March 10
You may watch the whole March 9 press briefing featuring Trump, Pence, Azar, Fauci and the gang. This is the official version of events — from a reporting standard, an important benchmark to work with. It's 47 minutes and worth it.
China claims coronavirus cases level off | Added March 10
From the South China Morning Post: "Chinese President Xi Jinping arrived in Wuhan – epicentre of the coronavirus outbreak – on Tuesday morning, as the number of new infections in mainland China continued its downward trend on Monday, with just 19  cases of Covid-19, the disease caused by the virus." There were no new cases reported elsewhere in China, the article says.
Thailand Medical News responds: "Seriously? Out of a population of 1.4 billion Chinese, where in the rural sites, people are filthy with no proper regards for hygiene standards or social behavior."
Virus can travel twice as far as official 'safe distance' and stay in air for 30 minutes, says Chinese study | Added March 10
From the South China Morning Post: "The coronavirus that causes Covid-19 can linger in the air for at least 30 minutes and travel up to 4.5 metres – further than the "safe distance" advised by health authorities around the world, according to a study by a team of Chinese government epidemiologists.
"The researchers also found that it can last for days on a surface where respiratory droplets land, raising the risk of transmission if unsuspecting people touch it and then rub their face."
This runs contrary to the claims of New York City Mayor Bill DeBlasio, who suggested today on Morning Joe that it's relatively safe for people to be in close proximity.
Dangerous Delays in U.S. Coronavirus Testing Continue | Added March 9
The Atlantic writes: Nearly two weeks after the new coronavirus was first found to be spreading among Americans, the United States remains dangerously limited in its capacity to test people for the illness, an ongoing investigation from The Atlantic has found.
After surveying of local data from across the country, we can only verify that 4,384 people have been tested for the coronavirus nationwide, as of today at 4 p.m. eastern. These data are as comprehensive a compilation of official statistics as currently possible.
The lack of testing means that it is almost impossible to know how many Americans are infected with the coronavirus and suffering from COVID-19, the disease it causes. While our analysis has tracked state and local announcements that more than 570 people in 36 states are infected, experts say that number is almost certainly too small to reflect the full extent of the disease's spread in the U.S. Not enough Americans have been tested for officials to know how many people are ill, they say.
Italian PM Extends Lockdown to Entire Country | Added March 9
The Guardian reports: More than 60 million people in Italy are to be put under lockdown after the country's government extended emergency measures across the entire country in an attempt to stop the spread of the coronavirus.
The prime minister, Giuseppe Conte, announced the drastic measures at an evening press conference late on Monday, during which he told people to "stay at home" and banned all public gatherings – including Serie A football matches.
"There is no more time. I will take responsibility for these measures. Our future is in our hands," he told reporters.
Italy is struggling to contain Europe's worst outbreak of Covid-19, which has claimed 463 lives and infected 9,172 people.
Look, Ma! No Ads! Please join the Planet Waves Core Community
Congressman who made gas mask joke was exposed to person with Covid19 and then hung out with Prez on Air Force 1 | Added March 9
Business Insider and others are reporting: GOP Rep. Matt Gaetz on Monday announced he's self-quarantined, just days after Democrats accused him of making light of coronavirus by wearing a gas mask on the House floor as he and other lawmakers voted to approve $8.3 billion to help combat the outbreak.
Gaetz interacted with an individual at the the Conservative Political Action Conference (CPAC) last month who's been infected with coronavirus.
"Congressman Gaetz was informed today that he came into contact with a CPAC attendee 11 days ago who tested positive for COVID-19," the Florida Republican's staff said in a series of tweets. "Congressman Gaetz had expected COVID-19 to impact Congress, given the elevated frequency of travel and human contact, and demonstrated his concern last week on the House Floor."
So much for the journalist theory, see next item.
Vanity Fair: Trump Afraid Journalist Will Give Him Virus | Added March 9
Now why would we want to do that? Anyway, here is a snip of a current Vanity Fair piece on Trump, an admitted germophobe, being frantic about the current situation. To wit:
"Stories about Trump's coronavirus fears have spread through the White House. Last week Trump told aides he's afraid journalists will try to purposefully contract coronavirus to give it to him on Air Force One, a person close to the administration told me. The source also said Trump has asked the Secret Service to set up a screening program and bar anyone who has a cough from the White House grounds. 'He's definitely melting down over this', the source said."
Look, Ma! No Ads! Please join the Planet Waves Core Community
Port Authority Chief Tested Positive for Coronavirus | Added March 8
Rick Cotton, who is in charge of the Port Authority for New York and New Jersey, has tested positive for coronavirus. This brings the total number of cases in New York to 142, most of which are located in Westchester County (just north of New York City). New York now has more confirmed cases than Washington State, which has had 136 confirmed cases so far.
Varying Estimates on Durability of Virus on Surfaces: Finally a Bit of Good News | Added March 9
Business Insider has published a new article suggesting that the current coronavirus may not be as durable as has been said. We've been reading that it can stay alive for a week to nine days. "The rough range is 'likely hours to a day or so', Rachel Graham, an epidemiologist at the University of North Carolina, told Business Insider."
The article continues: "A study published this week in the Journal of Hospital Infection looked at the lifespans of other coronaviruses found in humans on various surfaces. The SARS coronavirus, at a temperature of 68 degrees Fahrenheit (20 degrees Celsius), lasted for two days on steel, four days on wood and glass, and five days on metal, plastic, and ceramics. (The researchers also found that one strain of SARS lasted up to nine days on a plastic surface at room temperature.)
"SARS survived for two to eight hours on aluminum and for less than eight hours on latex.
"According to Graham, these findings likely apply to the new coronavirus, since smooth, nonporous surfaces like doorknobs and tabletops are better at carrying viruses in general. Porous surfaces — like money, hair, and fabric — don't allow viruses to survive as long because the small spaces or holes in them can trap the microbe and prevent its transfer, Graham said."
Look, Ma! No Ads! Please join the Planet Waves Core Community
U.S. Corporate Bonds Could Face 'Minsky Moment' | Added March 9
In response to fears of a worldwide recession, The Guardian (UK) is reporting that we could be facing another subprime mortgage crisis — this time instigated by risky borrowing by oil companies, followed by a market panic. The Guardian writes:
"Deutsche Bank has just issued a note warning there could be a 'Minsky moment' for high-yield American bonds – in a nod to the economist Hyman Minsky's theory on how markets can crash amid widespread panic following periods of speculative investment."
Here's a Wall Street Journal roundup of current events | Added March 9
Wall Street Journal reports: "The novel coronavirus epidemic reached a new stage globally, with confirmed cases outside China tripling over the past week and governments warning of more infections among people who recently traveled to countries where infection rates are rising.
"Financial market turmoil intensified. Stock markets around the world plunged again on Monday, though also behind the selloff was a crash in oil prices caused by a price war between Saudi Arabia and Russia. Investors worried that this could trigger broader financial problems just as the global economy takes a severe hit from the virus outbreak. Oil prices fell more than 20%, and the 10-year Treasury note yield dipped below 0.4%, a historic low.
"The total number of confirmed coronavirus cases was more than 110,000 Monday, with infections in 108 countries and regions, according to data compiled by Johns Hopkins University. There were 29,306 cases outside mainland China, versus around 10,000 a week ago. The U.S. tally rose to 554 cases, with 21 deaths.
"The world-wide death toll stood at 3,825—the bulk of which were in China, especially in the central city of Wuhan, which first reported the pneumonia-like virus in December. Italy has the second-highest number of deaths at 366, and the total number of confirmed infections in the Mediterranean country climbed to 7,375 over the weekend, almost catching up with South Korea's 7,478 cases."
Look, Ma! No Ads! Please join the Planet Waves Core Community
Coronavirus Said to Have Three Binding Modes | Added March 9
Thailand Medical News is reporting that SARS-Cov-2, an official name for the current coronavirus, has three binding modes rather than the two previously thought by researchers. The article states, in part:
"A genomic researcher and virologist from the Wyss Institute at Harvard University, who wanted to comment under conditions of anonymity said that already when researchers were studying the ACE-2 receptor entry mode, it was discovered that this new coronavirus could utilize not only the protease called TMPRSS2 to enter the cells but at least 8 different other proteases, making things highly difficult when trying to develop inhibitors and drugs. With the advent that it could also use furin as a gateway it made things more complicated. He said that if this pre-print study is confirmed, it would really add a major obstacle to developing proper therapeutics to cure the disease."
Look, Ma! No Ads! Please join the Planet Waves Core Community
Saudi-Russian Oil Price War Deepens Market Turmoil | Added March 9
An oil price war between Saudi and Russia has sent financial markets into further turmoil. Some markets are down nearly 20% from their high points earlier this year and all are well below 'correction' territory of 10%. And now a price war, punishment inflicted by Saudi against Russia for refusing to join OPEC (the Organization of Petroleum Exporting Countries) is creating more chaos in a market mentality already driven by fear.
Here is how the Wall Street Journal is describing the scenario today:
"Markets shuddered Monday in the face of a price war for oil and the economic fallout from the coronavirus outbreak, with frightened investors seeking shelter in the safety of government bonds and propelling yields to unprecedented lows.
"Futures tied to the Dow Jones Industrial Average retreated 4.9%, pointing to a decline of over 1,200 points in the blue-chips gauge after trading opens in New York. The futures contracts earlier hit the 5% maximum allowed in a single session, breaching the limit for the first time since shortly after President Trump's 2016 election victory.
"Saudi Arabia's decision over the weekend to instigate a price war as it escalates a clash with Russia sent oil prices down by the most since the Gulf War in January 1991. Crude prices, along with U.S. government bond yields, are typically viewed as key barometers of economic health and confidence, said Gregory Perdon, co-chief investment officer at private bankers Arbuthnot Latham."
Look, Ma! No Ads! Please join the Planet Waves Core Community
Factcheck.org roundup of social media rumors | Added March 9
Factcheck.org writes, "Multiple social media posts are spreading a bogus conspiracy theory about the deadly Wuhan virus. The posts falsely claim that the virus has been patented and a vaccine is already available. That's not true; the patents the posts refer to pertain to different viruses."
Scarsdale, NY Schools Closed Through March 18 | Added March 8
New York Times reporting: "New York City suburb in Westchester County, announced that it would close schools from Monday through March 18 after a faculty member at the district's middle school tested positive for the virus."
CBS Philadelphia reporting: "A Montgomery County school will close for three days after a student's relative tested presumptive positive for coronavirus. Germantown Academy will be closed on Monday, Tuesday and Wednesday, officials announced on Sunday." Bucks County has also had a closure.
WaPo roundup piece describes travel restrictions in Saudi and Italy, Iran suspends flights, and lots more unfortunate stuff | Added March 8
Washington Post reports tonight: Governments intensified their efforts Sunday to combat the global spread of the novel coronavirus, as Saudi Arabia followed Italy in enacting new travel restrictions, Iran suspended flights to Europe, and the United States, where the number of cases topped 500, warned citizens against cruise travel.
Look, Ma! No Ads! Please join the Planet Waves Core Community
NYT Reporting that "Regional Lockdowns are Possible" | Added March 8
The New York Times says in one ominous paragraph, "A top U.S. health official says regional lockdowns are possible and warns the most vulnerable against travel. A cruise ship prepares to dock."
New York's Gov. Cuomo Blasts CDC for Refusing to Allow Private Labs to do Coronavirus Testing | Added March 8
Gov. Cuomo today denounced the CDC's refusal to grant permission to seven private labs in New York to perform automated coronavirus testing, even though they would be able to test up to 2,000 people a day. While it is unclear why the federal Centers for Disease Control (CDC) is preventing these tests, the president has stated that keeping the reported numbers of infected people low is a priority of his.
Italy Locks Down Northern Region to Prevent Covid19 Spread | Added March 8
SUNDAY'S NEW YORK TIMES IS REPORTING: ROME — Italy's government early Sunday took the extraordinary step of locking down much of the country's north, restricting movement for about a quarter of the Italian population in regions that serve as the country's economic engine.
The move represents the most sweeping effort outside China to stop the spread of the coronavirus, and is tantamount to sacrificing the Italian economy in the short term to save it from the ravages of the virus in the long term.
Planet Waves FM Late Tonight will Cover These Issues | Added March 7
I'm planning Planet Waves FM tonight that will unravel some of the issues I've been writing about in my recent articles, including the one I published Thursday. I'm planning this as the season finale of FM, as I'm intending to take off next week's program and resume with the first show of the new season, at the equinox in two weeks. As for tonight — I've usually got the program on the FM tab above by about 10 pm.
Look, Ma! No Ads! Please join the Planet Waves Core Community
New York State Declares Emergency | Added March 7
The New York Times is reporting: Gov. Andrew M. Cuomo declared a state of emergency on Saturday as the number of confirmed cases of coronavirus in New York rose to 76.
The governor's announcement came as concerns about the spread of the virus increased in New York City, which has 11 confirmed cases. The newest one appeared to involve a driver for taxi or ride-sharing services in Queens, officials said.
Psychology Today Piece from Feb. 27 May Be Outdated | Added March 7
This is an interesting piece from Psychology Today, which sometimes has some progressive blog posts. It's arguing that the real issue is fear, based on the numbers. But it's a bit "soft science" in that it's not using epidemiological models that suggest 40% to 70% of the population could get the virus. I'm not saying I believe that, though I'm also looking for factors that might intervene, and I don't see any on this plane of existence.
City of Austin Shuts Down South-by-Southwest Festival | Added March 6
SXSW has issued the following statement: The City of Austin has cancelled the March dates for SXSW and SXSW EDU. SXSW will faithfully follow the City's directions.
We are devastated to share this news with you. "The show must go on" is in our DNA, and this is the first time in 34 years that the March event will not take place. We are now working through the ramifications of this unprecedented situation.
As recently as Wednesday, Austin Public Health stated that "there's no evidence that closing SXSW or any other gatherings will make the community safer." However, this situation evolved rapidly, and we honor and respect the City of Austin's decision. We are committed to do our part to help protect our staff, attendees, and fellow Austinites.
We are exploring options to reschedule the event and are working to provide a virtual SXSW online experience as soon as possible for 2020 participants, starting with SXSW EDU. For our registrants, clients, and participants we will be in touch as soon as possible and will publish an FAQ.
We understand the gravity of the situation for all the creatives who utilize SXSW to accelerate their careers; for the global businesses; and for Austin and the hundreds of small businesses – venues, theatres, vendors, production companies, service industry staff, and other partners that rely so heavily on the increased business that SXSW attracts.
We will continue to work hard to bring you the unique events you love. Though it's true that our March 2020 event will no longer take place in the way that we intended, we continue to strive toward our purpose – helping creative people achieve their goals.
Look, Ma! No Ads! Please join the Planet Waves Core Community
Everything is Going Beautifully; Infected Patient in Georgia Sent Home Without Testing | Added March 6
A woman infected with coronavirus was sent home from a Georgia hospital without being tested for the disease, because she did not meet the CDC's testing requirements that were in place at the time. When her symptoms worsened, she returned to the hospital, where doctors then insisted on testing her even though she still did not meet the CDC's criteria. That test result came back positive. The CDC loosened the requirements on Wednesday, which now allow doctors to administer tests at their discretion. See article below about problems with test inconsistencies.
Cases of infection pass 100,000, and W.H.O. calls for wider action | Added March 6
From The New York Times: The world's leading health official implored international leaders to unleash the full power of their governments to combat the new coronavirus outbreak.
"This is not a drill," said Dr. Tedros Adhanom Ghebreyesus, director general of the World Health Organization. "This is not a time for excuses. This is a time for pulling out all the stops."
But around the world, as the number of cases passed 100,000, governments have displayed signs of paralysis, obfuscation and a desire to protect their own interests, even as death tolls passed 3,200 and global capitals were so threatened by infection that politicians and health officials tested positive for the illness.
In the United States, a survey of nurses found that only 29 percent had a plan to isolate potentially infected patients. Across the nation, as the number of new cases passed 200, public health labs anxiously awaited diagnostic kits, which will allow for a fuller sense of the scale of the crisis.
New York State Orders Televangelist to Stop Selling Colloidal Silver as Cure for Coronavirus | Added March 6
The New York Attorney General has sent a cease and desist order (PDF) to televangelist Jim Bakker, requiring him to stop marketing his silver solution as a coronavirus cure. On Feb. 12, Bakker had a guest on his television show who made the fraudulent claims that the silver solution he sells can kill coronaviruses within 12 hours and heal infected people by boosting their immune systems. The false claims violated several New York state laws which prohibit fraudulent and deceptive business practices and false advertising. Jim Bakker is no stranger to being on the wrong side of the law, having spent time in federal prison after being found guilty of eight counts of mail fraud, fifteen counts of wire fraud, and one count of conspiracy, for his previous scams.
Editor's Note: We don't know what colloidal silver can and cannot do about the current problem, though a medical source tells us that generally results are connected to the quality and freshness of the product. Nobody should be advertising it as a guaranteed cure, and certainly not in 12 hours.
Statement by a quarantined nurse from a northern California Kaiser facility (distributed by California Nurses Association) | Added March 6
Published March 5, 2020 | Link to PDF
As a nurse, I'm very concerned that not enough is being done to stop the spread of the coronavirus. I know because I am currently sick and in quarantine after caring for a patient who tested positive. I'm awaiting "permission" from the federal government to allow for my testing, even after my physician and county health professional ordered it.
I volunteered to be on the care team for this patient, who we knew was positive. I did this because I had all the recommended protective gear and training from my employer. I did this assuming that if something happened to me, of course I too would be cared for. Then, what was a small concern after a few days of caring for this patient, became my reality:
I started getting sick.
When employee health told me that my fever and other symptoms fit the criteria for potential coronavirus, I was put on a 14-day self-quarantine. Since the criteria was met, the testing would be done. My doctor ordered the test through the county.
The public county officer called me and verified my symptoms and agreed with testing. But the National CDC [Centers for Disease Control, a federal agency] would not initiate testing. They said they would not test me because if I were wearing the recommended protective equipment, then I wouldn't have the coronavirus.
What kind of science-based answer is that? What a ridiculous and uneducated response from the department that is in charge of our health in this country.
Later, they called back, and now it's an issue with something called the "identifier number." They claim they prioritize running samples by illness severity and that there are only so many to give out each day. So I have to wait in line to find out the results.
This is not the ticket dispenser at the deli counter; it's a public health emergency! I am a registered nurse, and I need to know if I am positive before going back to caring for patients.
I am appalled at the level of bureaucracy that's preventing nurses from getting tested. That is a health care decision my doctor and my county health department agree with. Delaying this test puts the whole community at risk.
I have the backing of my union. Nurses aren't going to stand by and let this testing delay continue; we are going to stand together to make sure we can protect our patients—by being protected ourselves.
News Reports Shed Light on Test Inconsistencies | Added March 5
Even though potentially infected people have been reentering the public, trusting that their negative test results mean they don't have the infection, those results may not actually mean anything. A San Francisco man was tested for coronavirus seven times in two weeks. His results? Two negatives, two positives and one inconclusive (he is still waiting for the final two results).
UPDATE: They are using PCR and also antibody. PCR amplifies the DNA. Antibody looks for the immune products of exposure.
Note, here is a BBC piece on problems with the tests.
Seattle Area Acts to Contain Virus Spread | Added March 5
From The Wall Street Journal: Seattle-area companies and schools began implementing contingency plans Thursday to help contain the new coronavirus in the region, where the number of confirmed cases jumped to 70 from 39 a day earlier.
New coronavirus cases continued to climb globally, and some health officials warned it would be impossible to fully contain the pathogen now that infections are spreading within many communities.
Washington, the hardest-hit U.S. state and where all but one of the country's 11 deaths have occurred, took more aggressive measures to combat the virus's spread Thursday.
Gov. Jay Inslee encouraged residents and organizations to give "serious consideration" to canceling or postponing large events as the virus spreads to new parts of the state, and advised more vulnerable populations—like elderly residents or those with underlying illnesses—to avoid large public gatherings. He also directed state insurance providers to waive copays and deductibles for anyone qualified for testing for the new coronavirus.
Getting the Flu Can Land Prisoners in Solitary Confinement | Added March 5
Solitary Watch has published an article warning that prisoners who get the flu can be sent to solitary confinement. Solitary is considered a form of torture. Influenza can race through a prison population. Our editor Carol van Strum writes, "This is typical of the alleged health care at prisons and jails nationwide. You can imagine coronavirus sweeping through any or every one of them. And no one cares, because prisoners are considered subhuman."
Trump Disputes Mortality Numbers; Contradicts WHO | Added March 5
In a phone call to his unofficial adviser Sean Hannity's television show, broadcast on the program, President Trump declared that the World Health Organization's estimated COVID-19 fatality rate of 3.4% was a "false number."
The president did not cite any evidence that contradicted the WHO's data-driven assessment, instead admitting that his position that the true rate of a "fraction of 1%" was merely based on a "hunch." President Trump also suggested that people with the virus could "go to work," contradicting the unanimous advice of health experts and those familiar with germ theory. Experts caution anyone who believes they may have been exposed to the virus to stay home and minimize human contact, in order to avoid infecting others. See the CDC's complete list of prevention and treatment strategies.
Stocks Open Lower in Trading Thursday | Added March 5
The Wall Street Journal is reporting as of 10 am: U.S. stocks and bond yields dropped Thursday, reflecting continued volatility in markets as investors around the world remain jittery about the economic fallout from the coronavirus outbreak.
The Dow Jones Industrial Average fell more than 650 points, or 2.5%, shortly after the opening bell, erasing much of the gains notched Wednesday. A strong Super Tuesday performance by former Vice President Joe Biden and growing signs of a coordinated response to the coronavirus led to a sharp rally in U.S. stocks. The S&P 500 fell 2.3%. The Nasdaq Composite shed 1.9%.
California Declares State of Emergency | Added March 5
The New York Times is reporting: "Gov. Gavin Newsom of California announced on Wednesday that a cruise ship returning to the state from Hawaii that had suspected links to two coronavirus cases, one of them fatal, was being held off the coast of San Francisco, as public health officials prepared to screen everyone on the ship. Eleven passengers and 10 crew members on the boat were showing symptoms on Wednesday, the governor said."
Crisis Reveals Serious Gaps in American Health Care System | Added March 5
The Washington Post reports: "The growing coronavirus outbreak in the United States is revealing serious gaps in the health system's ability to respond to a major epidemic, forcing hospitals and doctors to improvise emergency plans daily, even as they remain uncertain how bad the crisis will get."
Comment on the Muzzling of Public Health Experts | Added March 4
Mike Halpern writes for EcoWatch: "The Trump administration is scrambling to reconcile the president's contradictions of statements made by federal health scientists about the emerging coronavirus crisis. Their solution: muzzle scientists, require that all statements be politically vetted through Vice President Pence, and punish federal employees who draw attention to gross negligence. This is a highly dangerous power grab that undermines both emergency response and public faith in the reliability of information coming out of the government. And it speaks to the incompetence and incoherence of the response to this crisis so far."
NPR Has Done a Roundup of Hand Washing Videos | Added March 4
The world is changing. Hand washing is now a thing, and an objet d'art. National Public Radio has gathered the best of the genre. If you love Asia…

Coronavirus is an Evolving Story — and Virus | Added March 4
The coronavirus has evolved into two major types, with differing transmission rates and geographical distribution, according to a study published in the National Science Review on Tuesday. According to South China Morning Post:
"A group of Chinese scientists analysed 103 coronavirus genomes and identified mutations in 149 sites across the strains.
"They found that one type, which they called the L type, was more prevalent than the other, the S type, meaning it was more infectious. They also found that the L type had evolved from the S type, and that the L type was far more widespread before January 7 and in Wuhan, ground zero of the outbreak."
At least something is evolving on the planet.
China is Reporting Reinfections Among Recovered Patients | Added March 4
Thailand Medical News is reporting that there are cases of reinfection in China. We heard about this a few weeks ago as well.
Coronavirus May Render Certain Men Infertile | Added March 4
Exposure to the current version of coronavirus may render certain men infertile, even if they recover, according to Thailand Medical News. This also implies that the virus is sexually transmitted, which is a no-brainer. From the article:
"Coronavirus research by medical scientists from Nanjing Medical University and Suzhou Hospital lead by Dr Jianqing Wang, head of the Department of Urology, at Suzhou Hospital say that certain males affected by the SARS-Cov2 coronavirus which causes the Covid-19 disease might likely become infertile even if they recover from the infection.
"The team of urology researchers  that comprised of Dr Jianqing Wang, Dr Caibin Fan, Dr Kai Li, Dr Yanhong Ding and Dr Wei Lu focused primarily on renal and testicular tissues as these were also 'rich'  with ACE2 receptors especially the renal tubular cells, Leydig cells and cells in seminiferous ducts in the testis."
French Satire Site Claims Trump Orders Closing of Pizzerias | Added March 4
A French satire website has claimed that due to the high number of infections in Italy, Trump has ordered closings of pizzerias in the United States. We know so little. It could be the tomato sauce. [Editor's note, do they even have pizza in Italy?]
Mike Pence May Be Especially Qualified as Coronaczar | Added March 4
Vice President Pence may hold a special qualification to head the nation's effort to combat coronavirus — exposure to the pathogen. According to Tampa Bay News:
"When Vice President Mike Pence visited Florida for a fundraiser just days after he was named the nation's point person on coronavirus, he met 44 students from the Sarasota Military Academy.
"Now one of those students' classmates is under a self quarantine because he was possibly exposed to coronavirus. According to a leader at the school, Pence's office has reached out to ask: Could the vice president also have come into contact with the illness?" Read more here.
Audio, Video Equipment Banned from Virus Press Briefing | Added March 3
Topping off an exciting first day of publishing on this topic, we learned tonight that audio and video equipment were banned from a federal press briefing about coronavirus, according to Maggie Haberman of The New York Times.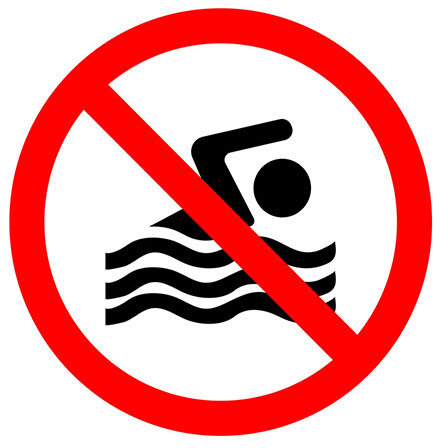 Were reporters also required to be blindfolded and to wear hearing protection?
Veep Mike Pence was one of the speakers.
"During the briefing, according to correspondent Katie Rogers, Vice President Mike Pence announced that the CDC will be broadening its testing program. He also announced that the Office of Management and Budget will be issuing a directive for all federal agencies to follow State Department advisories and review their internal travel policies.
"Yesterday, the Defense Intelligence Agency became the first federal agency to ban all nonessential domestic government travel, including for meetings, training, and backfill work."
On the Topic of Hand Sanitizer | Added March 3
My friend Beth when in nursing school took microbio lab with a prof name Dawn Holsapple. Every semester they did the same experiment — test the efficacy of household disinfectant and cleaning products, one of which was Purell.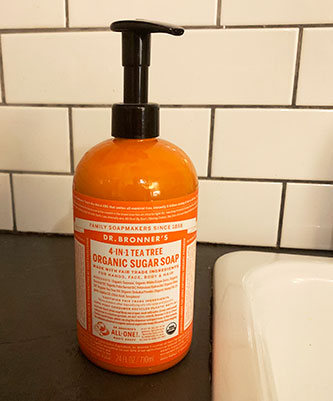 Every time they got the same result — Purell made matters worse. Remember that this is what nurses are told will sanitize their hands as they go from bed to bed. Handwashing is an issue in nursing; a retired nurse recently told me that through her career, she washed her hands into being 10 years older than she is.
Anyway, here is the upshot of the experiment's results, which Beth said were repeated every semester:
1. Using sanitizer means not washing.
2. Using sanitizer means not mechanically removing anything, as with soap and water. Rather, all the original material stays in place and is merely smeared around a little.
3. Purell contains polysaccharides to thicken it. This is an adhesive and it also feeds microbes. So the original microbes remain; they are fed additionally by body heat and perspiration; and the adhesive attaches new microbes as you contact other surfaces. These are fed by the product. Then those microbes are spread from contact to contact, i.e., from bed to bed.
4. Contact with alcohol kills some microbes, but it must be sustained contact with greater than 70% alcohol. Purell is not sustained contact, it is momentary contact. Sustained, depending on the pathogen, might mean 15 minutes. Or five minutes. Purell is neither.
5. BONUS: Beth Bagner read this article and adds, "Also kills healthy bacteria (probiotic) that protects your skin." It's the perfect product!
Side note, Purell tried to sell surgeons on its product, in lieu of the five-minute scrub. They said no way.
Now, if you think, how could the chemical manufacturer claim it works, well, PCB transformers were required by insurance companies as safety equipment well into the 1970s when it was well known (within the electrical industry) that they would not only not prevent fires, but explode.
But still, the marketing department could say, "They're so safe the insurance company requires them," which was the product of another dirty deal.
And on a Historical Note: Lysol was Contaminated with Dioxin
Also in disinfectant news, for many years, Lysol was contaminated with dioxin, out of the factory. The active ingredient was Santophen made by Monsanto. This is your morality tale if you don't think that a wholesome-seeming product touted as perfectly safe just might have a problem…Lysol had a big problem, and it was advertised as safe for dogs and kids, and your kitchen and your sink…and it was spreading the Vietnam War-era toxin dioxin.
This quotation is from the appellate brief in the case Kemner v. Monsanto circa 1989. The term "2,3,7,8" is a technical nickname for dioxin, referring to the positions of the chlorine molecules in the most toxic form of the substance (a chlorine byproduct), formally called 2,3,7,8-tetrachloro-para-dioxin. It is considered the most toxic chemical known to science. Lysol was laced with 2,3,7,8 for years, possibly decades.
"Monsanto's Santophen is the active ingredient in Lysol disinfectant and cleaning products. Monsanto's analytical chemist, Fred Hileman, testified that Monsanto knew that Lysol is recommended for cleaning babies' toys and for various other cleaning activities involving direct contact with the human body. Yet, there is no dioxin warning on the Lysol package. Hileman testified that he knew people who used Lysol were contacting three parts per billion of 2,3,7,8 and that 2,3,7,8 is extremely toxic. Hileman testified that he knew people were spraying their lawns with products containing Monsanto's 2,3,7,8 and that these people didn't even know it because they had not been told the products contained dioxin, let alone 2,3,7,8."
Personal Note: I Am Not Sold on Hand "Sanitizer" | Added March 3
I am concerned that so many resources are advocating hand sanitizer. I am aware of research that says it backfires (like many products of the chemical industry). My primary concern is that it dissuades hand washing and gives a false sense of security.
There is no substitute for having actually clean hands. (Then, notice how often you touch your face.) Hand-washing works (20 seconds, good rinse, nice and dry — change home hand towels often and do NOT use public hand towels). I will believe in "sanitizer" when I see actual data that a moment of contact can kill a virus that can survive exposed to oxygen on a dry surface for a week.
Wash your hands as many times a day as possible, particularly before eating (and eating out). Wash them when you come in from public spaces. If you want something on the go, keep alcohol and hand-towels or paper towels with you. At least the benefit of that is mechanical removal of whatever is on your hands, rather than just smearing it around with "sanitizer," which I have long considered evil. — efc
Paper on Coronavirus Science & Protocol by Stephen Buhner | Added March 3
We are tracking both scientific AND holistic angles of this situation and will keep you posted with any information that seems relevant. I explained in my Monday subscriber newsletter that this situation pretty much demands we step out of the authoritative medicine model, and into what is called "alternative" medicine. This requires careful thought, study, research and discernment. I offer you this white paper by Buhner for your consideration. He seems well versed on the scientific level.
Brown Professor Refused Test Despite Exposure Abroad | Added March 3
The Rhode Island Department of Health refused to test Brown University Professor Onésimo Almeida for COVID-19 after his recent trip to Portugal, even though he had been exposed to an infected person there and was exhibiting symptoms of the virus. Although he has mostly recovered at this point, the RIDOH's unwillingness to administer the test is part of a concerning pattern across the United States, where many are finding it extremely difficult to get tested. As of March 1, 2020, the CDC reported that only 472 people in the country had been tested.
Pope Francis Tests Negative for Coronavirus | Added March 3
Pope Francis tested negative for COVID-19. There was some worry that he might have been infected after he displayed cold symptoms, but the 83-year-old Holy Father tested negative for the virus after canceling a slew of public appearances.
New York City Has Tested 12 People for Coronavirus; Feds Remove Data from CDC Website | Added March 3
As of March 3, New York City has tested just 12 people for the virus, according the Department of Health website [see little graphic on page]. Therefore, the official 'infected' count is way under reality. Testing for this epidemic has been beset by problems since the beginning, including a botched protocol that was getting false positives. Meanwhile, the Centers for Disease Control removed testing data from its website, according to U.S. Rep Mark Pocan.
Fed Cuts Prime Rate by One-Half Percent | Added March 3
The Federal Reserve has cut the prime rate as long-term concerns with coronavirus mount. The prime rate is the interest rate banks pay to borrow from the Federal Reserve Bank. Cutting the prime rate is though to help create economic stimulus. Some have called this insane, with the Fed using one of the few available tools it has before it's needed, when it won't do much good. By any measure, at any time, a half-point cut in the prime is massive.
Pathologist Says COVID-19 is a Snake-Related | Added March 3
A pathologist named Dr. James Robb, one of the early researchers of coronaviruses, posted a now-viral "dear colleague" letter. We have high confidence that it is authentic and have re-posted it to Planet Waves.
Dr. Robb has been researching coronaviruses since the 1970s.
The letter gives most of the usual advice for avoiding infection, including avoiding public contact surfaces, no handshaking, hand washing, cleaning surfaces with disinfectant wipes and so forth. He notes that the virus can survive on dry surfaces or cloth for up to one week.
The most interesting thing in the letter is that he says that the origin is snakes. It's been previously reported as being conveyed to humans from bats.
He writes, "Humans have never seen this snake-associated virus before and have no internal defense against it. Tremendous worldwide efforts are being made to understand the molecular and clinical virology of this virus. Unbelievable molecular knowledge about the genomics, structure, and virulence of this virus has already been achieved."
From a homeopathic standpoint, its origin as a snake virus should provide some clues as to the genus epidemicus, or remedy for the epidemic itself.
Respiratory Virus that Only Infects Lung Tissue | Added March 3
This is worth taking note of. Dr. Robb writes,
"This virus is spread in large droplets by coughing and sneezing. This means that the air will not infect you! BUT all the surfaces where these droplets land are infectious for about a week on average – everything that is associated with infected people will be contaminated and potentially infectious. The virus is on surfaces and you will not be infected unless your unprotected face is directly coughed or sneezed upon.
"This virus only has cell receptors for lung cells (it only infects your lungs) The only way for the virus to infect you is through your nose or mouth via your hands or an infected cough or sneeze onto or into your nose or mouth."
We Have Received a Recommendation for a Colloidal Silver Source | Added March 3
One of our clients who is a holistic physician in Europe has recommended a brand of colloidal silver that she prefers. It is available on Amazon in Germany.
Colloidal silver is a suspension of silver particles in distilled water, created through electrolysis. It has long been reported to have antimicrobial properties, but from a capitalist standpoint, it has two problems: it's inexpensive and nontoxic.
Look at the research and make up your mind; be mindful that there are going to be lots of articles claiming it does not work. This will always be the case where a natural or alternative remedy is concerned.
International Olympic Committee Says Games Will Go On |  | Added March 3
The International Olympic Committee has said that the games will go on, according to press reports.
The 2020 Summer Olympics are scheduled to be played from Friday, July 24, to Saturday, Aug. 9 and are planned for Tokyo. As of Tuesday, there was no announcement on the Olympic Committee's website.