Aries (March 20-April 19) — It is time to take a more active role in your community. That does not mean "activist." Rather, meaningful involvement is your calling. This may not feel like getting a result or having an impact. That is something evaluated much later. You run the risk of trying too hard, or of asserting yourself in a way that seems rebellious or antisocial. Therefore, strive to cooperate and co-facilitate rather than take charge. You don't need a large role, so find a modest one, and do it well. Then you will see openings that call upon the skills and energy you have to offer. Whatever this may involve, you're at the beginning of this particular journey or phase of your life. From now through July 1 is an experimental foray into some new territory you've never been in, or have not encountered for a long time. Mars currently moving through this area means you're likely to push matters and make mistakes. If you do, remember that it's all part of the learning process. Despite the experimental nature of the moment, it would be wise to proceed with awareness of your surroundings. The entire social landscape is being rearranged, and you are feeling this in a direct way. You will always have the choice of observing first and then taking action, or leaping headlong into things and seeing what happens. You're likely to try both at different times, and I trust you'll figure out which one works best. Remember that confrontation is about resolving an identity crisis. It's about finding out who you are. It may be the most efficient way, as long as you don't make too many enemies.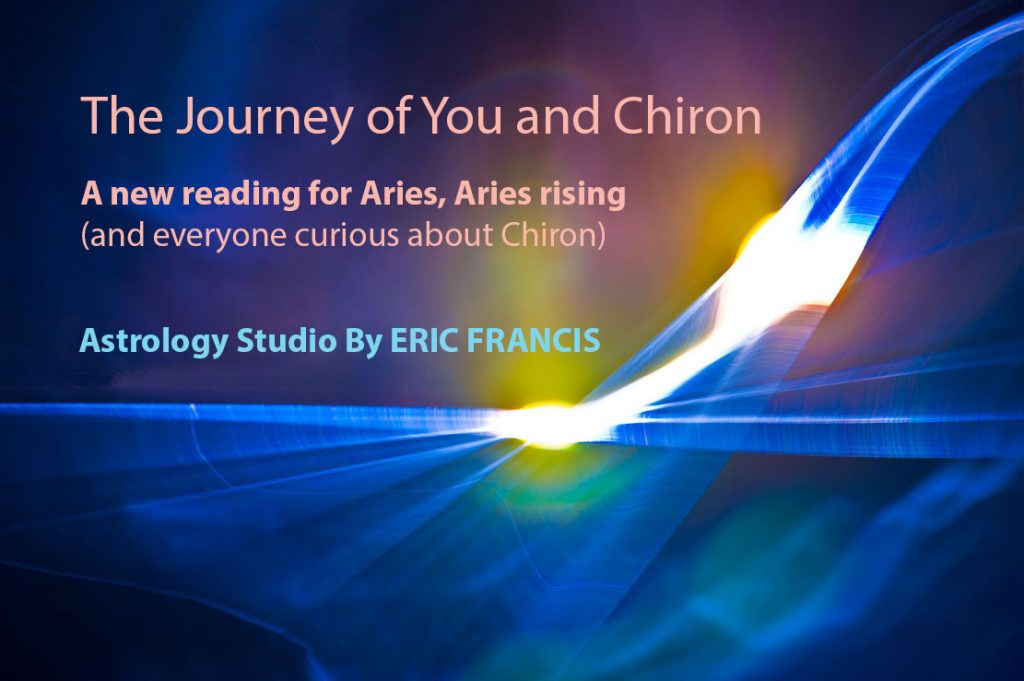 The Journey of You and Chiron | A new reading by Eric Francis, now available for instant access.
Anyone who has encountered it is curious about Chiron. Planet Waves provides one of the few dependable online sources of information on this unusual planet. For the 10th anniversary Astrology Studio reading, I cover Chiron in Aries — a momentous event for all those born under this sign, and of high interest to everyone else. Get instant access to this reading here.
---
Taurus (April 19-May 20) — I had a feeling Uranus in Taurus would mix things up for the financial markets, though I never imagined we would be on quite the wild ride we're on now. Yet your role in all of this is to bring some stability to whatever environment you encounter. You don't need to do much, and you don't need to assert your authority. Rather, consider yourself a kind of guardrail to ensure that nothing goes over the edge, or over the top for that matter. Your appeal to those seeking leadership is spiritual. You are exuding a soulful quality most people will not be able to name, but they will surely notice. It's not the kind of thing you want to put a label on anyway. Yet you've been through so much for so long that it has put you into contact with the deeper elements of yourself, and this is what's tempering you. Now, with Saturn in Aquarius hovering on the midheaven angle of your solar chart, you are feeling the calling of a new kind of inner authority. Usually this location, the 10th house, is about worldly responsibility, power and accountability, though for you, this is first going to manifest as being in command of your life. You do not need to do much with this, or about it. Rather, tune into the sensation of your steady mind, and your ability to work with time in a new way. Notice how people respond to you, and respond in your presence. Feel that out carefully, so in case there is a moment when you have to take action unexpectedly, you will know how to handle yourself.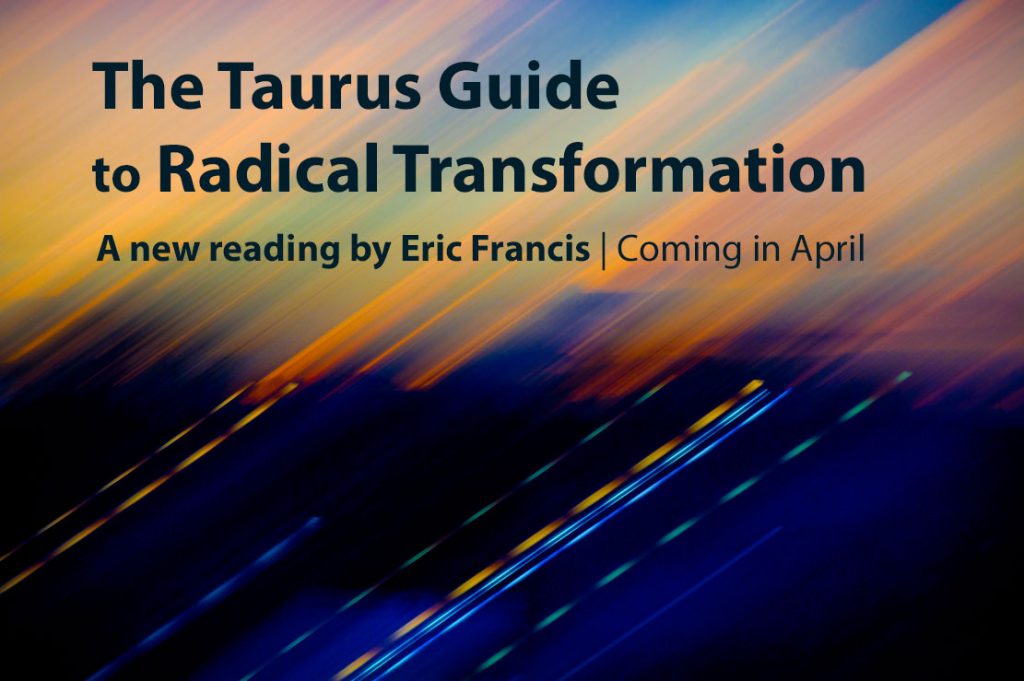 You can now pre-order your 2020-21 Taurus Astrology Studio here for just $33. In this reading, Eric will guide you through the next phase of Uranus in your sign, now joined by Saturn in your house of career and aspiration.
---
Gemini (May 20-June 21) — You are being called upon to offer yourself emotionally, which you may find presents a challenge. Normally your words of encouragement do fine. Your insight and perspective is almost always a boost to the people around you. Your intelligence is often a key tool for problem solving. However, current circumstances are asking that you draw from a deeper well, summoning much more profound commitment and investment. You may have the feeling that you're making a sacrifice of some kind, though the question is, of what? This is likely to be just a sensation or an idea, and you might want to work through that. Large forces are at work. This is not a question of how much you offer to your environment, but rather, the space from which it's given. It's not about the depth of the connection you form, but rather the kind of connection. Perhaps the simplest way to say this is you have the opportunity to offer your vulnerability as a source of nourishment. To be vulnerable is to be open, and it's only when you're open that you can receive as well as give. And if you can do that, you will discover you have plenty of incoming help, love, assistance and positive vibes to support you. So, said another way, your life is about an exchange — which first begins with you offering yourself. The initiation of the positive cycle must start with you; nobody else can do it, nor consent to being open to it. You are the most important variable in your life, and thankfully, the one over which you have the most influence.
Cancer (June 21-July 22) — Despite people around the world being told to stay in, pull in and stay away from others, the world outside your awareness is a bold factor in your life. Relationships are more important than ever, both with individuals and also with groups and, in a sense, with collective existence. You now live in a rather large world, larger than you may imagine. You are part of that world and it is part of you; you share an integral relationship with it. These very days and weeks are likely to come with a series of breakthroughs in a number of seemingly different areas of your life. Yet it's all about the same thing, really, which is your emergence into a new state of existence. By the time the Sun enters your sign on June 20, you will have a clear sense of what this is about, and then the last stages of the transformation happen. Yet you are in motion, along with everything around you, in this rather tremendous moment of potential. It is easy to see this as a moment of stress, of fearful events, of global pain. Yet you are also living out your personal karma, which assigns a specific purpose to the events you're witnessing, and the events of your life. You have needs, you have gifts to offer, and the world has needs — and there is a place where the three intersect. Probe around your reality gently, perhaps methodically, perhaps randomly, and be open to ideas coming to you. Be open to new points of contact. Whether you may recognize it or not, you are seen as someone who has the power to intervene in what seems inevitable — and this may even be true.
---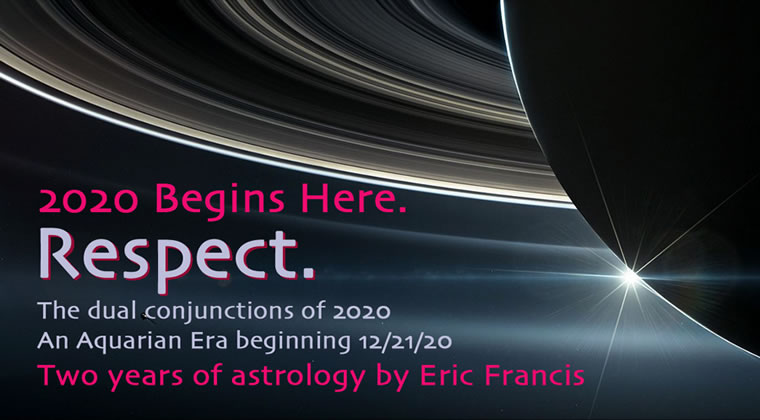 You can get instant access to all 12 RESPECT audio readings, which include a transcript for every sign. Individual sign options are available here. These in-depth readings are relevant for long beyond 2020. Order now and you will also get access to the written readings as they are published. That's a lot of information for far less than the price of a professional astrology reading — and with no compromise on quality.
---
Leo (July 22-Aug. 23) — The world has changed for everyone in the past month or two, though astrologically, you are likely to be feeling the most dramatic shift in your environment. While this may have placed restrictions on you, Saturn making its first foray into your opposite sign Aquarius in decades represents opportunity, and the potential to rise to the occasion. It's true people tend to struggle with Saturn, though in its Aquarius form, Saturn is at its most reasonable, useful and workable. This will facilitate you thinking in terms of patterns of organization: whether personal, family, social, professional or digital (on any level). This is the time to apply the idea of whole system thinking. Had that idea been applied before, the world would not be in the shape it's in. Yet this must now become the guiding principle of our lives, and you are in an excellent position to both get the message and set the example. This is not necessarily going to present itself in a lovey-dovey way. Rather, you might confront a limitation and requirement to find a solution when all the usual ones do not work. Or someone may try to engage you in an aggressive way, and you must find a method of handling it that is humane and takes everyone's needs into account. This will be a seeming invention born of necessity, which must be the spirit of the hour. Yet as much as you will benefit from a practical view, a visionary orientation is essential. Whole-system means seeing the very widest perspective you can see, and for that you need to look, and perceive. One exercise is to draw the connections between two things that seem to have no relationship, and discover what the connections are. This is not about using nonsense words as a way to start writing poetry. Everything is in fact connected to everything else, and right now, those threads and bonds are your best friends.
Virgo (Aug. 23-Sep. 22) — Your chart has shifted from creative chaos to application of ideas that may have seemed to be of little use just a few months ago. The astrology is that Saturn has made its first foray into your 6th solar house, Aquarius. Virgo is the 6th sign, and Aquarius, the sign of patterns, is its 6th place — so we have a secret here as to what makes Virgo what it is: a master of order and organization. Saturn in this context is about action, which would correctly consume as little energy as possible to get the greatest effect. David Byrne wrote one of my favorite lines in a song: "As we economize, efficiency is multiplied." So you want to run your systems as cool as possible, exerting as little effort as will get the desired results. Thought and planning will support that effort, even if you take five minutes and scribble a little schema on the back of an envelope. Mars will soon be running through this zone of your chart, and you want to be careful to maintain your low-temperature, 'don't knock yourself out' posture. Be particularly mindful of your health as this happens. You have a strong constitution, though mistakes count for more now. Keep coming back to taking care of yourself as your default position. Because you have Aquarius on your house of self-care and wellbeing, groups are involved — that means more than two people. It might mean your family, it almost surely means your company, and you may find yourself involved in medical intervention on some level. All of this relates to the 6th house. Yet you must be cautious not to take a heroic approach. Take a holistic approach. The whole is always greater than the sum of the parts.
Libra (Sep. 22-Oct. 23) — Every factor in your chart is encouraging you to get off of the material dimension of thought, and onto the spiritual. These do not need to conflict, though for the sake of discussion, let's pretend they represent a polarity. It's true we all have needs that are based in matter: food, housing, utilities and others of a pragmatic nature. Yet those resources are allocated by some method or approach, and that is where the spiritual issues enter the equation. I would describe as spiritual that which takes into account the collective order, such as Mr. Spock's counsel about the needs of the many outweighing the needs of the few — a thing that makes sense to nearly every kid, and to very few adults. Our society is not structured that way, of course, though you are the dean of your own personal realm. You have the power to focus the principles, set the ethical standards, and determine who is in what role. You have the ability to offer yourself as your circumstances call for your involvement. From what I can read of your charts, this is going to be on the level of surrendering your intelligence to "the needs of the many." You may have, in the past, felt some reserve or even reticence about offering your counsel to people in need, as if solving someone else's problem, or pointing them to a solution, might somehow cost you something. Now is the time to be generous with everything you have, particularly your experience, your wisdom and your ideas. Respond when asked, and also when you see something you know you can set right. Most of the time, do not concern yourself with what others may do with your counsel, or the outcome that emerges. That is a form of attachment you don't want. Rather, conclude the discussion with, "I'm available if you need me."
Scorpio (Oct. 23-Nov. 22) — Your chart is the perfect setup for an unnecessary panic attack, or overdoing your concerns with safety and security. This could lead you to place your needs above those of others. That might work in a "take care of yourself so you can take care of others" scenario, in which case the idea above would not apply. You're likely to make your choices based on your fear level, and the astrology describing that — Saturn in Aquarius, joined by Mars in Aquarius — may have you edgy, and also aggressive about getting your needs met. I would place this on top of a long list of things not to fall for. Your tendency to be reactive has a readily available alternative, which is to be a benefactor. To access that angle, it will be necessary to know when you're feeling fear, and then to acknowledge that and sort out what is actually going on. Now is the time to think about the present and the immediate future. It's also a good time to consider how much others have done for you: what they have offered you, how they have helped you, and what they have meant to you. You might pick up the phone and make thank you calls when you remember what a positive influence someone has been. Then, I propose calling people you care about and finding out if there is any way you may be of assistance. Scroll through the contacts in your phone. Pay special attention to people like nieces, nephews and ex-lovers. The way to be of assistance is to first ask what someone needs, and listen to them for a while. Then select one or two ways you can offer something that will make a difference — and follow through immediately.
---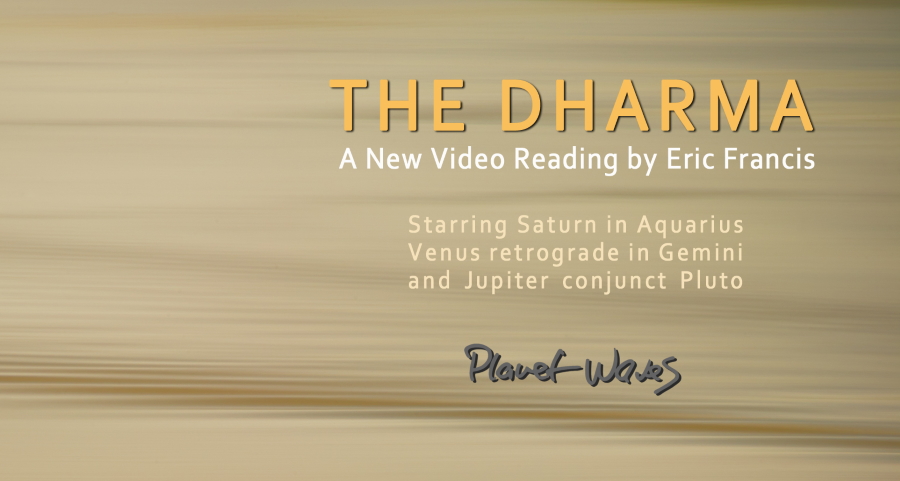 Many times I have quoted Khenpo Karthar Rinpoche: "We do indeed live in an age of decadence, but the dharma is not decadent. The dharma is the same as it always has been." Despite the challenges of our time, you can focus on your purpose, which is related to the World Purpose. You can step into your calling as one who came to our planet to make a positive difference. This is integral to your healing path, your personal mission and the necessities of the world. In this new video reading, about work and relationships, we will use the astrological markers of our moment to point the way, and clear the way. Pre-order all 12 signs of THE DHARMA here.
---
Sagittarius (Nov. 22-Dec. 22) — Perhaps you've decided you're done handing your authority over to others. Maybe you're tired of your life seeming to go in ways that you did not plan or do not like, and you're discovering that this involves giving up your power. In almost all circumstances, this is a voluntary act. Yet it's the point at which you make the choice where you must awaken yourself to what you're doing. The entire issue relates to your family. We can take this from two angles. First, there was what you experienced in times when you tried to claim your authority and independence, which was likely to have been a guilt trip of some kind. That was so unpleasant that it made you an easy mark. Note that much of the fuss was the adults around you responding to your vitality, which in some way threatened them. This became a habit, and for some, a way of life. Because of the involvement of guilt in the transaction, you have an indicator that you're likely to surrender authority over yourself the moment you feel any. That is your most important clue. Yet you have to stop and experience the feeling and put the whole discussion on pause before you agree to do something. The problem here is that this kind of guilt leverage 1. is internally installed in you and 2. seems so natural hardly anyone notices it. Then comes the other angle, where you claim back what you have given away. Here is where you need even more resolve, and to confront the feeling that you're "taking away what belongs to someone else." That's the thing: it does not. And here, you will find the crux.
Capricorn (Dec. 22-Jan. 20) — Move out of the fray; step away from the center, toward the edge, away from the familiar. This will involve a noticeable shift of people, places and things. Social patterns are changing, or being forced to change; take advantage of this and apply your creativity to making the situation work for you. There are plenty of people you want no part of, and others you're interested in, and now is your opportunity to make those adjustments. Saturn's change in sign into your 2nd solar house, the one associated with your resources, is proposing a total rearrangement of your priorities. This is an experimental phase that ends around July 1, and it's an important one for you. This is because your first and most important connection to your sustenance is your community. While on one level this is true for everyone, people don't all think of it like that. Your immediate go-to is your social configuration. You're more likely to ask among your friends for who might be offering a job than to look at a job listing website. This 'personal connection' applies to many facets of your life. This works the other way too: when you're in tune with yourself, what you offer to your community is crucial to your grounding and emotional wellbeing. And now that is the realm being rearranged — and it's the very highlight of Capricorn astrology, as Saturn moves into this region of your chart. Though I recognize a lot of the world is struggling economically and many people are in great pain, the current global circumstances present you with an opportunity — many of them really. Just set your ethics for the greatest good for all concerned. Then, get busy.
Aquarius (Jan. 20-Feb. 19) — You've now begun the great adventure of Saturn in your birth sign, or rising sign. It's been a long while since a slow-moving planet has been in Aquarius (the most recent was Neptune, 1998-2012, and that was not easy, and made very little sense). Saturn in Aquarius is what you've been waiting for if you've been wanting to make significant adjustments in your life patterns. Everything and everyone was a bit stuck in their routines till very recently, and now pretty much every routine has been changed, just like that. So we can begin by dismissing the notion that this kind of sweeping alteration to the world is impossible. The questions you have include how you conceive of yourself during this time, and an honest inventory of what has, and has not, worked for you. This may be the tricky part, as you usually assume that what is stable and predictable is what works. Now a deeper question has, in a sense, been forced upon you, and right in time, too. The really good news is that you get to make a series of conscious adaptations much more readily, and easily, than you might have otherwise. The attitude to take is: everything is getting shuffled. What do I want? What do I want to do? Those questions should resonate with you now, and stir up a restless sense of your potential. You might even be feeling the calling to a long-delayed quest. If you're not sensing the bold and adventurous side of the calling, make an inquiry into what you feel is holding you down. Is it your point of view, or is it a physical circumstance? In any event, deal with it now.
---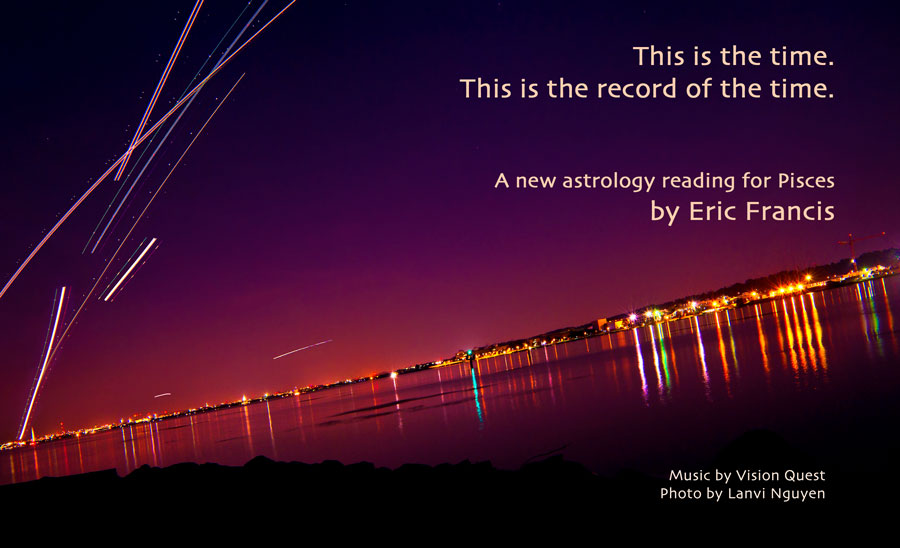 Astrology Studio for Pisces | A New Reading by Eric Francis
This is a momentous time in collective history, and a turning point in your life. As the year develops, most of the movement — including Pisces' ruling planet Jupiter, and the Jupiter-Saturn conjunction — will be pointing into Aquarius, the most sensitive and innermost angle of your chart. I also cover the retrogrades of Venus and Mars, and the forthcoming Jupiter-Pluto conjunction in your friendship sign Capricorn. Mostly, I help you orient on your profound journey, and offer guidance how to harmonize with the world at this unusual time. Get instant access to this reading here.

Pisces (Feb. 19-March 20) — One effect of Saturn's ingress into Aquarius will be to ground you in yourself. By that I mean: to offer you a solid and settled feeling of inhabiting your own reality. This is not always easy for a Pisces to attain, particularly under the influence of Neptune in your sign, which at times can have you wondering whether you actually exist. Saturn is pulling focus on much that seemed evasive and elusive, though it requires you to take the time and focus inwardly, in a place where you can be without too many interruptions. Sleep and what you learn from your dreams also take high priority. Your outer callings and involvements are unlikely to have changed much, and I suggest you adapt to our new social ecosystem as quickly as possible. You are uniquely suited for life as it is becoming, for a wide diversity of reasons. So you won't have to waste much time before you can enact certain plans you've been simmering for a long while. Bear in mind that you are being looked to for a kind of spiritual leadership, exemplified by the series of conjunctions of Jupiter and Pluto in Capricorn. The first of these is April 4, followed by two others, in June and then November. So this is a sustained state of affairs for you, one you can depend upon and make the most of. Many people are struggling to find their spiritual center and their sense of direction right now, and some are despairing deeply. Therefore, stay on the wavelength of meaning and purpose. Stay on the wavelength of service, and of a single idea being the organizing principle of a community.