BETHESDA, MD (AP) — An angel of the lord descended upon the Walter Reed Medical Center Saturday night, entered the Presidential Suite, and healed Pres. Trump of Covid-19.
"The whole building filled with light, and all the grounds around us," said Lt. Beth Bagler, the chief nightwatch nurse. "There was a humming sound, like a vibration, and this strange and beautiful glow," she added. The incident occurred at about 8:30 pm.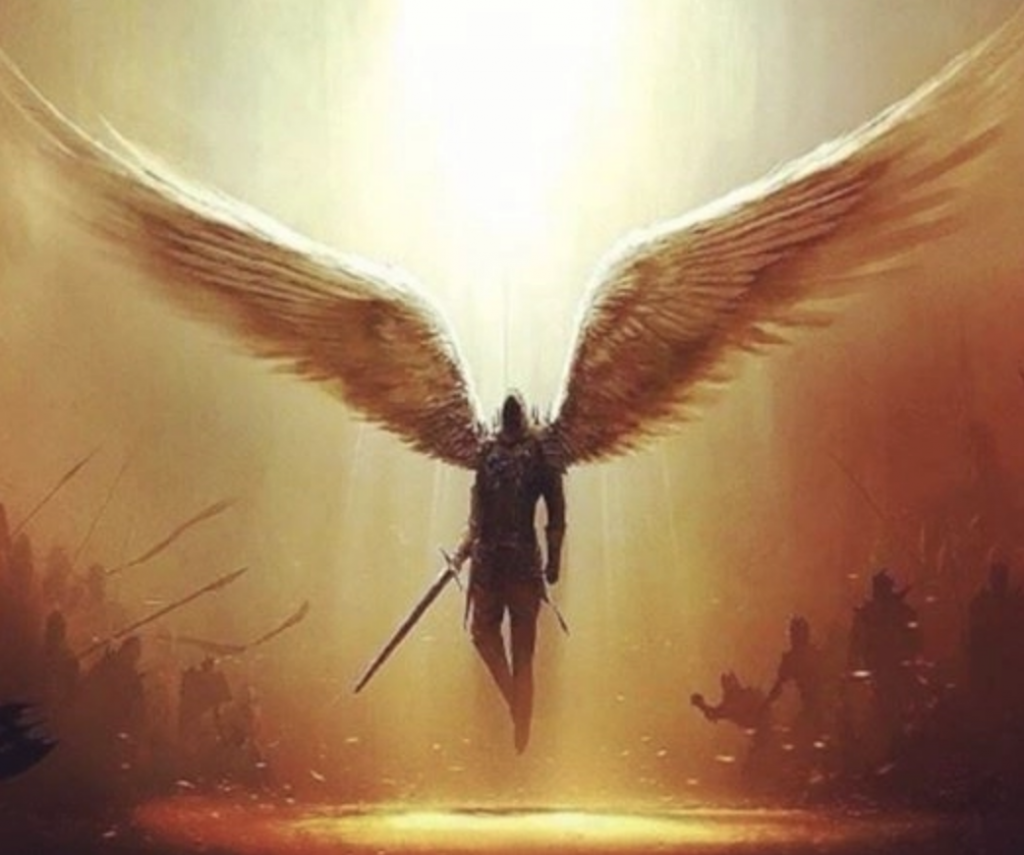 When nurses checked in on President, he was completely healed of Covid-19, from which he has been suffering the past four days.
"We found him jumping rope," said Capt. Jon Ringer, the chief physician on duty. "Not only was he healed, he was down to a trim 220 pounds," Capt. Ringer added.
"We believe it was Archangel Michael, or possibly Gabriel. It might have been St. Germain. I could not tell. I've only read about them in books," said Col. Norton Grimsland, the chaplain at Walter Reed, who happened to be on his way into the building, paying the president a visit to cheer him up.
"After the strange light passed and the angel returned to heaven, I went up to Pres. Trump's floor with a bag of Kentucky Fried Chicken and several Egg McMuffins. Nobody ever asks the chaplain what they've got in their bag. But incredibly, he was not interested," Col. Grimsland said.
"I was stunned. I said, 'I have extra crispy for you', but the President was not interested. He sent me out for a salad," he added. "That, after I convinced McDonald's to make breakfast sandwiches at night."
Col Grimsland said he went to the True Food Kitchen, a natural food restaurant on Wisconsin Ave., where the chefs immediately prepared two of every salad on the menu and offered it without charge, Col. Grimsland added.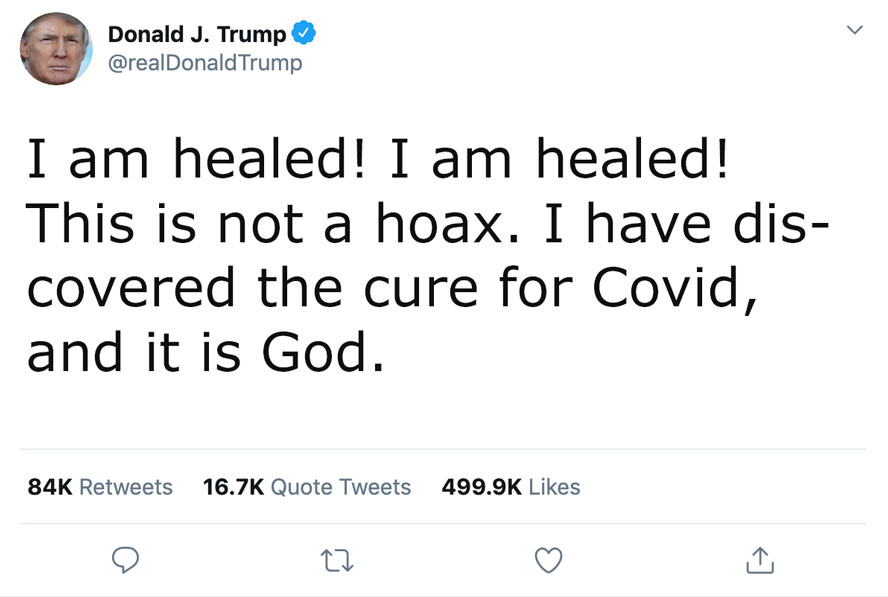 At 9:05 pm, Trump tweeted, "I am healed! I am healed! This is not a hoax. I have discovered the cure for Covid, and it is God."
"The lord works in mysterious ways," said Fr. Patrick J. Conroy, S.J., the Chaplain of the United States and a Jesuit priest. "I have asked my superiors to call off the New World Order," he said, adding that "by now, everyone knows it's the Jesuits. Well, not any more. Praise the lord!" he exclaimed, reaching his arms up to Heaven.
Trump said the would take off Sunday and spend the day in nature, and was planning a full day of work Monday. "Now I know how to solve this problem. It's time for Anthony Fauci to retire," he added, joking as he laughed, "You're retired!"
He said that James Redfield would be taking a 10 year leave of absence in Latvia. And he promised to tell the world about the problems with the polymerase chain reaction (PCR) test. "Lying is a sin," Trump said. "This thing must be cast off."