Monthly Archives:
September 2011
Dear Friend and Reader:
This thing called 2012 is approaching fast. We've got just one more season and we're there. This is one of the most predicted-about times in human history. I can tell you that there will be a lot of unemployed prophets on Jan. 1, 2013. And I can tell you that the changes that do happen to society will be the ones that were right in front of us — but which we were not expecting. In honor of those changes, and our opportunity to use them creatively, for the next few months I will be using the Tuesday space to write a 2012 diary. [Note, even though our records show you're not a subscriber to Planet Waves Weekly, we will be emailing the October monthly horoscope to you on Friday.]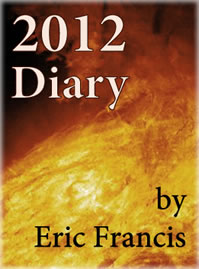 What is the theme of 2012 as I see it? In a phrase, "Everything, All at Once." We've had a few little tastes of that quality the past few years (especially in 2011); yet the story has just begun. This astrology will come in and out of focus, depending on the positions of other planets. It happens to be in high focus today, as the Libra New Moon makes an exact square to Pluto and a close opposition to Uranus. We are in what you might think of as a 2012 microcosm. [To read about that in detail, please check Soul, Form and Fear: New Moon Square Pluto on Planet Waves daily.]
At the heart of this is Uranus square Pluto, which is exact from 2012-2015. It's been building for a long time and once we know what to look for, we'll be able to see cultural manifestations going back five years. This aspect will influence you personally; it is affecting all of us. It could manifest emotionally as some form of obsession, the drive to participate, deep introspection — or as fear. One thing we need to learn through the 2012 astrology is how to keep fear, and the people who use it against others, in perspective. Mostly, this alignment is about the drive for progress.