Stargate: Boondocks
Dear Friend and Reader:
From the look of this weekend's astonishing astrology, we're about to go through a stargate. By that I mean time is moving in quantum leaps rather than what we think of as linear. It's true that since late 2012, we have been
off the map
.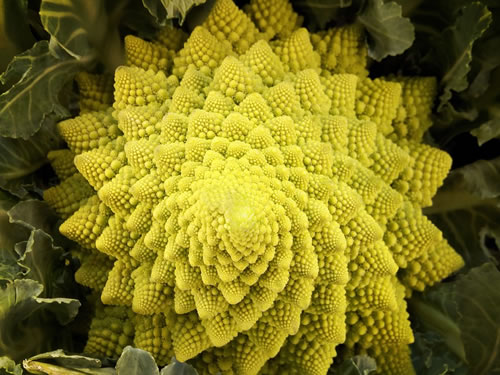 Picture by Makamuki0.
That's one of a few ways to "explain" why this is happening: in the Mayan model of time, time is over. This jives with the internet model of time, where everything happens simultaneously and everywhere.
In "internet time," we have all projected ourselves onto the astral plane in the most extravagant out-of-body experience since before we incarnated. The problem with going out-of-body is that it's a little like being dead.
Being alive is being in your body. Being dead is being out of your body. If you want a possible explanation about why reality is so twisted, morphed and unreal, consider the notion that we're wandering around the planet like ghosts roaming an old mansion, who don't know that we've passed on.
That's when it's handy to have a spirit medium send them to the light. I'm an astrologer here to call you back into your body.
Let's start with the astrology.
The Stargate
From what I can see in the astrology, we are at the juncture of a new era in history. There will be a series of these over the next few years; we will need better words to describe these short-period epochs, or medium-period ones, many of which overlap. The one we're now entering is a transitional phase of Chiron exiting Pisces and entering Aries, which I
wrote about recently
.
Often when an outer planet changes signs, there's some fanfare around the time that it happens. I've seen this over and over again; it's just one of those funny things about the holographic synchronicity jukebox.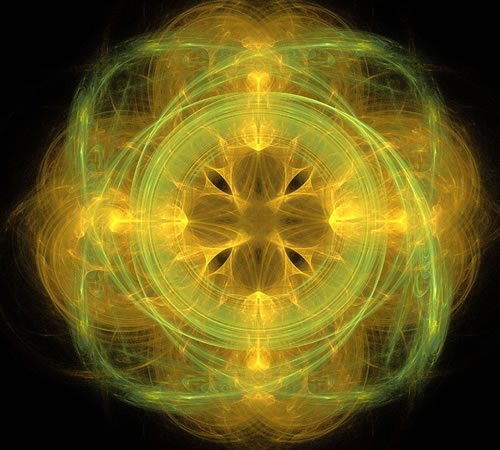 Fractal image in public domain.
Here is a clip-and-save paragraph of data: Chiron enters Aries Tuesday, stations retrograde in Aries on July 5, re-enters Pisces in retrograde motion on Sept. 25, stations direct in Pisces on Dec. 9, and re-enters Aries to stay on Feb. 18, 2019. (It then begins its transition into Taurus on June 19, 2026 -- beginning the Chiron return of its own discovery.)
As for the fanfare, the out-of-body experience of our times, the reactionary and hotly polarized times, the utter chaos, the meltdown of digital "privacy" currently underway, and a summary of all the factors that got Trump elected president: that is symbolized by the once-in-a-lifetime conjunction of Uranus and Eris.
The conjunction, exact in 2016 and 2017, is now gradually separating, though Uranus is still in Aries (it ingresses Taurus in a few weeks). This weekend, two things happen: one is that the Sun is passing through the conjunction, and will be joined by the Moon, for a stunning New Moon -- right in the crack of the conjunction (
see illustration
). The New Moon is exact at 9:57 pm EDT on Sunday (01:57 UTC Monday).
A little before that happens (Sunday at 5:21 am EDT / 9:21 UTC;
view chart here
), the current Mercury retrograde ends. This has been just a wild Mercury retrograde, one of the most insane I've ever experienced or witnessed. That is saying a lot. The stand-out item was the Mars-Saturn conjunction in Capricorn, which Mercury came along and made a square to; that was what we all experienced last Wednesday and Thursday, and may still in some way be experiencing now.
I wrote about this pattern in a recent
Monday Morning edition
.
Whatever this aspect pattern stirred up in your life is likely to transform or clarify in some way over the weekend. This combination of Mercury direct and the New Moon in Aries is the last major event of the Uranus-Eris conjunction in its original form (in Aries). We will now enter a long phase when Eris remains in Aries and Uranus is in Taurus. The conjunction will still be well in effect, only now bringing in two adjoining signs -- and with Chiron in Aries. That is another topic.
But here is yet another.
We Live in the Boondocks of the Universe
If you're like me, you spend a lot of time thinking about where the Sun is in relation to the Galactic Core, and where our galaxy is in relation to our galactic supercluster, Laniakea. (For more on Laniakea,
see the 2017 Sagittarius reading
).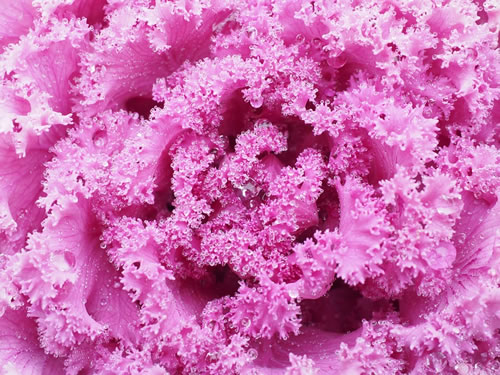 Picture by Hans.
In both cases, we are far from home. The Milky Way is way out on the fringes of Laniakea, a massive complex of galaxies that are all being drawn toward the Great Attractor, a point at about 14 degrees of Sagittarius.
Our Sun, for its part, is about three-quarters of the way out from the Galactic Core, located between two spiral arms. In other words, we are far from home base; and we're also on a kind of back road, not one of the main avenues of the galaxy.
If you're wondering why it seems so God-forsaken here, why the spiritual presence can seem so far away, why there is so little in the way of tangible, available guidance, and why free will is so crazy here, consider our distance from source.
Now, any spiritual seeker knows that spirit is accessed within us. But imagine if it was much easier to make decisions in accord with a moral compass, rather than to have that compass be spinning wildly all the time. That, I propose, is what it may be like to be closer to the Galactic Core.
As for Laniakea, my reading is that we are part of a great migration of souls that has entered this vast web of galaxies, and are gradually making our way toward the Great Attractor.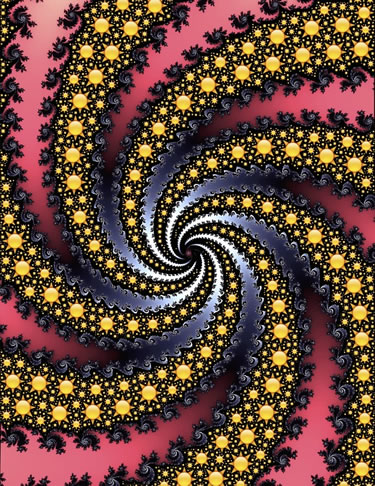 Picture by John Hain.
In any event, pay attention this weekend, as all of this astrology unfolds. You will multiply your karma by your actions. You might say we are all under the threefold law when the astrology gets this intense: our ill deeds come back to us three times over. And the effects of the love that we share and offer are also multiplied.
Ladies and gentlemen, the stakes are high right now. Those following the news even vaguely are wondering if and when Pres. Trump is going to fire Robert Mueller, the special counsel investigating the crimes of his campaign and administration. That case took a big turn this week as federal agents in New York City raided the office and residences of Michael Cohen, Trump's lawyer and "fixer." Files related to Stormy Daniels and the
Access Hollywood
tape were seized, among many others. Then there's Syria -- a recent gas attack for which Trump was, till moments ago, threatening to retaliate with missiles. Then there's everything else.
Setting aside the state of the world, there is our state of mind. Many people are frantic, on edge, and polarized right now. There are some calm people; but in my estimation, most of the population is stretched so tight you can flip a quarter on their aura.
Ultimately this is a suppressed-energy state that is the power source of the tyranny that the world is slipping into right now. If we're going to get out of this, we're all going to need to relax a little, calm down, treat one another more kindly, and get about the important work -- inner and outer -- that needs to be done.
For those who listen, I'll catch you live on air
Sunday at 10 pm EDT on Radio Kingston
, with more details about this astrology.
With love as ever,

Stay Tuned for Spring Reading: Chiron in Aries, Mars Retrograde
Greetings! 
I'll soon be announcing pre-order sales for the Spring Reading, covering Chiron in Aries and Mars retrograde in Aquarius. These transits are related through the Mars connection to Aries. In a
recent issue
I introduced the topic of Chiron in Aries considering its many implications, and looking carefully at the most recent cycle, which started in 1968. 
The horoscope below is a special edition, which tracks Chiron in Aries through the signs and the rising signs, which will give you a little idea what's in store. I also cover the topic for all of the signs in
The Art of Becoming
.
The Spring Reading is included for Backstage Pass holders. The Midyear Reading, released over the summer, will cover Uranus in Taurus and Venus retrograde.
We'll have the pre-order announcement soon. The price for all 12 signs will begin at $77 and gradually increase as publication time approaches. For now, you can
upgrade to the Backstage Pass
and have the reading included with your membership. If you already have a Core Community membership, your remaining time will be upgraded to a Backstage Pass.
With love,


Just the Thing for This Week's Astrology: Final Hours for the Flash Sale on Your Annual Readings
Dear Friend and Reader:
If this week's edgy astrology -- retrograde Mercury about to station direct, Chiron about to enter Pisces, and more -- has you feeling a little out of sorts, Planet Waves has just the remedy for you:
deeply discounted individual signs of the Art of Becoming
annual readings.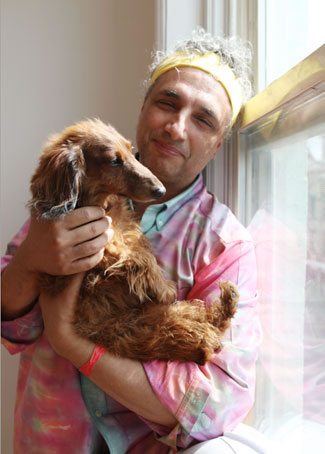 Eric Francis with canine co-pilot Jonah Kelly Francis. Photo by Zoe West.
Until midnight EDT tonight (Thursday)
,
you can get instant access to the single-sign readings for only $23.23
-- a significant savings on the $44.44 post-publication price --
with additional signs only $19.19
.
Ready to go all-in? You can
snap up all 12 signs for only $88
for the next few hours.
These printable, chapter-length written readings cover what you're going through right now, and also look ahead to the other major astrological events of 2018 (and beyond)
.
"My dear Eric: As always, the reading comes at exactly the right moment. The divine timing serves to remind me of how connected I am."
-- Jennifer, on the Art of Becoming annual readings
You can get a sense of each sign's reading
with the excerpts here
-- but bear in mind,
that is only a small fraction of what your reading covers
.
With Chiron leaving Pisces on April 17, Uranus entering Taurus in May, and a New Moon in Aries this Sunday night into Monday, it's an ideal time to get a more comprehensive view of what your year may entail -- and get yourself pointed in the right direction with Eric's unique style of practical motivation, perspective-shifting questions, and steady reassurance.
"Thank you, Eric. My Scorpio reading is spot-on for me at this time and provides great guidance on ways to proceed forward. I've never been disappointed with my annual reading and revisit it many times through the year."
-- Angela Nolan, on the Art of Becoming annual readings
I hope you'll take advantage of this limited-time flash sale
. They say timing is everything -- and I think this moment speaks for itself.
Yours & truly,

Amanda Painter
P.S. If you've already purchased one or two individual signs of the Art of Becoming, you can
snag additional signs for the super-low flash sale price here
. Or email us at
cs@planetwaves.net
-- or call at (877) 453-8265 -- to set this up with a live, friendly human being.
Mercury Direct, Aries New Moon, and What's Next
By Amanda Painter
If you're feeling a little on edge this week, you won't be surprised that astrological events are offering a picture of why that might be. Topping the list are Mercury moving through its 'storm' phase prior to stationing direct on Sunday; the Aries New Moon Sunday night; and Chiron in the last degree of Pisces (it enters Aries two days later, on April 17).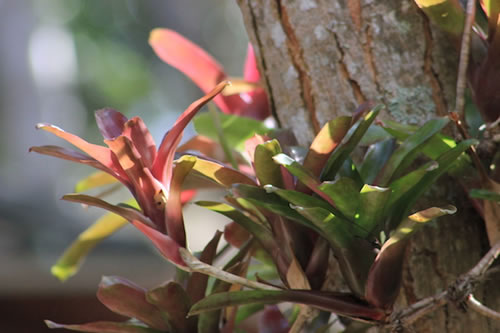 Faux fire in Grand Cayman; photo by Amanda Painter.
Although New Moons generally are not considered 'edgy' astrology, this one is special, as the Sun and Moon make their conjunction nestled between the disruptive, chaotic influences of Uranus and Eris.
With a waning Moon often indicating a sense of lower personal energy, it would not be surprising if you're feeling a little less able to deal with the onslaughts of modern life in the digital age right now. That said, there's still intriguing potential in the current astrology.
For one thing, hopefully this Mercury retrograde phase through Aries has offered you a fruitful review of certain decisions, actions, desires and ways of seeing yourself (what you think of as your identity). Recognizing those openings for insight sometimes asks for a higher level of awareness than what we're able to muster, however -- especially if one is in the thick of a communication crisis, car breakdown, financial mess or other stressful, complex situation. That's okay. Hindsight is often when we're able to get some perspective, not when we're in the middle of things (though sometimes that happens, and it can save a lot of angst).
Along those lines, the moment when Mercury stations direct can come with a curious revelation -- as in, the truth about something coming out, or previously unknown information emerging. The exact time for the station direct is 5:21 am EDT on April 15 (9:21 UTC); but even if you're not awake at that moment, it's worthwhile to stay extra observant the night before and then throughout the day on Sunday. Happening as it does in Aries, you might keep particular watch for anything to do with identity, desire, assertiveness and aggression, or something you've wanted to start.
Read more...
Scenes from a Smartphone
By Amanda Painter
Could you use a good laugh? The news is filled with horror and chaos; the astrology is edgy; and from what I can tell, retrograde Mercury is getting a little hot under the collar while it slows down to station direct on Sunday.
Perhaps we can appease the gods and goddesses by appreciating and honoring Mercury's Trickster side? I can think of few better ways to do that than by clicking through a few screens of conversations gone wrong thanks to smartphone autocorrect features.
When I happened upon a collection posted
and apparently curated
by someone named Hal Apenyo
on Wednesday (shared by a friend of mine on Facebook), I soon found myself laughing so hard I was crying, my nose was running, I could barely breathe, and my sides hurt.
It was
glorious
.
If you aren't on Facebook (or are too freaked out by the Cambridge Analytica fallout to log on), you can see larger collections of these bizarre instances of the robot invasion wreaking havoc with human communication at
Damn You Autocorrect
and
FU Autocorrect
. (That said, you have to wade through more that are only
kind of
funny on those sites.)
Thank goodness we still have the capability of dialing the phone to speak directly when we need to sort out misunderstandings. Perhaps Mercury is trying to remind us that we still have the ability to do so -- we just need to remember that we have it, and take the initiative to use it more often.
This Week on Planet Waves FM
Astrology, More Astrology and Tantra Moment
Dear Friend and Listener:
This week's
Planet Waves AM/FM
[
play episode here
] was another one of those breakthrough programs where I found my voice again, on live air: that being the last 45 minutes of the program, with a discussion of the essential meaning of tantra, and how to work with the issue of projection.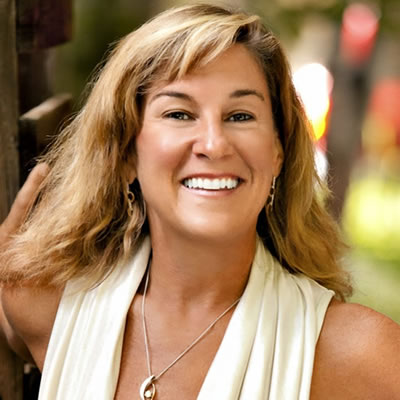 Debra Silverman.
Projection is the most important healing matter in relationships, in my view, and it's one of the most daring to engage: to see that what you see in someone's eyes is in your eyes. This challenges the nature of reality as we thought it was, or were certain that it was.
To illustrate this, I use two metaphors: Radiohead's "Creep," and exercises for couples describing how to use a mirror as a projection-debunking exercise.
This week's program (recorded Sunday) has two distinct astrological features, the first being a half-hour overview at the top of the program where I go over last weekend's astrology; then I stretch that forward into Mercury direct and the New Moon on Sunday, and Chiron entering Aries on Tuesday.
The second feature is a short, fun interview with Debra Silverman, the hardest-working astrologer in the west -- and one of the funniest.
The music is a mix of my faves, such as Radiohead, Elvis Costello, Dylan and Dylan.
It's been exciting transitioning the program from a closed-circuit pre-recorded webcast to a live-air webcast. We are at around week 11 or so. More on that some other time.
I had great fun recording this show, and I send it out to you with love.
Most truly yours,

PS -- If you're Aries-identified,
you will dig your reading
.
---
Planet Waves: Calm Amid the Chaos
---
Listen to Vision Quest on Live Stream
Planet Waves has an in-house music ensemble, called Vision Quest. We have a 38-hour loop of our music, which
you can listen to any time
. Included are finished pieces, rehearsals, live concerts, drum grooves, and spoken word recordings. I consider it a kind of musical divination. Click in randomly at different times of day and see what you discover.
---
Four Winds Almanac Now Includes Daily Horoscope
Planet Waves publishes a nifty daily astrology newsletter called the
Four Winds Report
. Designed as a fast read arriving early in the morning, we're now trying an experiment -- we're including the daily horoscope for everyone.
Were it not for horoscopes, I wouldn't be an astrologer. It was the Patric Walker daily that convinced me there was actually something to astrology, and I got my basic education studying his column each day in the
New York Post
.
I pack a lot of energy into each sign's 50-word write up. Part of the value of astrology is the timing, and daily allows for precision, as well as chronicling a narrative day by day.
Your almanac also includes information about Mayan astrology (long count and short count dates), several formats of the current date (including Hebrew and Islamic), a daily birthday reading, and special discounts on products and services.
Best of all, we take no outside advertising
.
Sign up free here
.
Monthly Horoscopes and Publishing Schedule Notes
Your
extended monthly horoscopes for April
were published Thursday, March 29. We published your
extended monthly horoscopes for March
on Thursday, Feb. 22. Please note: we normally publish the extended monthly horoscope on the first Thursday after the Sun has entered a new sign.
Aries
(March 20-April 19) -- With lots happening in Aries this week, including the grand entrance of Chiron into your sign, you might expect to be dashing about like a dog on a mission. However, the changes need time to shake and settle themselves into place, and so do you. Mercury is stationing direct; and a New Moon is taking place amid the conjunction that's defined the last couple of years. Both events are suggestive of pausing and reflecting on the recent past, in terms of how that's been for you. Doing so should enable you to move on when you're ready, with a clear focus on the path you need to take. Note that Chiron in Aries will pose certain questions surrounding identity for all of us; this is true of you in particular.
-- by Amy Elliott
.
For your Eric Francis horoscope this week, please see this link.
Taurus
(April 19-May 20) -- Uncertainty and sudden change are not much fun for human beings, as we're more often than not creatures of routine. You've just experienced about seven years of Uranus moving through an area in your chart associated with your inner life, and your deepest emotions and thoughts; essentially turning you inside out and bringing you face-to-face with the most secret parts of yourself. Now Chiron is about to cover the same ground, which likely heralds a phase of rebuilding after the chaos. You might be tempted to reinstate old habits, especially if they meant stability for you. Be careful not to let that happen. You're free to establish an entirely new order of operations.
-- by Amy Elliott
.
For your Eric Francis horoscope this week, please see this link.
---
Taurus Birthdays 2018:
Are You Ready to Surprise Yourself This Year?
"I've known Eric Francis and his work since 1997; we did a phone reading. He was my lifeline, which helped through 15 years of raising two boys solo, and he's still helping me through life/identity crisis, post children. His vision is uncanny -- he seems to know Taureans better than we know ourselves."
-- Leo L.
Dear Friend and Reader:
Are you ready for this year?
Uranus, the planet of the unexpected, arrives in your sign in less than five weeks
. And Chiron -- raiser of awareness -- begins its transition into the most veiled part of your chart in less than
one
week.
Translation: how you experience yourself -- both consciously and unconsciously -- is about to change shape.
Or to put it another way: get ready to surprise yourself
.
Speaking as someone with her Sun in Taurus, I am well aware that unexpected changes, particularly the kind that seem to happen forcibly through outside factors, can be incredibly challenging. Yet, I've also discovered that the more I initiate doing things in a new way, or allow a new part of myself to emerge and develop, the happier I am. I'm actually curious to see how that unfolds when Uranus arrives in my Sun sign.
You can bet that Eric is going to cover this dynamic and the sign changes of Chiron and Uranus in
your 2018 Taurus Birthday Reading
.
If you read your annual reading for Taurus (The Art of Becoming), you have some sense of what to expect. But Eric creates the birthday readings fresh; and
when he records your two segments of audio astrology (at least 30 minutes each), he'll have the benefit of Chiron's first weeks in Aries to draw from
.
When you
pre-order your 2018 Taurus Birthday Reading
, you lock in the lowest price we offer.
As the reading nears publication, the price increases
. If you'd rather place your order by phone, you may call us on
(877) 453-8265
from within the U.S., or
(206) 567-4455
internationally, during Eastern business hours.
"Ah Eric -- just listened to your reading. I was moved to tears by your closing words. Your passion, deep care and love always shine through; and you have the gift of all great teachers, of making one feel that one is being personally addressed, respected and taken care of."
-- Liz Glanville
Wishing you all the best for the upcoming Taurus season,

Amanda Painter
---
Gemini
(May 20-June 21) -- Mercury stationing direct in Aries is likely to reveal some fundamental truth about the way you relate to your community. Chiron entering the same sign will probably follow this up more slowly and in a wider context. Your sense of identity has natural roots in your social environment, which can vary considerably in terms of breadth. In a way, what you can do in the world depends on how open-minded you are about what constitutes your community; that is, who is included, and who is not. Chiron's presence in this region of your life may well, over time, help you to stretch those borders -- and likewise your potential for growth. But you must be willing to receive the ideas.
-- by Amy Elliott
.
For your Eric Francis horoscope this week, please see this link.
Cancer
(June 21-July 22) -- With Chiron entering your house of career and ambitions, it's possible that over the next few years your understanding of your life's work and direction will open up in ways you might not have thought possible. If you've placed any kind of limit on your imagination, this may well represent an opportunity to remove the guardrails and stretch your wings. This is especially the case if you've been inclined to allow other people, or the wish for their approval, to define your boundaries: it's natural to want to be accepted, but you can't live your life on that basis. Standing out and being boldly yourself regardless of reaction may be scary; but you're about to discover that nothing else will do.
-- by Amy Elliott
.
For your Eric Francis horoscope this week, please see this link.
Leo
(July 22-Aug. 23) -- The ultimate point of any spiritual endeavor, ranging the whole gamut from one divination session to a decades-long committed path, boils down to two essential questions: who you are now, and who you can become. We each contain a universe within ourselves, and therefore our potential remains infinite. To a degree, you know this intuitively; yet sometimes it's not easy to find the thread, because of the myriad ways our culture works to contain us and place us into neat little demographic boxes, the easier to manipulate and control. With Chiron about to enter the realm of your personal faith, you have the opportunity to grasp at the real truth, and maintain a firm grip.
-- by Amy Elliott
.
For your Eric Francis horoscope this week, please see this link.
Virgo
(Aug. 23-Sep. 22) -- This week's events in your 8th solar house shed light on how you sometimes invest most, if not all, of your self-worth in the concept of usefulness. That's to say, you tend to consider yourself almost invalid unless you are helping someone else, and consequently might feel that your identity and purpose are bound up in that work. It would perhaps help you to understand that you are, in fact, a separate entity, and that you have a mission all your own. Chiron entering this delicate space in your chart should better reconcile you to this idea. Caring for others is an important role; it's essential, however, that in carrying it out you find rather than lose yourself.
-- by Amy Elliott
.
For your Eric Francis horoscope this week, please see this link.
Libra
(Sep. 22-Oct. 23) -- Your sign has a unique perspective on relationships; you can understand, as if innately, the tendency we all have to project onto others in various ways. Chiron entering your opposite sign will probably help you fine-tune that skill. It should also, through your observations of others, help you to turn the searchlight of your gaze inward. Mercury stationing direct in the same sign could very well kick off this process; revealing a key truth about where you place yourself in the context of your interactions with others, and what that means regarding your sense of self and independence. Over the next few years, you may find you're the one setting an example in terms of relating without compromise.
-- by Amy Elliott
.
For your Eric Francis horoscope this week, please see this link.
Scorpio
(Oct. 23-Nov. 22) -- Uranus moving through your region of work and daily habits undoubtedly caused fundamental alterations to the way you view and spend the majority of your time. In the best-case scenario, the details of how you work and live would be an accurate reflection of who you are and of the values you seek to uphold. Uranus can often feel like an electric jolt in its influence, and it may have been a Herculean task to form any kind of stable working regimen. Chiron's energy is much better suited to the focus this process requires. While Mercury is still changing direction, it might help if you first spend some time meditating on where you want this next phase of your life to go.
-- by Amy Elliott
.
For your Eric Francis horoscope this week, please see this link.
Sagittarius
(Nov. 22-Dec. 22) -- Your sign would rarely be considered to have any trouble with frankness or honesty. If anything, your penchant for saying what's true can get other people rattled. Yet Chiron's forthcoming change of sign might address the question of what you don't express when it comes to your deeper desires. Sometimes we can be almost blunt on some matters in order to mask our feelings about others. Chiron is a congenial planet for you. Its presence is likely to open you up increasingly to what you really want, and assist you in removing any vestige of shame you may feel about owning the unique desires and creative urges that make you who you are.
-- by Amy Elliott
.
For your Eric Francis horoscope this week, please see this link.
Capricorn
(Dec. 22-Jan. 20) -- Part of the reason early experiences can be so powerful an influence on our lives is because the younger you are, the more your brain is like a blank canvas, and the greater the range of potential. Youth is impressionable, and so what we learn growing up is important. It's also true, however, that you don't have to settle into a fixed perspective as you age. The adult brain is surprisingly elastic, especially if you keep actively learning. You're almost certainly about to develop a fresh outlook on the people and events of former days, and especially on the restrictions these may have placed on you. Give this process the time and effort it needs, and the result could be incredibly liberating.
-- by Amy Elliott
.
For your Eric Francis horoscope this week, please see this link.
Aquarius
(Jan. 20-Feb. 19) -- In popular culture Aquarius is often portrayed as something of a maverick, owing to the influence of your sign's modern ruler Uranus. It's true that you generally bring something fresh and lively to the conversation. Yet Saturn was the original ruler, and it shows: in uncertain times, you may cling to what you've always known for safety. Recent events have been guiding you slowly to detach your grip, and embrace the potential in your Uranian side. Chiron, which also contains both facets, is offering you the chance to work with them together in a purer harmony. Understanding how each is important to you is the first point. Once you've accomplished that, the potential for what you can do is almost infinite.
-- by Amy Elliott
.
For your Eric Francis horoscope this week, please see this link.
Pisces
(Feb. 19-March 20) -- The big moment of Chiron leaving your sign and entering your 2nd house finally arrives Tuesday, and the chances are you're more than ready. The past few weeks have likely afforded you key information on what feeds your self-esteem and self-concept; the eight years of Chiron in Pisces have underpinned all of that, by refining your sense of identity. During the next year or so, as Chiron completes its transition, be prepared to focus and hone that sense to near-perfection. You're in the process of bringing something truly beautiful into the world, the more so because it is bathed in the essence of you. With Chiron's aid, you will hopefully come to realize just how true that is.
-- by Amy Elliott
.
For your Eric Francis horoscope this week, please see this link.
---