Dear Friend and Reader:

This is my first week after finishing The Art of Becoming readings. That was a deep experience -- one of the most full-on phases of doing Planet Waves ever.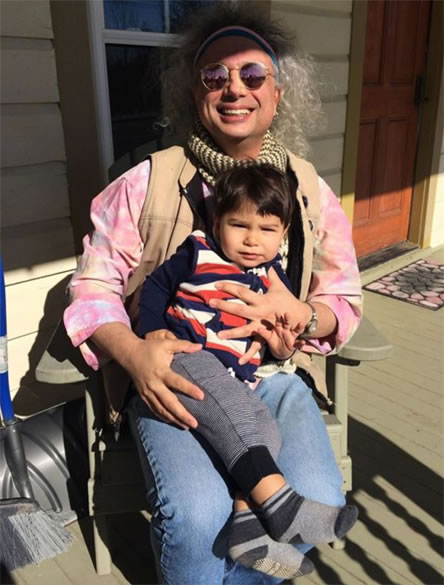 Me with Justin Castello, son of my eternal friend and chiropractor, Angelo Castello, taken by his wife (and Justin's mom) Julia Castello. This was today, in Germantown, NY. You can take one look at me and tell I'm finished writing the annual readings -- I'm somewhere other than Kingston.

Here was the challenge: weaving extended readings, each taking three days to write, into my most hectic horoscope schedule ever -- and doing it with technical accuracy, with love, and even with some eloquence. 

This reading opens up all-new territory: Saturn in Capricorn, and the Saturn-Pluto conjunction; Chiron in Aries; Uranus in Taurus; and both Venus and Mars retrograde. I have explained these transits many times, many ways, from many viewpoints.

This process called forth the Zen master, the novelist and the alchemist in me. Just the sheer volume of ideas that I had to treat with care, working on daily, weekly, monthly and annual cycles at the same time. While I was doing it, I was wondering how I was doing it. (It took a village.)

There are certain kinds of writing that can take what newspaper editors call the "get in and get out" approach. 

The Art of Becoming is more like: get in, go deeper, keep going, explore that branch of the cave system, keep going deeper, come out at the Galactic Core, take a ride on Chiron, hang out with Saturn and catch my breath, consider 1992 QB1, explore the asteroid belt, investigate Venus and Mars retrograde yet again…and get out.

I did that 12 times, 12 different ways. I have cast nearly 100 astrology charts, written about 66,000 words, and invested about 144 hours into The Art of Becoming.

This is the 20th annual edition of Planet Waves. They don't get easier. They just get better, deeper, and easier to understand. They also get more beautiful -- you can visit the website here; there are many free features. 

Why am I doing this?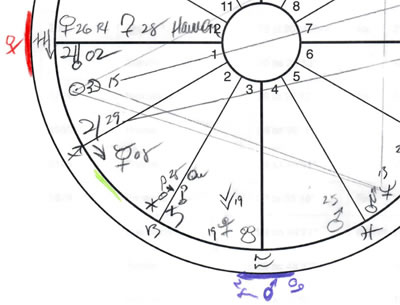 Section of the chart I drew up for the Scorpio reading. The pencil chart is a summation of many pages of data. This one includes the Venus and Mars retrogrades, the cluster of planets entering Capricorn, and the hypothetical planet Apollon, which has begun a long trip across Scorpio.

I have experienced the elegance, the beauty and the healing power of astrology. Astonishing, mysterious things happen every day, which I can see because I have devoted so much of my life and talent to astrology. 

I want everyone to be able to experience this. I want to convey that understanding to anyone who is interested. In a way that is fully accessible, that has lasting value, and that is affordable. While I do private consultations, I cannot do many. The demand is greater than the supply. Yet I am able to distill and concentrate the essence of planetary transits into written works that are accessible.

My intention is to light the way forward. Rather than predict, I do my best to describe the environment we are in.

Please do take advantage of this work. It will serve you for years, though it won't be the same reading in a year. It's designed to prepare you now, for what you are experiencing now and for the next four seasons.

The overwhelming majority of customers have invested in all 12 signs, which you can share with loved ones, relatives and housemates. It costs considerably less than most astrologers charge for a one-hour reading. You can also get individual signs.

Those on fixed incomes or experiencing financial hardship, please call (845) 481-5616 and speak to Ellen.

Thank you for being a Planet Waves customer, and for trusting me as your astrologer.

With love,



PS -- your reading also comes with audio and video supplements, unique to each sign, and access to last year's amazing written readings -- The Book of Your Life.


---
To unsubscribe, click here. To unsubscribe from all future Planet Waves emails, please write to cs@planetwaves.net
Copyright © 2018 by Planet Waves, Inc. All Rights Reserved. Other copyrights may apply.
Some images used under Fair Use or Creative Commons attribution.