A Moment of Awakening



Dear Friend and Reader:

Something extraordinary is happening. Yesterday, survivors and families from last week's Parkland, Florida, school shooting attended an epic 'listening session' with Pres. Trump, who for once behaved like a human being and actually sat there paying attention.

On the same day, other survivors from Marjory Stoneman Douglas High School confronted Sen. Marco Rubio at their state capitol in Tallahassee, and it was a real showdown.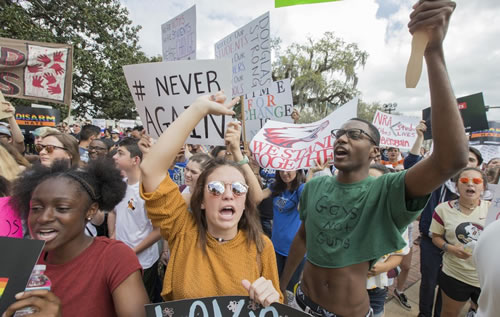 Therese Gachnauer, center, an 18-year-old senior from Chiles High School and Kwane Gatlin, right, a 19-year-old senior from Lincoln High School, both in Tallahassee, join fellow students protesting gun violence on the steps of the old Florida Capitol in Tallahassee, FL., on Feb. 21, 2018. Students at schools across Broward and Miami-Dade counties in South Florida planned short walkouts Wednesday, one week after the deadly shooting at Marjory Stoneman Douglas HS. Photo by Mark Wallheiser.

Thousands of students across the country staged a walkout from their schools to demand stricter gun laws. There are two direct actions planned for March, including a nationwide walkout at 10 am local time on March 14, and the Million Kid March on DC for Gun Control on March 24.

The kids are showing the way. They're being the adults, and the rest of us need to listen, follow and do everything we can to support and encourage them.

The Parkland shooting took place the day before a solar eclipse, and any event around an eclipse can be a turning point. This eclipse, though, had a special quality: it was conjunct the Moon in the United States natal chart, which is conjunct the asteroid Pallas Athene.

The U.S. has politics scripted into its personality. But typically it's naive, and has a love for hucksters, con men, phonies, preachers, and the good old days.

Suddenly, there seems to be an awakening, which is led by young people -- the ones who have the most to lose, the most energy and the strongest ideals. It's been fantastic to see students taking action, and planning to take more action. It's been beautiful to see young people stand up in support of claiming their own destiny.

An impassioned, emotional speech by Douglas High School student Emma Gonzalez at a rally on Saturday, in which she called out politicians who take NRA money, went viral. [We aired the whole speech on this week's Planet Waves AM/FM.]

This inspired responses such as that of Scott Pappalardo, a gun owner with a 2nd Amendment tattoo, who filmed himself sawing his AR-15 into pieces -- the same type of weapon used in the Florida shooting. Ben Dickmann handed in his AR-57 to police, saying in a Facebook post that, "no person needs this."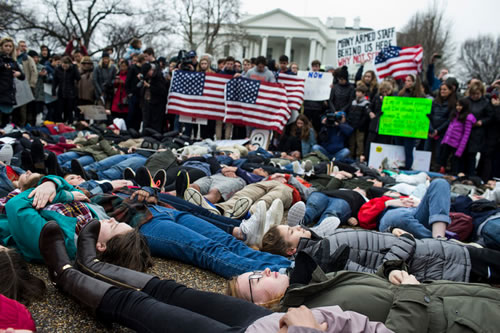 Protesters on the ground during a lie-in demonstration outside the White House on Monday, demanding action on gun control reform from Pres. Donald Trump. Photo by Zach Gibson.

And it's also true that both Trump and Wayne LaPierre, the P.T. Barnum of mass murder, said once again that we need armed teachers in schools. Sen. Rubio said that gun lovers and the NRA don't pay him to take his pro-gun views, they just buy into his pre-existing agenda. Now, we can see these things as laughably stupid.

The word is out that the NRA is not about advocating the rights of gun owners; it's about the supposed "rights" of gun manufacturers to make a profit, no matter how many people may be killed, maimed or terrorized.

Americans are so used to this issue going nowhere that it's eye-popping to see it go anywhere. We have all long wondered how many dead schoolchildren and festival attendees and church parishioners it would take to wake people up. Everything in the world has a limit, and it seems like the U.S. is reaching its maximum capacity not just for violence but for the absurd excuses and claims of "civil rights" to possess weapons of war.

Remember that the AR-15, the prototype for many similar weapons, was developed for the Vietnam War. As they used to say back in those days, the war has come home. And the people who want to stop it can use any tactic they want except for shooting back.

The most effective means of conveying this issue will be human emotion: caring for our children and our brothers and sisters; desiring the peace and tranquility that the Founders said was essential to a free society; and understanding that something is not a right if it encroaches on the safety of someone else.

We stand behind this movement, and we urge you to support the forthcoming protests, especially direct actions by students in your local area.

With love,



-- with Amy Elliott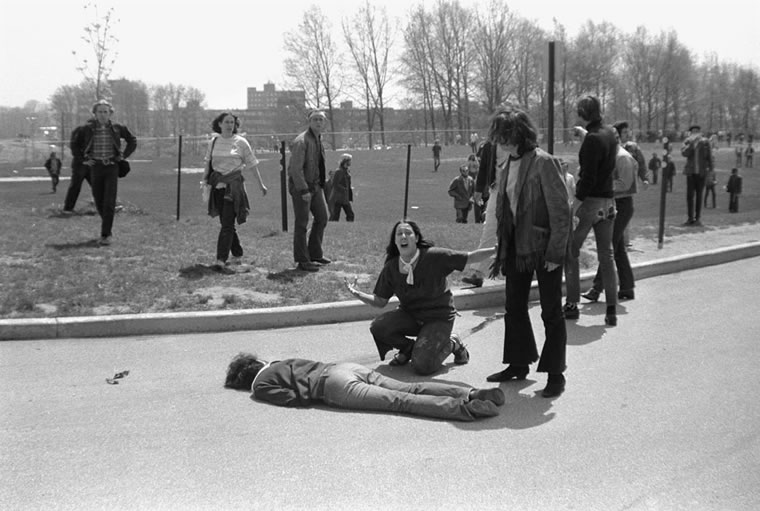 DEVO Co-Founder Gerald Casale on Sunday's Planet Waves AM/FM
The following is a presentation given by GERALD CASALE, co-founder- co-writer and bass player for DEVO, to students at Kent State University several years ago, on the 40th anniversary of the shooting of four students by National Guardsmen. Here's the Wikipedia page on the incident.
---
---

Hello. I'm Gerald Casale, Honors College class of 1970, Kent State Alumni and founder and co-songwriter of the music group, DEVO.

I'm honored to be here today to address old friends and acquaintances as well as young people who were not alive when the killing and wounding of students at Kent State occurred 40 years ago.

I was not only there then; I was in the thick of it, retreating from the National Guardsmen and choking on tear gas along with hundreds of fellow students.

To paraphrase an old country song, "we didn't know the guns were loaded."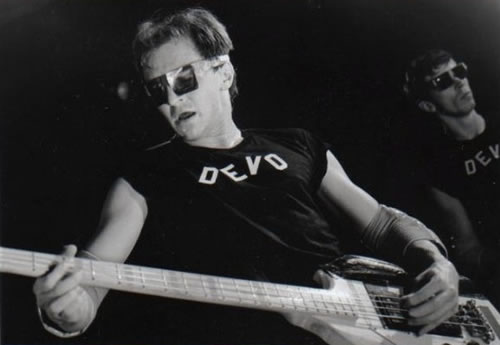 Gerald Casale, bass player for DEVO, was an eyewitness to the Kent State massacre, and was nearly shot.

I could have been shot and killed.

I was closer to the gunfire than Jeffrey Miller or Allison Krause, freshmen students who I had befriended when I helped them register for fall classes at KSU in the summer of 1969.

But I lucked out, unlike them.

I escaped the random, scattergun fate meted out by part-time soldiers the same age as those they killed and wounded.

That day in May was the single most traumatic moment of my entire life.

I remember the sights, sounds and horrific mix of toxic chemicals and gunpowder fouling the crisp spring air on that blue-sky day. I remember the sudden, shocking edit into slow motion, as in a car crash where you suddenly contemplate the end of your life.

I remember the screaming and moaning swelling from the crowd as we realized almost in unison that students had been shot.

There were bodies on the ground, and shiny red blood flowing down the sidewalks and asphalt road in the noonday sun.

Students and teachers frozen in position began falling to their knees weeping, begging for calm.

The soldiers clutching their M1 rifles at the top of the hill looked on like scared little boys playing war. The bullets were real though.

Read more...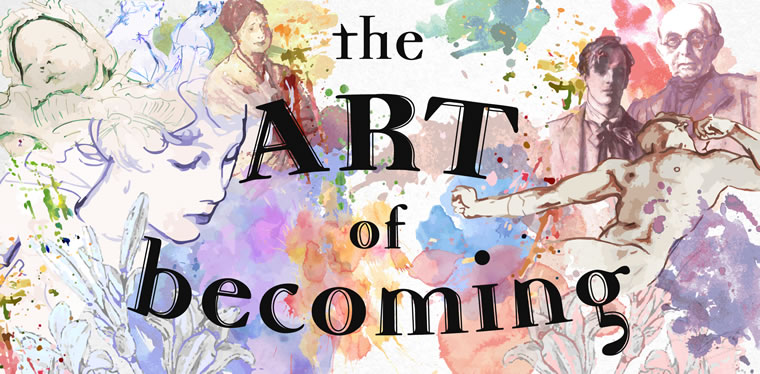 Readers Say This Is Our Best Annual Reading Yet
Tap or click to visit our most beautiful website ever.
"As always, the reading comes at exactly the right moment. The divine timing serves to remind me of how connected I am: my 'work' is a joyous extension of who I am; my deeply held spiritual beliefs are part of my every day life; I am strong and trusted."
-- Jennifer, on the Art of Becoming annual readings
Dear Friend and Reader:

We recently published The Art of Becoming reading for Sagittarius. This means that ten of the 12 Art of Becoming signs are available for instant access -- whether you purchase one or two readings individually, or go all-in and order all 12 signs to share with your household.

We anticipate having Capricorn and Aquarius -- the final two signs -- up soon. Please note that there are materials on those pages, including some prior readings for review; as well as videos that go with The Art of Becoming series, located on the front page.

"I just wanted to say thank you for The Art of Becoming. As usual I have so enjoyed your writing and your insight and I have my fingers crossed that as a Taurus and reading the effects of Chiron, I can go with the flow and change my life for the better."
-- Marissa on the Art of Becoming reading for Taurus
If you have any questions, please email us at cs@planetwaves.net. Or call from within the U.S. at (845) 481-5616, or from outside the U.S. at (206) 567-4455. If you leave voicemail, please be sure to leave your number in the message, and we'll call you back as soon as we can.

Thank you so much for your continued patience and goodwill as we work to deliver these readings.

Yours & truly,



Amanda Painter

P.S. Here's what others are saying about The Art of Becoming:

"Dearest Eric, I just wanted to acknowledge how beautifully insightful your work always is and how moved I was reading your essays. Thank you so much for continuing to be such a guiding light along the way. Much love and appreciation."
-- Maureen, on the Art of Becoming annual readings
"The leadership aspect of what you offered really assists me to understand what my being is up to in the world of work. True, it is rarely discussed in astrology in this way for Cancer. It is not always an easy road, but it is certainly not dull. This year I have shifted direction and am discerning what parts need to come with, and what needs to be left as no longer required. This is across relationships, views, methods and tribes. Your articulated integration of the various dimensions influenced through the realms is a gift and valuable resource in curating the conditions required. Received with gratitude."
-- Rebekah, on the Art of Becoming annual reading for Cancer
"I am deeply appreciative of your integrity and the depth from where your being resides. Many blessings on your path."
-- Desiree, on the Art of Becoming annual readings
"I will put this in a very safe place, and reread it over the coming days, weeks, months. This has been an extremely tough beginning of the year -- it seems that I'm no longer being allowed to play out my life without really addressing what/who runs it from the shadows. You write about all this so brilliantly. Thank you for this stunning reading, dear Eric, for your extraordinary insights, wisdom and guidance."
-- Liz, on the Art of Becoming annual readings
"Thank you, Eric, this reading is exquisite in its most absolute form. My sense of where my life is heading is reflected back to me in this annual with such elegant cohesion; your writing simultaneously feels to be a healing balm and a road map to a territory unknown except for the consistency of its beckoning."
-- JeanMarie Murphy, on the Art of Becoming annual reading for Gemini
Flowing with the Currents and Lighting the Fire



By Amanda Painter

With the Sun now in Pisces as of this past weekend, winter starts to loosen its grip and we begin the approach to spring (even if the weather doesn't play along consistently). Right now we have a concentration of planets in Pisces, the last sign of the zodiac; yet it won't be long before the sky's emphasis begins shifting again, from deep water to the fire of Aries.

You can think of the general feel of this month in terms of the Pisces symbol itself: those two fish, bound together yet heading in opposite directions.

If one fish is the 'hang out and float' fish, the other seems to be quickening its pace forward; one fish is taking a deep, introspective dive, while the other swims across the world's oceans. Yet both fish bring what they discover to Aries: the sign of "I am."

There's a curious process of integration and a renewal of the cycle this time of year, every year. It's not exactly a circle (though that's how we chart the zodiac, in two dimensions) but rather a spiral through several dimensions at once: in other words, growth. This year, this integration and renewal gets a special boost: in April, Chiron begins the process of leaving Pisces (where it's been for roughly seven years) and entering Aries. It's a significant shift; which means you can think of every other planet moving from Pisces to Aries in the coming weeks as foreshadowing or warming up the territory for Chiron's move.



Among the March events presaging Chiron's initial move from Pisces into Aries are Mercury and Venus ingressing Aries on March 6; the Sun's conjunction to Chiron in Pisces on March 18; the Sun's entrance into Aries on March 20 (the equinox); and Mercury stationing retrograde in Aries on March 23.

Many other aspects will fill out the month. Yet, the central events appear to be the Aries equinox (when day and night are of equal length for everyone on the planet; after which days in the Northern Hemisphere grow longer than the nights), and Mercury's station retrograde three days later.

Read more...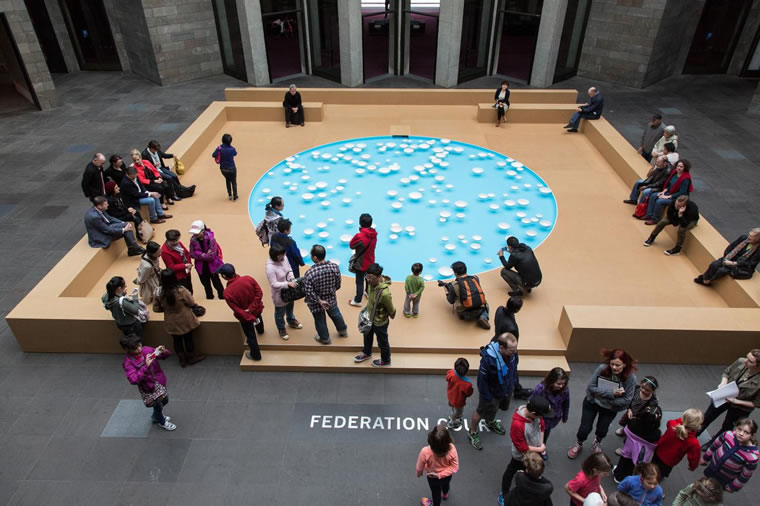 The Curve and Swerve of Intentionally Accidental Music



By Amanda Painter

The celestial bodies currently collected in Pisces each moves in its own orbit; there is no chance of collision, no matter how close they might look on an astrology chart. But what if those planets were porcelain bowls floating in a pool of water? What random music might they make if they were to touch as they circulate?

Something like that question seems to have influenced French artist Céleste Boursier-Mougenot in his clinamen installations, which have graced several museums over the years. Clinamen consists of one hundred or more porcelain bowls of varying size floating in a blue, round pool of warmed water (to optimize the porcelain's acoustic resonance), surrounded by a perimeter bench to invite onlookers. (You can watch a video of clinamen here, or with an interview with Boursier-Mougenot here.)

"Clinamen," according to the National Gallery of Victoria (NGV), Australia, refers to "the curve and swerve of celestial configurations; to the arc of the sun and the unpredictable motion of atoms moving through and colliding in space."

The NGV website adds, "Set against a spherical, celestial blue ground, the ceramic vessels of varying scale create tonal arrangements and cosmological patterns, perceptible to both eye and ear, which converge and disperse according to laws of nature and the artist's design. The music is all the time the same, and all the time different -- circulating in space and extending through time."

Just like the cosmos; just like us.

This week on Planet Waves FM Our American Moment:
The 2nd Amendment, and the Russian Indictments

Dear Friend and Reader:

This week's Planet Waves FM [play episode here] checks out the chart of last week's mass murder in Parkland, FL, which took the lives of 17 students and teachers. I also take a close look at the history of the 2nd Amendment -- perhaps the most misunderstood provision of law in U.S. history.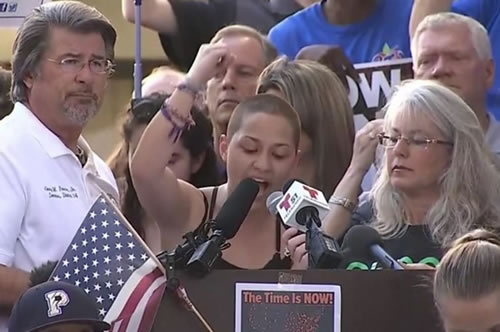 Emma Gonzalez, a student at Marjory Stoneman Douglas High School, challenges Pres. Trump on his $30 million in donations from the NRA.

Is it really possible that the Founders of our country considered it a right for people to possess weapons enabling them to commit mass murder on young students?

This program was originally broadcast live locally as well as on the internet Sunday night, as Planet Waves AM/FM on Radio Kingston. You can also listen to it on the Radio Kingston website.

By listener request, I visit the chart of Robert Mueller III, the special counsel, who is investigating the president and his administration for manipulating the 2016 election.

I also take a careful look at the indictment of 13 Russian nationals and several companies for directly manipulating the American public during the 2016 election. I look more closely at the chart for the appointment of the special counsel as well.

In addition, I review last week's eclipse, and update you on the collection of planets in Pisces, now including the Sun, Mercury, Venus, Neptune, Chiron and others.

My musical guest is Faithless.

Thanks for tuning in tonight to Planet Waves FM.

With love,



P.S. Here are links to the charts I refer to: 
Noon natal chart for Robert Mueller III
Official commencement of the Mueller investigation
Chart for the school shooting in Parkland, FL

Monthly Horoscopes and Publishing Schedule Notes



Your extended monthly horoscopes for March are published below in this issue. We published your extended monthly horoscopes for February on Thursday, Jan. 25. Please note: we normally publish the extended monthly horoscope on the first Friday after the Sun has entered a new sign. Aries (March 20-April 19) -- Events this month build toward an unusual unleashing of energy in the professional, career, reputation or mission aspect of your life (however you may think of it). You have the power to initiate ideas that take root quickly, though it would be wise to start only what you think you can sustain. Work with ideas that are sufficiently interesting that you'll want to stay connected and committed in the long run, and which you value enough to develop even in the face of resistance, challenges or obstacles. This will call for a design scheme, which you could base on nature. One of the ways that humans and, ostensibly, other species are perpetuated is because sex is so appealing. This makes reproduction inevitable. It's this level of motivation that must be soaked into what you're doing: drive that is rooted in biology, and that taps into existence with the sensation of insatiable curiosity, and the need to connect. More than the desire to do something, you might let yourself be driven by the need to discover something, using your mind, your senses, your body and your feelings. While this might feel like throwing your body and soul into what you want, remember that relatively minor adjustments can have a significant influence. Pay attention to what may seem too small to even matter. That's what might matter most. For your Eric Francis horoscope this week, please see this link. Taurus (April 19-May 20) -- The story arc of the coming weeks appears to be a gradual moving inward, after a phase of being actively and outwardly involved in the world. You'll feel better as you incrementally reduce your exposure to the outer world, and pull in for a little while. Yet you're not there yet. The cluster of planets traversing Pisces through late February and into the first week of March is about being open and available to people -- not an intuitive thing to do these days. We live in an era when shutting down is supposedly the answer to everything. But it's not, and you know it, and so do other sensitive people. A strategy of being closed and unavailable turns life into an excuse for existence. You have strength, self-awareness and a spiritual connection that many people struggle for, or wish they had. This makes your involvement with those you care about even more meaningful. What you say, and how you respond to events that everyone is struggling to understand, can help keep many people aware. March 3-4 looks like a particularly significant moment when you can do just that. And, at a certain point, you will need to pull in and assess your innermost reality. A new solar year is about to begin, and you've learned a lot since your last birthday. Take the time to quietly distill that knowledge. For your Eric Francis horoscope this week, please see this link. Gemini (May 20-June 21) -- Your ruling planet Mercury turns to retrograde motion just after the equinox, on March 22, lasting through April 15. This occurs in Aries, the most social and extraverted region of your chart. Yet you'll want to keep some distance between what you say outwardly and what happens within the most intimate spaces of your life. This is not so much about being secretive as it is about giving your relationships space to be themselves, minimizing interference and judgment from your wider environment. It seems as if you're renegotiating an arrangement within a long-term partnership. It could be strictly business, though this is unlikely -- it's more likely to be an erotic partnership that's undergoing some change and is not revealing its inner workings easily. It will help if you don't think of it as a relationship but rather as a discussion between two people's individual lives. The best approach is to make a commitment to holding space for whatever the other is going through, and whatever needs they may have. This calls for some detachment; but mostly, it's respect that will get the results. Stand back from the idea that anyone belongs to anyone else, or owes anyone anything, and take up the lives involved as individual experiences. This is a test of faith and of commitment. Hold this space for a while, listen patiently, and what to do next will flow naturally. For your Eric Francis horoscope this week, please see this link. Cancer (June 21-July 22) -- You can do anything you want, as long as you leave out any thoughts of revenge, and don't treat jealousy as a right. This applies to personal as well as professional situations. I know this isn't really your style; you're usually too busy taking care of people to let them bother you too much. I suggest that you keep your focus on more exciting, positive and productive things -- and they're available to you in an especially bold way. It will help if you defuse tense situations before they get contentious, and do what you can to convert friction into some form of positive energy. Keep making your own decisions, and don't try to assert your will on others; figure out what they want, or notice what they're doing, and do your best to go with that. Looking after your own agenda will help rather than hinder, as long as you ensure that you're good for your basic commitments. If you can do that, you'll find yourself exploring new possibilities, new goals and some expanded role in the world as Chiron, the planet of healing and awareness, gets ready to enter your 10th house of profession, responsibility and reputation. A new era of your life is gradually dawning, where you experience more direct recognition not just for what you do but for who you are. For your Eric Francis horoscope this week, please see this link. Leo (July 22-Aug. 23) -- If you tend to your emotional needs, you will find it much easier to get along with people. If you project those needs outwardly, it may seem like others are not so willing to meet them. Yet this is not so much about their willingness as it is about how you're the only person who actually understands what you've got going on. You are more cryptic than you think, even to yourself. You might find it an excellent investment to explain what you think, what you're doing and what you want. It appears you have some work-related projects that have a life of their own, and you want to devote yourself to them. There may be a place in your workshop for someone you care about. Not all projects can include others, though you may find a mutual meeting-place if a friend or partner is interested in participating. Most people have relationships for their own sake. It's also worth considering the philosophy that relationships benefit from having a mutually agreed purpose. The problem is that when such is lacking, nefarious agendas can slip in, which is why so many relationships go so badly. This phase of your life is calling for you to live with meaning from day to day, to have clear agreements with people, and to make sure those agreements align with your goals. For your Eric Francis horoscope this week, please see this link. Virgo (Aug. 23-Sep. 22) -- This is an unusual and potentially extraordinarily positive time for your relationships. Yet if you're caught in a narrow idea of what a relationship is supposed to be, or have to follow strict rules with a partner, you might not be noticing. You'd be well served to relax your ideas about connecting with people, and to encourage partners to do the same. Remember how much of your identity you invest into your primary partnership, which seen one way provides you with an opportunity to find yourself. Yet it also necessitates that the relationship be extremely stable, so that you maintain your sense of identity. Often it seems that the greater the challenges in the relationship, the more you invest, to maintain the structure; in part, because your self-concept is so invested in it. There's another way to do this, which is to use your evolved individuality to be independent within your relationships. And there's yet a third way, which is to honestly assess the role that primary partners have served in your life. Are they more like a necessity, or more like a desire? If they're a necessity, do they deliver the goods, and if they're a desire, do they leave you feeling satisfied? In April, Chiron changes signs for the first time since 2010, which will focus this line of inquiry in a way that few developments can. For your Eric Francis horoscope this week, please see this link. Libra (Sep. 22-Oct. 23) -- From now through the equinox on March 20, the energy shifts from Pisces to Aries. That's another way of saying that before long, a whole bunch of planets get in your face -- one way to think of your opposite sign (Libra and Aries face one another). While yours is one of the least confrontational signs, you'll need to rise to the occasion of these transits, and meet the world with some energy -- and with some faith in your ability to make decisions. You have your options open, which means the necessity to choose from among them, and that's where you might have a potential concern. First, embrace the possibility that when you make decisions, you also make some mistakes. If you set a policy of always being right (or worse, perfect), that translates to being paralyzed. Also, it's time to confront some unresolved family matters that are influencing your intimate relationships. While you cannot live like it's 1950 where your mating rituals are concerned, our current context gives us very little to go by in terms of guidance or wisdom. Much that's considered cool and modern is connected to marketing and political agendas. Your intimate life is about neither. These agendas drive wedges between people, and emphasize differences. You need contact, which is about embracing similarity. We are not so different after all. For your Eric Francis horoscope this week, please see this link. Scorpio (Oct. 23-Nov. 22) -- You may have that feeling of being psychologically on edge, though unsure whether it's you, or whether it's everyone and everything. The vibe you're feeling is in the environment, and it's a mix of paranoia and uncertainty. Those are understandable responses to life at the moment, though they don't serve you well. You have plenty of protection around you right now. You're also at a peak of creativity and sensuality these days, so you have both reasons and opportunities to celebrate life. Yet to have the benefit of any of this, you will need to be open, flexible and willing to explore and experiment. The edgy feeling you're picking up on is rooted in the rigidity that our environment is pushing on us at nearly every turn. Our devices make us rigid. Our schedules make us rigid. Fear is a stiffening agent, and you can't take three steps without someone telling you the next thing to be terrified of. To go against this requires courage: to keep your heart open; to engage with what you don't understand, rather than immediately dissing it; the willingness to have a conversation with someone you don't agree with; these will all help you feel better, and live better. You want more from life than paying the bills, and to succeed at that requires a sense of adventure, and being open to life. For your Eric Francis horoscope this week, please see this link. Sagittarius (Nov. 22-Dec. 22) -- Financial decisions you make this month will count for a lot. The first thing to be cautious of is being motivated by any form of making fast cash. Ideally, your business plan is a long-term endeavor, which (at least following astrological guidance) should extend out about two years. You can, however, make some small moves this month that have a long-term effect. Most of those will involve how you direct your energy, and how you tap into your resources to get things done. You'll also benefit from limiting your spending. If there are a few people who think they depend on you in some way, make sure those relationships are in balance, and that you're not over-extended. You take family loyalty seriously, which extends to your household; it's one of the most meaningful things in your life. Yet that has to work for everyone to work at all. Under one reading of your chart for the next four or five weeks, you'll spend money till you run out. Now that we see this possibility, you can invoke others, which include taking care of the basics, setting some cash aside for luxuries defined as such, and making sure you maintain a policy of saving on a regular basis. You have a lot going for you financially these days, though working with that long-range vision is essential. For your Eric Francis horoscope this week, please see this link. Capricorn (Dec. 22-Jan. 20) -- Your chart is like a pressurized reactor at the moment, and you must vent some of that steam and heat. This pressure will only increase, along with your drive, determination and energy level when Mars enters your sign on March 17. Mars joins a newly arrived long-term visitor to your sign, Pholus, as well as Saturn and Pluto. That adds up to so much mojo you might not know what to do with it all. So what exactly does it mean to vent pressure? First, it helps to stay productive rather than just busy. Notice how much you've got going on at any time, and how you're responding emotionally. Saturn in your sign suggests that you're handling a lot of responsibility, and you must manage that consciously if you're going to manage it at all. It's essential that you pace yourself, though you have to do better than taking things one day at a time. You need a clear sense of the past, the present and the future. Mostly, though, Mars is about getting what you want. In our world, you can only get some of that, so choose what is most important. And let's remember that Mars specifically describes sexual desire, in the focused form rather than the take-it-or-leave-it form. Get that cork out of the bottle, and honor what nature has bestowed upon you. For your Eric Francis horoscope this week, please see this link. Aquarius (Jan. 20-Feb. 19) -- Yours is already one of the signs most inclined to experience life primarily on the mental level, though this month's aspects are encouraging you to bring your whole being into whatever you do. For nearly everyone, there are two factors provoking life as a head-trip: one is technology, and the other is fear. One is so pervasive that it's invisible, and the other is pervasive and unspeakable. It would be helpful if you had someone you could discuss your fears with, whether it's a therapist or an older friend (you want someone with experience). You need to understand what you're concerned about and why, which will take you deep into your psychological nature. One of the prevailing themes of your chart, for the far-foreseeable future, is self-understanding, which is a special form of self-awareness. And much of this involves unraveling the internal causes of anxiety, while doing what you can about the external ones. It would seem, though, that the single most helpful thing you can do is stay in your body, and connected to your senses. You will feel better the more you live in the physical world -- of human contact, critters, making your own food, tuning in to your senses, and making art, music and love. And it will help greatly if you express your mental restlessness in a tangible way rather than letting your mind feed on itself. For your Eric Francis horoscope this week, please see this link.
---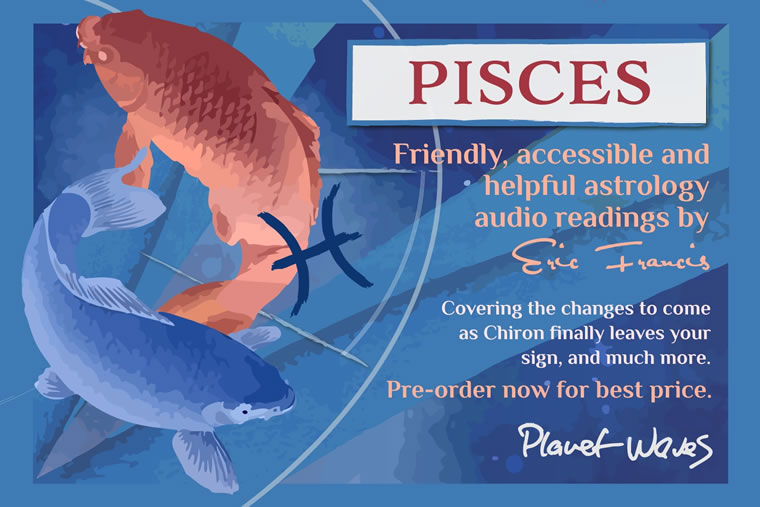 Pisces Birthdays 2018
Saying Goodbye to Chiron, Saying Hello to Yourself
"I have just listened to your Part 1 and Part 2 readings and I am amazed at how accurate it has been. Like you have a telescope watching me shed a skin and transform into a totally changed person in the last 10 years."
-- P.J.
Dear Pisces Friend and Reader:

With planets gathering in your sign, chances are you feel less like a fish out of water and more in the flow of things than you might have recently. Yet this year holds some interesting developments for you -- many of which Eric will cover in your 2018 Pisces Birthday Reading.

This is a separate project from the annual edition, different in every way -- they make excellent companions. While the annual readings are written chapters of an interconnected set, your birthday reading is a stand-alone audio meditation. It's something you can listen to over and over, whether you take notes or take a bath as you listen.

Eric's audio readings are some of the most unusual astrology you'll encounter. They go deeper than the work most professional astrologers do, reaching the spiritual essence of the chart's message, though without the need for a natal chart.

For roughly seven years, you've benefitted from Chiron's focusing power in your sign.

This year, Chiron begins the process of entering Aries -- leaving other slow-moving planets in Pisces. If you've learned the lessons of Chiron, you'll be better able to embody that focusing power yourself -- and you'll be in a prime position to navigate everything else the next 12 months will bring.

"Eric, as a Pisces I really appreciate all your readings, as they have truly helped me push past the insecurities and become a truly wonderful person with greater strength to become ME. Thanks so much!"
-- Susan Andrews
You can pre-order your 2018 Pisces Birthday Reading here, for just $33. We offer the lowest price first; the price will increase as we near the recording and publication of the reading.

You'll get two segments of audio astrology, at least 30 minutes each. A little while after those portions publish, Eric will record your tarot reading for the year (included in the price).

Wishing you a beautiful birthday season,



Amanda Painter

P.S. If you love a Pisces, make their day: give the Pisces reading as a gift.


---
Pisces (Feb. 19-March 20) -- You're probably getting the message to up your game on the financial front, though the first thing to remember about finances is that they're connected to everything. In astrology there are two houses connected to the money that you earn, rather than what comes to you through inheritance, and both are in the spotlight. Saturn in Capricorn is encouraging you to make a structural review of where your money comes from. By structural, I mean your sources of income and how they connect to your skills and talents; and then determine what happens to the money once it enters your bank account. Also where Saturn in Cap is concerned, make sure that you're converting your visibility and participation in your community into revenue in as few steps as possible. The next stage, which heats up radically in March and April, is about respecting your abilities, your resources and your contribution to the degree that you feel good about being paid for them. You must have no hesitation here, though this demands that you invest yourself fully in who you are and what you do. Pisces is one of the signs best equipped to succeed financially in relevant ways -- that is, in ways that are meaningful to you -- though that in itself is the prerequisite for success. Stay close to your purpose, and let your purpose lead the way. For your Eric Francis horoscope this week, please see this link.
---