If Your Birthday is Sunday, Jan. 12
The Day of the Wild Call | Pre-order the 2020 Capricorn Astrology Studio | All Other Signs
Today's exact conjunction of the epoch-shifting Saturn-Pluto conjunction underscores your need to transform old forms and structures that have become a hindrance to growth. Your birthday chart describes intense mental activity; direct this toward practical solutions and communications that support them, rather than obsessing on perceived limitations. Strategic, long-term thinking is your friend this year. That includes diplomacy regarding power dynamics with others, especially where finances are concerned. In the background to all your efforts is a creative, forward-looking urge for liberation. Let that be your guiding light.
— by Victoria Emory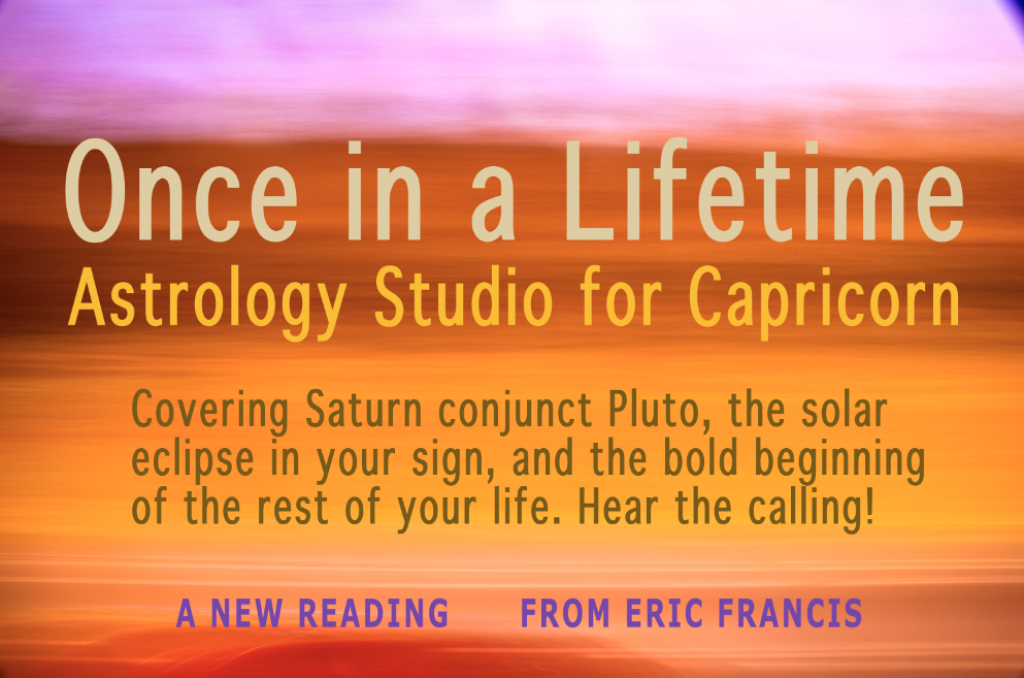 Your Week Ahead Astrology for Jan. 12-17, 2020
Although the world-shaping Saturn-Pluto conjunction is exact today, it's not going anywhere soon. In fact, it's set to come through in a more personal form.
The Sun and the asteroid Ceres are making their way through Saturn-Pluto (exact Monday). The Sun represents our personal awareness and expression; some people refer to it as 'ego consciousness'. The asteroid Ceres signifies themes like food, agriculture, nonedible forms of nourishment, and sometimes mother-daughter issues.
Notice the ways you nourish yourself and others with your words, actions, thoughts, creative gifts, community engagement and actual food. Pay attention to what you consume online.
Sun-Ceres-Saturn-Pluto in Cap describes an imperative to make real, lasting changes in this realm. What do you need to restructure in order to live sustainably and holistically?
Also note that the two fastest-moving planets in our solar system, Mercury and Venus, both change signs this week. Venus leaves Aquarius and enters Pisces Monday at 1:39 pm EST.
This is a soft, squishy, art-and-affection-and-sex loving place for Venus. It should prove a compassionate, sensitive foil for all the conservative, by-the-book Capricorn in the sky, and describes a boost in libido. If you're trying to formulate a new vision for your life, Venus in Pisces suggests more imaginative freedom.
Mercury separates from the Capricorn herd and enters Aquarius on Thursday. This is the planet of the intellect in the sign of innovation and social patterns.
It also means Mercury will be bouncing ideas off Uranus (the 'cosmic sparkplug', and modern ruler of Aquarius), which is in early Taurus. Prepare for some brainstorms that inspire you to think out of the box — or out of the familiar cow pasture — that you've been hanging out in.
— by Amanda Painter
Note: You can read more in-depth coverage by Eric on this astrology here and here.
Almanac: The Moon is in Leo, and enters Virgo on Monday, Jan. 13, at 9:06 am EST.
The Moon enters Libra on Wednesday, Jan. 15, at 10:43 am EST.
The Moon enters Scorpio on Friday, Jan. 17, at 1:20 pm EST.
Saturn and Pluto make their exact conjunction on Sunday, Jan. 12, at 11:59 em EST.
Venus enters Pisces on Monday, Jan. 13, at 1:39 pm EST.
Mercury enters Aquarius on Thursday, Jan. 16, at 1:31 pm EST.