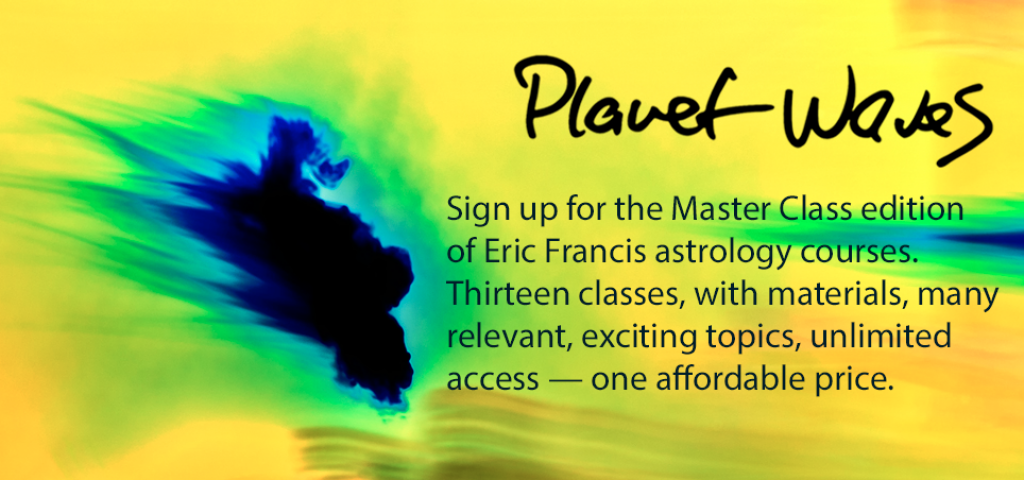 Intro to Reading a Natal Chart
I cover a few of the core ancient rules you need to know, provide you with two essential tools, then move onto modern interpretation techniques using two example charts.
Students should, at least, be versed in the most basic level of astrology — for example, knowing the astrological glyphs and most elementary meanings of the major planets. In other words, this class is good for beginners but you will also benefit if you're an intermediate or even advanced astrologer.
I have been teaching astrology internationally since 1998, including at major conferences and at the Omega Institute for Holistic Studies. I am excellent at conveying useful, memorable information that you can put to use immediately, without reading any additional books. In fact, you will wonder why books make it seem so complicated.
---
Become Your Own Astrologer, Part 1: A Class for All Levels
There is the dimension to astrology that is pure craft and workmanship (rather than theory, or a spiritual approach). This requires knowing how to use your tools and have them ready when you need them.
In this two-and-a-half hour dynamic (participatory, not lecture) class, I introduce you to some of the best power tools you can have on your work bench — the ephemeris, the blank wheel, the horary chart, the Table of Essential Dignities, the Thema Mundi and the best of all, the astrological interview.
These are all easy to learn and use, and as you apply them you will get better results over time.
---
Become Your Own Astrologer, Part 2: A Class for All Levels
The most basic elements of any chart are the Sun, the Moon and the Rising signs. Yet you might think that good information on such elementary topics is only available to 33rd Degree Freemasons.
What is a Moon sign? We will learn that, along with the Sun and the rising sign. In this class, I will teach you the basics of how to identify and work with these three chart elements.
How does the Moon feel? How does the Sun feel? How do you tune into your rising sign?
You will learn how to spot the planets, houses and signs involved, and then how to consider, sleuth and work with these elements. Along the way you'll learn some basics of the differences between houses and signs.
---
Retrogrades, Reincarnation and Re-Membering
This class covers several theories pertaining to retrograde planets and explains easy-to-use methods to interpret retrograde planets in the natal chart. Also covers how to work with the transits of planets in retrograde motion. Suitable for those who have only rudimentary knowledge of astrology, for advanced students, and also for professionals looking to hone their skills.
---
Introduction to Tarot and Divination
Tarot is a subset of a larger method, which is about asking and receiving an answer. What exactly is divination?
How do you read a card visually?
And how do you read the cards in the context of one another (which is the key to getting the whole message)?
Eric Francis explores these questions and ways of getting to their answers in a dynamic group audio environment. He has been reading tarot professionally since 1989.
---
The Astrology of Now
"The crack between the worlds…is a timeless zone, the gateway through which you will again begin to participate in the adventure of creation." This class takes the present moment (June 2016) as our starting point and began the adventure from there.
This class covers the Uranus-Eris conjunction, the first since 1928. This conjunction is about what is happening to our minds now, under the influence of global networking technology and the "mental robotics" of the Internet.
Also covered are Neptune in Pisces, Chiron in Pisces and Pluto in Capricorn.
---
It's All In the Houses
Turn the key and unlock one of the most useful — and easiest — elements of astrology in this dynamic class.
This class requires no previous technical knowledge of astrology, only an awareness of life and physical environments. Eric uses tangible, everyday-life examples to walk you around the chart wheel, explaining the organic order of the houses, how houses interact with the 12 zodiac signs, and how it all shows up in your life.
---
Karma, Reincarnation and Astrology
In this first-time-ever workshop, Eric reveals what he's learned in 22 years of reading charts and many more years on the spiritual path. The natal chart is nothing but a picture of karma — that we need to work out, work through, and use to find a path forward.
---
Eroticism: The Cosmic Mirror
Get the lowdown on astrology and sexuality from someone boldly curious and creative about the subject — who has heard it all. This class was designed to get underneath society's (and astrology's) usual (less than hopeful) ideas about sex and relating to other humans, and see how many fresh ideas come out of the chart. The zodiac has a place for everyone; this is not a matter of "one size fits all."
---
Business, Finance and Astrology
Bear in mind how emotionally charged the money issue is. It relates to our parents and to the values of our families; it's intertwined in relationships; and it's connected to self-esteem. The class focuses on some of these emotional and psychological aspects of money as well, using both example charts and the charts of students.
---
Astrology Revealed: Introduction to Your Natal Chart
What exactly do you do with your natal chart? Well, it's more like, what can you do? How do you make it your own creation? Eric introduces tools and techniques that he's developed, from personal study and experience with clients, which will help you put your chart to work for you. Astrology is a growth tool, an inventory of your resources, a guide to your relationships, and a picture of your mission on the planet. Class is part lecture, part discussion, and part chart reading demonstration.
---
Introduction to Chiron
In her book Bringers of the Dawn, Barbara Marciniak introduces the idea of the system buster: someone whose role is to shake up the established order and bring in something new. That's one purpose that Chiron plays in astrology: finding the fulcrum of change, or the weak link in any system, and revealing a place where change is necessary, and then providing a corrective force. Class will cover Chiron in Aries, natal Chiron, transits of Chiron (done with a live client), and the major themes of healing, mentorship and handling ancestral material. Class will be part lecture, part discussion, part chart reading demonstration with a live client.
"It's more than two decades now that Eric and I have been in conversation about Chiron and the centaurs. Our exchanges have always been enjoyable, instructional and inspiring. Very few astrologers are using Chiron and the centaurs almost every day, exploring their significance in the private life process of individuals and also the current and historical collective process. Bravo to Eric for continuing to introduce the value and meaning of what Chiron and the centaurs uniquely offer us in these turbulent times."

— Melanie Reinhart, author of Chiron and the Healing Journey
---
Key Life Transits: Challenges and Turning Points
Barbara Hand Clow popularized the term "key life transits" in her book The Liquid Light of Sex. I picked up on the idea, and starting in the mid-1990s, have explored the lifetime transits of more than 1,000 clients. I have come to call them "threshold transits" — gateways and points of no return, which flow together as one lifetime pattern. In addition to Chiron transits, there are Pluto square Pluto, Neptune square Neptune, the returns of Saturn, Uranus opposite Uranus and the Uranus return. We will talk about these transits in theory, and also see how they work in the lives of class participants.