Editor's note: The following article, written by our beloved Jeanne Treadway, is from the Planet Waves archives, which hosts thousands of articles and horoscopes written by Eric Francis and the Planet Waves team. We love this article so much, we post it every year.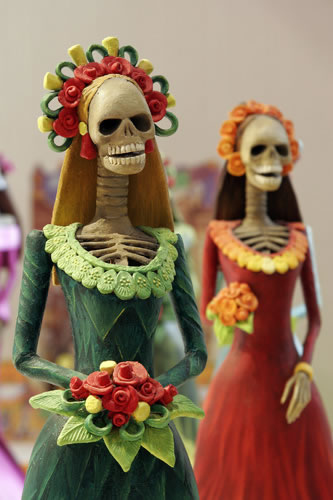 La Catrina is the reigning queen of Dia de los Muertos, the Mexican fiesta honoring the dead. Finely dressed in an upper-class Victorian style, an oversized, feathered and flowered hat perched primly on her skull, elegant but skeletal, La Catrina was popularized by Jose Guadalupe Posada in his political lampoons of the corrupt regime of Porfirio DГ­az.В Her role, then and now, is simple: She reminds us that rich or poor, famed or unknown, we all eventually become skeletons.
Dia de los Muertos is celebrated throughout Mexico and parts of the Southwest United States. Traditions vary but generally November 1, known in the Catholic world as All Saints Day, honors dead children and is frequently called Dia de los Angelitos (Day of the Little Angels).
All Souls Day, November 2, honors all ancestors. Some communities use October 28 to pay tribute to those who died a violent death, while October 29 can be a day to honor the unbaptized, and October 30 often serves as a day of remembering lonely souls.
All celebrations include building ornate altars, extended family gatherings, bountiful feasting, storytelling, and meticulous decoration of cemeteries.
HISTORY
Many cultures honor their dead with annual rituals and celebrations; often thousands of years old, these ceremonies frequently occur around the new year.
On their Lunar New Year, Asians explode tons of fireworks, burn costly shrines created to honor ancestors, and parade dragons noisily through streets. Memorial Day in the United States is a somber occasion and leans toward the militaristic; rituals include draping red, white, and blue bunting everywhere, planting flags, and intoning long lists of those who died in service to the armed forces. Celts build enormous bonfires on their new year's eve, October 31, known as Samhain, and commune with their dead while the veil between the worlds of the living and the dead is at its thinnest.
Early Christian history is often vexingly convoluted and that is the case here. The original All Saints Day appears to have been celebrated May 13, 609 (maybe 610) by Pope Boniface IV when he rededicated the Pantheon in Rome to Santa Maria and all martyrs. May 13 coincides with the final day of Lemuria, a Roman three-day ritual honoring ancestral spirits. All members of a community attended a feast on that date and ritually forgave each other's past transgressions. Sometime during his reign (731-741), Pope Gregory III moved the date to November 1. It seems that the hierarchy of the early church had difficulty altering the pagan traditions of early Christians, because records show that both Pope Gregory IV (827-844) and Pope Gregory VII (1073-85) were forced to again mandate November 1 as feast day of All Saints.
Then, circa C.E. 1000, Saint Odilo, the abbot of Cluny, decreed that on November 2 all Cluniacs would offer special prayers for Christian souls expiating their sins in purgatory. The Benedictines and Carthusians followed suit and shortly thereafter the Catholic Church officially added November 2 to its all-star lineup of holy days.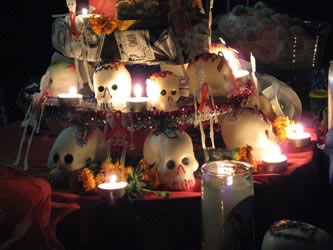 Before the Spanish conquest of the American continents, the cultures of Meso-America, especially the Nahua (Toltec, Aztec, Tlaxcaltec, Chichimec, Tecpanec and others from the Valley of Mexico), remembered their dead in a month-long celebration that centered around the return of the Monarch butterfly, a symbol of the returning souls of the dead. The 3000-year-old festival specifically honored the dynamic duality of life; rather than an end, death was simply a continuation of life to the Meso-Americans. Mictecacihuatl, a goddess believed to have died at birth and known as the Lady of the Dead, presided over the ceremonies.
Catholic Spaniards rigorously attacked this frightful celebration with its skulls and skeletons, dancing and feasting, which in their European sensibilities was an unholy mockery of death. Using techniques learned from subalterning indigenous holy days for more than a millennium, the Catholics moved the fiesta from August to their November timeframe and whittled it down from a month to two days. They were never quite able to complete the transformation to a somber, religious ceremony spent in prayer, for Dia de los Muertos is a far cry from anything resembling serious Catholic mourning.
TRADITIONS
Dia de los Muertos has a complex history and because of this regional celebrations vary significantly. Some Mexicans begin this holy period on the evening of October 31. Others observe November 1 solely. Some communities extend the ritual for as long as a week. Key elements, though, appear in virtually all Mexican rituals: the ofrenda or altar, feasting, cempasuchiles (yellow marigolds), calaveras (skulls), incense (usually copal, a tree resin), pan de muerto (bread decorated with powdered sugar bones), and gravesite grooming.
Traditional Hispanic cementarios (cemeteries) and descansos (little crosses marking the site of someone's death) are regularly tended. Family members visit gravesites on all significant anniversaries, including days of birth, death, and marriage, and adorn the headstone with flowers, repaint the ornate fence surrounding the plot, and commune with their dead by telling stories and praying. In Animal Dreams, Barbara Kingsolver richly paints a vision of one such carefully tended cemetery:
One of the graves, a great-uncle of JT's named Vigilancio Domingos, was completely bordered with ancient-looking tequila bottles, buried nose down … It was a remarkable aesthetic — I don't mean just Uncle Vigilancio, but the whole. Some graves had shrines with niches peopled by saints; some looked like botanical gardens of paper and silk; others had the initials of loved ones spelled out on the mound in white stones. The unifying principle was that the simplest thing was done with the greatest care. It was a comfort to see this attention lavished on the dead. In these families you would never stop being loved.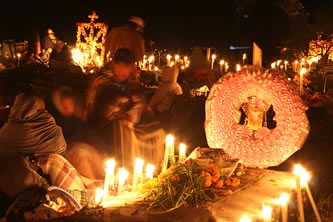 Dia de los Muertos is a time for thorough cleaning and decoration of all gravesites. Old and young, everyone in the family attends the dead on these days and the event is festive, often resembling a large community picnic. Much of one day is spent caring for those interred; those graves with no living family in attendance will receive as conscientious care as any other site during Dia de los Muertos. Again, Kingsolver gives a delicious glimpse of the atmosphere:
Little girls and boys played "make-up," standing on tiptoe with their eyes closed and their arms at their sides, fingers splayed in anticipation, while a grownup used a marigold as a powder puff, patting cheeks and eyelids with golden pollen. Golden children ran wild over a field of dead great-grandmothers and great-grandfathers, and the bones must have wanted to rise up and knock together and rattle with joy.
Elaborate ofrendas are created in virtually every home preparatory for these feast days. Traditional altars are three-tiered and covered in white cloth. Creativity flits and tumbles in the embellishment of these shrines. Decorations may include toys for the children who have died, piГ±atas, balloons, tequila for the adults, cigarettes if the dead one smoked, enchiladas and tamales for everyone, living and dead. Certainly photographs of the beloved dead will grace the altar, as will candles. Besides the calacas (wooden skulls) and skeletons that bedeck the family's ofrenda, pan de muerto and sugar skulls, with each family member's name scripted across the forehead, lay ready to be consumed.
Cascades of purple, white and pink papeles picados (tissue paper decorations) stream around the three tiers. These colors are specific because, for the Mexicans, purple embodies pain, sorrow, and suffering; white stands for hope and renewal; and pink represents life, happiness and celebration. Flowers in abundance, especially the cempasuchiles (yellow marigolds), greet the returning spirits and are often spread from the altar toward the cemetery. Marigolds are known as the flower with four-hundred lives and symbolize death to Meso-Americans. Copal incense (an aromatic resin regarded as holy) attracts the spirits of the dead and welcomes them to the festivities being held in their honor. The favorite music of the dead plays throughout the day, while family members dance and reminisce.
Dia de los Muertos is a communal and convivial celebration. To illustrate, in The Day of the Dead and Other Mortal Reflections, F. Gonzalez-Crussi retells a story of visiting the department of pathology at the General Hospital of Mexico City. He is working with the British Broadcasting Corporation (BBC) on a documentary that has become an exploration of death and the human rituals surrounding it. Film crew and pathologists cram into the hallways of the hospital while an elaborate ofrenda is created during Dia de los Muertos festivities. Poems are recited, ancestors are remembered, and stories are recounted.
Imagine the other half of the scene: Outside the hospital, fireworks explode; parades stream towards cemeteries; thousands of children dance with skeletons of every imaginable construction; adults wearing calacas (wooden skulls) cavort, teasing children and scaring dogs; extravagant picnics abound, moving from street to cementario; singing and storytelling combine in flamboyant and outlandish dramas. Only in Mexico would one find such juxtaposition of death and life.
ART
Toymaking and calaveras are thoroughly interwoven with this fiesta. Most of the images associated today with Dia de los Muertos were originally stylized by Juan Guadalupe Posada (1852-1913) in his satiric posters, etchings, and lithographs. Mexicans have traditionally called Lady Death by such names as La Flaca (skinny), La Pelona (baldy) or La Huesa (bony). Posada's Calavera de la Catrina (fancy lady) drew on this tradition and has since become an ubiquitous icon. She was Posada's pointed reminder to the wealthy — even you shall die, nevermind your mink stoles and ostrich-plumed hats. Now, grinning skeletons grace every conceivable material; even papeles picados sport Posada-like calaveras.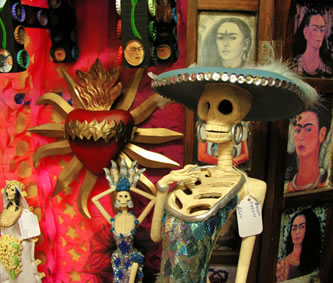 Posada's political art was scathing and bold. He satirized the most powerful and violent people of his time. For example, one of his pieces, Calavera Huertista, portrays the brutal General Huerta. A catalogue to an exhibit at the Art Institute of Chicago in 1944 describes this piece: "Into it he poured all his hatred as a free man of the tyrant whom he portrayed as a repugnant tarantula with the tail of a scorpion, insatiably devouring other skulls." Posada's art appeared throughout Mexico, was easily accessible to all social strata, and was usually accompanied by rhymed verse that derided the politicians and Church of that era.
Oaxaca, a state in the southern peninsula of Mexico, is renowned for its toymaking. Whimsy reaches high art here and Oaxacan animal figures are recognized by collectors and museums throughout the Americas. A hedgehog may be covered with toothpicks to represent its spines, painted with ten colors, dotted with glitter, and wearing a wolf's grin. Cats and dogs appear with extreme tails and ears, frogs with stilt-like legs, fish with each scale a variant of one or two pigments. Skeletons are an important addition to the Oaxacan Dia de los Muertos fiesta and portray every imaginable role: the Nativity, mariachis, priests, bullfighters, nurses, street sweepers, taxidrivers, favorite actors and musicians, political figures. Inexpensive calavera puppets are made of plywood and string and are adored by children.
Somehow it is simply hilarious to witness preposterous skeletons dancing through every phase of life. This laughter at the antics of death serves as the undercurrent for this varied and intricate fiesta called Dia de los Muertos.
Yours & truly,
Jeanne Treadway
SOURCES
Gonzalez-Crussi, F.В The Day of the Dead and Other Mortal Reflections, Harcourt Brace & Company, New York, 1993.
Kingsolver, Barbara. Animal Dreams, HarperPerennial, New York, 1991.
Salinas-Norman, Bobbi. The Day of the Dead.
http://home/planetprojectrel/public_html.peoplesguide.com/1pages/chapts/viva/dodead/bobbi/dodbobi.html
Diaz, Maria. Day of the Dead or El Dia de los Muertos – Oaxaca. Mexico Connect: Mexico's monthly ezine / magazine.
http://home/planetprojectrel/public_html.mexconnect.com/mex_/travel/mdiaz/mdmuertos.html
Mendoza, Mary Jane Gagnier. The Dead Come to Life in Mexican Folk Art.
http://home/planetprojectrel/public_html.mexconnect.com/mex_/travel/mjmendoza/mjmdiadelasmuertos.html
Miller, Carlos. Indigenous People Wouldn't Let 'Day of the Dead' Die.В The Arizona Republic, ezine.
http://home/planetprojectrel/public_html.azcentral.com/ent/dead/history/
King, Judy. Los Dias de los MuertosВ (The Days of the Dead).В On Mexico Connect:В the premium Ezine and Web Site.
http://home/planetprojectrel/public_html.mexconnect.com/mex_/travel/jking/jkdayofthedead.html
Posada. Printmaker to the Mexican People.В The Direccion General de Educacion Estetica, Mexico to the Art
Institute of Chicago, 1944.