A Busy Week in the Local Cosmos
Dear Friend and Reader:
This is a busy week in the neighborhood. I've already said most of what I have to say about the confluence of events that are underway, published with the
November Monthly Horoscope
. I'm going to republish a portion of my lead article here, in case you didn't see it -- or want to give it another layer of study.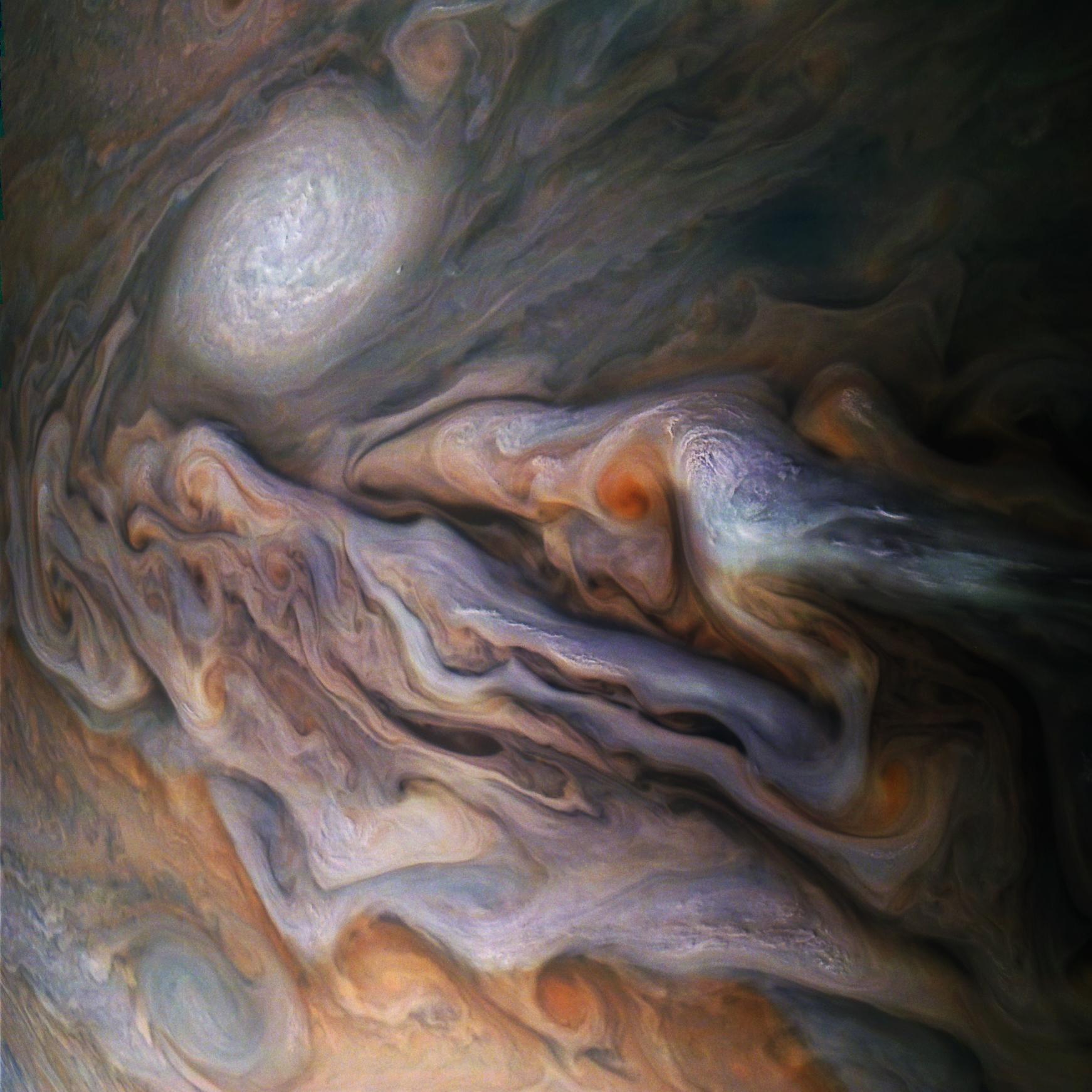 Swirling clouds in Jupiter's North Temperate Belt, captured by
NASA's Juno spacecraft
. Image by NASA/JPL/SwRI/MSSS/G. Eichstad/S. Doran.
It's taken me a while to figure this out, but astrology is a story that never resolves. There are points of resolution, though there are so many cycles running at once that one tends to lead to another, or three or four are going off at once.
That said, this has been an unusual year, with one inner planet retrograde after the next, both of which involved elements related to Scorpio (which tends to make people squirm, though I am personally a fan of those born under this sign, as it comes with its own special
je ne sais quoi
).
My listing of events below does not include aspects, only stations and ingresses. There is, however, a particularly interesting aspect coming: Mars in Pisces square Jupiter in Sagittarius, exact on Monday, Nov. 19 (which will be the topic of next week's horoscope). That's an aspect entirely different from anything we've experienced this long slog of a year. Mars-Jupiter has got some fire to it, and it's building as we speak.
However, we're still in the very last days of Mars in Aquarius, which means Mars anaretic: a sensitive spot, referencing potentially invisible vulnerabilities. Pay attention as that happens. Venus direct and Mercury retrograde the same day -- that one's a gem as well. A lot of information will shake out.
Here is your clip-and-save guide to current events:
Jupiter entered Sagittarius
on Thursday, Nov. 8. This will help shake off the dark, even oppressive quality of Scorpio, of which we've had several overdoses this year.
Jupiter in Sagittarius has an optimistic feeling to it, and will help tap into some wisdom larger than one's own unfilled or desperate emotional and sexual appetites (which were magnified by Jupiter). It will help if we're more positive about life.
However, there are two cautionary notes to this transit. One is Jupiter square Nessus in Pisces, and the other is Jupiter square Neptune in Pisces. Jupiter square Nessus can amplify the pain body. It can exaggerate the feeling of abuse legacy without actually doing anything about it. This is related to the internet, where it's only possible to complain, and nearly impossible to heal.
Jupiter square Neptune
, exact in January, June and September (in effect, all year), is a caution against idealism, hope and false optimism. This aspect, particularly involving Sagittarius and Pisces, can be abject denial (an American specialty or maybe a human specialty), lying to oneself or the rose-colored-glasses effect. There is no less work that needs to be done today than there was yesterday. A realistic attitude toward the work that must be done, and the challenges we face as a society, is essential.
Jupiter square Neptune can also prompt religiosity or true-believership. We have quite enough of those things right now.
Mars enters Pisces
on Thursday, Nov. 15. This concludes the Mars retrograde, which I count (in its very widest metric) from when Mars entered Aquarius on May 15. This was an unusual event in that Mars had not been retrograde in Aquarius since 1971 (Mars retrogrades are skewed more toward the Leo side of the sky). The theme of Mars retrograde in Aquarius is what I would call "anger management."
We hear a lot of talk about toxic masculinity, as if men are the problem. We hear exceedingly little discussion of toxic rage, which is the real issue we're talking about. To ascribe it to any one sex or gender is to project it outward (even if you're a man, it's always the other guy). Mars in Pisces has the virtue of processing emotions through the emotional body.
And Mars through Pisces is, at least, pleasure seeking, rather than a transit that might incline someone to get off on anger. Why bomb your social media enemies with venom when you can eat a pint of Cherry Garcia?
Venus stations direct
on Friday, Nov. 16. Venus retrograde through Scorpio has dragged a good few people through their unresolved emotional patterns and unmet needs. It's the opposite of a comfort zone; there's nothing glamorous about it; it's challenging in ways that are not easily described.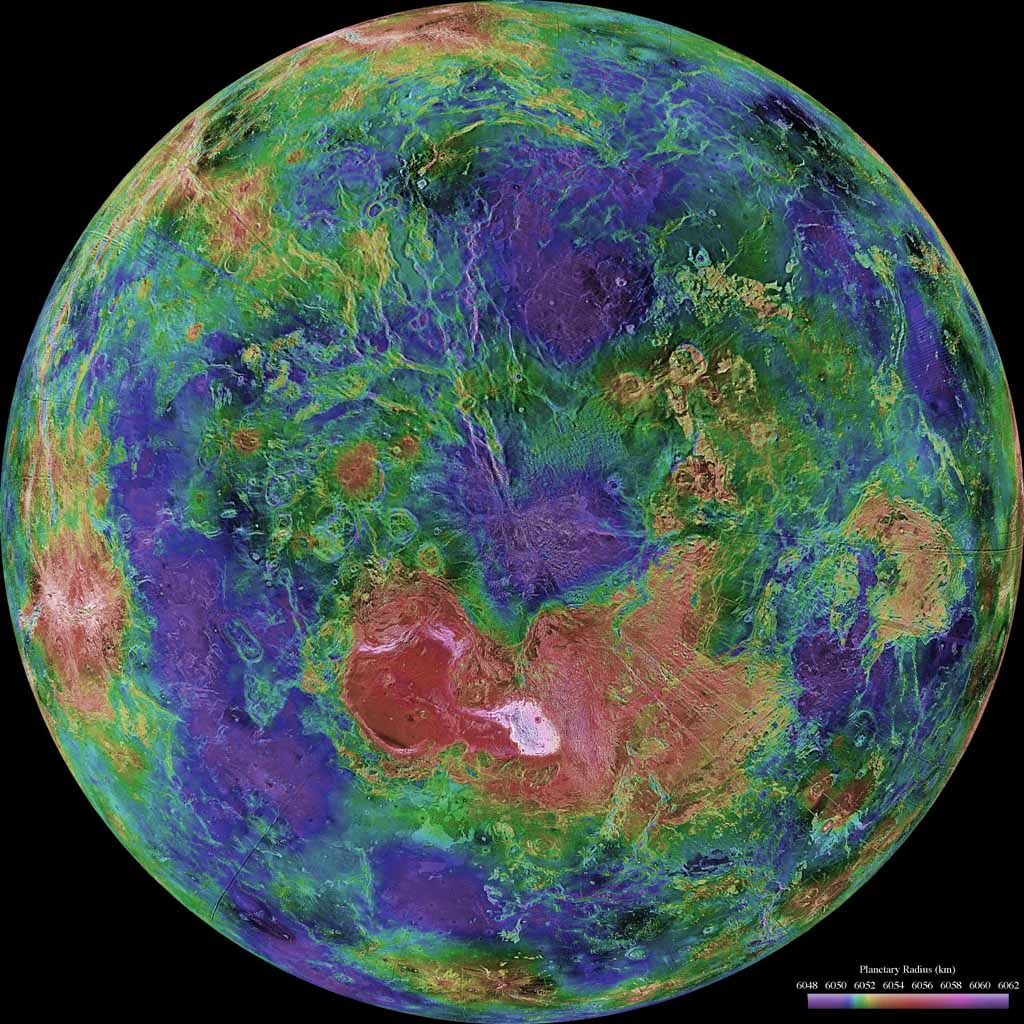 This classic composite image from the Magellan mission is a hemispheric view of Venus centered on the North Pole. Image by
NASA/JPL/USGS
.
Scorpio represents the almost-insurmountable attachments and fears that even the most advanced yogis must confront, such as jealousy, the fear of death, and others.
It's also a confrontation with the past. Many of the subtler themes of this summer's Mars retrograde emerged with Venus retrograde. Mars in Aquarius is the external side of the equation; Venus in Scorpio (a sign ruled by Mars) is the inner sensation of those feelings and perceptions. It's easier to blame what is visible and what is apparent; it's difficult to account for your own feelings and perceptions as having something to do with you or your personal history. Venus stations direct during a quadruple conjunction in Pisces, described below.
Of note is that while most of the retrograde was in Scorpio (where Venus is "uncomfortable" but actually in a strong position --
see related article
), the station direct occurs in Libra. This is a bid to go beyond the appearance and glamor level of Venus and Libra, and to draw on the hormonal strength of Scorpio to be fully present in the world. Perception is more than appearance and it's more than judgment. Be who you are, and give people a chance to get to know you. And when you find yourself in a "comfort zone" or "safe space," that's the time to pay extra attention.
Mercury stations retrograde
on Friday, Nov. 16. A few hours after Venus moves to direct motion, Mercury begins its third retrograde of the year. This year has been the handoff of one inner planet retrograde to the next. This retrograde takes place entirely in Sagittarius, and begins in a conjunction with the Great Attractor. This can have an effect of amplifying controversy -- but who would ever notice? Mercury is exactly square Neptune when it stations retrograde, which is a caution against truthiness and self-deception. But again, whoever would notice?
This is an interesting retrograde pattern in that it begins with the Moon in a conjunction to Mars, Nessus and Neptune in Pisces. Then it ends on Dec. 6 with an exact Mars-Neptune conjunction. That alignment offers more caution against deception and self-destructive activity.
All of these aspects in some way call attention to Neptune in Pisces, an almost invisible transit which needs to be called to the forefront. These aspects will help us do just that. In sum, I would say that the message is: let's get real.
With love,

Planet Waves (ISSN 1933-9135) is published each Sunday and Thursday evening in Kingston, New York, Planet Waves, Inc. Core Community membership: $197/year. Editor and Publisher: Eric Francis Coppolino. Web Developer: Anatoly Ryzhenko. Astrology Editor: Amanda Painter. Quartermaster: Josie Coppolino. Client Services: Amy Elliott, Victoria Emory and Jason Michaels. Finance: Andrew Slater. Technical Assistant: Emily Thing. Copy Editor and Fact Checker: Jessica Keet. Media Consultant: Andrew McLuhan. Music Director: Daniel Sternstein. Bass and Drums: Daniel Grimsland. Additional Research, Writing and Opinions: Yuko Katori, Cindy Tice Ragusa and Carol van Strum.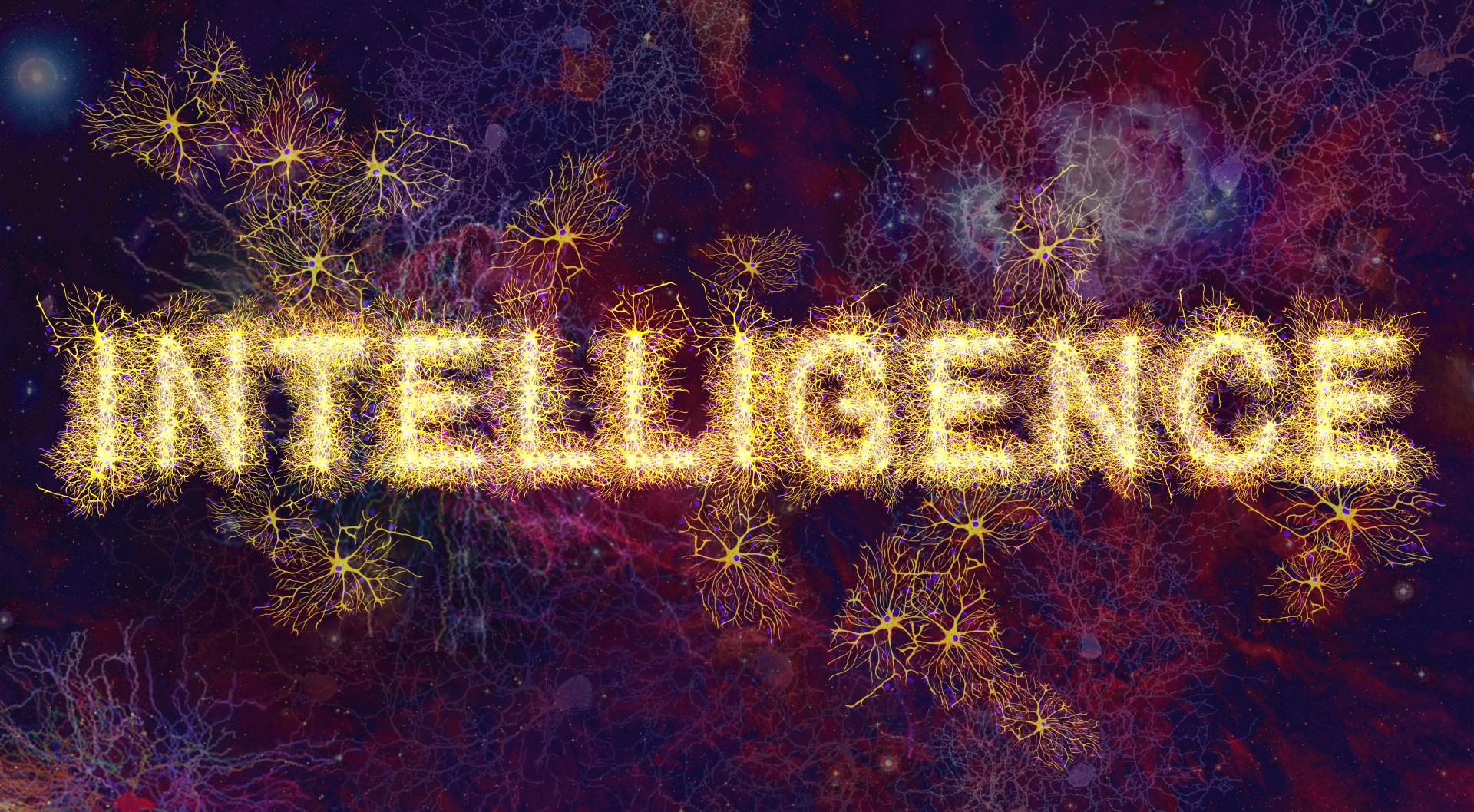 Last Call for Combined Discount on 2019-2020 Annual
Dear Friend and Reader:
As you may know from scanning the astrology websites, 2020 promises to be quite a year -- and 2019 is preparation for those events. They include the Saturn-Pluto conjunction and the Jupiter-Saturn conjunction -- two world-changing aspects in one year.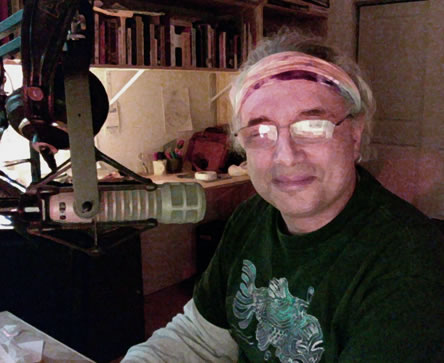 I'm getting ready to record and write the 21st annual edition of Planet Waves. I will be setting aside all but the most essential other work to write and record what amounts to an astrological radio serial and an astrological adventure novel.
The 2019-2020 annual reading is called INTELLIGENCE. That's the one thing we need to make it through the global crisis, and for many, their individual crisis. It's the one thing we need to make the most of our lives.

In that edition, I'll be looking at the astrology up to the Jupiter-Saturn conjunction of Dec. 21, 2020. In this edition I am returning to the format of audio and written, which I have not done for a couple of years.

For the first time that I know of, I'm planning to have the audio format, called RESET 2019, ready by Dec. 31, in time for New Year's Day listening. Then the written portion, looking at 2019 and 2020, will be out some time in February.

This is the last call for the combined 2019-2020 annual edition, including both years at one price, which is now $111. The audio readings include original music by Vision Quest.

Soon, I will be splitting the two projects, and offering each separately for $99 or combined for $144. Individual sign sales for each year will begin at $44. So this offer is a significant discount on what promises to be a beautiful, helpful and reassuring astrology resource.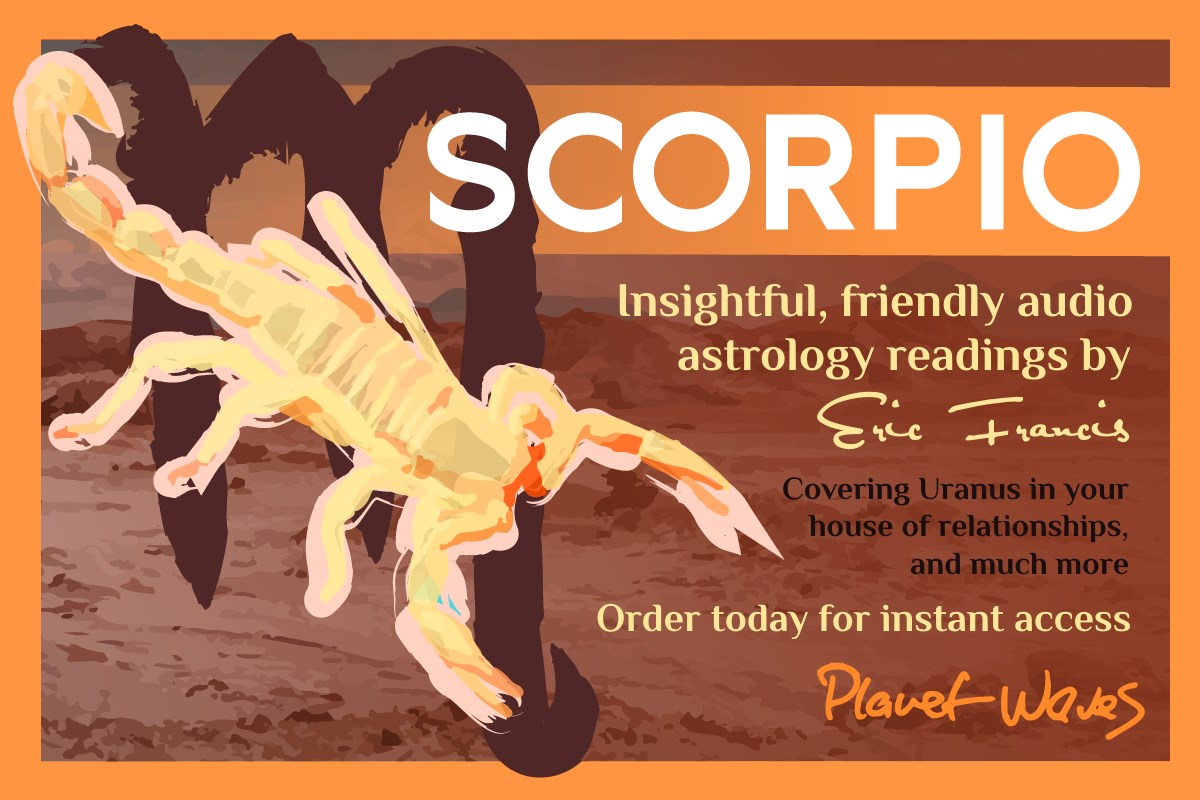 Bring All of You into Your Life, Scorpio
"All the readings for the signs I was born under, Aquarius, Scorpio and Aries, were right on. The Scorpio reading described my life right now and was much needed! Thank you!"
-- Columba Genubath
With at least an hour of audio astrology available now for instant access (in two segments) and a tarot reading that will be sent to you a little later, your 2018 Scorpio Astrology Studio reading gives you the best of Eric's 20 years of astrology experience, therapy training and investigative journalism to get yourself oriented and motivated for the months to come.
"Many thanks for this precious and profound reading. As a Scorpio Moon, Venus, Uranus and North Node soul, I definitely feel like this reading provides just the right impetus to finally have the courage to be myself."
-- Diana B.
You can listen to last year's reading here, as a gift. Check Eric's accuracy, and then order your new reading to get a better handle on your relationships, career, sexual energy, spiritual growth and healing, and more.
"My previous Birthday Readings have been very, very helpful. I refer to them throughout the year. The tarot readings have been particularly informative."
-- Carolyn Cornish
This reading also makes a thoughtful gift!
---
Listen to Vision Quest on Live Stream
Planet Waves has an in-house music ensemble, called Vision Quest. We have a 38-hour loop of our music, which
you can listen to any time
. Included are finished pieces, rehearsals, live concerts, drum grooves, and spoken word recordings. I consider it a kind of musical divination. Click in randomly at different times of day and see what you discover.
---
Our Gifts to You: A Little Something Extra
Dear Friend and Reader:
It took me a long time to figure out what kind of gift to offer for new and returning subscribers. Tee shirts seemed too complicated; you need at least six sizes to get started, and not everyone wants a shirt. Tote bags are useful but kind of boring.
So I thought: journals. I love notebooks, and just about everything I write starts scribbled down on paper. I know my readers are a little old-fashioned, so this seemed like the perfect thing.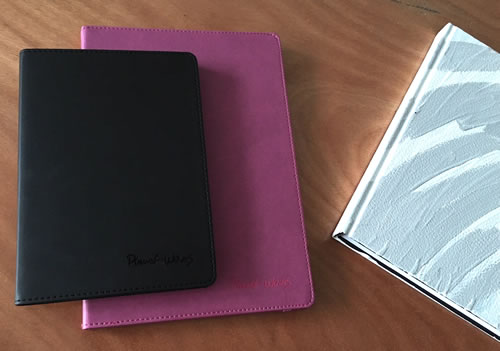 Black smaller, pink larger, embossed with the Planet Waves logo. There are a few hand-painted sketchbooks left, with heavy, acid-free paper.
Then...I researched embossed journals for about six months. That's how long it took. I requested or purchased samples of the best that suppliers had, and all kinds of stuff came floating in the door. It was more challenging than I imagined to find a nice one, though finally I did.
Everything had to be right: the paper, the lines, and how the book feels in your hands.
However, the one I selected was being discontinued. I ordered as many as we could reasonably afford. We now have two main options: small black ones, and larger pink ones (these are new).
Together, they are the approximate color of Good & Plenty candy. I am one of these people who loves anything pink (sweatshirts, nail polish, headbands, a hot pink Squier guitar that I gave to Zosha a few years ago). We also have a few hand-painted notebooks left, which are acid-free sketchbooks.
You can get an embossed notebook with any monthly, quarterly or yearly membership to Planet Waves. If, by the way, there's a calling for hand-painted ones, I will make one more-or-less to your preferences (for those who sign up for a full-year Backstage Pass).
Continue reading this letter here.

Monthly Horoscopes and Publishing Schedule Notes
We published your extended monthly horoscopes for November on Wednesday, Nov. 7. Your extended monthly horoscopes for October were published on Tuesday, Oct. 11. Please note: we normally publish the extended monthly horoscope after the Sun has entered a new sign.

Monday Morning Horoscope for Nov. 12, 2018 | By Eric Francis Coppolino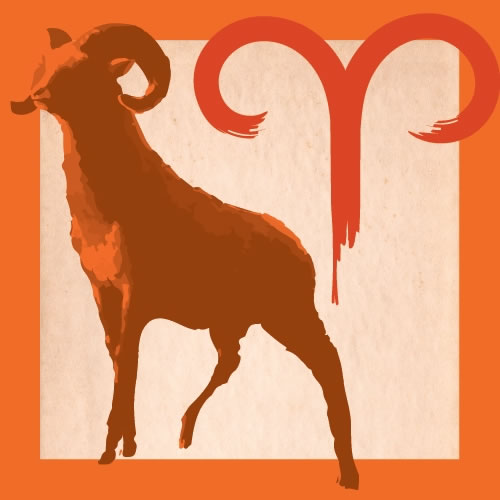 Aries
(March 20-April 19) -- You need to maintain your focus, which you will do by limiting the number of people you communicate with. That's been a little out of hand lately, and you may be feeling scattered as a result. This feeling is the main thing to monitor, and keep bringing yourself back on track when you have important or timely things to accomplish. Your situation seems more complex than it is, and you will feel clearer in your direction as you prioritize and work your tasks in order of significance. What's happening at the moment (among many other things) is that your ruling planet Mars is working through the last few degrees of Aquarius, where it's been hanging out for most of the year. This represents a shift in your life pattern, and there are many loose ends to tie up. Yet it may feel like you'll never get it all done, which could in turn lead you to not want to do anything. Don't fall for that illusion, use your tools well, and take a break from social media. Right now, it's a drain.
Get your full Aries reading by Eric here.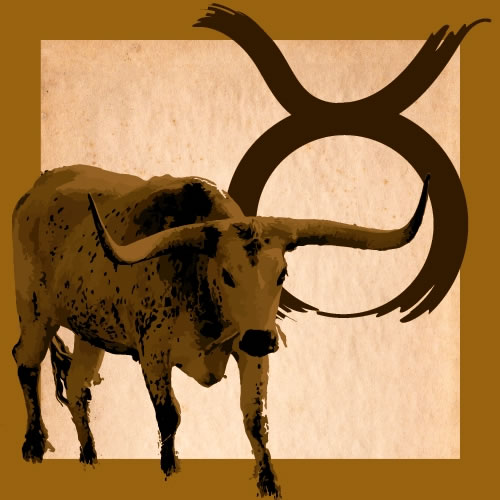 Taurus
(April 19-May 20) -- You may be feeling on edge as Venus, the Taurus planet, slows down and gets ready to change to direct motion in a sensitive area of your solar chart. You might be feeling some pressure on a relationship, though none of what you're feeling is about anyone else. Rather, you're in a phase of reorientation, which means finding your direction. If you're willing to live with some confusion for the next week or so, which means not fighting yourself, you will get enough information to be confident in your choices. These are more personal than they may seem, and you'll need to take a step away from the idea that how someone else feels is more important than how you feel. There's also something about the "type" of relationship you might be in, though trying to size things up by category listing is not going to work for you either. Every experience you have with every person is distinct, and you respond to every person differently.
Get your full Taurus reading by Eric here.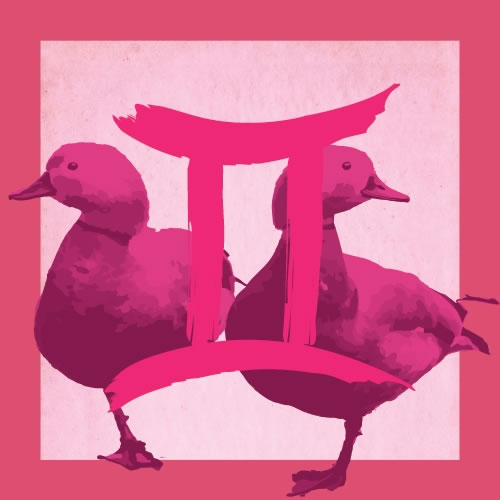 Gemini
(May 20-June 21) -- Mercury is close to its retrograde position, and that begins in about four days (Nov. 16). This is calling for you to be keep a sense of proportion and scale. You may have a tendency to see things that are barely relevant as being tremendously meaningful, and to miss things that actually matter. Generally, you can pay less attention to what seems controversial or has a feeling of polarization to it. Pay attention to things that come in from the side, or that seem to whisper. All in all, you will need to be a little less trusting, even a little less gullible, and give the truth time to emerge, before you decide what has validity. It's unlikely to be whatever yells the loudest, or sows the most dissent. It's not going to be the person trying to sell you something or convince you of anything. So you will need to tune out distracting influences and listen to your inner voice. There's no rush to make any decision, and there are many good reasons to take it as slowly as you can for a couple of weeks.
Get your full Gemini reading by Eric here.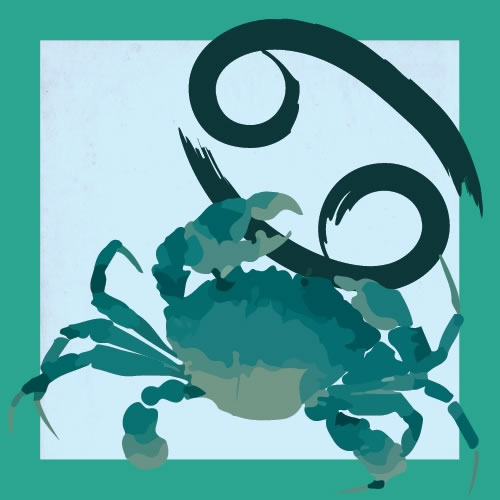 Cancer
(June 21-July 22) -- Try not to get wrapped up in the problems of other people, and keep a focus on yourself. This isn't easy for you, as it's your natural tendency to be mother hen, event coordinator and grief counselor. Yet you have plenty of your own business to attend to, both personal and professional. You also know that future plans are calling you, and you have some loose ends to tie up before you can get to it. Therefore, focus on that, and persistently avoid the pains and frustrations of others, to the degree that you can. There is a limit to what you need to give. It's one thing to offer an open ear and make a suggestion; it's another thing to get emotionally involved. Yet this distinction has often proven challenging for you. This is a boundary issue, and an important one. Keep an eye on the line where you end and where everyone else begins. It's not as thin as it seems, and it most definitely exists.
Get your full Cancer reading by Eric here.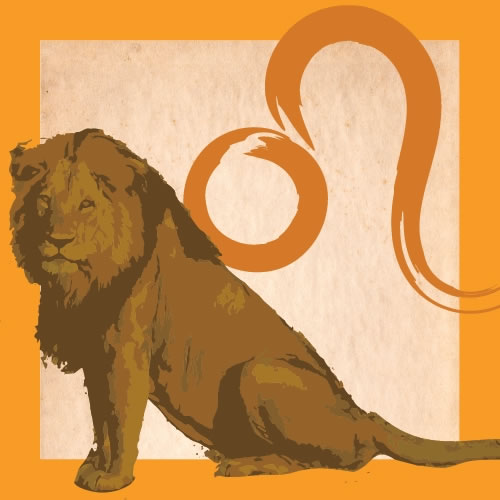 Leo
(July 22-Aug. 23) -- Pace yourself at work this week, and focus on people, rather than on projects. Make sure you get enough rest, particularly early in the week, because you will need your wits about you. The long process of Mars retrograde is finally drawing to an end, as Mars in Aquarius makes its way out of your house of relationships and into the much deeper territory of Mars in Pisces. As this transition happens, you will be vulnerable to the comments and the actions of others. Conflicts that you thought were in the past may arise, and if so, you'll need to remember what you've already resolved and not let anyone lure you into forgetting. This will in part be a test of confidence, and also an opportunity to keep a handle on the fact that you are, in reality, a balanced and sane person. However, you're apt to forget, in part because of your tendency to be so hard on yourself. That is destabilizing, and it has a negative influence on your relationships.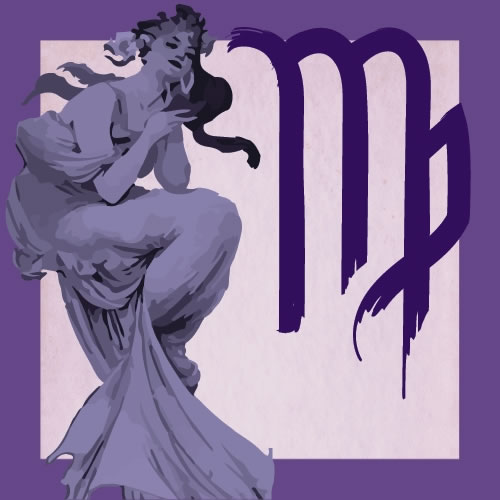 Virgo
(Aug. 23-Sep. 22) -- If you find yourself making the same error repeatedly, you need to widen your perspective. It's as if you're looking at the world through the wrong end of binoculars, and everything seems smaller and more distant than it really is. The alternative is to take a wide view, and to notice the ways that all things are related or at least set in the context of one another -- especially yourself. You are not separate from the world around you, even in those times when you may feel alienated from others. That's only a feeling. Though you may have reason to doubt yourself, if you're honest you will see that you have even more valid reasons to have confidence in your abilities and your place in the world. Don't fall for the delusion that life is easier for other people -- everyone has their specific form of struggle, and you don't want anyone else's. You're much better off with your own particular challenges. You can handle them just fine.
Get your full Virgo reading by Eric here.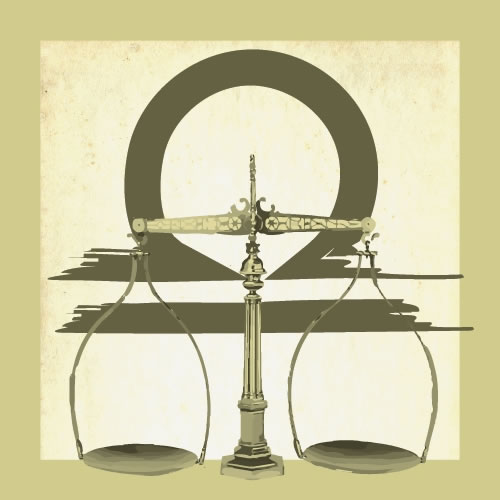 Libra
(Sep. 22-Oct. 23) -- We're now in the last few days of Venus retrograde, which is especially palpable for you because Venus is your planet, and this is happening in your sign. The Venus retrograde process seems to have gone on longer than it really has, which is because you've been grappling with questions that are concentrated and potentially unpleasant: in particular, matters of self-worth. Please note, however, that this question is a luxury. If you have time to think about it, you have the freedom to do so, and that implies the possibility for growth and movement: again, luxuries. When the question is one of necessity, you make immediate decisions; you decide that there's a better life for you, and you do everything in your power to make it happen. I suggest you either be content with your lot in life, or engage the process of making changes. Those are your only actual, practical choices; if you try to linger between them, you will only experience the futility of inaction. Perhaps you have something to lose if you try and fail, though that's true in any event.
Get your full Libra reading by Eric here.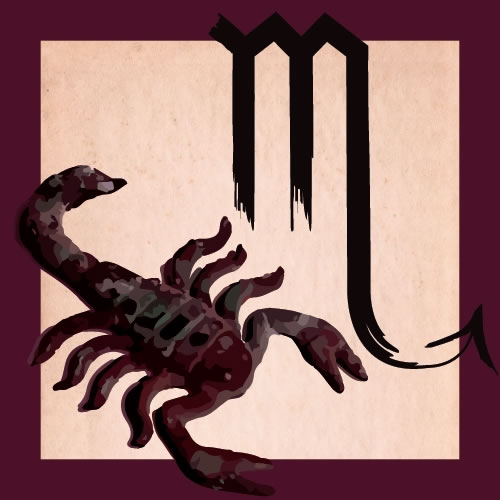 Scorpio
(Oct. 23-Nov. 22) -- Your region of consciousness -- Scorpio, and its ruling planet Mars -- have been the focus of some intense drama this year, and now that is all starting to fade away. Jupiter has left your sign, which will help you put your life, your issues, and your needs into proportion. Venus is about to station direct, and will for a few weeks work its way back across your sign, which represents a re-evaluation of all the re-evaluating you've been doing lately. Remember that the message of this unusual retrograde was you having the opportunity to see and feel the world from the viewpoint of the people closest to you. Have you done that? Do you have more empathy for the people you care about, live with, love, or admire? Your own dramas tend to subsume your mind, though you're past the point where that is practical, helpful or in any way productive. Place yourself on equal footing with those around you. Offer what you have, and receive what is given. There's plenty to go around.
Get your full Scorpio reading by Eric here.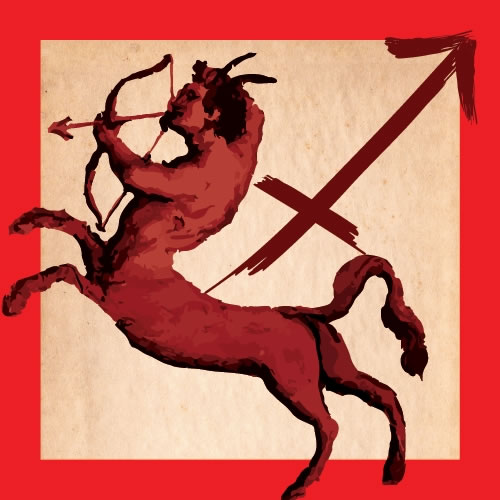 Sagittarius
(Nov. 22-Dec. 22) -- Jupiter has entered your birth sign for the first time since last showing up on Nov. 23, 2006. With the world moving in dog years, that was a long time ago, yet it may seem like those events and developments were much more recent than they really were. What was happening for you at the time? What challenges were you facing? How did you envision your life? Then, consider how that worked out over the next 12 years, right up until today. For context, consider the midpoint between now and then, which was June 11, 2012. This will help you frame the ways in which you use time, and give you a sense of its actual duration. That is a form of value. Time is the most valuable resource on Earth, because it's the most limited, and the one thing without which nothing else is possible. With Saturn in your neighboring sign Capricorn, that is especially true: don't squander your hours, your days, your weeks or your years. Use every moment well.
Get your full Sagittarius reading by Eric here.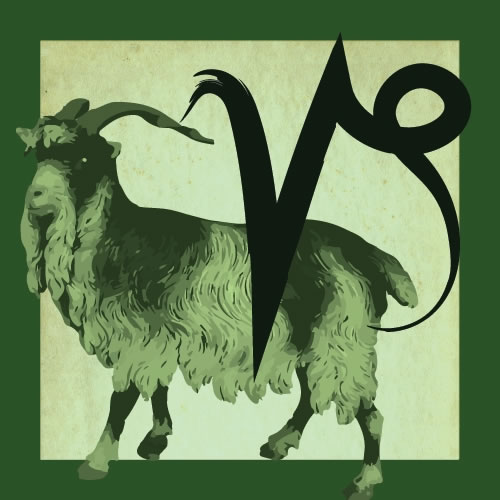 Capricorn
(Dec. 22-Jan. 20) -- Take what happens in stride this week, and don't feel like you have to rush to anyone's aid or rescue. That could be you distracting yourself from your own pressing business at hand. Be cautious of the idea of sacrifice, whether as something you offer, or something you feel like you can demand from someone else. Everyone has their hands full at the moment, and the best way you can be helpful is to take care of yourself, and pay attention to the people in your immediate surroundings. If any assistance is needed, you will be able to offer yourself in ways that don't place a stress on you, but which are in fact helpful. If you're called to offer something significant, the clue that it's the right thing to do will be that you don't feel a sense of sacrifice. You will just know that you need to do what you can, or give what you can. That's the mark of true responsibility: the knowledge that something is right.
Get your full Capricorn reading by Eric here.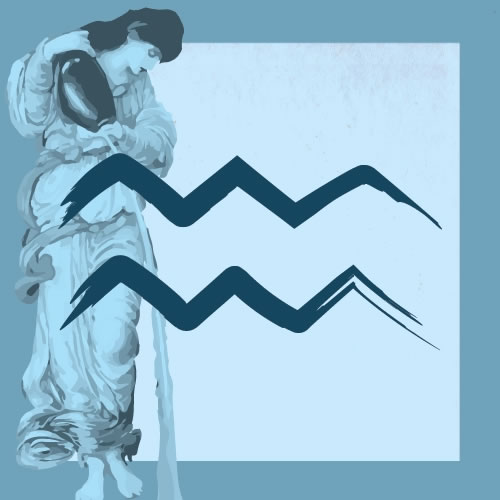 Aquarius
(Jan. 20-Feb. 19) -- Amidst much other planetary activity, Mars is making its way through the last couple degrees of Aquarius, the scene of the infamous retrograde through this summer. This is the thing to focus on: what happened this summer, what you learned, and what may remain unresolved. You may not be able to resolve it this week, though you can take a step toward doing so. Between Venus stationing direct and Mercury stationing retrograde within hours of one another, information will shake out of the ethers. In particular, you may get some insight into your own motives, or those of others whom you have encountered during this rare, curious and potentially tumultuous transit. Don't just do that American thing and trample forward without looking back. Take some time and reflect, and make sure you are in possession of both the wisdom and the lingering questions of the past. Ignorance is no excuse, and is not any evidence of being alive. Wherever you may go, bring your curiosity and your power of observation with you.
Get your full Aquarius reading by Eric here.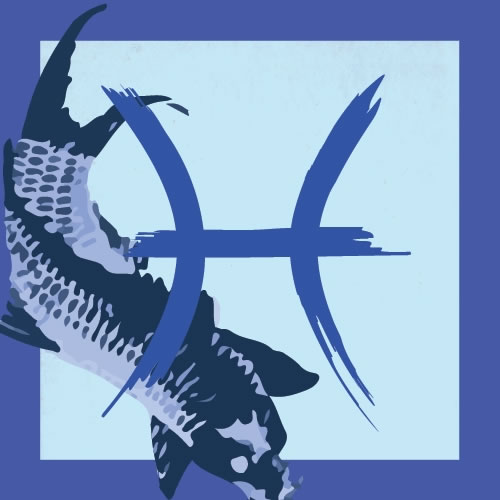 Pisces
(Feb. 19-March 20) -- Mars enters your birth sign this week, after dancing around for nearly six months in your solar 12th house, Aquarius. This has probably dredged up all kinds of material for you, though most of it was unlikely to be your personal possession. The 12th is the house of ancestral baggage, and you've been clearing out a good bit of that lately. Mars enters your sign just after Jupiter has crossed the midheaven angle of your solar chart. Mars will grant energy while Jupiter will expand your sense of what is possible; the two work well together. Yet it's essential that you pace yourself, even as you strive to achieve great things. You want steady, thoughtful movement, not instant results. Make sure that you consciously prioritize, which needs to be a daily activity, reviewed through the day. In particular, take it easy on the ambition/aspiration front during Mercury retrograde, which spans from Nov. 16 through Dec. 6. Double and triple check facts, figures and contracts, and take nothing at face value.
Get your full Pisces reading by Eric here.
---
To unsubscribe, click here. To unsubscribe from all future Planet Waves emails, please write to cs@planetwaves.net
Copyright © 2018 by Planet Waves, Inc. All Rights Reserved. Other copyrights may apply.
Some images used under Fair Use or Creative Commons attribution. >>