Our Gifts to You: A Little Something Extra
Dear Friend and Reader:
It took me a long time to figure out what kind of gift to offer for new and returning subscribers. Tee shirts seemed too complicated; you need at least six sizes to get started, and not everyone wants a shirt. Tote bags are useful but kind of boring.
So I thought: journals. I love notebooks, and just about everything I write starts scribbled down on paper. I know my readers are a little old-fashioned, so this seemed like the perfect thing.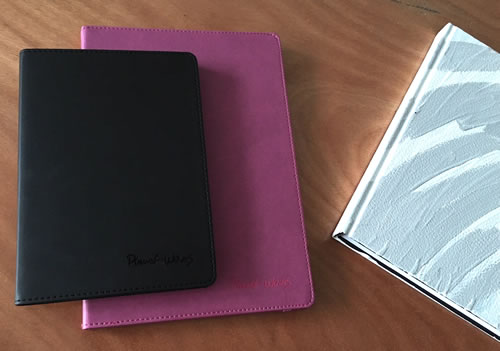 Black smaller, pink larger, embossed with the Planet Waves logo. There are a few hand painted sketchbooks left, with heavy, acid-free paper.
Then...I researched embossed journals for about six months. That's how long it took. I requested or purchased samples of the best that suppliers had, and all kinds of stuff came floating in the door. It was more challenging than I imagined to find a nice one, though finally I did.
Everything had to be right: the paper, the lines, and how the book feels in your hands.
However, the one I selected was being discontinued. I ordered as many as we could reasonably afford. We now have two main options: small black ones, and larger pink ones (these are new). Together, they are the approximate color of Good & Plenty candy.
I am one of these people who loves anything pink (sweatshirts, nail polish, headbands, a hot pink Squier guitar that I gave to Zosha a few years ago). We also have a few hand-painted notebooks left, which are acid-free sketchbooks.
You can get an embossed notebook with any monthly, quarterly or yearly membership to Planet Waves. If, by the way, there's a calling for hand-painted ones, I will make one more-or-less to your preferences (for those who sign up for a full-year Backstage Pass).
Core Community: Astrology Kit
Then there's the other thing -- the astrology kit. This started as Melja's idea (she is the Queen of Retail, in Las Vegas). Give people their chart! She must have said it five times, and I got the message. She was right.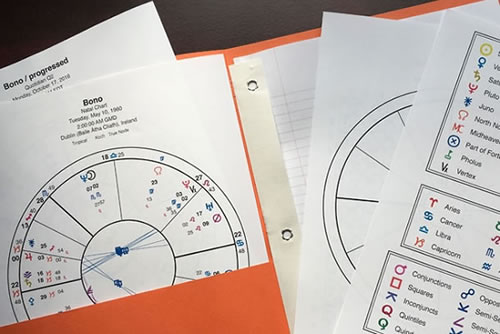 This is the astrology self-study kit. It includes your natal, progressed and most recent solar return charts, as well as blank wheels, a glyph key, blank writing pages and other handy tools. It's custom-cast for you.
If you sign up for a Core Community membership, we give you more than your chart, though.
You get an astrology kit, which includes your natal chart, your progressed chart, an aspectarian, a glyph key, blank wheels and high-quality blank loose-leaf pages, in a little binder -- exactly the thing I would take to a desert island.
These are VERY nice.
Especially the paper, and the print quality of the charts. We are using the Graphic Astrology program from my friends at Time Cycles Research.
Your natal chart comes in two formats: with a bunch of centaurs and asteroids; and in a more basic format. Ellen makes these all up by hand, personally.
That Little Something Extra: A Chart Highlight
If you extend, revive or renew your Core Community membership or Backstage Pass, I'll write you a paragraph about the most interesting feature I see in your chart. It may be my take on some odd thing that no other astrologer would see. Your write-up will be about the length of a weekly horoscope entry.
(Note -- I have learned some of the most important things about my chart from off-the-cuff remarks made by astrologers I've met, such as Barbara Hand Clow, who years ago sent my chart back to me with one sentence scribed across it in her beautiful cursive handwriting.)
If you place your subscription order by Thursday night, I'll include a comment about your natal chart with your astrology kit -- always friendly, affirming and encouraging. Like everything we do at Planet Waves.
Thank you for renewing, extending, upgrading or reviving your subscription. Thank you for trusting us as your astrologers.
By the way, if you want to subscribe or re-subscribe by phone, just call (845) 481-5616.
With love,

PS -- You are the only sponsor of Planet Waves. We accept no advertising, and no corporate sponsorship. This is challenging, though it's far better for our relationship to be one-to-one, with nobody influencing our point of view.