Next Up: Chiron in Aries
Listen to Planet Waves AM/FM live tonight at 10pm EST on Radio Kingston.
Dear Friend and Reader:
Mercury has stationed direct, and the Aries New Moon is exact tonight just before 10 pm EDT (02:00 UTC). The next event up is Chiron entering Aries, which takes place Tuesday at 4:09 am ET (08:09 UTC).
Chiron's sign changes are always significant, in that they often arrive with immediate shifts in the social climate and turning points in history. What may have seemed impossible in one moment of time is suddenly the thing that's happening in another.
Chiron began its journey through Pisces in April 2010, and the span since then includes news events such as the BP oil spill, the Fukushima nuclear meltdowns, the Arab Spring movements, Occupy Wall Street, the Wisconsin public employee labor movements, the Trump campaign and the first two years of his administration.
Astrologically, Chiron in Pisces ran in parallel with Uranus in Aries, and all of those many related events: the seven squares of Uranus and Pluto; the three events of the Uranus-Eris conjunction; and the beginning of the Pluto-Eris square. For those new to this astrology business, that's a lot -- and I do mean the motherlode -- of outer-planet activity. During this time, so far as I can tell, the main event in society has been the rise of the portable phone-based computer -- the iPhone, and its flurry of imitators. These have changed the structure of psyche and of society in ways that we are only beginning to figure out.
It's a bit much to go into in a short letter, though
this article will give you some insight
into what I've been thinking.
However, Prof. Eric McLuhan summed it up in a few words, which will take on new meaning under Chiron in Aries: "The body is everywhere assaulted by all of our new media, a state which has resulted in deep disorientation of intellect and destabilization of culture throughout the world. In the age of disembodied communication, the meaning and significance and experience of the body is utterly transformed and distorted."
Said another way, the entire world has been turned inside-out.
The Sacred Space of Self
Now Chiron is about to move from Pisces to Aries -- two rather different energy fields, which are joined by something called the Aries Point, or the first degree of Aries. Technically called the "sidereal vernal point" or SVP, this is a location of the zodiac that merges the individual and public realms -- and today, the Aries Point is a raging river of events, information, security breaches and social media privacy breakdowns.
Chiron in Aries is about taking responsibility for oneself. This is not about identity but rather about the ground of being, so much as we can get there with a body and a personality as our vehicles.
The time has come to return to speaking in "I-statements," taking responsibility and ownership of your own experiences, and making a point to distinguish yourself from group identity.
These things alone will thrust many people into a kind of identity crisis, since so much of our identity is currently tribal, but struggling to be something else.
Among the first-tier properties of Chiron is standing out, distinguishing oneself, and being different -- pretty much no matter what the cost.
When Chiron is present, it's time to be a maverick (which was the first keyword associated with this point, granted by its astronomical discoverer, Charles Kowal). It's pretty easy to hide by trying to blend in, though this comes at the expense of learning how to be yourself. Not being yourself means being someone else, which is not possible -- so the crisis is something of an encounter with the reality gap.
The image of Chiron entering Aries is that of many people waking up at the same time, though what they wake up to will differ. One possibility is anger. There is no estimating the amount and depth of suppressed rage that is brewing underground in the collective psyche. This rage is bending and twisting all of emotion, resulting in some strange and unpredictable effects in society.
Tonight on Planet Waves AM/FM on Radio Kingston
I'll be considering Chiron in Aries on tonight's edition of Planet Waves AM/FM, scheduled for live broadcast at 10 pm ET / 7 pm PT on
RadioKingston.org
.
The program will include an extended discussion of the horoscope column, which I will first debunk and then, in the next section, explain how the astrology and the writing work together to create the effect.
Finally, in the Tantra Moment segment, I'll be talking about boundary negotiation in sexual relationships. This is barely discussed, anywhere: people are expected to know, including in an environment where the notion of boundaries and that of appropriateness change on a near-daily basis.
Catch you then!
With love,

---
Planet Waves Community: A Beacon in the Darkness

New Excerpts From The Art of Becoming -- All Signs
"Wow -- what a reading! I have been struggling for years trying to find that part of me, the one with drive, ambition, fearless aspirations, vision and a mission. Where has this person gone to? Why is everything I do being sabotaged or not manifesting? Now it all makes sense with Sagittarius! The disappearing, going missing, being waylaid. After this reading, I feel renewed, energized and hopeful. This came at a perfect time. Grazie mille Eric -- you hit it on the head again!!" -- Nanci, on the Capricorn Art of Becoming reading
Dear Friend and Reader:
The Art of Becoming
, our inspiring 2018 annual edition, has generated a lot of feedback like Nanci's. Eric's ability to help readers find the best in themselves is one of the qualities our customers and subscribers value the most about our work. This year's annual is no exception.
Click the links below for a snapshot of what this delightful edition contains, with brand-new excerpts from each of the written readings. We recommend you order
all 12 signs here
in order to benefit from the best value; you may choose your
individual signs here
.
Navigate directly to your sign preview:
ARIES | TAURUS | GEMINI | CANCER | LEO | VIRGO
LIBRA | SCORPIO | SAGITTARIUS | CAPRICORN | AQUARIUS | PISCES
With best wishes,

Amy Elliott
---
Listen to Vision Quest on Live Stream
Planet Waves has an in-house music ensemble, called Vision Quest. We have a 38-hour loop of our music, which
you can listen to any time
. Included are finished pieces, rehearsals, live concerts, drum grooves, and spoken word recordings. I consider it a kind of musical divination. Click in randomly at different times of day and see what you discover.
---
Four Winds Almanac Now Includes Daily Horoscope
Planet Waves publishes a nifty daily astrology newsletter called the
Four Winds Report
. Designed as a fast read arriving early in the morning, we're now trying an experiment -- we're including the daily horoscope for everyone.
Were it not for horoscopes, I wouldn't be an astrologer. It was the Patric Walker daily that convinced me there was actually something to astrology, and I got my basic education studying his column each day in the
New York Post
.
I pack a lot of energy into each sign's 50-word write up. Part of the value of astrology is the timing, and daily allows for precision, as well as chronicling a narrative day by day.
Your almanac also includes information about Mayan astrology (long count and short count dates), several formats of the current date (including Hebrew and Islamic), a daily birthday reading, and special discounts on products and services.
Best of all, we take no outside advertising
.
Sign up free here
.
Monthly Horoscopes and Publishing Schedule Notes
Your extended monthly horoscopes for April were published on Thursday, March 29. We published your extended monthly horoscopes for March on Thursday, Feb. 22. Please note: we normally publish the extended monthly horoscope on the first Friday after the Sun has entered a new sign.
Aries
(March 20-April 19) -- There's been one major event after the next in your sign over the past several days, and Mercury is in direct motion. There's a New Moon tonight (Sunday); and through the week, the Sun is conjunct Uranus, the bringer of ideas and revelations. Yet something truly momentous happens with Chiron's entry into your sign Tuesday, a cycle that last began in 1968. We are entering an enormous time in history, as are you, in your personal journey. Chiron in one's own sign is a radical time of awakening self-awareness, and all these other events are preparing your energy-body to be wide open enough to accept the experience. Chiron is deep medicine for the soul, and an agent of change like no other. On a deeper level, you are now embarking on an initiation process: you are an initiate. That is a distinction, though a humble one. One step at a time, plant your feet upon The Way.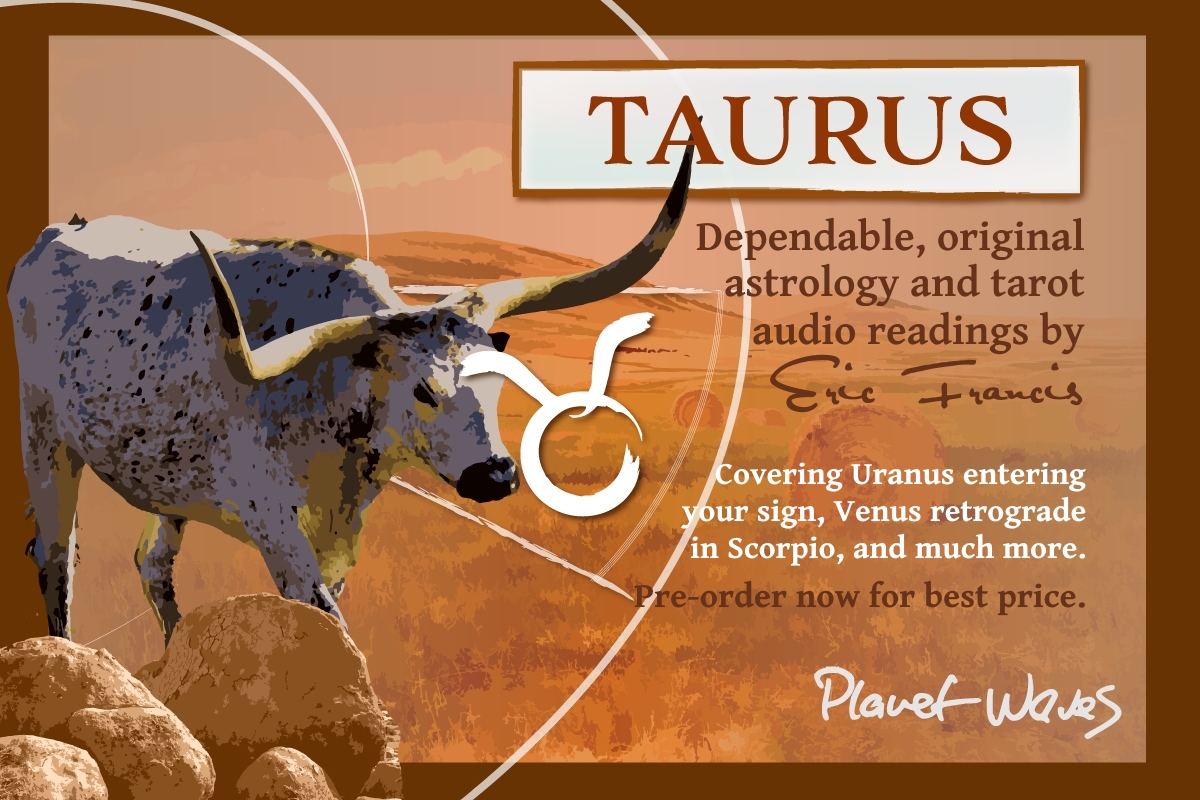 Taurus Birthdays 2018:
Surprise Yourself This Year.
"I've known Eric Francis and his work since 1997; we did a phone reading. He was my lifeline, which helped through 15 years of raising two boys solo, and he's still helping me through life/identity crisis, post children. His vision is uncanny -- he seems to know Taureans better than we know ourselves."
-- Leo L.
Dear Friend and Reader:
Are you ready for this year?
Uranus, the planet of the unexpected, arrives in your sign in less than five weeks
. And Chiron -- raiser of awareness -- begins its transition into the most veiled part of your chart in less than
one
week.
Translation: how you experience yourself -- both consciously and unconsciously -- is about to change shape.
Or to put it another way: get ready to surprise yourself
.
Speaking as someone with her Sun in Taurus, I am well aware that unexpected changes, particularly the kind that seem to happen forcibly through outside factors, can be incredibly challenging. Yet, I've also discovered that the more I initiate doing things in a new way, or allow a new part of myself to emerge and develop, the happier I am. I'm actually curious to see how that unfolds when Uranus arrives in my Sun sign.
You can bet that Eric is going to cover this dynamic and the sign changes of Chiron and Uranus in
your 2018 Taurus Birthday Reading
.
If you read your annual reading for Taurus (The Art of Becoming), you have some sense of what to expect. But Eric creates the birthday readings fresh; and
when he records your two segments of audio astrology (at least 30 minutes each), he'll have the benefit of Chiron's first weeks in Aries to draw from
.
When you
pre-order your 2018 Taurus Birthday Reading
, you lock in the lowest price we offer.
As the reading nears publication, the price increases
. If you'd rather place your order by phone, you may call us on
(877) 453-8265
from within the U.S., or
(206) 567-4455
internationally, during Eastern business hours.
"Ah Eric -- just listened to your reading. I was moved to tears by your closing words. Your passion, deep care and love always shine through; and you have the gift of all great teachers, of making one feel that one is being personally addressed, respected and taken care of."
-- Liz Glanville
Wishing you all the best for the upcoming Taurus season,

Amanda Painter
---
Taurus
(April 19-May 20) -- You have a passport to experiment with some of your boldest visions. You seem to have a few of those at the moment; from the viewpoint of your solar chart, your future looks like a busy metropolitan airport. And right behind that airport is a kind of spaceport, which most people are too busy getting their flight to notice. However, there's just one of you, and you can only be one place at a time, or have one experience at a time. So go from one experience to another and live the experience fully, whether it's working, creating art, sharing time with loved ones or exploring sex -- all of which are favored for you at this time. Or said another way, you have this beautiful opening to really and truly be you all the time. The world is a little uptight right now, but don't let that stop you. You have the charm and the Teflon to keep the flow going and any bad vibes sliding off of you.
Gemini
(May 20-June 21) -- One of the strangest Mercury retrogrades in modern history ended Sunday. Over the next two weeks or so, you'll get a kind of debriefing on everything that's taken place, and you'll be able to see it from a different point of view. Note the contrast between what you observed the first time and what you observe now -- about yourself, about others, and about the nature of recent events. You will get to rewrite some patterns and shift some expectations, which nearly all involve the way you handle yourself in group situations. The thing to remember is that you're not responsible for anyone else's feelings but your own. This can be challenging to see, to understand and to accept, though there's a boundary issue involved -- that boundary being the one between you and everyone else. Do not take on the projections or expectations of others. Hand them right back to where they came from.
Cancer
(June 21-July 22) -- It's time to pivot in the direction of certain professional plans that you've been brewing for a long time. This involves a shift in your assignment, your responsibility level, and your point of view. Your natural tendency is to live in such a way that you're responsible for yourself: you want to be your own authority, and you're willing to do the work involved in having that be real. Often this will entail asserting yourself against existing structures of authority, and persisting until such time as there is either a mutual understanding, or at least agreeing to disagree. You, however, must always be in accord with yourself, which means working out your inner differences before you take a position on something. Here's a clue about that: your opinions must be based on facts; and certain key data points are about to emerge, as well as a template for seeing the pattern -- and a plan.
Leo
(July 22-Aug. 23) -- You're getting one idea after another about different ways to take your life, including places you want to visit, and great things you want to achieve. At the same time, the here-and-now is calling you: you have plenty to do, plenty to keep you busy. In the midst of all of this activity, it's essential that you focus one primary task, and work every day on a long trajectory that will arrive at a completion point around April 26. This is the one thing you must come back to every day, and aim for finalization several days ahead of your actual deadline. Make sure you use old drafts, drawings and plans as the basis for your new ones, or at least as the basis of not making the same mistake twice. You've already thought through most of what you need to do. Your plan requires slight modifications, but not many.
Virgo
(Aug. 23-Sep. 22) -- There's a cool term called "sapiosexual," which means, "someone who finds intelligence and the human mind to be the most sexually attractive feature in the opposite sex." This is a real thing, and it's likely you're feeling it these days. You're also likely to draw to you someone who's smart enough to keep and hold your attention. Apart from any immediate scenario, you must always remember that for you, brainpower is the bottom line, though you must take care because many people who seem smart have also managed to cut off their feelings. So you need a blend of a truly receptive quality, kindness, sensitivity to beauty -- and intelligence. The downside of this is that it's not an easy combination to put together, and you will have temptations to make compromises. Just don't expect too much if you do.
Libra
(Sep. 22-Oct. 23) -- You've had to divide your attention between a family situation and an intimate relationship, though the two have certain elements in common. One involves communication and how certain ideas come across. Remember that, as evil genius Frank Luntz wrote, "It's not what you say, it's what people hear." However, there's another side to that, which is, "It's not what you say, it's what others might say, and a lot depends on whether it's true or not." Forget what you've read on the internet -- there's such a thing as true; there's such a thing as the truth, and not in some abstract philosophical sense but rather the most practical: that which can be verified, preferably from two or three sources. The whole world needs to up its game on verification and fact checking, and so do you. Don't just accept what you hear. Verify, verify, verify; and document your facts in writing, on paper.
Scorpio
(Oct. 23-Nov. 22) -- With work presenting fewer challenges, easier solutions and more rewards this week, you can focus on an intimate scenario that's been developing in your life. If there's a new (or newly developing) relationship in your life, don't rush matters; don't push the river. The dominant energy is Taurus, which cannot do anything but move at its own pace. So all you need to do is allow for that movement, and then notice if it happens to be in your direction. If so, fantastic; if not, let the person move along and notice someone else who catches your fancy. You are, at the moment, a powerfully attractive force, though what attracts can also repel (think of a magnet). Be aware of that. Also, you're currently serving to change the trajectory of other people in your environment, seemingly having nothing to do with you in the end. That might mean introducing someone to someone, and it might mean influences that you're not aware you're having.
Sagittarius
(Nov. 22-Dec. 22) -- In most horoscopes for your sign lately, I've been emphasizing the creative process. Now, not everyone thinks this applies to them, such as if your passion is working in an insurance office. I would, though, apply "creative" not just to art and music but also to anything that's self-creative, adventurous, amorous, or otherwise bold. Yet it's your creative side, or rather, creative core, that will benefit the most under current conditions, where you're being encouraged to dive in and bring up the pearls and treasures you find deep within yourself. This time in your life is about taking creative and expressive risks. It's about following your curiosity. Most of all, it's about becoming yourself through what you express to the world. You should know that this is the bottom line for Sagittarius, now and forever.
Capricorn
(Dec. 22-Jan. 20) -- At the moment, I'm tracking eight points moving through Capricorn, more than any other sign. These include Mars, Saturn, Pluto and a few so-called minor points that are anything but. You have many choices for who you get to be. They all stem from the same basic material of your soul or psyche, all from your same basic mission on Earth. Think of all the many diverse forms of life, all of which sprout from the mountains, fields and oceans: infinite modes of expression of the same basic thing: the vital force as it manifests physically and to the senses. Despite all the many options you have and perhaps the seemingly overwhelming pressure to become what you need to become, this is always an experiment. If more people knew this, they would be a lot happier and more easygoing. As Joni Mitchell sang, "I'm not sure who I am, but life is for learning."
Aquarius
(Jan. 20-Feb. 19) -- Remember at all times that your life springs from inside of you. Your inner life is your point of origin, and that is the place to focus. When you get there, you may notice that you're within somewhat of a labyrinth. Only you know how complex you are inside and, ultimately, what your true point of simplicity is. However, the thing to do is to be aware of your interior mental and emotional space, and leave the light on for yourself. Imagine there's a fireplace in your mind, and your job is to tend the flames at all times. Stay with yourself. Keep the fire burning at a steady pace -- not a bonfire, but never allowing the flames or embers to die out. You want a constant, steady flow of warmth, enough to make your mind an inviting place to hang out. From there, you get to emerge and explore and play in the physical world, though always honoring your inner reality.
Pisces
(Feb. 19-March 20) -- This is the week to make some financial moves, in particular, to launch a new plan of some kind. You might be ready to apply for jobs, or to initiate a new project, launch a marketing campaign, or develop a new business plan. You have a rare window of opportunity between now and early June to make some progress, and set yourself up for the rest of the year. One of the most vital and essential elements of your long-range growth work currently involves your relationship to money. There's a line from
A Course in Miracles
that I just love: "Every decision you make stems from what you think you are." The implied message is to think big, and to connect your sense of being solid with yourself into doing something solid in the world. Chiron is involved, and its message is that you must always be true to yourself. First and foremost, this applies where values meet money.
---