New York, March 11, 2014 | View as Webpage | Customer Service: Chelsea (206) 567-4455




This Week on Planet Waves – and Your Moonshine Horoscopes



Dear Friend and Reader:
 
Mercury's square to Saturn today may be pushing you to make a decision, or maybe you're trying to figure out how to think for yourself. But as we get deeper into the week a third option may emerge.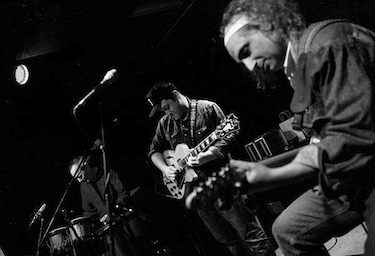 Eric (right) with Daniel Sternstein and Mark Ferraro playing at Eric's birthday party. Photo by Jeff Bisti.

We'll still have you covered with blog posts and Eric's Planet Waves FM broadcast this week as you figure out what this means for you. I want to remind you, however, that this Friday's issue will be another 'lighter' issue as part of Eric's birthday week, and as he works on some other projects (including another in-depth article for The Mountain Astrologer).
 
We also have Genevieve Hathaway's Moonshine Horoscopes ready for you today. This set interprets the Virgo Full Moon for the 12 Moon signs.
 
On today's Planet Waves FM, Eric's guest will be Geoffrey Cornelius, author of The Moment of Astrology. They will talk about astrology as divination. Geoffrey will be offering a workshop in New York City at the end of the month (co-sponsored by Nightlight Astrology and Planet Waves).
 
Eric will also go over the charts of the missing 777 airliner that was lost over the Gulf of Thailand on Saturday morning, as well as the problems brewing in the underground nuclear storage facility in New Mexico.
 
In today's Daily Astrology column, Eric and have I collaborated to flesh out the Mercury-Saturn square a little more. The Sun is making a couple of aspects that suggest we notice when we have the power to do the right thing. If you have a second chance to get something right, how do you use it?
 
Monday's Daily Astrology column introduced the decision-making quality of the Mercury-Saturn square. This aspect also implies the process of encountering challenges to your ideas and opinions in ways that allow you to incorporate them into your own sense of inner authority -- one that becomes broad enough to encompass your experience.
 
At noon Len Wallick's column will post to the Planet Waves blog. Today he asks you to consider your most heartfelt intentions and decide what you would most like to manifest into reality, making the most of the Sun's trine to Saturn. As with all of astrology, its potential can only be realized through you.

Yours and truly,



Amanda Painter




To unsubscribe,

click here e Wiki

|

Friends

|

Editors Contact Us Copyright © 2013 by Planet Waves, Inc. All Rights Reserved. Other copyrights may apply. >>
Some images used under Fair Use or Share Alike attribution.