Call the Astrologer Video Readings
Mars in Cancer Meets Saturn, Pluto, Eris
Dear Friend and Reader:
This week, Mars comes into contact with the aspect pattern defining our moment in history:
Mars in Cancer will oppose the Saturn-Pluto conjunction
. This takes place now through June 22, and then begins to disengage.
It's a before and after moment.
What we have here is an example of the astrology behind dire predictions. Saturn-Pluto is a meeting of the immovable object (Saturn) and the unstoppable force (Pluto). Both are retrograde in Capricorn, so it's a picture of maximum density and also explosive energy.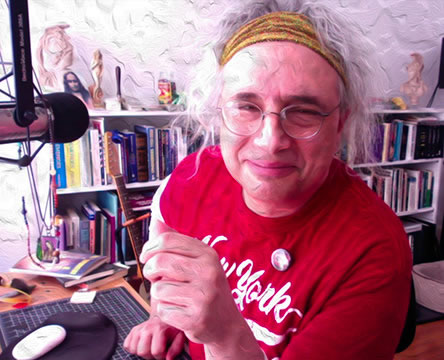 Eric Francis.
If you were to look up Mars opposite Saturn, or Mars opposite Pluto, in nearly any astrology book, you would not read friendly interpretations. Astrologers tend to be pessimistic about aspect patterns like this -- maybe because people tend to handle them badly.
There are two main ways to experience astrology like this. Which will you choose?
Most people, completely unaware of what's going on and what their options are, pick the hard way. They end up in power struggles with people, internalizing and then projecting the hurts done to them by others. They often run into brick walls as they try to exert some control over things.
Right now, you still have the opportunity to choose an easier way -- or, at least, a more constructive way. You can't necessarily call it "easy," because it takes conscious effort and awareness. Yet knowing the astrology offers an approach, and tools to navigate your circumstances and your consciousness.
Working with this pattern rather than against it has the potential to leave you in a stronger position than you were before.
I've recorded a set of videos titled
Call the Astrologer
, which reveal this pattern for what it is. In them, I
break down how to use these tools and harness the energy of Mars opposite Saturn and Pluto in ways specific to each individual sign and rising sign
.
You will definitely want to watch your sign and rising sign. They are all excellent; each is useful and clarifying to anyone who sees it. You are invited to share the videos you purchase with friends and loved ones.
We've created a
set of samples here
, which are watchable by sign.
Here's how to get access to
all 12 readings
, or you may
purchase individually
. If you order two readings,
we will give you a third on us
.
Thank you for being a Planet Waves customer, and for trusting me as your astrologer.
With love,

PS -- You may purchase by phone, or bundle Call the Astrologer with a membership or renewal, by calling (206) 567-4455.
PPS -- These readings are included
with the Backstage Pass
.
---
To unsubscribe, click here. To unsubscribe from all future Planet Waves emails, please write to cs@planetwaves.net. Copyright © 2019 by Planet Waves, Inc. All Rights Reserved. Other copyrights may apply. Some images used under Fair Use or Creative Commons attribution.