View as Webpage | Forwarding and Sharing This Newsletter is Encouraged
Astrology in a Grain of Sand
Dear Friend and Reader:
I trust this finds you well, in the midst of all the swirling and chaotic energy that the world is dishing out right now. Everyone I hear from is going through a little something extra beyond the usual, or a lot extra.
Much of this is described in the astrology we're experiencing, which we do our best to follow, and elaborate for you. Mars retrograde was a real experience; Venus retrograde is approaching.
Tonight I want to begin on a personal note. Over the past few weeks, I've been gradually coming back up to speed. I took over the weekly horoscope from Amy on Sept. 3 (thank you Amy for handling that significant task much of the summer).
Planet Waves FM resumed the same weekend (thank you for your many letters). I have a new edition for you tonight, coming soon. And I'm back to writing daily horoscopes, which will resume publishing in one week, on the morning of Sunday, Sept. 23.
It takes a platoon of us to bring you work of this quality: several qualified astrologers, who are also editors and therefore can offer you smooth, effective writing. We have many artists working on all these lovely graphics, and tech people, and a brilliant accountant, and a customer service team to take care of you.
It is a miracle we do this without advertising dollars, or corporate sponsorship, or grants — and you are that miracle.
When I watch television, I am appalled by the constant, nonstop barrage of insulting ads that offer me nothing I want. And when I come back to Planet Waves, I am grateful for the calm, the silence, the space to think, the space to feel and to relate.
Yet to do this, I want to convey just how our business model works. If you depend on Planet Waves, or appreciate us, or value us dearly, I am here to ask for your help.
We bring in our modest yearly revenue from subscriptions and my recorded readings. Subscriptions are the foundation; they are the ground we walk on, and we do our best to over-deliver. Yet the subscription business has become extremely competitive in the past seven years. When we began offering a subscriber service in 2002, nobody else was doing it. Now, everyone is.
Subscriptions are how I pay Ellen to answer the phone when you call, and pay Amanda to write her elegant essays and juggle the schedule; they are how I pay Amy to handle many important roles and fill in for any task that becomes necessary.
Subscriptions are how I pay Anatoly to keep the websites running and Andrew to pay the bills and many other people whose efforts slip into the mix many times a week. We have internet fees to cover, and the dry roof over our head, and all the stuff that makes our work possible.
Please help us by keeping your subscription current. If you pass our work forward, please encourage others to come aboard. You can also extend or upgrade your membership at the same link.
My Recorded Readings
The other thing we do is deliver my readings, which come in many formats: seasonal for all 12 signs, by birth sign, and annually. My readings are authentic, useful, deeply informed astrology. If I have mastered only one thing in my years doing this, it's not needing your natal chart to make astrology directly and personally relevant to you.
This is astrology for the people: affordable, accessible, friendly, and delivered in plain talk. I am dauntless about covering subjects that nearly everyone else avoids, and that you want to know about.
We offer these readings at 90% (or more) off of what my in-person work costs, yet the results are impressive. I provide substantial information for you to work with, on your own terms. My readings stand up to being played many times over; they are rich with spiritual insight and practical ideas.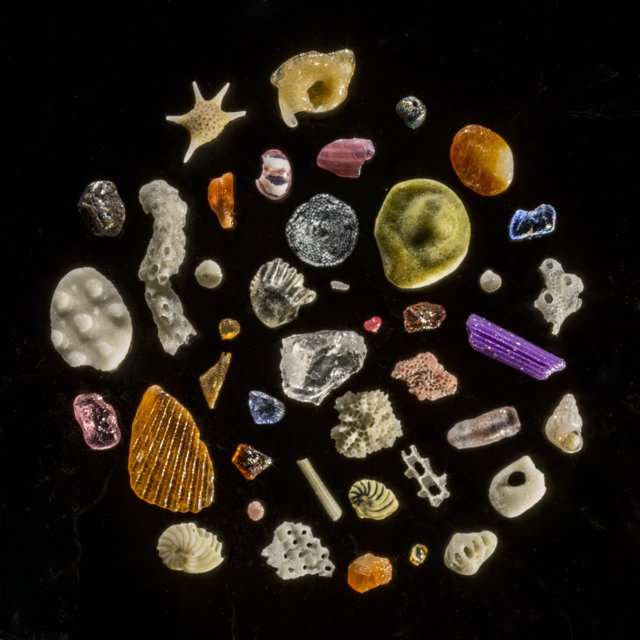 A collection of sand particles from around the world capture the diversity across samples in one image. Copyright
Jenny Natusch
.
And I practice the "do no harm" philosophy; my work is always, always, always designed to help you feel good about who you are and what you have to offer the world.
Currently, we have all of this year's birthday readings available, which are especially valuable for your rising sign. The Sacred Space of Self, the spring video reading, is still 100% relevant today.
Soon I will be delivering the 2018 Fall Reading, called EMPATHY-PATHOS, which is based on Venus and Mars retrograde. This is still available for the pre-order price. This set of readings will sum up 2018 and open the way to the next four seasons — to wit:
I will be introducing INTELLIGENCE, the 2019 annual reading. Because the Saturn-Pluto conjunction happens in very early 2020, INTELLIGENCE will focus on preparing you for that experience.
We Are Here For You
Every last person who works at Planet Waves loves the fact that we come to work every single day for you. We all have at least one thing in common (apart from being a bookish lot): we live for service. We love that we are able to do something loving, positive, creative and vibrant, in particular, in the stressed out world of the 21st century.
Thank you for following our work; thank you for doing business with us. Thank you for your generous support. By the way, if you want to make a contribution that is 100% tax-deductible to American citizens, you may donate to Chiron Return, which publishes Planet Waves FM and other important resources.
I will be sending several more of these letters over the course of the next week or so. Thank you for your patience as we do our best to reach everyone.
It's good to be with you.
Lovingly,



and company
Copyright © 2018 by Eric F. Coppolino and Planet Waves, Inc. All rights reserved per UCC 1-207
and other applicable laws. For inquiries please contact anatoly@planetwaves.net