After the Election: Which Jupiter Will You Feed?
Dear Friend and Reader:
As the dust settles on Tuesday's midterm elections in the U.S., I wish I could say the political landscape looked even more different -- but I am grateful for the movement that was achieved. Voters came out in increased numbers on both sides, and women were voted into office to an unprecedented degree. There is no longer a one-party lock on all three branches of government.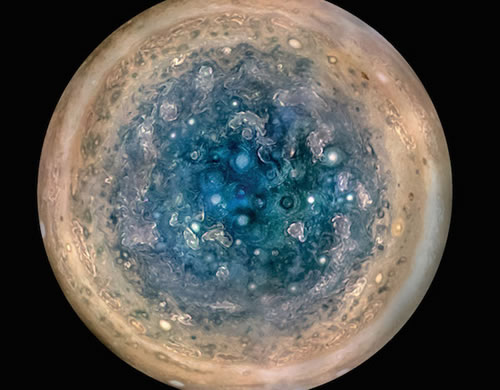 A blue wave? Jupiter's south pole, as seen by NASA's Juno spacecraft from an altitude of 32,000 miles (52,000 kilometres). Photo by NASA/JPL-Caltech/SwRI/MSSS/Betsy Asher Hall/Gervasio Robles.
This opens the way for House Democrats to put things in motion, specifically subpoenas to investigate Trump's taxes and his involvement with Russia in 2016. Of course, Trump is already saying he'll be happy to work with House Dems -- as long as they don't go after those subpoenas; in which case he'll "fight fire with fire."
Even so, we now have the
first two
Native American women in the U.S. House (for context, more than 10,000 people have served in the House since the first Congress met in 1789). The first two Muslim women have been voted into the House.
A Latina woman is the youngest representative ever elected to the House, and there are new African American women elected to this branch of government, with
USA Today
putting the total number of all women in the House at 118 as of midday Wednesday -- breaking the previous record.
Colorado elected its first openly gay governor -- the first in the nation. And although Democrat Beto O'Rourke lost his Senate bid in historically red Texas to incumbent Ted Cruz, he did strikingly well in counties that border Mexico and have higher Latinx populations (as well in as the more diverse urban centers in the state).
There were also a couple of rather more curious outcomes. For example, in Virginia a writer of Bigfoot erotica was elected to the U.S. House (Denver Riggleman). And in Nevada, the owner of a brothel who has been dead for about three weeks, Dennis Hof, was voted into a state assembly seat. Both are Republicans. (As absurd as Hof's win seems, it looks like a strategic vote that requires Nevada's government to appoint another Republican in his district, rather than letting the Dem candidate win by default.)
But now that the election energy is winding down, we have to consider that certain wheels are still in motion; even though representation has shifted some, the overall climate is a direct continuation of what it was just a few days ago. And no matter what country you live in or what you look like, we'll all be moving through our lives with the same astrology operating. The difference comes in how that astrology interacts with our personal psychology and life situations, with our personal natal charts, and with the specifics of our immediate social environment.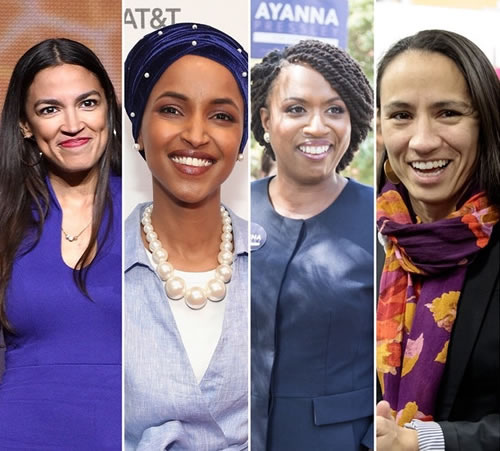 Just a few of the women of color to be elected to first-time seats in the House of Representatives on Tuesday; several incumbent women of color also won their races. L-R: Alexandria Ocasio-Cortez, Ilhan Omar, Ayanna Pressley and Sharice Davids. See more winning women here.
The first significant event to color the tone of all those things is Jupiter's shift from Scorpio to Sagittarius, which occured today at 7:39 am EST (12:38:22 UTC). Jupiter will stay in this sign for about a year.
My personal sense of Jupiter in Scorpio has been that it seemed to spotlight -- much more than other recent signs it's been in -- the way Jupiter can magnify underlying problems just as much as it can expand and enhance benefits. That could be a totally subjective and inaccurate assessment, but I'd be curious to know if you've felt and observed the same.
Likewise, Jupiter in Sagittarius, which it rules, can go either way. Personal circumstances and social context are key determining factors.
On one level, the planet of expansion in a sign that loves freedom could feel like a big ol' sigh of relief, and may come with a much-needed dose of optimism. As Jupiter moves into its square to Neptune in Pisces later in the year, idealism might grow further; and as I read once years ago, "If you can dream it, you can do it."
That said, as with all things in astrology, Jupiter in Sagittarius can express in a shadow form, too. Given the current cultural climate, this could very well manifest as further codification of the more self-righteous systems of social and religious thinking, with a strong desire to convert non-believers. (Notice if you find yourself leaning that way.)
I confess, I am particularly concerned about this potential given the polarity, extremism and even steps toward fascism that mark our current moment. Sagittarius sometimes comes through as the broad vision, but it can also appear as narrow focus on a goal. Combine that with dogma, and people start insisting others conform to specific beliefs.
To tap into the more 'evolved' vibrations of Jupiter in Sadge, it will be helpful to follow your curiosity: by continuing to question dogma; exploring metaphysical subjects; traveling to other cultures if you can (studying them from afar is great, too, if finances are limiting); getting involved in humanitarian causes. The more you develop your mind and spirit, the better you'll be able to counterbalance things like superstition and rigid beliefs.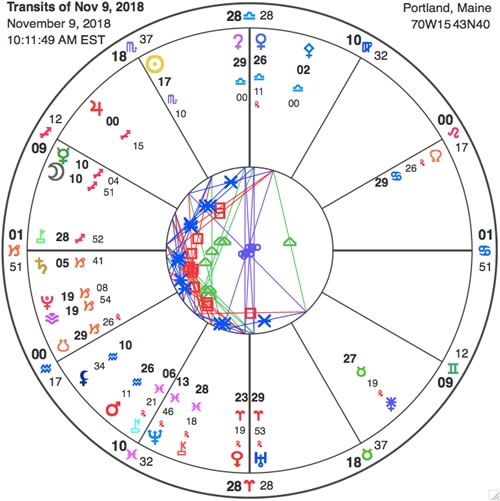 Chart set for Venus trine Mars tomorrow, with Jupiter in the first degree of Sagittarius. Look at the bold numbers to see what planets are 'talking' to each other right now, such as all the planets in the late 20s; also some pairings in the early and middle parts of signs. View glyph key here.
Astrologers Frances Sakoian and Louis Acker mention the tendency for someone with a natal Jupiter in Sagittarius to think deeply and individually within whatever philosophy they've chosen to guide their life. Also, there can be a vibrant propensity to seek understanding across a broad spectrum of cultures and ways of thinking, which may at times lead to prophetic insights.
We could use more of those right now. Or is it that we need to recognize the prophetic insights already being proffered?
In an
article Eric wrote yesterday
, he offers brief summaries of some of the other astrological highlights of the next week or two (such as Venus stationing direct in Libra and Mercury stationing retrograde in Sagittarius, both Nov. 16; and Mars
finally
leaving Aquarius and entering Pisces the day before). So I'm going to let him cover those for you, and will touch briefly on a couple other factors in the air today.
Venus and Mars are in a trine aspect, exact tomorrow. This should make for a fairly social and affectionate Friday. Even if you need to be very direct with someone, it's more likely to come across as charming rather than pushy. And now that the Moon has joined Jupiter in Sagittarius as of earlier today, you may find that physical activity, getting out and about someplace new, or just 'winging it' suits your mood -- which could play very well, indeed, with the Venus-Mars energy the next couple days.
To end with a note of optimism: according to astrologer Isabel Hickey, Jupiter in Sagittarius apparently boosts the executive power of women. May that power be wielded judiciously and with empathy, now that we have a new wave of women in many governing positions in the U.S.
Yours & truly,

Amanda Painter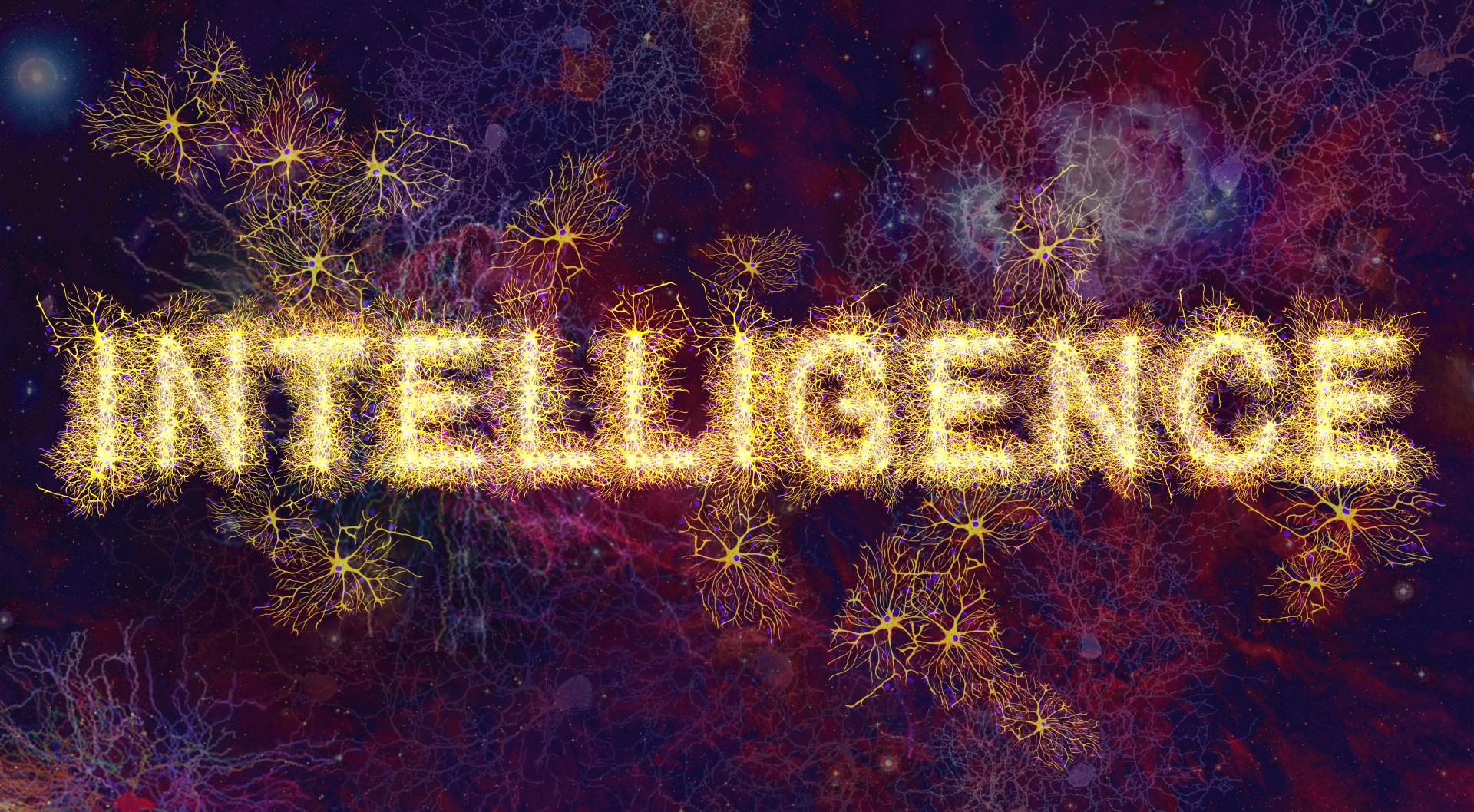 Last Call for Combined Discount on 2019-2020 Annual
Dear Friend and Reader:
As you may know from scanning the astrology websites, 2020 promises to be quite a year -- and 2019 is preparation for those events. They include the Saturn-Pluto conjunction and the Jupiter-Saturn conjunction -- two world-changing aspects in one year.
The 2019-2020 annual reading is called
INTELLIGENCE
. That's the one thing we need to make it through the global crisis, and for many, their individual crisis. It's the one thing we need to make the most of our lives.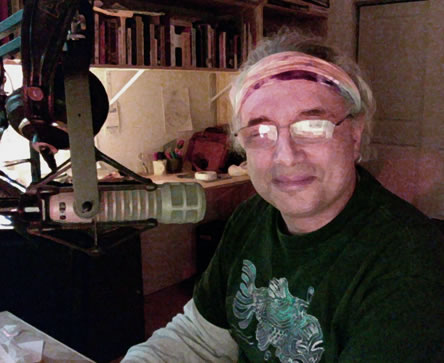 I'm getting ready to record and write the 21st annual edition of Planet Waves. I will be setting aside all but the most essential other work to write and record what amounts to an astrological radio serial and an astrological adventure novel.
In that edition, I'll be looking at the astrology up to the Jupiter-Saturn conjunction of Dec. 21, 2020. In this edition I am returning to the format of audio and written, which I have not done for a couple of years.
For the first time that I know of, I'm planning to have the audio format, called
RESET 2019
, ready by Dec. 31, in time for New Year's Day listening. Then the written portion, looking at 2019 and 2020, will be out some time in February.
Tonight is the last call for the
combined 2019-2020 annual edition, including both years at one price
, which is now $111. The audio readings include original music by Vision Quest.
Soon, I will be splitting the two projects,
and offering each separately for $99 or combined for $144
. Individual sign sales for each year will begin at $44. So tonight's offer is a significant discount on what promises to be a beautiful, helpful and reassuring astrology resource.
You may also place your order by phone, by calling (845) 481-5616.
This will be my 21st annual edition, coming at the end of the 20th year of Planet Waves. If you're curious about past annual editions,
you may visit them here
. (Scroll down and you will see the list of years.)
Thank you for being a Planet Waves customer, and for trusting me as your astrologer.
With love,

PS -- If you upgrade to a Backstage Pass,
you will be eligible for a special discount on the INTELLIGENCE annual edition
. Write to us, or call (845) 481-5616 and we can upgrade you by phone. It may take us 24-48 hours to get back to you, but we will. Be sure to state your phone number twice.
This Week on Planet Waves FM
Special Election Edition: History Will Teach Us Nothing
Dear Friend and Listener:
This week features the special election edition of
Planet Waves FM
[
play edition here
]. I look at two topics sure to be a big hit on Thanksgiving: the astrology of the election, and also of the presidential election of 2020, and the influence of Evangelical religion on American politics.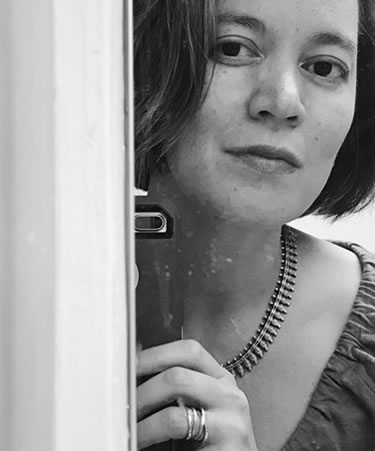 Photographer Stacy Platt is our special guest tonight.
The program includes an interview with Stacy Platt, a professor of photography at the University of Colorado at Colorado Springs. She is doing a project, independent of the university, involving documenting the 400 Evangelical churches in her city.
She is also interviewing people who consider themselves "exvangelicals" -- essentially, refugees of the Christian movement.
You may
visit Stacy's website here
. There is an invitation to participate in the project.
Housekeeping note: I will be doing a program this Sunday Nov. 11, then taking a break for Thanksgiving. That will include a Bob Dylan-themed show distributed on Thanksgiving Day. I am planning to take two Sunday nights off.
Planet Waves FM is published by Chiron Return, a 501(c)(3) nonprofit corporation, which is part of the Pacifica Radio Network. We are supported
by your generous contributions
, large and small, which are starting to add up each month and cover the costs of the program.
Thank you for your support. All contributions are fully tax-deductible if you live in the U.S. If you want to be a major donor and sponsor an entire project or staff member, you're welcome to
contact me directly
.
Chiron Return's projects include Planet Waves FM,
The Gemstone File
resource for activists and reporters, and the forthcoming Investigative Reporting from the Kitchen Table. The first class will be announced as I finish the annual edition (likely in late winter) and will be called "Reading the News."
Thanks for tuning in.
With love,

---
Not Just Another Brick (or Tile) in the Wall
By Amanda Painter
This summer, before the midterm election frenzy had gotten anywhere near its peak, curious sets of three handmade ceramic tiles began appearing on street curbs and other subtle spots around Philadelphia. Each trio was the same: a letter "M," an image of a peach, and the word "him" -- all in orange.
"Impeach him."
As described by Emily Rolen, a writer for
Philly Voice
, this is the work of one novice street artist -- identified only by her childhood nickname (and Instagram handle), "Bucket" -- who felt called to artistic activism. Rolen,
who recounts accompanying Bucket
on an installation day in early October, writes, "It's a reminder that impeachment is an option. It's an act of political desperation, she said."
Installing "M (peach) him" tiles started as a creative outlet and has become quite cathartic, says Bucket, who felt numb and immobilized after the 2016 election of Pres. Trump. The tiles are time-consuming, and the process speaks of her passion and civic commitment: glazed six times and fired twice, to make them weather resistant.
She affixes the tiles with mortar -- though that does not prevent them from being knocked off if someone is determined. Still, Bucket perseveres, and as of a month ago, had installed upwards of 50 of the mosaics and had more than 580 Instagram followers -- some of whom protect the tiles and send Bucket updates.
"I was quite moved by how much this seems to mean to people when they see it," Bucket said. "My hope is that this is the tiniest of pebbles in the very small pond, but it's meant to remind people that this is not normal."
Special thanks to Carol van Strum for sending this story along.
Listen to Vision Quest on Live Stream
Planet Waves has an in-house music ensemble, called Vision Quest. We have a 38-hour loop of our music, which
you can listen to any time
. Included are finished pieces, rehearsals, live concerts, drum grooves, and spoken word recordings. I consider it a kind of musical divination. Click in randomly at different times of day and see what you discover.
Our Gifts to You: A Little Something Extra
Dear Friend and Reader:
It took me a long time to figure out what kind of gift to offer for new and returning subscribers. Tee shirts seemed too complicated; you need at least six sizes to get started, and not everyone wants a shirt. Tote bags are useful but kind of boring.
So I thought: journals. I love notebooks, and just about everything I write starts scribbled down on paper. I know my readers are a little old-fashioned, so this seemed like the perfect thing.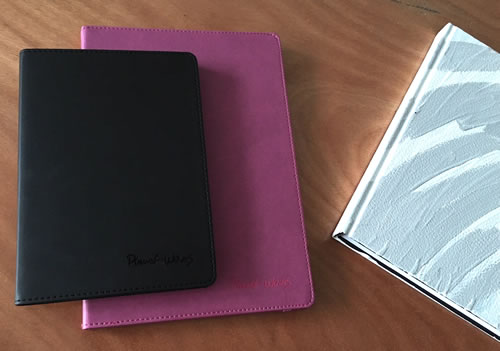 Black smaller, pink larger, embossed with the Planet Waves logo. There are a few hand painted sketchbooks left, with heavy, acid-free paper.
Then...I researched embossed journals for about six months. That's how long it took. I requested or purchased samples of the best that suppliers had, and all kinds of stuff came floating in the door. It was more challenging than I imagined to find a nice one, though finally I did.
Everything had to be right: the paper, the lines, and how the book feels in your hands.
However, the one I selected was being discontinued. I ordered as many as we could reasonably afford. We now have two main options: small black ones, and larger pink ones (these are new).
Together, they are the approximate color of Good & Plenty candy. I am one of these people who loves anything pink (sweatshirts, nail polish, headbands, a hot pink Squier guitar that I gave to Zosha a few years ago). We also have a few hand-painted notebooks left, which are acid-free sketchbooks.
You can get an embossed notebook with any monthly, quarterly or yearly membership to Planet Waves. If, by the way, there's a calling for hand-painted ones, I will make one more-or-less to your preferences (for those who sign up for a full-year Backstage Pass).
Continue reading this letter here.

Monthly Horoscopes and Publishing Schedule Notes
We've published your extended monthly horoscopes for November below in this issue. Your
extended monthly horoscopes for October
were published on Thursday, Oct. 11. Please note: we normally publish the extended monthly horoscope after the Sun has entered a new sign.     
Aries
(March 20-April 19) -- It may seem to you like everything is up for negotiation, but nobody knows what they want, and certain individuals keep changing their mind. The scenario looks a little like this: first, someone seems to want what you want, then they want something else. Then they have to think about that more carefully, owing to something their mother said. You may be left feeling like someone you care about makes no sense at all, which does not make it easy to relate. Fairly recently, though, you were in a similar dynamic, where you had little clue what you wanted, or needed, except that it was clear you needed your space to think independently and not be beholden to commitments, at least for as long as you needed to sort yourself out. Others may be less bold than you are about this need, which all people have. Someone more timid might try to persist with a policy of people-pleasing, while at the same time trying to do what is right for them -- and never shall the two be reconciled. I suggest you make room in your life for people to make their own decisions, just as you need to do. Open up space for this, and do your best not to take things personally. Easier said than done, and worth working toward.
Get your full reading by Eric here.
Taurus
(April 19-May 20) -- Some of the pressure you were feeling much of the year has let up, as Uranus has backed out of your sign and into Aries. This will give you an opportunity to reassess something that few people ever get around to: who you are. The forthcoming seven-year journey of Uranus through your sign, which you've had a taste of, will confront you with this question many times. It will help if you have some sense of your true direction, so that you can use this transit to bring out your deeper being rather than feel like you're being changed, molded or shaped. Who you are is no surprise to you; difficulty arises when you go into denial of that fact, and try to simulate being someone else. Your true identity emerges from within you, not from an external frame of reference. And with Uranus in Aries between now and March 6, you have extra access to your inner world. You may notice that it's a little chaotic in there, as if you don't have solid ground to stand on. Yet you've gone through other changes before, even on this scale, and the truth is that there's something entirely consistent about who you are -- far more so than most people you know. You may be concerned this is the very thing that might change. Considering just that possibility will be informative. For example, change into what?
Get your full reading by Eric here.
Gemini
(May 20-June 21) -- Don't take anything at face value this month. Anything includes anyone. This is not a matter of being suspicious, but rather one of letting the truth of statements be borne out before you commit yourself to action based on them. This will take time, patience and discernment. You're perceptive, but often impatient, and are too quick to act in a lurch, because something sounds good, or feels good. Yet with Mercury stationing retrograde in a square aspect to Neptune on the 16th, you cannot take anything for granted. Your astrology is compounded by the delusional nature of our times: unverified information moving at the speed of light; Twitter feeds going by like the line at the world's largest McDonald's in Orlando, with about as much nourishment; and insecure people saying many things they don't mean, and don't know for sure. This is encouragement for you to slow down the metabolism of thought and of speech, and to question yourself persistently. Go deeper than you usually do, moving in layers, as is indicated by Mercury retrograde. Being 'conclusive' is a bad habit; it's one of the true enemies of intelligence. You must keep an open mind at all times, which primarily means being open to the possibility of being wrong. Once this approach saves your ass a few times, you will find it a lot more appealing, and may even become an advocate.
Get your full reading by Eric here.
Cancer
(June 21-July 22) -- The Nov. 7 Scorpio New Moon looks like it might open some doors in your erotic life. Usually horoscope writers couch this in the term "romantic," and I am specifically not talking about that: I'm talking about a form of sexual intimacy that's much deeper than "romance" and which will require a corresponding risk, and at the same time, promise you something much deeper in the way of fulfillment. Yet in our era, this whole region of eroticism is the one that is most often shunned and eschewed. It's treated like it does not exist, yet nearly everyone is drawn to some deeper realm of their desire, even if it slips in for a brief visit as you're waking up, appears in your dreams, or shows up in intimate moments when you're not expecting it. There is a taboo on knowing who you are. This is rarely called what it is, though it's engaged by connecting with your deepest and potentially most secret desires. The alternatives are things like aggression, sleepwalking or frustration, and none of those are especially appealing. The astrology of the past six months may seem to have warned you off going too deep, or taking too many risks. Yet based on the most elemental makeup of your nature, you will want to get back in the water again. Be conscious about it, and please keep it real -- not digital.
Get your full reading by Eric here.
Leo
(July 22-Aug. 23) -- You have to be confident in yourself before you can be confident in anyone else. Usually, the opposite presumption is considered true: the commitment to or from someone else is supposed to make us strong. Yet how is that possible? Your consciousness is the center of your experience. Even if you have perfect faith in someone else, that faith is coming from you. The place to orient, at the moment, is faith in yourself. Another word for that is fidelity, which is most often used in the context of marriage (and banking). So let's start with the premise that all fidelity is to you: your mission in life, your existence, your happiness. This may be subject to an accusation of being egotistical, though the opposite is true, since the ego is an illusion and I am talking about something real: actual grounding in your true self, and what you're doing on this planet, at this time. That may be the realest question you can ever ask, and it may make you quake in your boots, as the old saying goes, especially if you want to be wearing ballet slippers. Yet between the two may be some kind of crisis of faith, which I suggest you welcome. You will know that you're in the right zone, mentally and emotionally, when you find yourself asking questions that you cannot easily answer.
Get your full reading by Eric here.
Virgo
(Aug. 23-Sep. 22) -- It's been an overwhelming year, perhaps even heavy, though help is on the way. Jupiter joins Mercury in your 4th house of grounding, home and family this week, to stay for a year. This will take some pressure off your mind, and help you prioritize what matters the most for you. That includes taking care of yourself, and it also covers resolving old material -- drawing an "end to the matter" (borrowing from ancient astrology) in several important things related to your family, especially on your father's side. The two are related: the living well bit, and the one about resolving the past. Resolved might not be the right word; displaced is a better concept, since what is old and dysfunctional must, in a sense, be outdone by something noticeably better and more worthwhile. This must start with where you call home. Jupiter through the 4th is what I think of as the "feather your nest" transit: making your home space acceptable to your physical body. Take the time to make small improvements, eat better-quality food, and do what you must do to feel confident. It matters less where you are, and more how you feel, no matter where you may be. The persistent challenge will be emotionally honesty. Listen to the stories you tell yourself, and check the facts. Make sure you're correct, and that the elements of your version of events add up to something that makes sense.
Get your full reading by Eric here.
Libra
(Sep. 22-Oct. 23) -- The essential message of Venus retrograde in your sign is whether you're going to run your life influenced by unconscious emotional forces, or by using conscious strategy and making decisions. First, though, you will need to differentiate between the two, and notice the results when you use one method or another. Here's a way to focus the difference. One way seems like someone else is making decisions that you're subject to, even though nobody else is around. Those will tend to be based on things like avoiding perceived threats and dangers, more than on creating something positive for yourself. And those fears will likely belong to someone else, which is a way of having you under their control. When you make your own decisions, you will feel the clarity of your own mind, you will notice yourself in a reasoning process, and you'll sense the satisfaction of choosing for yourself. You need a plan -- especially a financial plan. When you're in control of your own money, you know that you're sloughing off the influences of parents and other overlords. This really is the keystone to the bridge that will lead you into the next phase of your life. That, and speaking up when you need to, stating directly what you need, and never getting bogged down in guilt. That is an art you can master.
Get your full reading by Eric here.
---
Scorpio
(Oct. 23-Nov. 22) -- You may finally be feeling some relief from Venus retrograde now that Venus has backed into Libra, where it stations direct on Nov. 16. Before that happens, Jupiter leaves your sign and enters Sagittarius (Nov. 8). Usually, Venus and Jupiter in one's sign are considered benefics, and no doubt you've gained in ways you have not noticed yet. However, while they've been present, you've also been under unusual pressure, both emotional and psychological. It may have felt like certain issues settling over you like a dome, or thought forms you could not evade or escape. Scorpio is an unusual sign in that, collectively, it holds all of the things supposedly civilized people are the most afraid of, such as the mysteries of sex, life and death. And this is partly why people respond so strongly to you. Jupiter moving through your sign has magnified these elements of consciousness, making you aware of them (whether you identified them, or not). What you may notice over the next few days and through the coming month is that these feelings evaporate, like they were never there. They're still present, but will now go back to their earlier size, rather than the recent fun-house-mirror exaggerations you experienced. Venus, for its part, has been encouraging you to seek within yourself for answers. That is something you would be wise to remember. There is no "out there." It's all in here.
Get your full reading by Eric here.
Sagittarius
(Nov. 22-Dec. 22) -- Jupiter enters your sign this week, where it will be for about one year. This is a homecoming of sorts, as Jupiter returns to one of the signs that it rules for the first time in nearly a decade, and returns to Sagittarius for the first time since it arrived last on Nov. 23, 2006. This is one of those transits that offers everything you ever wanted from astrology -- in its potential form. With Jupiter, you're the one who must make your mission real. You must activate your potential, make decisions, set goals, and determine to seek what you know is right for you. We could say that Jupiter describes what is possible -- and that the other symbol of your sign, the arrow about to be let loose from its bow, represents the one-pointed arrow of determination, focus and direction. There's not a rush to let the arrow fly, though. In fact, there is reason for caution: you are still too influenced by negative feelings and events, at the moment, to have a clear sense of what you want. And Jupiter's long square to Neptune in Pisces could have you more optimistic about certain goals than is called for. So you will need to make a point of being honest with yourself about the downside to any possible endeavor, but also, aware that certain influences may be leading you to be unrealistic about particular factors. Facts, data and time are your friend, and the three will work well together.
Get your full reading by Eric here.
Capricorn
(Dec. 22-Jan. 20) -- You may still be experiencing a struggle about whether you're willing to offer yourself fully to what you want and need to do. The spirit of our times is to make a half-hearted effort and call it good, or to emphasize this odd thing known as comfort over the strength and guts that it takes to get anything done in this world. You may feel like your goal requires too big a sacrifice to make it worthwhile, and if that is true, then you need a more significant goal. You're being called upon not to do something but to become someone. What you do is merely a facilitator or venue for who you're becoming, and whether it's large or small, meaningful or petty, brilliant or dull, you will be devoting your whole being to the process. This does not merge well with a predictable, safe, steady nine-to-five kind of existence. Rather, you will need to take risks that may feel dangerous and that will certainly push you out of any zone of comfort you may be in. You don't want a safe space; you want a space where you can, and must, be real, with yourself and with the people around you. You will benefit from facing your fear, and rather than rising above it, burning it as fuel. This calls for the recognition that you may not succeed at what you want the very most. But that desire would be worthless otherwise.
Get your full reading by Eric here.
Aquarius
(Jan. 20-Feb. 19) -- The long, challenging and at times absurd transit of Mars through your sign ends mid-month. Whatever happened to you was in some way unprecedented, and nothing like it is likely to happen again. The last time Mars was retrograde in Aquarius was back in 1971, a time curiously like our own. So this has probably stirred up some old material, including family baggage (which is closely associated with Aquarius, though you won't read this many places). Mars retrograde has highlighted the problem of anger, collective and individual, and more to the point, the struggle associated with addressing it. Anger also equals anxiety, guilt and any form of struggle associated with aggression or resentment, in whatever direction it may flow. This cannot be addressed in "the world," since it's such a deeply individual response to existence. Mars in your sign, including the 12-week retrograde, has compelled you to take a level of profound responsibility for what happens in your life, including how you feel and how you respond to events. More than anything, though, you've been compelled to have a bold reckoning with what you want. I don't mean want, like a BMW. I mean want, as in want from your privilege of existence. And I don't mean want, as in desire somewhat; I mean want as in you feel like you'll drown if you don't have it. You've learned a lot this year. Don't forget it, by which I mean remember every day.
Get your full reading by Eric here.
Pisces
(Feb. 19-March 20) -- Your deepest fears rarely come true, and no matter what you've experienced this year, that remains a fact of existence. It's now time to focus your life in the most productive and constructive ways. Jupiter entering Sagittarius this week crosses the midheaven angle of your solar chart, which will open up a world of possibilities you've never quite imagined. Yet you will need to rise above your own anxiety in order to take full advantage of this yearlong transit. This is not just the fear of things going wrong; most of what concerns you is lack of confidence. Neptune in your sign (an ultra-longterm visitor) can feel like a massive hole where your courage should be. So that's the element to work with. The thing to remember is that courage is earned, not bestowed. That happens through conscious trial and error; doing what you're not supposed to do; saying what you're not supposed to say; and attempting what you think is considerably beyond your potential. Jupiter's first point of contact in Sagittarius will be a square to Nessus in your sign, which represents an opportunity to overcome some debility inflicted on you by your family, or someone who abused your trust. The second will be an extended square aspect to Neptune, which seems destined to inform you that you genuinely know what is true and right for you. Let time prove your theory, rather than letting someone else disprove it.
Get your full reading by Eric here.