New York, Jan. 17, 2017 | View as Webpage | Pre-order Your 2017 Reading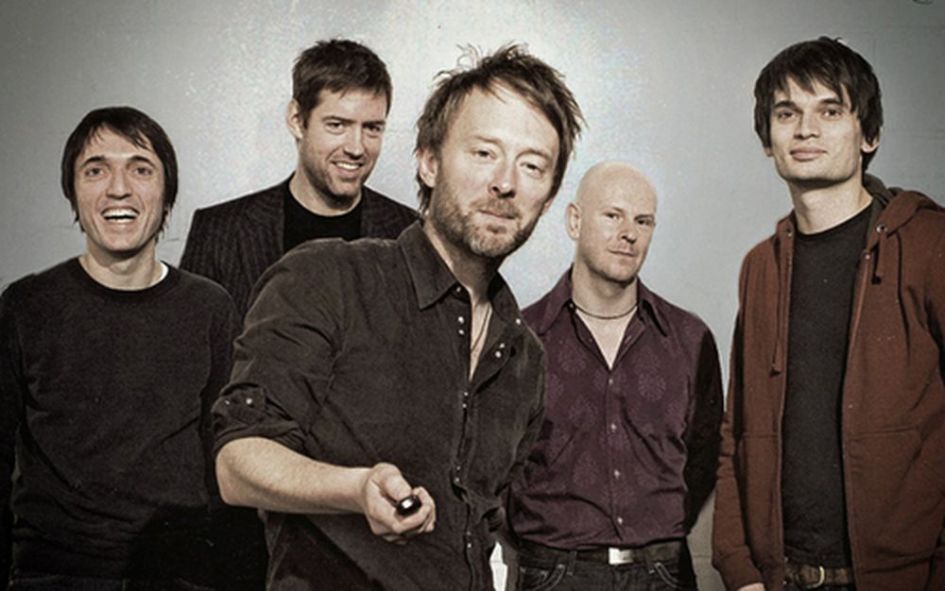 Radiohead: Colin Greenwood, Ed O'Brien, Thom Yorke, Phil Selway, Jonny Greenwood.

This Week on Planet Waves FM

Welcome to 2017, Where the Political is Personal



Dear Friend and Listener:

When I was studying 20th-century women poets at Rutgers University, I was introduced to the idea that there is no private life that's not in some way deeply influenced by the wider public life.

At the time, that seemed like a radical idea. Today, where all politics is designed as some form of personal affront, personal crisis or reflection of someone's personal views, it seems like common sense.

Today's edition of Planet Waves FM [play episode here] introduces the Age of Trump with my reading of Friday's presidential inaugural chart. I offer two different takes on this most interesting horoscope, which has been adorning my notebooks, my studio walls and my mind for nearly two years.

By reader request, I take a close look at the chart for Saturday's Women's March on Washington, which is similar to the inaugural chart but has Pisces rising instead of Taurus rising [see both charts here].

Before I go there, though, I analyze an article from The New York Times last week, about why women voted for Donald Trump, called "You Focus on the Good."

I return to the question of the objectification of women and how we might get out of this pattern after basing our entire civilization on it.

My musical guest is Radiohead. I sample my favorite work spanning from 1995 through 2007, from My Iron Lung [Amazon | iTunes], The Bends [Amazon | iTunes], Amnesiac [Amazon | iTunes], OK Computer [Amazon | iTunes] and Hail to the Thief [Amazon | iTunes].

If you're already a Radiohead fan, you will love this program, which honors the band as bringers of late-breaking news, and if you're not yet a fan, I've designed my song choices so that there's no turning back.

Planet Waves FM is part of the nonprofit Pacifica Radio Network, presented without commercial interruption. Our program is published by Chiron Return, and distributed by Planet Waves.

We are sponsored by your memberships, subscriptions and reading purchases. Tune in every day for Democracy Now with Amy Goodman.

With love,


Planet Waves (ISSN 1933-9135) is published each Tuesday and Thursday evening in Kingston, New York, by Planet Waves, Inc. Core Community membership: $197/year. Editor and Publisher: Eric Francis Coppolino. Web Developer: Anatoly Ryzhenko. Special Project Designer: Lizanne Webb. Finance: Jonathan McCarthy. Astrology Editor: Amanda Painter. Astrology Fact Checker: Len Wallick. Copy Editor and Fact Checker: Jessica Keet. Eric's Assistant: Gale Jazylo. Client Services: Amy Elliott. Media Consultant: Andrew Ellis Marshall McLuhan. Music Director: Daniel Sternstein. Bass and Drums: Daniel Grimsland. Additional Research, Writing and Opinions: Amy Jacobs, Cindy Ragusa and Carol van Strum.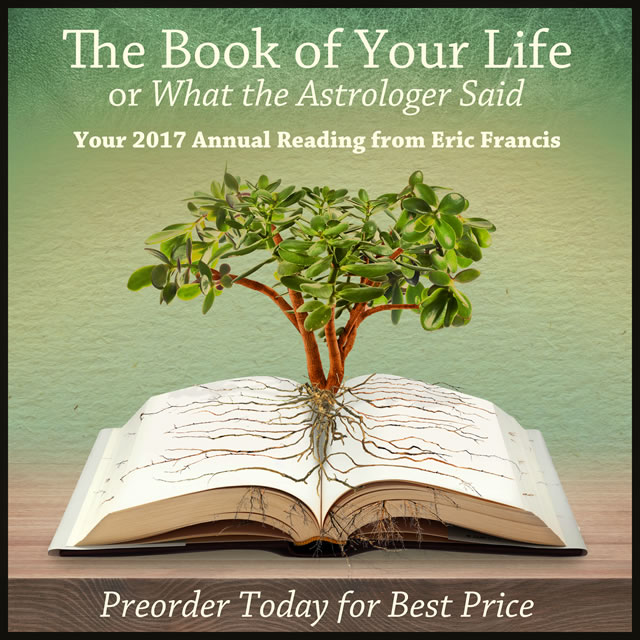 Pre-order 2017 Reading: All 12 Signs | Individual Signs


Astrology and the Inner Search for Meaning

I Have a Story To Tell You: The Book of Your Life



Dear Friend and Reader:

With the world in its state of seeming madness, you may be feeling stressed to the point of being pulled apart. So much in the world seems scattered, fragmented and like it makes no sense at all. Everything is changing so fast, it's actually impossible to keep up. There seems to be little rest for the weary.

The events of the current world would make the head of even the most balanced, even-keeled person spin.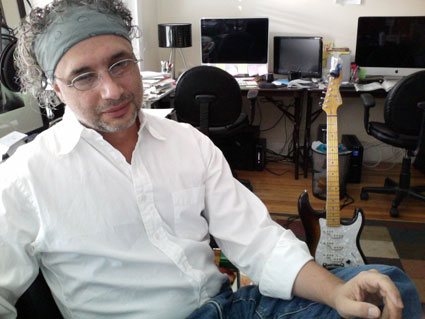 Your astrologer, Eric Francis Coppolino.

Astrology has one special quality revealing its profound benefit for spiritual growth and inner development.

Its seemingly wild complexity transforms into an elegance that can weave together the many threads of life into a cohesive narrative. It's the perfect tool for seeing the order in the chaos.

Properly used, astrology can reveal the connections between seemingly unrelated events.

It can weave together personal assets that seem to have no connection into a personal gift: a talent, a way to heal your relationships, an idea and action plan to make an important change in your life. Astrology reveals the "cosmic order" yet in the most distinctly personal way.

You might say that astrology is the book of your life. It tells the story of your purpose, your days and your years, if only you'll look and see.

Read more...
---
Ongoing Inspiration for an Unpredictable Year
"Planet Waves readings have always been exceptional, illuminating my interior landscape. They provide ongoing inspiration for those times throughout the year when I feel curious about circumstances of the moment. Bless you, Eric."
-- Zlatka Sirakova, on a previous Aquarius reading
Dear Friend and Reader:

On Thursday the Sun enters your sign, beginning a new solar year for you. As Eric explains in one of your upcoming readings, your true calling is leadership. But if you don't currently feel like a leader, what do you do and where can you find sound, inspirational guidance?

In two segments of audio astrology and a tarot reading using the Voyager Tarot by James Wanless, Eric will guide you through the major themes and subtler points of your next 12 months in your 2017 Aquarius Birthday Reading. Your reading also includes an extended description of your sign.

"I never gave Sun sign astrology much credence until I opened myself to your readings. Thank you!" -- Mary, on a previous Aquarius reading

If you have an Aquarius Sun, Moon or rising sign, you have some significant options now and going forward. But you'll need to activate them consciously. This might mean focusing on your self-esteem, your sexuality and relationships, your career, your spiritual health and healing, or another facet of life. Your Aquarius reading will touch all the most important bases.

You can lock in the lowest discount price Planet Waves offers (only $19.97) by pre-ordering your 2017 Aquarius Birthday Reading here, and step into your new year.

Yours & truly,



Amanda Painter
Planet Waves Astrology Editor

P.S. Your audio Birthday Reading makes a perfect compliment to the written readings of the 2017 annual edition -- in fact, Eric approaches the two types of readings very differently -- and it makes an amazing gift.

This Week on Planet Waves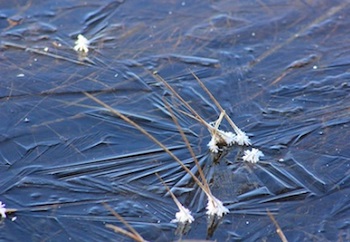 Cancer Full Moon: Action From All Directions Amanda Painter leads off the latest full Planet Waves edition with an analysis of Thursday's Full Moon in Cancer, which formed a cardinal grand cross with Jupiter and Eris. The energy from this event may feel intense -- yet it could also offer subtle ways to process what you're experiencing.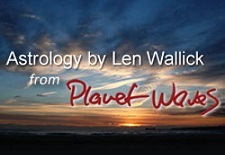 A Prospect To Make As Len Wallick describes it, when the Sun finally leaves Capricorn to enter Aquarius on Thursday, the Moon will be changing signs at almost the same time, moving from Libra to Scorpio. What follows will implicitly set you up to make at least one change to call your own in the next month or so.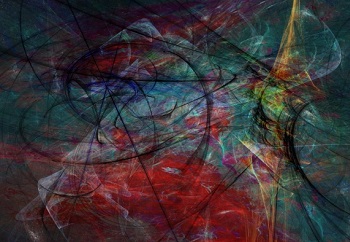 The Courage to Heal: Mars Meets Chiron in Pisces Mars, the archetype of masculinity, has been traveling through the deeply feminine sign of Pisces since Dec. 19. Amy Elliott explains that it's now about to meet Chiron. This presents opportunities for maturity, healing and a subtler sort of bravery, which facilitates self-acceptance and self-integration.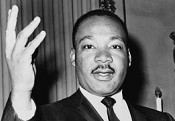 Democracy Now! Pick of the Week In a Democracy Now! and Pacifica Radio Archives exclusive, a newly discovered recording of Dr. Martin Luther King, Jr. was played in honor of yesterday's holiday. The speech was recorded by Saul Bernstein, who was working as the European correspondent for Pacifica, and was discovered by Brian DeShazor. Latest Comics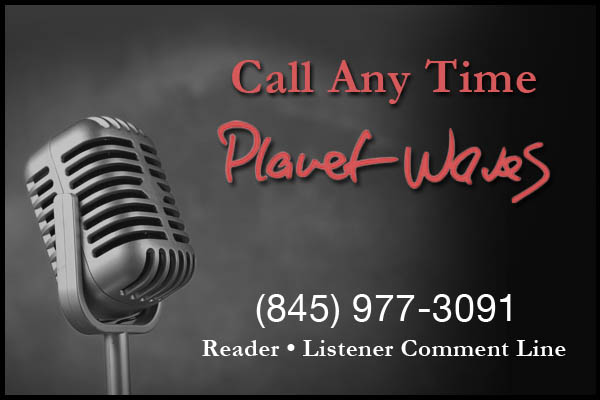 To unsubscribe,
click here
. To unsubscribe from all future Planet Waves emails,
please write to
cs@planetwaves.net
Copyright © 2017 by Planet Waves, Inc. All Rights Reserved. Other copyrights may apply. >>
Some images used under Fair Use or Creative Commons attribution.