New York, Feb. 28, 2017 | View as Webpage | Order Your 2017 Reading


This Week on Planet Waves FM

Venus Retrograde and Lou Reed's 75th Birthday



Dear Friend and Listener:

Today's Planet Waves FM [play episode here] is dedicated to Venus retrograde in Aries. I'm accompanied by Lou Reed as I take you on a tour of this spiritual territory. (Lou's chart is here.)

We will consider the difference between me and you, you and me, and the phenomenon of projection that makes it hard to tell the difference. I describe casting off the toxic glamor of our times and going deeper into your true reality.

Venus retrograde begins Saturday, March 4, in Aries and ends Saturday, April 15, in Pisces [see beginning and ending charts here]. This is the start of the discussion that I'll keep moving through the spring. Today I illustrate the point using various news items, metaphors and stories, doing my best to convey the themes of this astrology.

I offer my commentary on this brilliant idea going around to slash the State Department's budget and increase military spending even more. Hey, who needs diplomacy when you have bombs!

In Tantra Corner, I take you behind the scenes at a DIY party -- that is, a communal self-sex party Monday night in midtown Manhattan. I end with a commentary about why someone making their way in the world might want to do more than play air guitar: it's not as good as the real thing.

This program is presented free from commercial interruption. That is special and it's not just cool, it's warm. I don't want any drug manufacturers or fast-food chains getting between me and your brain.

This program is sponsored entirely, exclusively and proudly by your memberships to Planet Waves. I know you've been wanting to sign up forever. If you get a Horoscope Lover or Core Community membership, write to me and I'll reply with a friendly surprise. Here are your three membership options.

We are part of the nonprofit Pacifica Radio Network, comrades du muckraking with such entities as Democracy Now!, which we publish daily on Planet Waves.

With love,


P.S. If you want to read my tribute to Lou Reed from back in 2013, here's a direct link. In the text, it includes a link to the 'zine article by Rob Norris, called "I Was a Velveteen." That's right before I start quoting him.

Planet Waves (ISSN 1933-9135) is published each Tuesday and Thursday evening in Kingston, New York, by Planet Waves, Inc. Core Community membership: $197/year. Editor and Publisher: Eric Francis Coppolino. Web Developer: Anatoly Ryzhenko. Special Project Designer: Lizanne Webb. Astrology Editor: Amanda Painter. Astrology Fact Checker: Len Wallick. Copy Editor and Fact Checker: Jessica Keet. Eric's Assistant: Ellen Dockery. Client Services: Amy Elliott. Media Consultant: Andrew Ellis Marshall McLuhan. Music Director: Daniel Sternstein. Bass and Drums: Daniel Grimsland. Additional Research, Writing and Opinions: Amy Jacobs, Cindy Ragusa and Carol van Strum.


OMG it's Yogi Slut, a new website with a growing list of my old sex articles (and in time, some new ones). This began as the reading list I promised on a recent edition of Planet Waves FM. You can find that resource area here. Over the next week or so, we will move many of my best articles about sex and relationships to this website, including my mini-classic It's Not About Sex, It's About Self (this link is to original posting).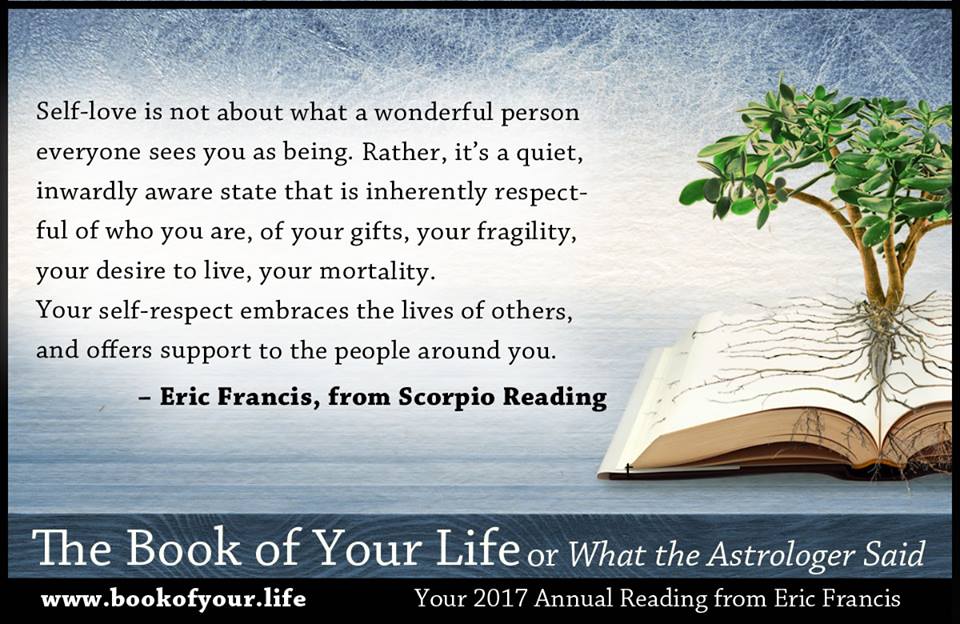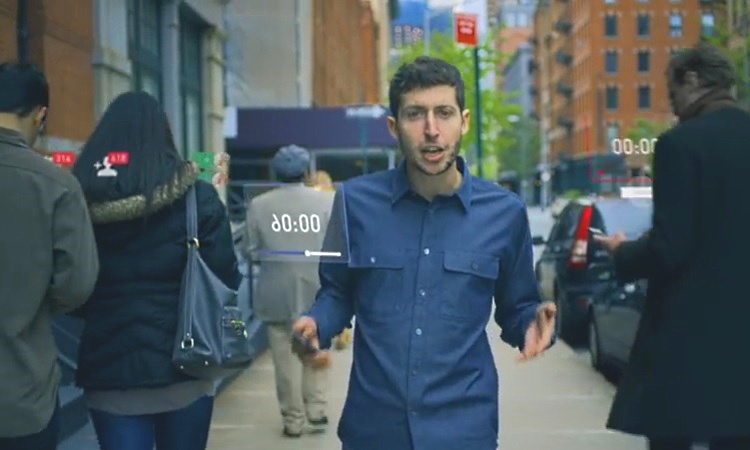 What Planet Waves Is Not
Our cousin Andrew McLuhan sent in this YouTube video by Max Stossel pleading with the designers of the internet not to waste our time, and to give us something other than more things to click, swipe or tap. Planet Waves was onto this 15 years ago, and we've designed our services to enrich your life and your soul -- not just your "online existence."
Pisces Birthdays 2017:
After the Eclipse: What Are You Here To Do?
"Your work has moved me. It has helped me to begin to understand what I have been through during this lifetime, and what I have come here to do. Planet Waves is like a place I always knew existed but could never find. Until now. I have wanted to write to you for some time but didn't know what to say; tonight I just want to thank you, sincerely, for what you do, because it has changed my life."
-- Anna B.
Dear Friend and Reader:
What have you discovered, and where are you within the shifting context of your life, now that Sunday's eclipse has come and gone? Are you feeling the fog of Sun-Neptune, or its optimism?
Pisces is currently chock-full of planets and points that are likely enhancing your awareness and urging you to do something with what you are learning. Your upcoming
2017 Pisces Birthday Reading
will be an
essential guide to sorting out your inner world and how it intersects with the rapidly changing world around you
.
Your reading will include two audio segments of astrology (at least 30 minutes each), plus a tarot reading (either audio or video) and extended written description of your sign. You may download the audio portions and listen as many times as you like as the year progresses.
Please note that the tarot portion may be ready after the astrology segments are released -- and the reading's price will increase when that happens.
If you have a Pisces Sun or ascendant (or would like to give a gift to someone who does), you can
pre-order the 2017 Pisces Birthday Reading
for the discounted pre-order price of $19.97.
In every audio birthday reading, Eric draws a clear connection between your present moment and environment, and long-term patterns that stretch into the past and into the future --
and which influence your options
. If you have a Pisces loved one,
this audio reading will make a generous and inspiring gift
.
Yours & truly,

Amanda Painter
P.S. Your
audio Pisces Birthday Reading
is
completely different from your written reading in the 2017 annual edition
. Eric will record the Birthday Reading with the Sun in Pisces, giving a detailed, in-the-moment take on the most important parts of your astrology as they begin to unfold.

Don't forget to sign up for our Four Winds daily almanac. Get the best free daily report on the internet. You may
sign up at this link
, and share our newsletter with anyone you wish.
Here's today's edition
, which includes a daily birthday reading, a daily overview, aspect listings and other features.
This Week's Horoscope for Pisces by Eric Francis Coppolino
The full effects of Sunday's solar eclipse in your sign will take a few days to settle in, though remember -- you're not drifting. Your life is on course, and you'll stay on course for as long as you stay connected to your feelings. If you cut off from your own sensitivity, or if you try to override your intuition with logic, you're likely to misguide yourself. You really know something when you know it in your body. Your mind and conscience will rarely disagree with what your body knows. I understand that there are many factors influencing you right now. Yet you have more influence over your life and your destiny than all of those factors combined. And you have the ability to make conscious choices and to use your resources wisely. One thing is for sure: you have much more available to you than you're aware of, and are about to make a pretty amazing discovery: such as a missing file, a forgotten bank account, or some precious and valuable tool. You may read all 12 signs
at this link
.

This Week on Planet Waves
Misty Eclipse in Pisces, Rad Conjunction in Aries Planet Waves TV is back! In this episode, Eric talks about Sunday's eclipse of the Sun in Pisces, and why you might be feeling the way you're feeling. He also discusses Mars getting mixed up in the Uranus-Eris conjunction, and the gathering of planets in Pisces and Aries. Please subscribe to our YouTube channel.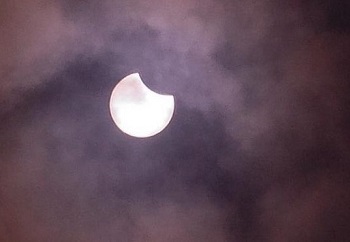 From an Eclipse into Venus Retrograde As Eric writes in this week's Astrology Diary, Sunday's eclipse in Pisces was what you might call a watershed moment: a point of transition from one phase of your life to another. This event put us under considerable pressure to wrap up old business and make way for new experiences, and its effects are not yet over.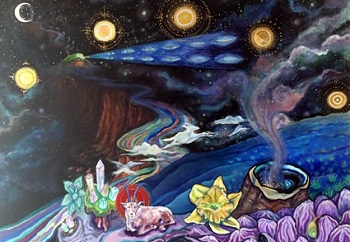 Indivisible: The Relationship Within Eric considers the question of how we take the current social unrest and build a sustainable movement. He examines how we might view our individual selves as part of the collective political sphere. He also looks at the role of Uranus conjunct Eris and the forthcoming Venus retrograde, both in Aries.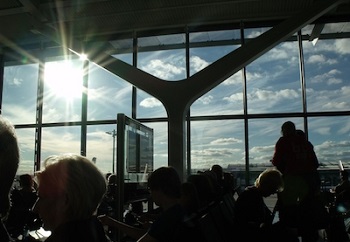 Self-Quickening: A Pisces Eclipse Travel Guide Amanda Painter discusses Sunday's annular eclipse in Pisces. As it happens, the Sabian symbol for the eclipse degree has "self-quickening" for its keyword. And moving faster -- with ease and agility (literally or metaphorically) -- happens better when one offloads what's unnecessary and travels light.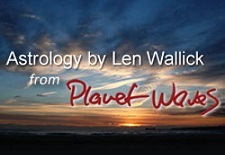 Not So Strange You may think of our times as quite strange. After all, what's up with a president addressing Congress on the last night of Mardi Gras? As Len Wallick observes, however, even the strangest times can be quite productive (and even understood) through the magnifying lens of astrology, and particularly through Jupiter.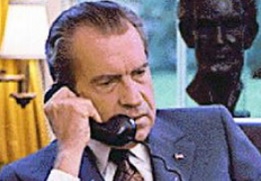 Democracy Now! Pick of the Week CNN and The New York Times report White House Chief of Staff Reince Priebus sought unsuccessfully to have the FBI refute news reports that Donald Trump's campaign advisers were in contact with Russian intelligence agents ahead of November's election. The allegations have drawn comparisons to Watergate. Latest Comics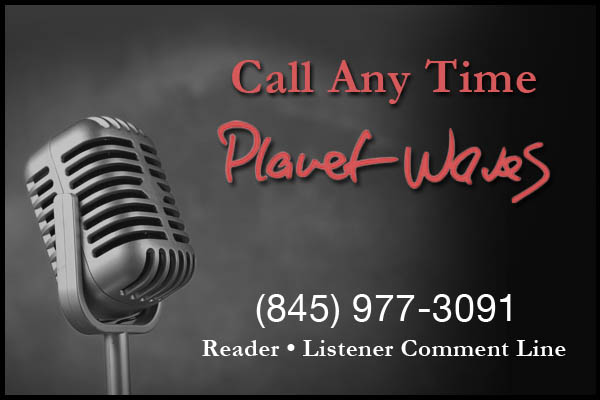 To unsubscribe,
click here
. To unsubscribe from all future Planet Waves emails,
please write to
cs@planetwaves.net
Copyright © 2017 by Planet Waves, Inc. All Rights Reserved. Other copyrights may apply. >>
Some images used under Fair Use or Creative Commons attribution.