New York, March 14, 2014 | View as Webpage | Customer Service: Chelsea (206) 567-4455




The Virgo Full Moon -- and Your Planet Waves Update



Dear Friend and Reader:
 
I hope you have had a good week! It's possible that the waxing Moon is beginning to make itself felt in your relationships as it makes its way toward opposing the Sun this weekend for the Virgo Full Moon; I'll say more about that below, but first a little housekeeping.
 
As announced previously, Eric has been diligently working on his upcoming article for The Mountain Astrologer and a few other projects, and will resume with his usual lead articles and horoscopes with next Friday's issue of Planet Waves on March 21. Also as promised, Eric has written a fresh weekly horoscope for Pisces; you'll find it at the bottom of this page.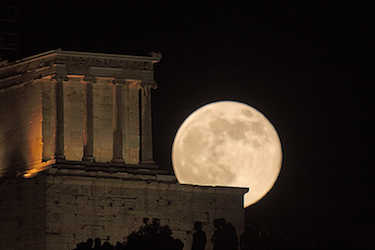 Full Moon rising behind the Temple of Athena Nike, Athens, Greece. Photo by Anthony Ayiomamitis

.

If you have not yet listened to Eric's three Planet Waves FM broadcasts this week, you really should. First up was a truly fascinating and engaging interview with Geoffrey Cornelius, author of The Moment of Astrology. (You can read more about Geoffrey's two upcoming workshops in New York here.)  
 
Eric's second Planet Waves FM program delved into the current astrology, including April's grand cross involving the Uranus-Pluto square, as well as the astrology of mysteriously missing Malaysian Airlines flight 370. Musical guest for this second program is Jimmy Be Free.

Broadcast number three is a follow-up on flight 370 in which Eric gives a closer reading of the chart for the missing airplane, along with written notes. He focuses on the fact that this chart has Sagittarius rising, which is perfect for an international flight, as Sagittarius is the sign of things international and also associated with aviation. Musical guest is Breakfast in Fur.
  
As for Sunday's Virgo Full Moon, Len Wallick's Thursday column looked into the Sun's conjunction to minor planet Salacia for this event. With a little research into your own life around two other recent Full Moons that aspected Salacia, you might discover this weekend the other side of a story -- a side you might not even have known was missing.
 
Thursday's Daily Astrology column considered the Virgo Full Moon's square to Pholus. Since Pholus is likely to magnify whatever we offer or encounter, giving it a life of its own, this is a good weekend to try leaning on the Pisces Sun's empathy and creativity -- and to take it easy with the Virgo Moon's more critical influence. If you feel extra sensitive this weekend, assume others are, too, and keep your compassion handy.
 
We also ran one of Eric's great archived articles on the Mayan calendar, called The Mayans, Juno and the Abyss, on Wednesday. (Carlos Cedillo's Wednesday column will return next week.)
 
And coming up this weekend, we'll have Judith Gayle's Political Waves column Saturday morning and Maria Padhila's column on polyamory (and related topics of relationships and sexuality) in the afternoon. Sarah Taylor's tarot reading for the week posts by 2 pm EDT on Sunday, and a few hours later, Elisa Novick's column on spiritual exploration and healing will publish.
 
Finally, if you have signed up for the Monsanto Watch mailing, later today you will be receiving an article about organic farmers in the U.S. reporting contamination of their crops by genetically modified strains. If you have not signed up for this separate mailing, which will include other environmental news some weeks, you may sign up here.
 
Have a blessed, joyful weekend, and we'll see you on Tuesday with your regularly scheduled mailing.

Yours and truly,



Amanda Painter



Pisces (Feb. 19-March 20) -- As the Sun moves through the visionary final six degrees of your sign this week (which happen to be the very last degrees of the zodiac before the cosmic clock resets at the equinox), I suggest you be a conscious visionary in your life. I don't mean this in some metaphoric way; I mean it directly. Describe the life that you want. Revise and rework that description every day, never assuming it's final, only clearer than the time before. You are much likelier to have, become or create what you know about, what you can envision. You are likelier to choose what you want, if you know you want it, and you recognize it when you see it. The clearer you are in this, the better. Therefore, it will be helpful if you have no secrets from yourself. Admit openly and/or remember what you have wanted to create but set aside because it was in some way impractical, not feasible or because you didn't think you deserved it. Those are the very obstacles that you are penetrating or removing by doing this creative visioning exercise. Do not worry about what is possible; focus, rather, on allowing yourself to see with your inner vision, and to bring that one step forward into manifestation.




To unsubscribe,

click here e Wiki

|

Friends

|

Editors Contact Us Copyright © 2013 by Planet Waves, Inc. All Rights Reserved. Other copyrights may apply. >>
Some images used under Fair Use or Share Alike attribution.