New York, March 2, 2018 | Read on Web | Please Visit Daily News Horoscope Area
Today is Friday, March 2, 2018
Hebrew date is 15 Adar 5778
Islamic date is 14 Jumada-II 1439
Mayan Tzolk'in Day is 3 kab'an
Mayan Long Count is 13.0.5.4.17
Julian Day is 2458180
Today's Birthdays: Sholem Aleichem (1859-1916), Susanna M. Salter (1860-1961), Kurt Weill (1900-1950), Grete Hermann (1901-1984), Dr. Seuss (1904-1991), Desi Arnaz (1917-1986), Jennifer Jones (1919-2009), Eddie "Lockjaw" Davis (1922-1986), Frances Spence (1922-2012), Tom Wolfe (1931), John Irving (1942), Lou Reed (1942-2013), Karen Carpenter (1950-1983), Jon Bon Jovi (1962), Alvin Youngblood Hart (1963), Daniel Craig (1968), Method Man (1971), Chris Martin (1977), Rebel Wilson (1980), Bryce Dallas Howard (1981).
"Every American should be forced to live outside the United States for a year or two. Americans should be forced to see how ridiculous they appear to the rest of the world! They should listen to someone else's version of themselves--to anyone else's version! Every country knows more about America than Americans know about themselves! And Americans know absolutely nothing about any other country!"
-- John Irving
---
Art of Becoming: Twentieth Annual Readings Complete

Dear Friend and Reader:

Sunday afternoon, wrapping up your Capricorn reading in The Art of Becoming, I noticed it felt a little strange writing the annual reading on a warm day. Since 1998, my annuals have been written through many cold days with low clouds, and long nights, and Christmas Eves and Thanksgiving weekends -- in places that include Paris, Brussels and Vashon Island.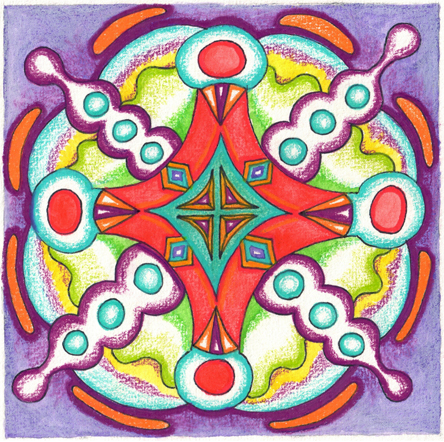 Illustration for The Art of Becoming for Pisces. Each reading includes custom artwork created just for this project by Lia Simone, a local artist whose work I adore.

My heartfelt thanks goes to all of our customers who have patiently waited for me to finish. This is the first year I've written the annual while simultaneously writing a daily horoscope.

Despite such a hectic schedule, I vowed to have no loss of quality, detail or workmanship in any of my writing. To this end, I've had immense help from Amy Elliott, Jessica Keet and Amanda Painter, who are the core of our copy team.

Each written reading takes about 12 hours to write, plus research time. Usually they are done in three writing sessions. Many took an entire weekend of work. Henry Miller said that it takes a writer a million words to find his voice. I have banked that just on these annual readings.

The readings are focused on the current year, though cover (and prepare you for) transits many years into the future. They are equally effective for your Sun and rising signs. Many people find great value in reading their Moon sign.

I consider it ethical to read for partners and loved ones. And best of all, The Art of Becoming is one purchase per household; that is, you may share it.

Read more...
---
Moon Phase: Moon is in Full phase and enters Waning Gibbous phase on March 5 at 5:13 am PST / 8:13 am EST (13:12:30 UTC).
Next New Moon is in Pisces on March 17 at 6:11 am PDT / 9:11 am EDT (13:11:29 UTC).
Next Full Moon is in Libra on March 31 at 5:37 PDT / 8:37 am EDT (12:36:45 UTC).
Moon Sign: Moon is in Virgo and enters Libra on March 3 at 12:20 am PST / 3:20 am EST (08:20:19 UTC).
Sun Degree: 12-13 Pisces.
Planetary Stations and Sign Changes
No changes today.
Interesting Selected Aspects | Data by Serennu
-- Mars conjunct Varda at 2:27 am PST / 5:27 am EST (10:27:25 UTC).
-- Venus conjunct Manwe at 4:10 am PST / 7:10 am EST (12:10:22 UTC).
-- Mercury trine Jupiter at 5:05 am PST / 8:05 am EST (13:04:59 UTC).
-- Chiron square Ixion at 8:04 am PST / 11:04 am EST (16:04:10 UTC)
Subscribe to Planet Waves -- sign up here | Visit Our Website at this link
If Your Birthday is March 2
(The Day of Undying Loyalty) | Pisces Birthday Reading | All Other Signs
Partners or loved ones play a vital role in keeping you steady and on track this year. You have the ideas; they seem to have the methods and the approach. But don't lean on anyone too heavily. Stay organized, and be responsible for the most important details. You need to make personally sure that what you're doing comes out right.
Current Pisces Weekly Horoscope

It's your birthday season, and many planets have joined the party. Among others, Venus and Mercury are in your sign, which bestow a natural charm and ease of communication. You can say less rather than say more.

Read more...
Current Pisces Monthly Horoscope

You're probably getting the message to up your game on the financial front, though the first thing to remember about finances is that they're connected to everything. In astrology there are two houses connected to the money that you earn.

Read more...
Written in the Planets
Mercury's trine with Jupiter today (Pisces to Scorpio) bodes well for making plans for the future, conducting business activity, making purchases and sales, and seeing all the possibilities in a situation (including those just below the surface). With Venus nearby, the creation or appreciation of art may be where you're drawn; Venus also opens the way for expressing your feelings, especially when it comes to love, affection or attraction. Additionally, Chiron in Pisces makes a square to Ixion in Sagittarius today. This brings a message: it's up to you to use what Chiron has brought to your awareness these last seven or eight years, in terms of your inner healing journey. Doing so is a choice, not a given. Think of it as a form of being ethical with yourself.

You can now get instant access to all 12 signs of the 2018 Planet Waves annual edition, The Art of Becoming -- we'll be publishing the additional transit videos soon. Order all 12 signs here to read your Sun, Moon and rising sign and those of loved ones, or choose your individual signs here.
---

Aries (March 20-April 19) -- Your deepest desires are closer to realization than you may think. But you must keep dreaming and you must keep taking action. Let go of the idea that you have to make some sacrifice for the cause -- the purpose you are pursuing is full involvement, commitment and success. Taurus (April 19-May 20) -- You are a natural-born shape-shifter, and can blend in anywhere; though it helps that the best camouflage is being, looking and feeling good. Yet with close partners and loved ones, be your most direct, sincerest self. The people who love you are 100% behind you, so you can be equally real. Gemini (May 20-June 21) -- You're dreaming big these days. You know that you can accomplish anything. Eventually you will need to pass everything through the test of whether it's practical and realistic, though now is not the time. Let yourself imagine the possibilities unfettered, at least for a few days. Cancer (June 21-July 22) -- You may be deciding that it's time to take a trip somewhere. You need a change of scenery, the more exotic the better. However, different in any form will suffice; and if you get yourself near water this weekend, you will feel immensely better. Take a stroll on the nearest boardwalk. Leo (July 22-Aug. 23) -- You're right in the zone where fantasy meets reality. Set aside your worldly concerns and explore that delightful line where you can manifest your imagination in the most intimate settings. What you experience may not be a lasting thing; though it will be fun, and worth the experience. Virgo (Aug. 23-Sep. 22) -- Others will lead you where you're not entirely sure you want to go. You're free to follow along, or to be a full participant. If you feel loved and recognized, that's a sign that you're welcome, and you can immerse yourself in another person's world. Yet this particular world belongs to everyone. Libra (Sep. 22-Oct. 23) -- Thank Goddess it's Friday. With the Sun, Venus and many other planets in Libra-friendly Pisces, you need to get away from it all, or at least some of it. One potentially ideal option is to dive into your alt-work -- what you do on the side, such as your art or music. Business can wait till Monday. Scorpio (Oct. 23-Nov. 22) -- It's not easy to celebrate these days, especially if you're a thoughtful and caring person. There always seems to be trouble lurking around the bend, for someone. However, you have many reasons to be happy, and to appreciate your life, so take some time and do that, sooner rather than later. Sagittarius (Nov. 22-Dec. 22) -- You have some important business to wrap up today. Sagittarius always walks that line between saying 'damn the details', and being obsessed by them. Today is the day to focus on the fine points, and make sure that everything and everyone adds up in a way you understand. Capricorn (Dec. 22-Jan. 20) -- Your mind may be wandering today. Take care of the most important tasks you have before you, and double-check to make sure they're correct. You might want to have a trusted coworker do some fact-checking and proofreading for you, to ensure you get it right the first time. Aquarius (Jan. 20-Feb. 19) -- Suspend your prejudices and any wishful thinking, and allow people to come forward with what they believe is correct. Listen carefully, and give things a few days to settle in. You must be careful with money this weekend, and avoid important decisions or large purchases.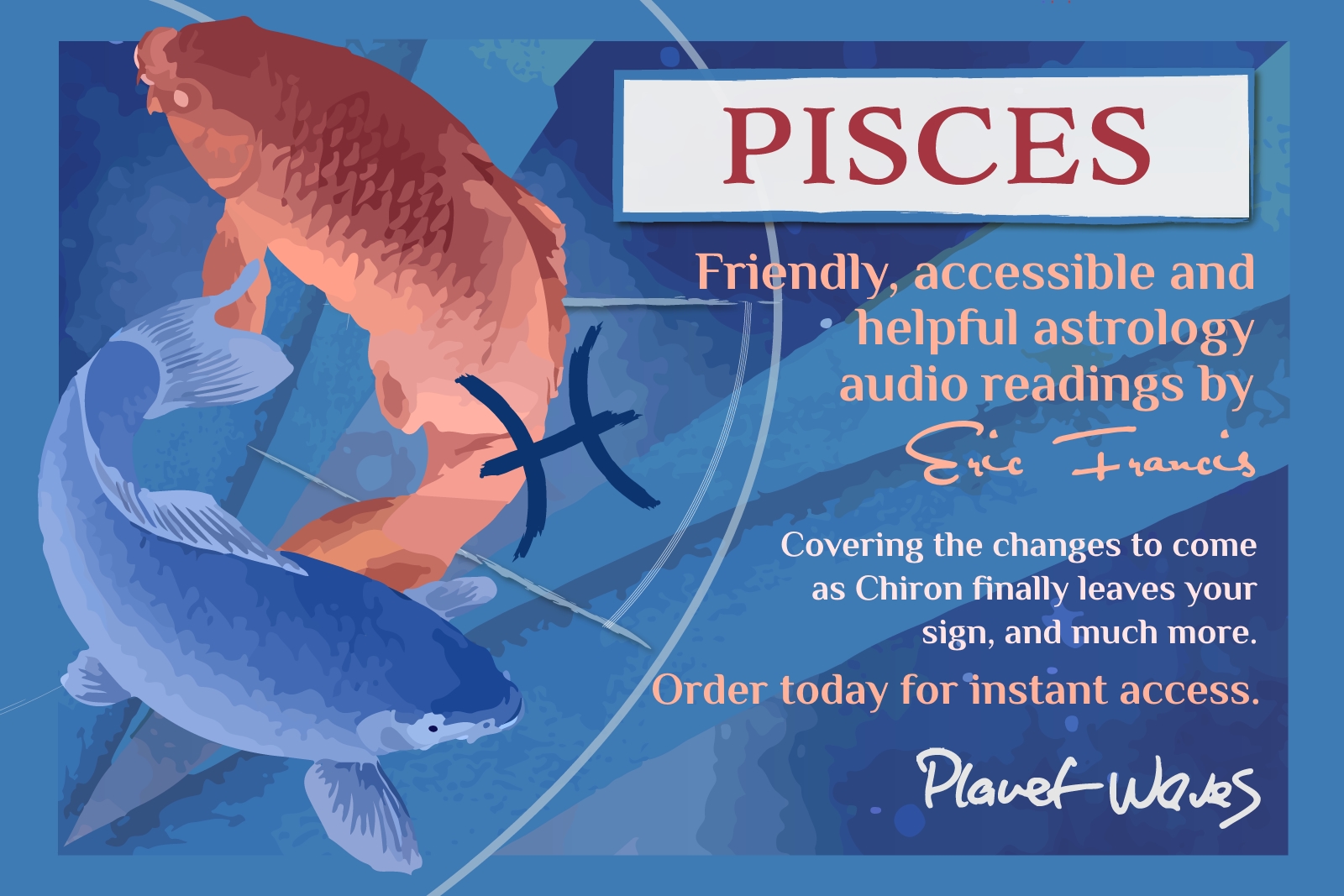 Full Moon Door: Your Pisces Reading is Ready



Dear Fellow Pisces, Pisces Rising or Pisces Lover:

It's been a crazy busy week -- finishing The Art of Becoming, keeping up with horoscopes and playing investigative reporter -- but I just had to do the Pisces birthday reading tonight.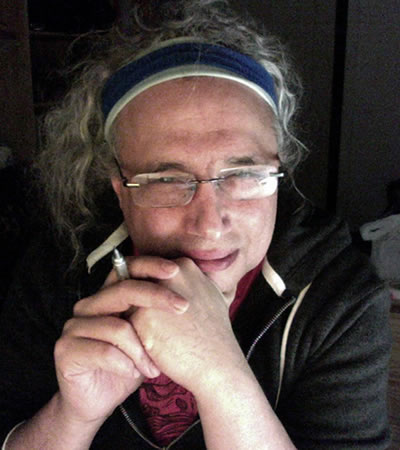 From your fellow Pisces, Eric Francis.

That is now ready for instant access, at the pre-order price (till Friday evening, when it goes up to $44, and then stops at $66).

My job is to provide encouragement, reassurance, and actual information about your transits. I do my best to provide just that.

This is a mellow, but detailed, reading, which starts with a long discussion of relationships and the need to be discerning. This is directly related to claiming your full value in the world, and feeling good about yourself: what some call self-esteem.

I expound on two different interpretations of the Virgo Full Moon -- one based on my own writeup in the Daily News, and for contrast, the other based on Sally Brompton's interpretation in The New York Post.

From there, I talk about the ingress of planets from water sign Pisces to fire sign Aries, which in the coming days will include Mercury and Venus, then Chiron.

In the second segment I talk mainly about career, profession and community involvement -- this is a discussion of Saturn from Sagittarius into Capricorn.

There is plenty more. You can get a personal reading from me lasting 75 minutes for $555 -- or a reading I would be very happy to get, 75 minutes for $33. Get instant access now.

Thank you for your business, and for trusting me as your astrologer.

With love,



P.S. The Art of Becoming is now ready. This reading is a very detailed report on Chiron moving from Pisces to Aries, among other things. You can get individual signs here.


---
Pisces (Feb. 19-March 20) -- You've set aside your own needs for a while, and have devoted yourself to a particular goal. You had the help of a rare conjunction of Mars and the meaningful asteroid Vesta. Now you can take a breather, and just in time for the weekend, too. Resist the temptation to keep on working.

Monthly Horoscopes and Publishing Schedule Notes



We published your extended monthly horoscopes for March on Thursday, Feb. 22. Your extended monthly horoscopes for February were published on Thursday, Jan. 25. Please note: we normally publish the extended monthly horoscope on the first Friday after the Sun has entered a new sign.


---
---