New York, March 1, 2018 | Read on Web | Please Visit Daily News Horoscope Area
Today is Thursday, March 1, 2018
Hebrew date is 14 Adar 5778
Islamic date is 13 Jumada-II 1439
Mayan Tzolk'in Day is 2 k'ib'
Mayan Long Count is 13.0.5.4.16
Julian Day is 2458179
Today's Birthdays: Martial (40-102), Sandro Botticelli (1445-1510), Frederic Chopin (1810-1849), Glenn Miller (1904-1944), David Niven (1910-1983), Ralph Ellison (1913-1994), Dinah Shore (1916-1994), Robert Lowell (1917-1977), Richard Wilbur (1921), Harry Belafonte (1927), Joan Hackett (1934-1983), Robert Grossman (1940), Roger Daltrey (1944), Burning Spear (1945), Ron Howard (1954), Timothy Daly (1956), Javier Bardem (1969), Alexis Fields (1982), Lupita Nyong'o (1983), Ke$ha (1987).
"I am invisible, understand, simply because people refuse to see me. Like the bodiless heads you see sometimes in circus sideshows, it is as though I have been surrounded by mirrors of hard, distorting glass. When they approach me they see only my surroundings, themselves or figments of their imagination, indeed, everything and anything except me.'"
-- Ralph Ellison
Moon Phase: Moon is in Waxing Gibbous phase and enters Full phase today at 4:51 pm PST / 7:51 pm EST (00:51:15 March 2 UTC).
Next New Moon is in Pisces on March 17 at 5:11 am PST / 8:11 am EST (13:11:29 UTC).
Next Full Moon is in Libra on March 31 at 4:37 PST / 7:37 am EST (12:36:45 UTC).
Moon Sign: Moon is in Leo and enters Virgo at 9:57 pm Feb. 28 PST / 12:57 am EST (05:57:19 UTC).
Sun Degree: 11-12 Pisces.
Planetary Stations and Sign Changes
Moon enters Virgo at 9:57 pm Feb. 28 PST / 12:57 am EST (05:57:19 UTC).
Interesting Selected Aspects | Data by Serennu
-- Mercury square Varda at 2:42 am PST / 5:42 am EST (10:41:46 UTC).
-- Sun square Altjira at 3:00 am PST / 6:00 am EST (11:00:31 UTC).
-- Venus trine Jupiter at 3:22 am PST / 6:22 am EST (11:22:12 UTC).
-- Neptune square Asbolus at 5:51 am PST / 8:51 am EST (13:51:06 UTC).
-- Mercury conjunct Borasisi at 8:20 am PST / 11:20 am EST (16:20:19 UTC).
-- Mercury square Chaos at 11:02 am PST / 2:02 pm EST (19:01:51 UTC).
Subscribe to Planet Waves -- sign up here | Visit Our Website at this link
If Your Birthday is March 1
(The Day of Artistic Sensibilities) | Pisces Birthday Reading | All Other Signs
A Full Moon on your birth anniversary is an invitation to live fully, express yourself boldly, and dream from your current reality into the next. Everything that had come to a standstill is likely to start moving again; the Full Moon is famous for resolving deadlocks, and your powers of charm and persuasion are running at full strength.
Current Pisces Weekly Horoscope

It's your birthday season, and many planets have joined the party. Among others, Venus and Mercury are in your sign, which bestow a natural charm and ease of communication. You can say less rather than say more.

Read more...
Current Pisces Monthly Horoscope

You're probably getting the message to up your game on the financial front, though the first thing to remember about finances is that they're connected to everything. In astrology there are two houses connected to the money that you earn.

Read more...
Written in the Planets
The astrological New Year takes place on the northern Spring Equinox, when the Sun enters Aries (which this year is March 20). Today's Virgo Full Moon seems to look ahead to that time, and to suggest a focus on tying up loose ends over the next few weeks. That means fulfilling promises, settling debts, and generally doing a psychic housecleaning -- so that new ideas and dreams can enter in and inspire you.

The 2018 Planet Waves annual, The Art of Becoming, is almost complete and is getting amazing reviews. Order all 12 signs here to read your Sun, Moon and rising sign and those of loved ones, or choose your individual signs here.
---

Aries (March 20-April 19) -- You're now free of an important commitment. You have no need to keep looking over your shoulder. You did what you had to do, and you did it well. This happens just in time to take care of an important personal priority, possibly related to international travel or your spiritual path. Taurus (April 19-May 20) -- You still might feel like a decision or situation is hanging in the balance, though you are on solid ground. You handle yourself well under pressure, and this is one situation where your considerable skill and experience is coming in handy. You can afford to be as passionate as you want. Gemini (May 20-June 21) -- Professional matters are high on your list of priorities at the moment, though you would be wise to go stealth for a while. Keep your plans to yourself, or share only on a need-to-know basis. Sometimes it's OK to use a polite, mostly true cover story, to protect your own interests. Cancer (June 21-July 22) -- Today's Full Moon is a perfect blend of the visionary and the practical. The two need not compete in any way -- in fact, they work well together, especially if you're adept at making your plans into something tangible without a long delay. Start somewhere -- a sketch or notes will do. Leo (July 22-Aug. 23) -- Pay attention to the facts and figures related to a financial matter. You may be getting one version of the story from a partner or associate, though the actual written details will tell another story. Don't let your beliefs, prejudices or ideals get the best of you. Take a practical approach. Virgo (Aug. 23-Sep. 22) -- Today is the one and only Full Moon in your sign this year, and it will present you with an opportunity to see what you're missing. It will feel a little like wearing sunglasses that allow you to see the invisible -- or which cut the glare and allow you to see what is right there. Libra (Sep. 22-Oct. 23) -- Rest is repair. You are ready for a break, some escape from your daily responsibilities. Try not to miss the opportunity that this weekend presents to slow down your pace and, if you can, disconnect from technology. You need art, music and nature. You need space to dream. Scorpio (Oct. 23-Nov. 22) -- Planets continue to gather in the most exciting, passionate angle of your solar chart. This has you at your most creative, alluring and appealing, though it would be too easy to stop at imagining the possibilities rather than experiencing them directly. Yet you simply must satisfy your curiosity. Sagittarius (Nov. 22-Dec. 22) -- You seem to have calmed down from whatever was agitating you the past few days, and you can now get back to business. Today's Full Moon is beaming from the angle of your chart associated with achievement and reputation. Remember: the details matter. Take care of them yourself. Capricorn (Dec. 22-Jan. 20) -- There's a time to experiment boldly with your ideas, and the time is now. Part of that experiment might include polishing up a small part of what you're working on, and circulating it as a pilot project. See how people respond. Let that inform you rather than dictate your choices. Aquarius (Jan. 20-Feb. 19) -- Check with closer partners about the fine print in a financial or contractual matter. This is one case where the actual data points will make it clear which way to go. You tend to be overly optimistic in these matters. Be open to persuasion that your concept needs some work.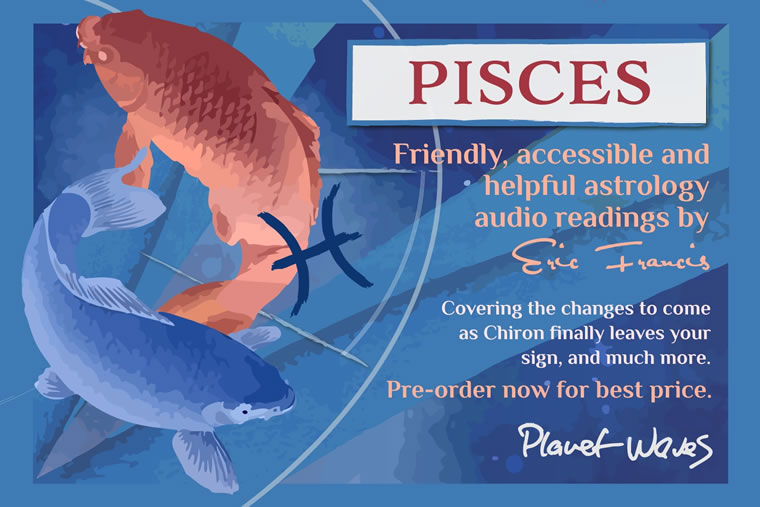 Pisces Birthdays 2018
What Have You Learned, and How Will You Use It?
"Thank you Eric, very helpful to have your perspective. As a Piscean (with Scorpio rising and Moon in Cancer forming a grand trine -- all very watery) I have certainly experienced massive transformative times and have been set on a journey with many unexpected twists and turns." -- Trudy Austin
Dear Pisces Friend and Reader:

What have you learned during the seven or so years Chiron has been in your sign? Have you faced crises; been pushed to grow; learned you are stronger, more creative and more whole than you previously thought? Do you feel more at home in your skin or on the planet than you used to?



As a fellow Pisces, Eric has been sharing the experience the whole way; as an astrologer with an established track record of working with Chiron, he's in a prime position to guide you through Chiron's entrance into Aries, your second house of what you value -- including your self-esteem -- in your upcoming 2018 Pisces Birthday Reading.

This 'audio meditation' consists of two segments of audio astrology (plus a tarot reading that will arrive a little later), each at least 30 minutes long. You can download it to any mobile device and listen as many times as you like throughout the year -- any time you need a little extra encouragement, some orientation, or a reminder of the longer arc of your path.

Note that the Birthday Reading is a separate project from the annual edition, different in every way -- they make excellent companions. While the annual readings are written chapters of an interconnected set, your birthday reading is a stand-alone deep dive into your astrology as your solar year is beginning.
"Ah Eric -- just listened to your reading. I was moved to tears by your closing words. Your passion, deep care and love always shine through; and you have the gift of all great teachers, of making one feel that one is being personally addressed, respected and taken care of." -- Liz Glanville
You can pre-order your 2018 Pisces Birthday Reading here, for just $33. We offer the lowest price first; the price will increase as we near the recording and publication of the reading.

Eric will be covering far more than Chiron's transition -- astrology that impacts your relationships, career, finances, sexuality, healing process, creativity, family and more. His audio readings not only stand up to repeated listenings throughout the year, they're almost like getting a personal consultation for a fraction of the cost -- and just as useful.

Yours & truly



Amanda Painter

P.S. If you love a Pisces, make their day: give the Pisces reading as a gift.


---
Pisces (Feb. 19-March 20) -- Today's Full Moon is in your relationship sign Virgo, and you may find yourself face-to-face with someone you long considered inaccessible or out of your league. As a Pisces, you of all people know there's nobody here except us critters. Just be yourself, and proceed with your heart open.

Monthly Horoscopes and Publishing Schedule Notes



We published your extended monthly horoscopes for March on Thursday, Feb. 22. Your extended monthly horoscopes for February were published on Thursday, Jan. 25. Please note: we normally publish the extended monthly horoscope on the first Friday after the Sun has entered a new sign.


---
---