New York, February 28, 2018 | Read on Web | Please Visit Daily News Horoscope Area
Today is Wednesday, Feb. 28, 2018
Hebrew date is 13 Adar 5778
Islamic date is 12 Jumada-II 1439
Mayan Tzolk'in Day is 1 Men
Mayan Long Count is 13.0.5.4.15
Julian Day is 2458178
Today's Birthdays: Michel de Montaigne (1533-1592), Mary Lyon (1797-1849), Ben Hecht (1894-1964), Linus Pauling (1901-1994), Ketti Frings (1909-1981), Zero Mostel (1915-1977), Charles Durning (1923-2012), Frank Gehry (1929), Alice Brock (1941), Barbara Acklin (1943-1998), Kelly Bishop (1944), Steven Chu (1948), Bernadette Peters (1948), Paul Krugman (1953), Ainsley Harriott (1957), John Turturro (1957), Cindy Wilson (1957), Robert Sean Leonard (1969), Tasha Smith (1971).
"Now, it's true that some of the protesters are oddly dressed or have silly-sounding slogans, which is inevitable given the open character of the events. But so what? I, at least, am a lot more offended by the sight of exquisitely tailored plutocrats, who owe their continued wealth to government guarantees, whining that President Obama has said mean things about them than I am by the sight of ragtag young people denouncing consumerism.'"
-- Paul Krugman
Moon Phase: Moon is in Waxing Gibbous phase and enters Full phase on March 1-2 at 4:51 pm PST / 7:51 pm EST (00:51:15 UTC).
Next Full Moon is in Virgo on March 1-2 at 4:51 pm PST / 7:51 pm EST (00:51:15 UTC).
Corresponding New Moon in Pisces is on March 17 at 5:11 am PST / 8:11 am EST (13:11:29 UTC).
Moon Sign: Moon is in Leo and enters Virgo on March 1 at 9:57 pm Feb. 28 PST / 12:57 am EST (05:57:19 UTC).
Sun Degree: 10-11 Pisces.
Planetary Stations and Sign Changes
No changes today.
Interesting Selected Aspects | Data by Serennu
-- Venus square Chaos at 12:48 am PST / 3:48 am EST (08:47:40 UTC).
-- Mercury square Vesta at 5:05 am PST / 8:05 am EST (13:04:40 UTC).
-- Mercury square Mars at 3:56 pm PST / 6:56 pm EST (23:56:06 UTC).
-- Pluto opposite Cyllarus at 6:57 pm PST / 9:57 pm EST (02:57:12 March 1 UTC).
-- Mercury sextile Pluto at 8:42 pm PST / 11:42 pm EST (04:42:01 March 1 UTC).
Subscribe to Planet Waves -- sign up here | Visit Our Website at this link
If Your Birthday is Feb. 28
(The Day of of Zest) | Pisces Birthday Reading | All Other Signs
You must work for what you want, though don't overdo it. Know when to back away and take care of yourself, and when you need to ramp up your efforts to accomplish something special. Work is a form of therapy for you. It's one of the main ways that you discover who you are, on an ongoing basis. Make sure your efforts feed you as much as you feed them.
Current Pisces Weekly Horoscope

It's your birthday season, and many planets have joined the party. Among others, Venus and Mercury are in your sign, which bestow a natural charm and ease of communication. You can say less rather than say more.

Read more...
Current Pisces Monthly Horoscope

You're probably getting the message to up your game on the financial front, though the first thing to remember about finances is that they're connected to everything. In astrology there are two houses connected to the money that you earn.

Read more...
Written in the Planets
If you're like most people, something only feels like a sacrifice if you don't really want to do it, or if you don't really value it, or if it truly takes more out of you than you have to give to it. Devotion often goes unacknowledged by the person exhibiting it, because they're just doing what feels right -- what they're doing lights them up. That's the sensation you're looking for today, as Mercury in Pisces makes a square to Vesta and Mars in Sagittarius. Mercury might be the planet of mind, but with Pisces and Sagittarius involved, 'intuition' or 'spirit' seems like a more likely conduit for this realization than 'regular' thought. At the same time, frustration from having to sacrifice your time, energy or ideals for something you don't value needs to find a constructive outlet; the more proactive you can be about communicating with those who can help you make some changes, the more likely you'll be to let off some internal pressure and find a workable way forward.

The 2018 Planet Waves annual, The Art of Becoming, is almost complete and is getting amazing reviews. Order all 12 signs here to read your Sun, Moon and rising sign and those of loved ones, or choose your individual signs here.
---

Aries (March 20-April 19) -- You have enough energy to power a small city; though, even still, you can conserve some of it. You don't want to burn out, and you will need some reserves for important tasks the next few days. You may have already accomplished what you needed to do. Take some time and chill out. Taurus (April 19-May 20) -- Nobody can judge your personal life. If it seems like someone is doing so, do yourself a favor and don't argue with them. People will express their opinions; they're entitled to be wrong, and they're entitled to be jerks -- this has nothing to do with your truth, so don't let it get to you. Gemini (May 20-June 21) -- Check your facts before you say too much, or publish anything. People are reading and listening; some know more than you, and some of them are rather opinionated. If you do make a mistake in some public venue, correct it quickly; don't grovel about it. Just make sure the facts are right. Cancer (June 21-July 22) -- Today will be an interesting day in your financial life; remind yourself there are plenty of people who are supportive and helpful, and that you actually have some excellent business opportunities available. Notice them when you see them, and use the advantages that you have -- they're yours. Leo (July 22-Aug. 23) -- You're connected to everyone and everything today. So use those connections, for social and business purposes. Engage people with your ideas, and take an interest in theirs. Ask questions, invite someone you like on a date, and feel the power of your true self-confidence. Virgo (Aug. 23-Sep. 22) -- Your intuition will be spot-on today, though you may not agree with it. It's easy to rationalize yourself out of what you know is true, though the question is why would you do that? You seem to be worried that good things might happen. But how exactly does that help you? There must be something. Libra (Sep. 22-Oct. 23) -- You cannot live up to anyone's expectations -- and since that is the case, you'll do just brilliantly if you present yourself as you are, all the time. Most social awkwardness is the result of trying to fake it, and feeling like one has failed at it. The much easier solution is to hang loose. Scorpio (Oct. 23-Nov. 22) -- If you know what you want, you're likely to get it. Have you ever noticed that? It's not magic; it's about focusing your attention and your energy on something tangible. It's not a guarantee, but the odds sway heavily in your favor when you make a choice and move in its direction. Sagittarius (Nov. 22-Dec. 22) -- Slow down enough to notice how you feel at all times. Any experience of hurt, longing, loss, or lack of fulfillment is probably old anger coming up. You may think you're annoyed at one thing, when, on careful reflection, it will turn out to be another. Keep a close pulse on yourself. Capricorn (Dec. 22-Jan. 20) -- Be careful of hazy lines between what's true and what's not. The chances are, what you feel is too shocking to say is the thing that's actually true, and the thing you need to express. You're an inherently polite person. You can afford to be a little brash. It will add some sparkle to your day. Aquarius (Jan. 20-Feb. 19) -- You seem to be having a wide diversity of feelings about your self-worth. Here's one thing you can trust: it has nothing to do with being perfect, or seeming perfect. It has everything to do with your willingness to relax, be yourself, and observe what happens. Sending yourself positive messages helps.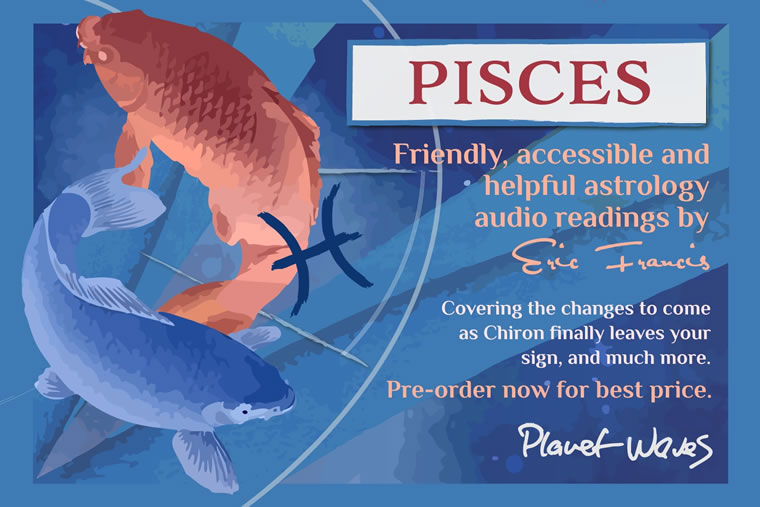 Pisces Birthdays 2018
What Have You Learned, and How Will You Use It?
"Thank you Eric, very helpful to have your perspective. As a Piscean (with Scorpio rising and Moon in Cancer forming a grand trine -- all very watery) I have certainly experienced massive transformative times and have been set on a journey with many unexpected twists and turns." -- Trudy Austin
Dear Pisces Friend and Reader:

What have you learned during the seven or so years Chiron has been in your sign? Have you faced crises; been pushed to grow; learned you are stronger, more creative and more whole than you previously thought? Do you feel more at home in your skin or on the planet than you used to?



As a fellow Pisces, Eric has been sharing the experience the whole way; as an astrologer with an established track record of working with Chiron, he's in a prime position to guide you through Chiron's entrance into Aries, your second house of what you value -- including your self-esteem -- in your upcoming 2018 Pisces Birthday Reading.

This 'audio meditation' consists of two segments of audio astrology (plus a tarot reading that will arrive a little later), each at least 30 minutes long. You can download it to any mobile device and listen as many times as you like throughout the year -- any time you need a little extra encouragement, some orientation, or a reminder of the longer arc of your path.

Note that the Birthday Reading is a separate project from the annual edition, different in every way -- they make excellent companions. While the annual readings are written chapters of an interconnected set, your birthday reading is a stand-alone deep dive into your astrology as your solar year is beginning.
"Ah Eric -- just listened to your reading. I was moved to tears by your closing words. Your passion, deep care and love always shine through; and you have the gift of all great teachers, of making one feel that one is being personally addressed, respected and taken care of." -- Liz Glanville
You can pre-order your 2018 Pisces Birthday Reading here, for just $33. We offer the lowest price first; the price will increase as we near the recording and publication of the reading.

Eric will be covering far more than Chiron's transition -- astrology that impacts your relationships, career, finances, sexuality, healing process, creativity, family and more. His audio readings not only stand up to repeated listenings throughout the year, they're almost like getting a personal consultation for a fraction of the cost -- and just as useful.

Yours & truly



Amanda Painter

P.S. If you love a Pisces, make their day: give the Pisces reading as a gift.


---
Pisces (Feb. 19-March 20) -- If you can muster up some chutzpah, you will have some interesting experiences today. Make sure you talk to the people you're not supposed to even look at, go to the places you're not supposed to go, and want the experiences that you think will be interesting. Let curiosity lead the way.

Monthly Horoscopes and Publishing Schedule Notes



We published your extended monthly horoscopes for March on Thursday, Feb. 22. Your extended monthly horoscopes for February were published on Thursday, Jan. 25. Please note: we normally publish the extended monthly horoscope on the first Friday after the Sun has entered a new sign.


---
---