New York, February 27, 2018 | Read on Web | Please Visit Daily News Horoscope Area
Today is Tuesday, Feb. 27, 2018
Hebrew date is 12 Adar 5778
Islamic date is 11 Jumada-II 1439
Mayan Tzolk'in Day is 13 Ix
Mayan Long Count is 13.0.5.4.14
Julian Day is 2458177
Today's Birthdays: Henry Wadsworth Longfellow (1807-1882), Ellen Terry (1847-1928), Alice Hamilton (1869-1970), Roberto Assagioli (1888-1974), Freddie Keppard (1889-1933), David Sarnoff (1891-1971), Marian Anderson (1897-1993), John Steinbeck (1902-1968), Joan Bennett (1910-1990), Irwin Shaw (1913-1984), Dexter Gordon (1923-1990), David H. Hubel (1926-2013), Elizabeth Taylor (1932-2011), Ralph Nader (1934), Timothy Spall (1957), Adam Baldwin (1962), Rozonda Thomas (1971), Bobby V (1980), Josh Groban (1981), Kate Mara (1983).
"I once said to my father, when I was a boy, 'Dad we need a third political party.' He said to me, 'I'll settle for a second.'"
-- Ralph Nader
Moon Phase: Moon is in Waxing Gibbous phase and enters Full phase on March 1-2 at 4:51 pm PST / 7:51 pm EST (00:51:15 UTC).
Next Full Moon is in Virgo on March 1-2 at 4:51 pm PST / 7:51 pm EST (00:51:15 UTC).
Corresponding New Moon in Pisces is on March 17 at 5:11 am PST / 8:11 am EST (13:11:29 UTC).
Moon Sign: Moon is in Leo and enters Virgo on March 1 at 9:57 pm Feb. 28 PST / 12:57 am EST (05:57:19 UTC).
Sun Degree: 9-10 Pisces.
Planetary Stations and Sign Changes
No changes today.
Interesting Selected Aspects | Data by Serennu
-- Venus sextile Pluto at 2:20 am PST / 5:20 am EST (10:20:07 UTC).
-- Sun opposite Orcus at 11:45 am PST / 2:45 pm EST (19:45:05 UTC).
-- Venus square Varda at 11:58 am PST / 2:58 pm EST (19:57:36 UTC).
-- Venus conjunct Borasisi at 7:57 pm PST / 10:57 pm EST (03:56:42 Feb.28 UTC).
Subscribe to Planet Waves -- sign up here | Visit Our Website at this link
If Your Birthday is Feb. 27
(The Day of Reality Masters) | Pisces Birthday Reading | All Other Signs
You know what you want, and what you're willing to do to have it happen. Now, you need to bring others into your plan, those you trust and those you care about. You are not alone, and you will have plenty of support if you ask for it. But you are the one who must take leadership and assert your intentions on the world. It's OK: you can trust yourself.
Current Pisces Weekly Horoscope

It's your birthday season, and many planets have joined the party. Among others, Venus and Mercury are in your sign, which bestow a natural charm and ease of communication. You can say less rather than say more.

Read more...
Current Pisces Monthly Horoscope

You're probably getting the message to up your game on the financial front, though the first thing to remember about finances is that they're connected to everything. In astrology there are two houses connected to the money that you earn.

Read more...
Written in the Planets
With the Pisces Sun opposite a body called Orcus, which is in Virgo, today offers a reminder to keep your word to others. Everyone knows that life gets busy, and sometimes priorities, desires, preferences and goals change. But if you have made any promises or commitments that are coming due, you might want to review them and do your best to keep them. If you need to make an adjustment, remember that renegotiating the terms of an agreement is a two-way street that still strives to meet everyone's needs, though in a flexible way. Simply saying, "I'm not going to do that thing I said I'd do" doesn't quite count. If this feels especially difficult due to the brewing Full Moon, see if you can view the situation from the perspective of what serves the highest collective or creative good. That direction could offer a greater sense of spaciousness to ease the logjam feeling.

The 2018 Planet Waves annual, The Art of Becoming, is almost complete and is getting amazing reviews. Order all 12 signs here to read your Sun, Moon and rising sign and those of loved ones, or choose your individual signs here.

Aries (March 20-April 19) -- You can tap into tremendous creative and psychic energy, and move mountains. You've got about a two-day supply; then you'll need to go into revise/edit mode, and touch up the details. For now, make headway while the wind is behind you -- and while the ideas are flowing. Taurus (April 19-May 20) -- You are involved in a situation where every move counts -- or it surely seems like it does. You'll know which one because so much seems to hang in the balance. This is probably an exaggeration, but the planets are making the point that your choices matter, so make your decisions carefully. Gemini (May 20-June 21) -- You will need to be patient with those you work with. It's just part of the territory of your life these days. Beneath any crusty exterior, people are open to cooperation, especially if they understand that everyone is working toward the same goal. That's the thing to focus on. Cancer (June 21-July 22) -- Remember to eat today. By eat, I mean real food, that you actually like, and which makes you feel good. It will be worth the time and any effort that it takes. Your brain is working overtime, and it needs all the nourishment it can get; you're the only one who can take care of that meaningful task. Leo (July 22-Aug. 23) -- Creativity and sexual tension go together rather nicely. Squeeze some fresh juice into whatever you're doing, which certainly looks interesting -- or like it could be, if you let it. Move your mind with your heart and your hips, and be bold enough to go freestyle. Get the flow going and feel the results. Virgo (Aug. 23-Sep. 22) -- It certainly would help if you got your hands wet, or maybe even jump into the water. You seem to be keeping an arm's length from who and what you want the most, and as usual, you're overstating the risks. And you're also undervaluing them. Your margin of safety is bigger than you think. Libra (Sep. 22-Oct. 23) -- When you connect with your desire -- I mean really connect -- you tap your motivation. If you're not feeling motivated, then you don't want what you're working for. However, when you make contact with your deep and lustful longing for existence, that's your mainline into your strength. Scorpio (Oct. 23-Nov. 22) -- Notice that you want something different from the people you know. You have some unusual desires, and you may as well make peace with them. For one thing, your love affairs don't need to fit the cookie-cutter model that most people aspire to. You have better, more interesting ideas. Sagittarius (Nov. 22-Dec. 22) -- Anger can serve two main purposes: a destructive force that hurts you and others, or a motivating force that gets positive results. It may not seem that way, but this is a choice that you make. Anger is energy, which can take any form you encourage or allow it to take. Choose consciously. Capricorn (Dec. 22-Jan. 20) -- If you're feeling stress with someone, consider that the deeper feeling is really attraction and desire. If that turns out to be true, you might experiment with the positive and friendly approach, rather than the standoffish one. What you want is all-natural: closeness and companionship. Aquarius (Jan. 20-Feb. 19) -- It's time to focus your plan. Not your plan for the rest of your life, but rather an agenda for going forward. You're letting go of old ideas about yourself that were long past their expiration date. You're getting some new ones, too, and these need to be tested and put into action.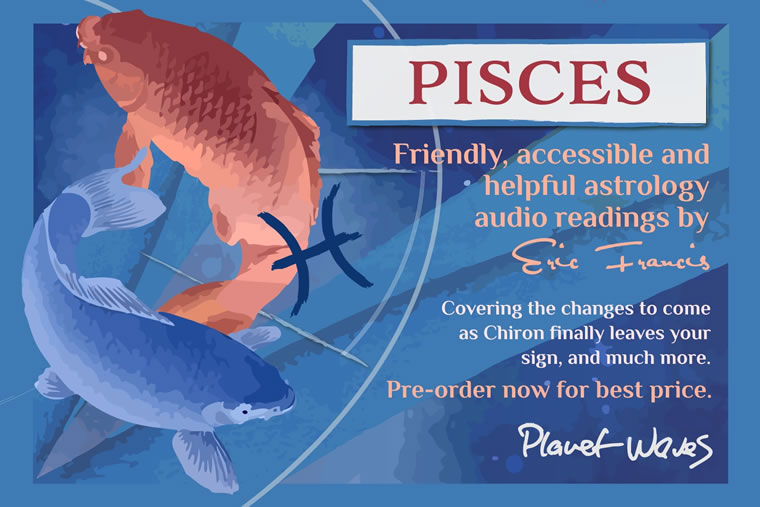 Pisces Birthdays 2018
Saying Goodbye to Chiron, Saying Hello to Yourself
"I have just listened to your Part 1 and Part 2 readings and I am amazed at how accurate it has been. Like you have a telescope watching me shed a skin and transform into a totally changed person in the last 10 years."
-- P.J.
Dear Pisces Friend and Reader:

With planets gathering in your sign, chances are you feel less like a fish out of water and more in the flow of things than you might have recently. Yet this year holds some interesting developments for you -- many of which Eric will cover in your 2018 Pisces Birthday Reading.

This is a separate project from the annual edition, different in every way -- they make excellent companions. While the annual readings are written chapters of an interconnected set, your birthday reading is a stand-alone audio meditation. It's something you can listen to over and over, whether you take notes or take a bath as you listen.

Eric's audio readings are some of the most unusual astrology you'll encounter. They go deeper than the work most professional astrologers do, reaching the spiritual essence of the chart's message, though without the need for a natal chart.

For roughly seven years, you've benefitted from Chiron's focusing power in your sign.

This year, Chiron begins the process of entering Aries -- leaving other slow-moving planets in Pisces. If you've learned the lessons of Chiron, you'll be better able to embody that focusing power yourself -- and you'll be in a prime position to navigate everything else the next 12 months will bring.

"Eric, as a Pisces I really appreciate all your readings, as they have truly helped me push past the insecurities and become a truly wonderful person with greater strength to become ME. Thanks so much!"
-- Susan Andrews
You can pre-order your 2018 Pisces Birthday Reading here, for just $33. We offer the lowest price first; the price will increase as we near the recording and publication of the reading.

You'll get two segments of audio astrology, at least 30 minutes each. A little while after those portions publish, Eric will record your tarot reading for the year (included in the price).

Wishing you a beautiful birthday season,



Amanda Painter

P.S. If you love a Pisces, make their day: give the Pisces reading as a gift.


---
Pisces (Feb. 19-March 20) -- Have the courage to reach for who and what you want. This may seem like a lot, though it's one of the most basic life skills of living in a world where you have options. You have the power to choose, though that will usually mean having the moxie to start the conversation and keep it going.

Monthly Horoscopes and Publishing Schedule Notes



We published your extended monthly horoscopes for March on Thursday, Feb. 22. Your extended monthly horoscopes for February were published on Thursday, Jan. 25. Please note: we normally publish the extended monthly horoscope on the first Friday after the Sun has entered a new sign.


---
---